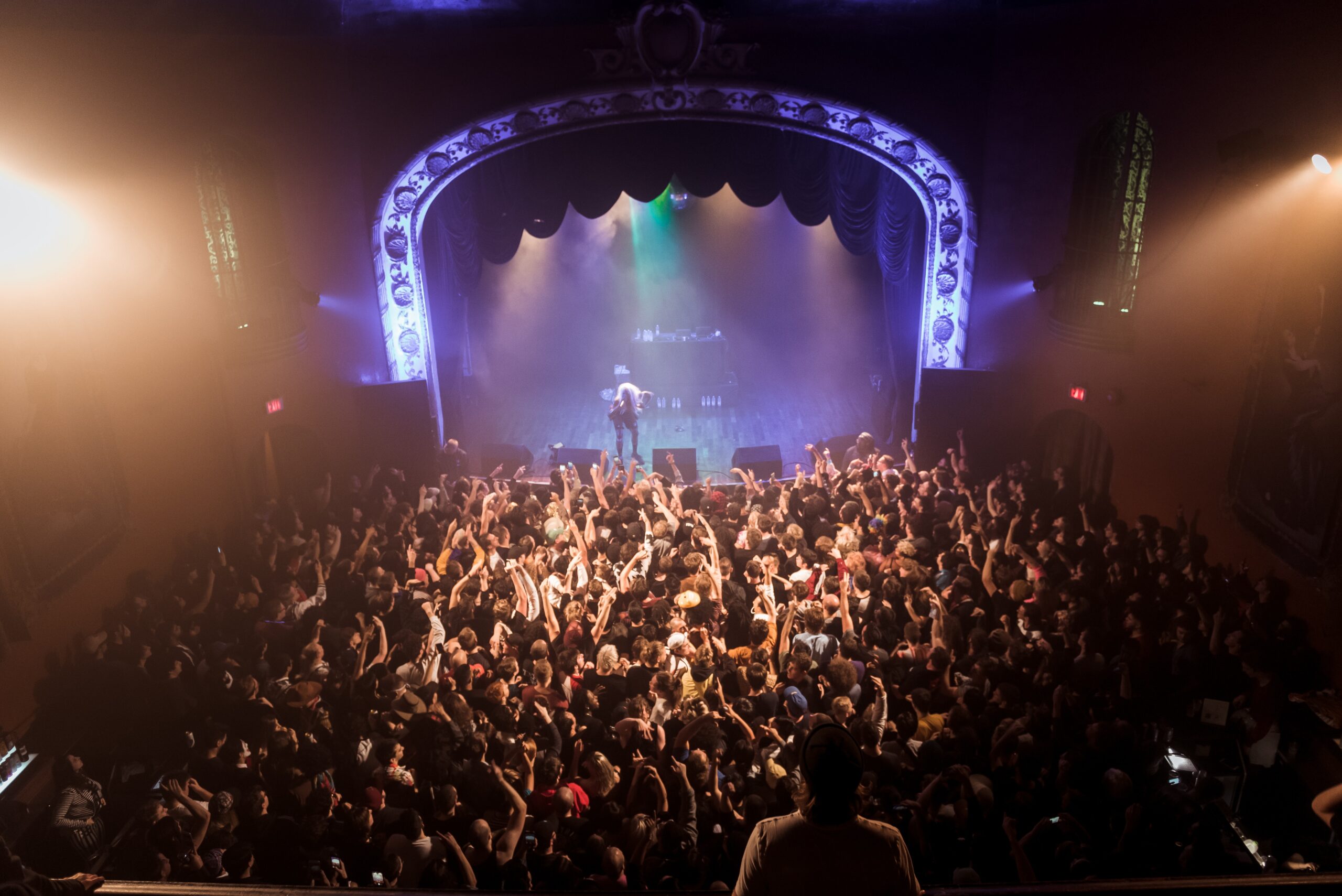 As an ardent music lover or event enthusiast, one of the thrilling aspects of live performances isn't just the acts themselves but where they're taking place. The UK, and particularly England, is teeming with unique, historically rich, and awe-inspiring venues that transform a simple show into a memorable spectacle. These aren't just places where music meets the audience; they're atmospheric spaces full of character and narratives, each with its distinct vibe and appeal. This post is your ultimate guide to 10 outstanding England concert venues that will elevate your live show experience to unprecedented heights. Prepare for a breathtaking journey that is as much about the venues as it is about the spectacular performances they host.
The O2 Arena, London: More Than Just a Venue
If you think of England concert venues, the O2 Arena is undoubtedly one of the first to spring to mind. It's not just an event venue; it's an entertainment district, complete with restaurants, bars, a bowling alley, a cinema complex, and even a trampoline park! Since its opening in 2007, it has seen more than 60 million visitors and hosted over 2000 events, cementing its reputation as a world-class entertainment destination.
The arena's versatile, 20,000-capacity venue creates a vibrant, electric atmosphere that excites attendees and performers alike. Here, every concert feels monumental. Acts like Bon Jovi, Michael Buble, and the Rolling Stones have all graced the stage, creating unforgettable performances.
For exhibitors, this state-of-the-art venue offers excellent acoustics, advanced lighting, and large staging areas, ensuring your show looks and sounds its best. Plus, its high-profile location in the heart of London guarantees a broad audience reach, making your event's success almost inevitable.
Royal Albert Hall, London: A Regal Musical Treat
Step into a slice of history at the Royal Albert Hall. This Grade I listed building, inaugurated in 1871, blends Victorian architecture with a modern design in a stunning fashion. Its iconic dome and terracotta exterior have become a symbol of cultural London, while the concert hall itself is considered one of the most impressive England concert venues.
With a seating capacity of 5272, this venue is known for its intimate shows, offering a closeness and authenticity that larger arenas might miss. It has seen everything from the BBC Proms to rock concerts and ballet performances, catering to a wide range of tastes. Notably, in 1968, The Beatles and Rolling Stones performed in a charity concert called the 'Rock and Roll Circus' at the hall, further solidifying its iconic status.
The Royal Albert Hall offers a unique setting for performers, with its famous acoustic 'mushrooms' hanging from the ceiling and a pipe organ that is the second largest in the UK. Its rich history and grandeur can significantly amplify the appeal and impact of your performance, creating an indelible impression on the audience.
Wembley Stadium, London: Iconic Concerts under the Arch
Wembley Stadium isn't just home to memorable football matches. It's also one of the most famous England concert venues, having hosted a multitude of legendary acts. With a whopping 90,000 seating capacity, it's an iconic space where music history is made, and where performing feels like a dream come true.
The Live Aid benefit concert in 1985, arguably one of the most memorable concerts ever held, was staged here. The world witnessed Queen's Freddie Mercury deliver a performance that still resonates in the hearts of music lovers worldwide.
For performers, staging an event at Wembley is like joining an illustrious hall of fame, following in the footsteps of some of the greatest acts in music history. As an exhibitor, the sheer magnitude of the venue ensures substantial ticket sales, with the promise of an exceptional, large-scale show.
The Cavern Club, Liverpool: A Pilgrimage for Beatles Fans
The Cavern Club, a tiny basement venue in Liverpool, has an outsized influence on music history. It's where The Beatles made their name, playing 292 shows between 1961 and 1963. Although the original club was demolished, the current Cavern Club is a faithful recreation, hosting live music every day of the week.
While it's smaller than most England concert venues, the Cavern Club's rich history makes it a must-visit location for music fans. It's a reminder that sometimes, the smallest places can have the biggest impact. For a performer or exhibitor, staging a show here is a chance to connect with music history and tap into the wellspring of creative energy that helped The Beatles redefine pop music.
Symphony Hall, Birmingham: An Acoustic Marvel
The Symphony Hall in Birmingham is not just a concert venue; it's an architectural and acoustic masterpiece. Opened in 1991, the venue is known for its world-class acoustics, with the innovative design of the auditorium helping create a clear and balanced sound.
From classical to jazz, pop to comedy, and everything in between, this 2262-capacity venue has hosted a wide range of performances, all benefiting from the superb sound quality. Whether you're a performer or an attendee, the Symphony Hall guarantees an unparalleled auditory experience.
Glastonbury Festival Site, Somerset: A Celebration of Music and Art
The Glastonbury Festival doesn't take place in a traditional venue. Instead, it transforms 900 acres of farmland into one of the world's most beloved music and performing arts festivals. Although the festival lasts just five days a year, its impact reverberates year-round, with performers and attendees often describing it as a life-changing experience.
Glastonbury's Pyramid Stage has seen legendary performances from the likes of David Bowie, Beyoncé, and Coldplay, creating iconic moments in music history. As a performer, playing at Glastonbury is a badge of honor, and as an exhibitor, the sheer scale and popularity of the festival offer significant exposure.
Brighton Dome: A Blend of History and Culture
The Brighton Dome, a Grade I listed building, is one of the most stylish England concert venues. It's comprised of three unique spaces – the Concert Hall, Corn Exchange, and Studio Theatre, each providing a different atmosphere and experience. The Dome's diverse program, from music and theatre to dance and comedy, makes it a cultural hub on the south coast.
Playing a show at the Brighton Dome means joining a long list of iconic names like David Bowie, Jimi Hendrix, and Pink Floyd who have graced its stage. As an exhibitor, the venue's historic charm can lend an extra layer of appeal to your event, drawing in culture and history enthusiasts alongside regular attendees.
Manchester Arena: A Northern Powerhouse
With a seating capacity of 21,000, Manchester Arena is one of the busiest England concert venues, attracting over a million visitors annually. Its scale and state-of-the-art facilities create a vibrant atmosphere for both performers and audiences.
Artists such as Madonna, Oasis, and U2 have delivered electrifying performances at this arena. For exhibitors and performers, staging a show here can feel like an adrenaline-fueled celebration, with the size and energy of the crowd amplifying every beat and note.
The SSE Hydro, Glasgow: Scotland's Entertainment Gem
Although technically not in England, the SSE Hydro in Glasgow is a venue that UK event enthusiasts should not overlook. Its distinctive architecture and dynamic lighting make it a visual delight, while its 13,000-capacity makes it the largest entertainment venue in Scotland.
The Hydro has hosted a variety of events, from concerts and comedy shows to sports events and exhibitions. Artists such as Rod Stewart, Beyoncé, and Bruno Mars have lit up its stage, while its modern facilities ensure a smooth and memorable experience for performers and exhibitors.
Cambridge Corn Exchange: A Hidden Treasure
Cambridge Corn Exchange may not be as famous as some other England concert venues, but it's a hidden gem that offers a unique blend of history and versatility. With a capacity of 1,730, it provides an intimate setting that allows artists to connect with their audience on a personal level.
Its historic charm coupled with modern facilities makes it an attractive venue for a variety of events, including music, comedy, theatre, and exhibitions. The Corn Exchange has seen performances from legends like Pink Floyd and Queen, making it a part of England's rich music heritage.
England concert venues are as diverse and rich as the performances they host. They're places where history, architecture, and culture intersect with music, creating extraordinary experiences for audiences and performers alike. Each one of these venues, from the vast expanses of Wembley and the O2 Arena to the intimacy of the Cavern Club and the Cambridge Corn Exchange, offers its unique charm and allure. As you plan your next concert or exhibition, consider these venues not just as stages for performances, but as integral parts of the experience, teeming with stories and atmosphere that can elevate your event to unforgettable heights. So go ahead, immerse yourself in these exceptional venues, and make some music history of your own.
We welcome any suggestions or questions. You can email us or contact us using the contact page.
You can also connect with us on the following social networks:
Facebook
Twitter
LinkedIn
Instagram