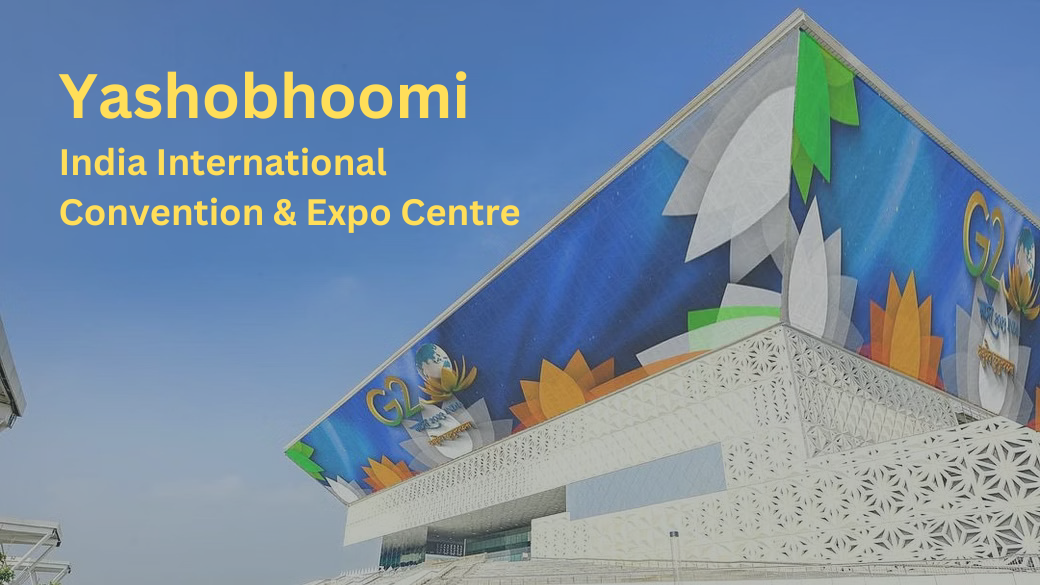 Yashobhoomi Convention Centre Dwarka is more than just another venue—it's a monumental embodiment of modern architecture, Indian culture, and global standards. Developed at an astonishing cost of Rs 5,400 crore and sprawled over an expansive 8.9 lakh square meters, it's positioned to be among the world's largest MICE (Meetings, Incentives, Conferences, and Exhibitions) destinations. This blog post delves into the extraordinary features of this remarkable venue and explores why it is set to redefine the standards for MICE venues globally.
Accessibility and Connectivity
The Yashobhoomi Convention Centre Dwarka gains a significant advantage from its strategic location. Situated in proximity to the Delhi Airport, it's directly connected to the Delhi Airport Metro Express Line. With the inauguration of the new metro station 'Yashobhoomi Dwarka Sector 25', accessibility becomes an unparalleled convenience for both domestic and international visitors.
Traveling Made Easy
Airport: Just a short drive from Indira Gandhi International Airport.
Metro: Accessible via its dedicated metro station.
Car: Ample underground parking for up to 3,000 cars.
An Overview of Facilities
Upon setting foot in the Yashobhoomi Convention Centre Dwarka, one can immediately sense the magnitude of what the venue offers. From a massive convention centre to multiple exhibition halls, meeting rooms, and various support facilities—the venue is designed to cater to an extensive range of events.
Convention Centre
The main convention centre boasts an impressive seating capacity of over 11,000 people. It serves as the central hub for large gatherings and events.
Exhibition Halls
Built across a span of 1.07 lakh square meters, the exhibition halls are ideally designed for hosting exhibitions, trade fairs, and business events. They are connected to a foyer space, which houses various support areas like media rooms, VVIP lounges, cloak facilities, and ticketing among others.
Architectural and Cultural Inspiration
The unique aspects of the Yashobhoomi Convention Centre Dwarka are not just limited to its facilities and size but also in the way it embodies Indian culture through its architectural elements. The venue features terrazzo floors with brass inlay representing rangoli patterns, and its walls are adorned with sound-absorbent metal cylinders and lit-up patterns that echo traditional Indian designs.
Accommodating Diverse Events
Plenary Hall
One of the standout features of Yashobhoomi Convention Centre Dwarka is its Plenary Hall with a seating capacity of around 6,000 people. Whether it's a large corporate event, an international conference, or a cultural show, the Plenary Hall is well-equipped to host an array of activities.
Auditorium
The venue is also home to a unique auditorium with an innovative automated seating system. The floor can be converted into a flat space or tiered auditorium-style seating to suit different event configurations. This feature, along with wooden floors and acoustic wall panels, ensures a high-quality auditory experience for all attendees.
Grand Ballroom
For events that demand an extra touch of grandeur, the convention centre houses a Grand Ballroom with a petal ceiling. With a capacity to seat around 2,500 guests, it also has an extended open area that can seat an additional 500 people. This makes it ideal for large-scale weddings, galas, and other celebratory events.
Meeting Rooms
Comprising 13 meeting rooms spread across eight floors, Yashobhoomi provides a versatile setting for business meetings of different scales. Whether it's a high-stakes board meeting or a creative brainstorming session, the convention centre has a space that's just right for you.
Innovative Technology and Amenities
LED Media Façade
Yashobhoomi Convention Centre Dwarka prides itself on being at the forefront of technology. It features the country's first LED media faççade, providing a modern and dynamic aspect to the entire venue. This stunning visual display can be customized to fit the theme of different events, making each occasion truly unique.
Advanced Support Services
The venue also offers state-of-the-art support services, including top-notch audio-visual equipment, high-speed internet connectivity, and a robust security system. These features add to the seamless experience that Yashobhoomi aims to provide to every visitor.
Future Events and Bookings
With the venue's opening, over 100 exhibitions and over 100 conventions have already been planned for the next two years, according to Sumita Dawra, the Special Secretary and India International Convention and Expo Centre (IICC) Dwarka Managing Director and CEO. This highlights the strong demand and high level of interest that the convention centre has garnered even before its complete operational status.
How to Book
Booking facilities and spaces at Yashobhoomi is a straightforward process, with customizable options to suit various budgets and requirements. Prospective hosts can reach out to the venue's administrative offices or visit their official website for more information.
---
The Yashobhoomi Convention Centre Dwarka is not just a venue; it's an experience. Combining exceptional facilities, easy accessibility, and a strong emphasis on Indian culture, it is truly a landmark in the global MICE industry. Whether you are an event organizer, a business traveler, or simply someone who appreciates world-class infrastructure, Yashobhoomi has something to offer you.
We welcome any suggestions or questions. You can email us or contact us using the contact page.
You can also connect with us on the following social networks:
Facebook
Twitter
LinkedIn
Instagram