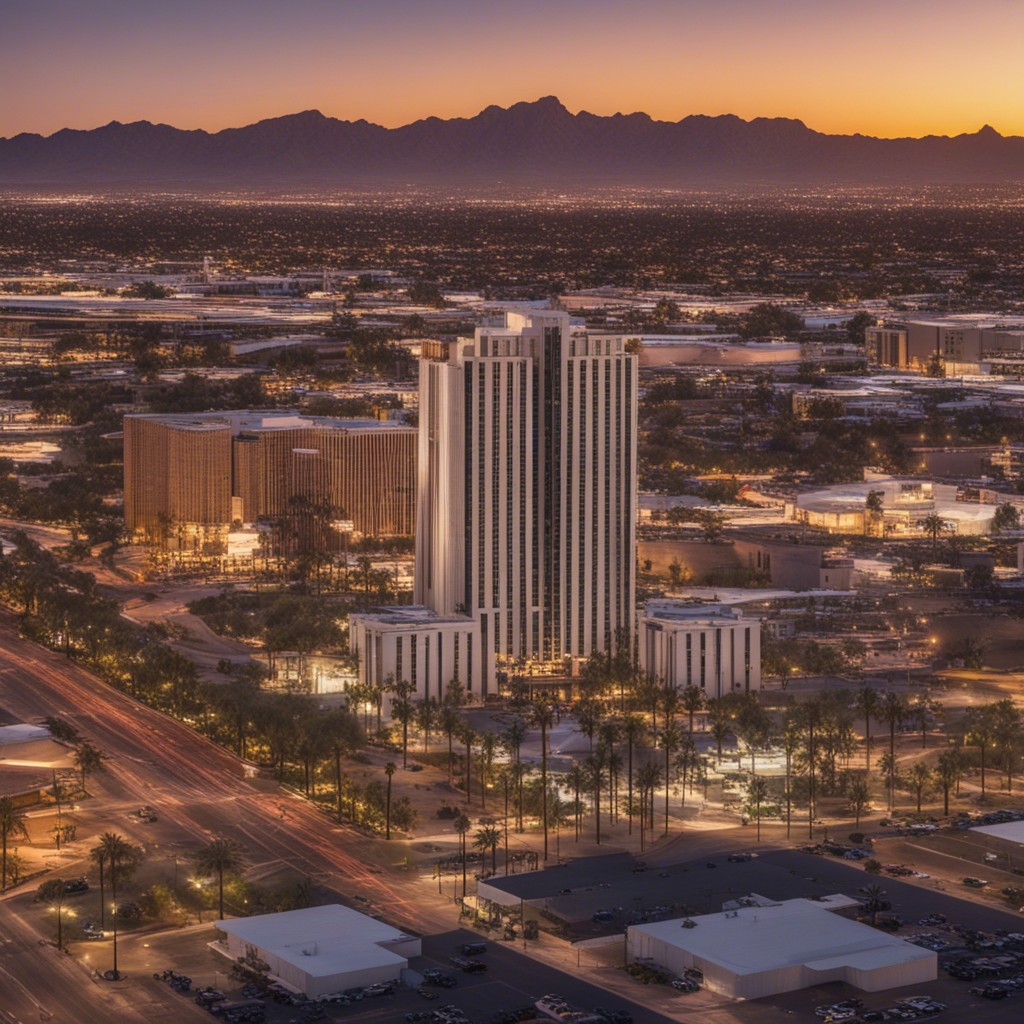 Phoenix, the vibrant heart of Arizona, is a city that never sleeps. From its mesmerizing desert landscapes to its bustling downtown, there's always something happening in this metropolis. Whether you're a local looking to rediscover your city or a traveler seeking unique experiences, the upcoming events in Phoenix AZ are sure to captivate you.
In the following sections, I'll be unveiling ten standout events that you simply can't afford to miss. Each event promises a unique blend of entertainment, learning, and connection. So, whether you're eager to immerse yourself in the local culture, boost your business connections, or simply have a good time, read on. And trust me, by the end, you'll be marking your calendar!
Facts about the events:
Location: Most events are held at popular venues within Phoenix, AZ.
Tickets: Tickets for these events can typically be purchased online or at the venue, though early booking is recommended for the best seats and discounts.
How to Register: Registration details vary by event, but online registration is the most common method.
Organizer: Various organizations, both local and national, are responsible for these events.

1. Phoenix Film Festival:
The Phoenix Film Festival, a celebration of cinematic genius, draws in film enthusiasts from all over the country. Being one of the largest film festivals in the Southwest, it is an unmissable occasion for budding filmmakers and seasoned professionals alike.
Why should you attend? For starters, it's a unique opportunity to experience a wide range of independent films, from thought-provoking documentaries to thrilling features. Moreover, it provides a platform for networking, where attendees can mingle with directors, producers, and actors.
For exhibitors, it's a golden chance to showcase their work, gain feedback, and even secure distribution deals. The festival's reputation has grown tremendously over the years, ensuring that any film showcased here gains immediate traction in the industry.
If you've ever been fascinated by the magic of cinema, or if you have a project you believe can captivate audiences, the Phoenix Film Festival is the place to be.

2. Desert Botanical Garden Flashlight Tours:
Imagine navigating the enchanting landscapes of the Desert Botanical Garden under the soft glow of your flashlight. The Flashlight Tours offer just that! It's an adventure where you'll discover the nocturnal side of the desert flora and fauna.
As you walk through, you'll encounter various desert inhabitants and learn about the mysteries of the desert after dark. The tours also often feature local artists, ensuring a blend of nature and culture.
For those looking to exhibit, it's a platform to showcase art, and crafts, or even conduct workshops on desert ecology. It's a unique blend of education and entertainment, and you can be sure attendees leave with a richer appreciation of Arizona's natural beauty.
So, grab your flashlight, gather your friends and family, and embark on a nocturnal adventure like no other!

3. Arizona State Fair:
Each year, Phoenix bursts with vibrant colors, mouth-watering aromas, and electrifying sounds during the Arizona State Fair. One of the state's most anticipated events, it has been a Phoenix staple for over a century, promising fun and entertainment for people of all ages.
For attendees, the fair is a whirlwind of experiences. Picture yourself indulging in delicious fair treats like deep-fried Oreos or classic cotton candy. Or perhaps you're more enticed by the thrilling rides, from dizzying roller coasters to classic Ferris wheels that offer panoramic views of the city.
Exhibitors, on the other hand, get a robust platform to present their products, whether it's artisan crafts, technological innovations, or gourmet food items. The fair's broad audience ensures widespread exposure, making it a valuable opportunity for brand recognition and sales.
In essence, the Arizona State Fair isn't just an event; it's a tradition. One where memories are created, businesses flourish, and everyone leaves with a smile.

4. Phoenix Fashion Week:
Phoenix becomes a fashion mecca during the Phoenix Fashion Week. Aspiring designers, top models, and fashion aficionados converge in the city to celebrate style, innovation, and creativity.
Why attend? Well, apart from the glitz and glamour, it's a unique chance to witness the latest fashion trends, ensuring that you're always a step ahead in the style game. Moreover, the event often features workshops and panel discussions led by industry stalwarts, making it a learning experience as well.
For exhibitors, especially emerging designers, Phoenix Fashion Week is a golden ticket. It offers a platform to showcase collections to a global audience, interact with buyers, and even ink lucrative deals. The media coverage, both local and international, ensures that brands and designers get the recognition they deserve.
Fashion is more than just clothing; it's an expression, a statement. And Phoenix Fashion Week is where these statements are made and celebrated.

5. The Great Arizona Beer Festival:
Beer enthusiasts, rejoice! The Great Arizona Beer Festival is your haven. Celebrating the rich culture and craft of brewing, this event showcases an impressive array of local, national, and international beers.
As an attendee, the festival is an opportunity to tantalize your taste buds with unique brews, learn the intricate art of brewing, and even participate in beer-themed games. The ambiance, punctuated with live music and gourmet food stalls, ensures a day of laid-back enjoyment.
Exhibitors benefit from a captive audience, eager to discover new brands and flavors. Breweries can establish a strong brand presence, gain direct feedback, and even increase sales through on-the-spot orders.
If you've ever raised a glass and celebrated the fine craft of brewing, then The Great Arizona Beer Festival is where you belong. Cheers!

6. Phoenix Comicon:
Dive deep into the world of comics, fantasy, and sci-fi at Phoenix Comicon! This mega-event is a celebration of all things geek, drawing fans from every corner of the globe.
Attending Comicon is like stepping into a different universe. Cosplay as your favorite characters, attend panel discussions with renowned authors and creators or simply soak in the electrifying atmosphere filled with like-minded fans.
Exhibitors, especially those in the comic and merchandise domain, find Phoenix Comicon to be the ideal place. With a passionate audience, the potential for sales, networking, and brand promotion is enormous. Plus, the feedback and insights from dedicated fans can be invaluable.
Whether you're a die-hard comic fan or just someone curious about the hype, Phoenix Comicon promises the experience of a lifetime.

7. Arizona Jazz Festival:
Ah, the soulful rhythms of jazz! The Arizona Jazz Festival is Phoenix's tribute to this timeless genre. Drawing top-tier talent from across the globe, it's a musical journey that promises to touch your soul and set your feet tapping.
Why attend? The sheer variety and quality of performances are unmatched. From sultry solo acts to dynamic bands, the festival is a confluence of diverse styles and interpretations of jazz. Additionally, being surrounded by fellow jazz lovers amplifies the experience manifold.
For exhibitors, especially those in the music industry, this festival is gold. It's an opportunity to showcase instruments, music albums, and other related merchandise. With a highly targeted and engaged audience, the potential for sales and brand visibility is massive.
If the velvety tones of a saxophone or the melodic beats of a jazz drum stir something within you, the Arizona Jazz Festival awaits your presence.
8. Downtown Phoenix Art Walk:
Creativity takes center stage at the Downtown Phoenix Art Walk. Every nook and corner of downtown Phoenix comes alive with art installations, pop-up galleries, and street performances. This event is a vivid reminder of Phoenix's vibrant art scene.
Walking through the event, you'll be treated to a visual feast – contemporary art pieces, classical sculptures, avant-garde installations, and much more. It's also a chance to interact with the artists and understand the stories and inspirations behind their creations.
For exhibitors, this event is a canvas. Artists get to showcase their work, galleries can promote upcoming exhibitions, and businesses can sponsor installations to boost brand visibility. The event's popularity ensures a steady footfall, making it a hub for networking and sales.
Embrace the world of art and let your imagination run wild at the Downtown Phoenix Art Walk.
9. The Business Expo Arizona:
Phoenix is not just about entertainment and leisure; it's a thriving business hub. The Business Expo Arizona is a testament to that. This event is a magnet for entrepreneurs, investors, professionals, and anyone with a business mindset.
As an attendee, you stand to gain immensely. From workshops led by industry leaders to product demonstrations, it's a deep dive into the world of business. Whether you're looking to expand your network, discover the latest industry trends, or find potential business partners, the expo has it all.
For exhibitors, the benefits are multifold. A platform to showcase products, an audience eager to engage, and ample opportunities for B2B networking make this expo a must-attend.
If the world of business excites you, and you're eager to scale new heights, The Business Expo Arizona is your launchpad.

10. The Phoenix Culinary Festival:
Food is not just sustenance; it's an experience. The Phoenix Culinary Festival celebrates this philosophy. A paradise for foodies, it's a gastronomic journey through diverse cuisines and culinary innovations.
Imagine tasting exotic dishes, attending masterclasses by renowned chefs, and indulging in wine and cheese tastings – all under one roof. The festival is a sensory delight, with promising flavors, and aromas that linger long after.
For exhibitors, especially restaurateurs, caterers, and gourmet product brands, the festival is a hotspot. With an audience eager to explore culinary delights, the potential for brand promotion and sales is immense. It's also an opportunity to gain feedback, which can be pivotal for new product launches.
If you believe that food is an art and cherish the joy of a well-cooked meal, The Phoenix Culinary Festival is where you should be.
---
With such a diverse and vibrant lineup of events, Phoenix truly offers something for everyone. From art enthusiasts and business moguls to foodies and fashionistas, the city ensures that every visitor leaves with cherished memories. So, mark your calendars and make Phoenix your next destination. The city awaits your presence with open arms!
We welcome any suggestions or questions. You can email us or contact us using the contact page.
You can also connect with us on the following social networks:
Facebook
Twitter
LinkedIn
Instagram