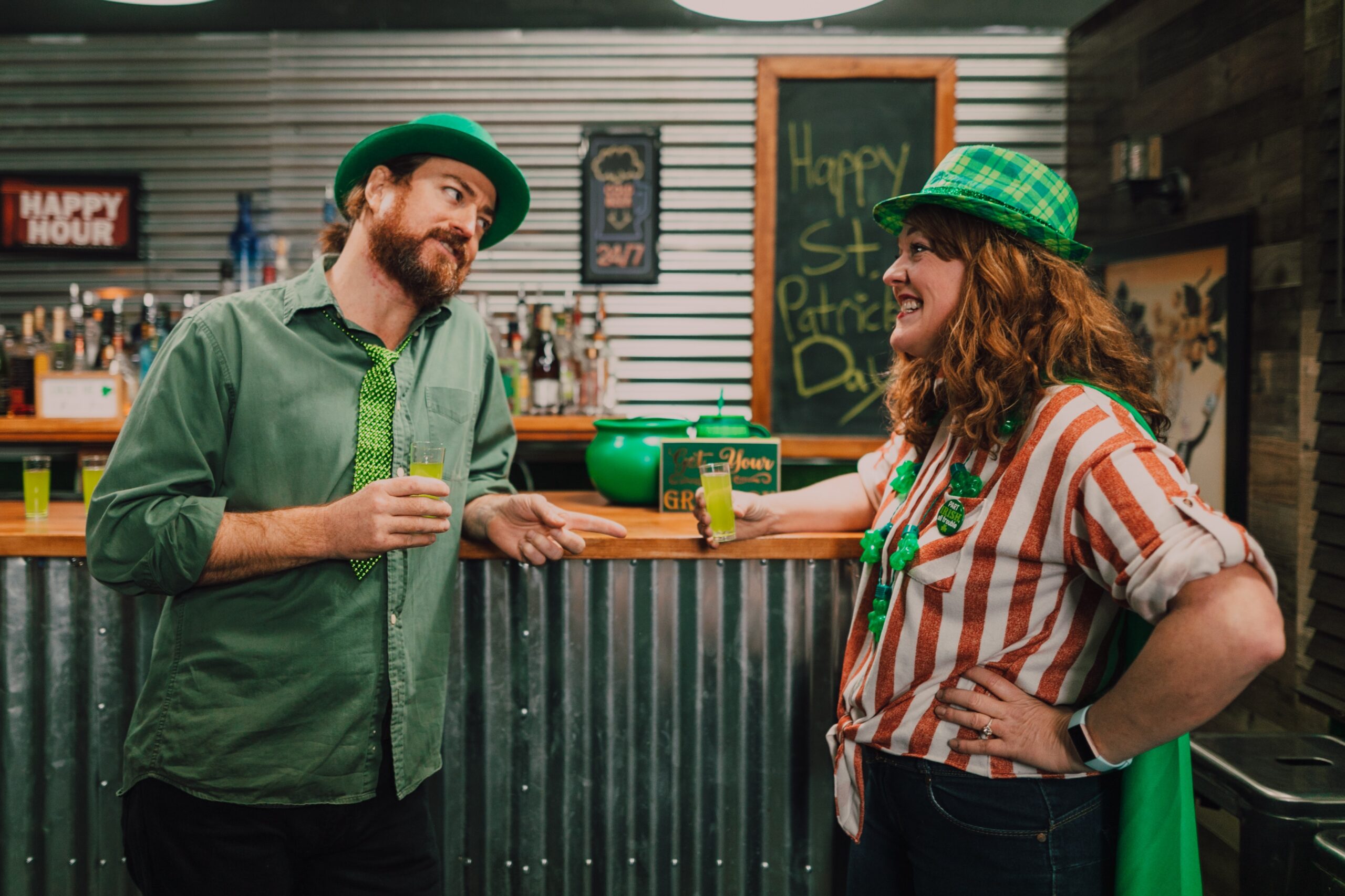 Ah, St. Patrick's Day in Dublin – there's nothing quite like it. As the winter chill fades away, and the freshness of spring pervades the air, the emerald city decks up to honor its patron saint, St. Patrick. If you've never experienced St. Patrick's Day in Dublin, you're in for an unforgettable treat. And if you have, then you already know why this grand spectacle draws visitors from all over the globe year after year.
In the following lines, we will dive into the heart of Dublin, exploring ten crucial aspects of the city's most anticipated event of the year. We hope this comprehensive guide not only paints a vivid picture of what to expect but also inspires you to be a part of this phenomenal celebration yourself.
A Parade Like No Other
When you think of St. Patrick's Day in Dublin, the first thing that likely springs to mind is the grand parade – and rightfully so. On the morning of March 17th, the city comes alive with the sound of music, laughter, and cheer. The parade is a vibrant, joyous spectacle that encapsulates the spirit of the day and showcases Ireland's rich cultural heritage.
Every year, the Dublin St. Patrick's Day Parade attracts more than 500,000 spectators, according to Tourism Ireland. The parade route stretches approximately 3 kilometers, starting at Parnell Square and concluding at St. Patrick's Cathedral. Dazzling floats, marching bands, talented performers from around the globe, and the famous 'giant inflatables' all make their way down the route, creating a visual spectacle that will take your breath away.
To give you a sense of the parade's scale and popularity, consider this statistic: In 2019, the parade featured over 2,000 performers and 900 marching band members, as reported by the St. Patrick's Festival.
Yet, the parade is more than just numbers and statistics. It's the very embodiment of Irish culture, history, and the unyielding spirit of its people. The floats, designed by some of the country's most innovative artists, represent elements of Irish mythology, history, and contemporary culture, while the marching bands keep the spectators entertained with an eclectic mix of traditional and modern tunes.
If you're planning to attend the parade, my advice is to arrive early. Prime viewing spots can fill up fast, so if you want to secure a good vantage point, it's best to stake out a spot at least a couple of hours before the parade starts. Remember to dress appropriately, too – March in Dublin can still be quite chilly!
In conclusion, the parade is the heart and soul of St. Patrick's Day in Dublin. Its grandeur, vibrancy, and cultural richness make it an absolute must-experience event, not just for tourists, but for locals too.
The Feast of Traditional Irish Food
Let's face it; no celebration is complete without a feast, and St. Patrick's Day in Dublin is no exception. As the parade concludes, Dublin's streets and squares transform into vibrant food markets, each stall vying for your attention with the irresistible aroma of traditional Irish food.
There's plenty to savor, from steaming hot Dublin Coddle – a hearty stew of sausages and potatoes – to freshly baked soda bread and rich, creamy Irish stew. The food stalls are also a great place to try boxty, a traditional Irish potato pancake, and colcannon, a comforting dish of mashed potatoes with kale or cabbage. And if you have a sweet tooth, don't miss the chance to indulge in some Irish apple cake or whiskey-infused chocolates.
According to Bord Bia, the Irish Food Board, there are over 100 food stalls at the St. Patrick's Day market in Dublin, each offering a unique culinary experience. This vibrant food scene is a testament to Ireland's thriving food culture, which has undergone a significant transformation in the past decade.
Visitors are also encouraged to explore the city's local eateries, many of which offer special St. Patrick's Day menus featuring locally sourced ingredients and traditional recipes with a modern twist. These restaurants not only provide a warm, cozy ambiance to relax after the day's festivities but also offer a gastronomic journey through Irish cuisine.
For those interested in Ireland's liquid gold, several whiskey tastings and brewery tours are held during St. Patrick's Day week. These events offer a fascinating insight into the production process of Irish whiskey and beer, along with tastings that showcase the depth and complexity of these beloved beverages.
In essence, St. Patrick's Day in Dublin is a culinary delight. Whether you're a food connoisseur or someone who enjoys a good meal, the diverse food offerings and the unique dining experiences available on this day will leave your taste buds tingling and your heart content.
Cultural Extravaganza: Music, Dance, and Theatre
St. Patrick's Day in Dublin is not only about grand parades and feasting on traditional Irish fare. It also serves as a stage for a cultural extravaganza that showcases the best of Irish music, dance, and theatre. Dublin, known as a UNESCO City of Literature and a breeding ground for talented musicians and actors, certainly knows how to put on a show.
During the week leading up to St. Patrick's Day, several cultural events are held across the city. One of the highlights among these is the traditional Irish music sessions, known as seisiúns, that take place in numerous pubs and venues. You'll be captivated by the soulful melodies of the fiddle, the rhythmic strumming of the banjo, and the toe-tapping beats of the bodhrán, a traditional Irish drum.
As per the St. Patrick's Festival report, in 2022, more than 300 musicians participated in these sessions across Dublin. Whether you're a seasoned aficionado of Irish music or a curious newcomer, these sessions offer an immersive experience of the rich musical tradition of Ireland.
Additionally, dance performances featuring Irish dancing styles such as step dancing and set dancing are a common sight. From professional performances by world-renowned Irish dance troupes to impromptu dance-offs on the streets, these displays of talent and passion for Irish dance are a true spectacle.
The theatre also plays a significant role in the St. Patrick's Day celebrations. Dublin, the birthplace of famous playwrights like Samuel Beckett and Oscar Wilde, has a thriving theatre scene. On St. Patrick's Day, many local theatres host special plays and performances that delve into Irish history, folklore, and contemporary issues. These performances offer an insightful and entertaining exploration of Irish culture and identity.
To summarize, the cultural events during St. Patrick's Day in Dublin provide a unique opportunity to experience the richness and diversity of Irish arts and culture. They're a testament to Ireland's cultural heritage and an invitation to become a part of the city's vibrant arts scene.
Captivating City Tours
St. Patrick's Day in Dublin is also an excellent time for tourists to explore the city. Whether you're a history buff, a nature enthusiast, or just curious about Dublin, the city offers a variety of guided tours that cater to different interests.
One of the most popular tours is the St. Patrick's Day-themed city tour. This tour takes you on a journey through Dublin's history, from its early Christian period to the present day, focusing on St. Patrick's influence on the city. Key attractions include St. Patrick's Cathedral, where St. Patrick is said to have baptized converts to Christianity, and the St. Patrick's Well, a centuries-old water source believed to have been used by the saint.
According to Failte Ireland, in 2022, around 25% of tourists who visited Dublin during the St. Patrick's Day week took part in a city tour. These tours are not just educational, but they also offer a chance to see the city through a local's eyes and hear fascinating stories that you won't find in guidebooks.
For those interested in Irish literature, the Dublin Literary Pub Crawl is a must. This tour takes you to some of Dublin's famous pubs that have been frequented by literary giants like James Joyce and Brendan Behan, all while your guide regales you with anecdotes and recitations from famous Irish works.
Another exciting option is the Dublin Ghost Tour, which introduces you to the city's dark past and its legendary ghost stories. This tour is an excellent choice for those who enjoy a good spine-chilling tale.
In conclusion, participating in a city tour is an enriching way to celebrate St. Patrick's Day in Dublin. Not only do you get to learn about the city's history and culture, but you also get a chance to discover hidden gems and local secrets that make your visit truly memorable.
Greening of the City
Another iconic aspect of St. Patrick's Day in Dublin is the 'greening' of the city. This tradition involves illuminating some of Dublin's most iconic landmarks in green light in honor of St. Patrick's Day. It's part of a global initiative known as "Global Greening", organized by Tourism Ireland, where landmarks worldwide go green for St. Patrick's Day. However, there's something truly magical about seeing it in the heart of the Emerald Isle.
Imagine witnessing the majestic Dublin Castle, the historic General Post Office, and the beautiful Christ Church Cathedral bathed in a vibrant green glow. Not to mention the countless other buildings, statues, and even trees that also participate in the greening.
The greening doesn't stop at nightfall, though. During the day, you'll see green decorations adorning shops, pubs, and houses, adding to the festive atmosphere. It's also customary for people to wear something green or accessorize with green shamrocks, a symbol closely associated with St. Patrick's Day.
In 2022, Tourism Ireland reported that over 400 landmarks in Dublin participated in the greening. The spectacle draws thousands of locals and tourists alike, who stroll around the city, cameras in hand, marveling at the illuminated landmarks. It's a sight that's as mesmerizing as it is photo-worthy.
The 'greening of the city' is a testament to Dublin's commitment to celebrating St. Patrick's Day in style. It's a tradition that encapsulates the pride and joy that Dubliners take in their heritage, and it's a spectacle that you'll remember long after the green lights have been switched off.
Authentic Irish Shopping Experience
While St. Patrick's Day in Dublin is indeed a cultural and gastronomic feast, it's also an ideal time for some unique Irish shopping. Dublin is a city known for its local crafts, from hand-knit Aran sweaters to Celtic jewelry and beautifully crafted pottery. During St. Patrick's Festival, these local crafts take center stage at various pop-up shops and markets set up around the city.
One of the must-visit shopping destinations is the Design and Crafts Council of Ireland's Craft Village. This vibrant market features over 50 stalls, each showcasing beautifully crafted items from some of Ireland's most talented artisans. From stunning handwoven scarves to intricately carved wooden homeware, there's something for everyone.
Another popular shopping spot is the Creative Quarter, an area stretching from South William Street to George's Street and from Lower Stephen's Street to Exchequer Street. It's home to an eclectic mix of boutiques, design shops, and vintage stores. You can find everything from handmade Irish linen to bespoke jewelry and unique Irish-themed gifts.
For a more traditional shopping experience, the Dublin Flea Market, which is held on the last Sunday of every month, is a treasure trove of vintage clothes, antique furniture, and quirky bric-a-brac. During St. Patrick's week, the market often has a festive theme, with stalls decked out in green and sellers sporting leprechaun hats.
According to a survey by Retail Excellence Ireland, the week leading up to St. Patrick's Day sees a significant spike in sales, especially in categories related to Irish-made products and souvenirs. So, not only does shopping during this time allows you to take a piece of Ireland home with you, but it also supports local artisans and contributes to the Irish economy.
To sum up, shopping during St. Patrick's Day in Dublin offers an opportunity to discover the creativity and craftsmanship of Irish artisans. It's a chance to buy something unique and meaningful, something that carries with it a story of Irish heritage and culture.
In the upcoming text, we'll explore the thrilling nightlife, the family-friendly activities, and the historical significance of St. Patrick's Day in Dublin. Keep reading for more exciting insights!
Thrilling Nightlife
As the sun sets on St. Patrick's Day in Dublin, the city doesn't wind down; instead, it gears up for a night of fun and revelry. Dublin's nightlife is legendary, and on St. Patrick's Day, it reaches a whole new level of excitement.
Temple Bar, Dublin's cultural quarter, is the epicenter of the city's nightlife. On St. Patrick's Day, its cobblestone streets are awash with people ready to continue the day's festivities. The area's many pubs and bars, including the famous Temple Bar Pub, come alive with the sounds of traditional Irish music, laughter, and clinking glasses.
As per the St. Patrick's Festival report, in 2022, more than 600 live music sessions were held in Dublin on St. Patrick's Day, the majority of them in the Temple Bar area. From local bands playing traditional Irish tunes to DJ sets spinning the latest hits, there's something to cater to every musical taste.
It's also worth noting that Dublin's nightlife is not just about pub-hopping. The city offers a wide variety of night-time entertainment options, from comedy shows and theatre performances to late-night museum tours and food trails. On St. Patrick's Day, many of these venues host special events, adding to the night's festive spirit.
Remember, though, while St. Patrick's Day is indeed a time for merriment, it's essential to celebrate responsibly. Dubliners are known for their friendliness and hospitality, so be sure to respect the city and its people as you enjoy the night's festivities.
In conclusion, experiencing the nightlife is an integral part of celebrating St. Patrick's Day in Dublin. It offers a glimpse into the city's vibrant music scene, its love for good times, and its knack for throwing an unforgettable party.
Family-Friendly Activities
While St. Patrick's Day in Dublin is synonymous with parades, cultural events, and lively parties, it's also a day filled with fun and educational activities for families. Whether you're visiting with young children or teenagers, there are plenty of events designed to keep the younger crowd entertained.
One of the highlights for families is the St. Patrick's Festival Funfair. Set up along the scenic Custom House Quay, the funfair is a hub of excitement with its thrilling rides, game stalls, and food vendors. From classic carousels to adrenaline-pumping roller coasters, there's something for all ages.
For those interested in arts and crafts, several workshops are held throughout the city. These workshops, often led by local artists, provide hands-on experiences in traditional Irish crafts like pottery, weaving, and painting.
The Dublin Zoo also hosts a special St. Patrick's Day program, featuring themed animal talks and feeding times. According to the Dublin Zoo's annual report, St. Patrick's Day is one of the busiest days of the year, with thousands of families coming to enjoy the festivities.
For a more educational experience, the National Museum of Ireland and the Science Gallery at Trinity College often hold family-friendly exhibitions and interactive science demonstrations related to Irish history and culture.
In essence, St. Patrick's Day in Dublin is an occasion for families to spend quality time together, learn something new, and create lasting memories. It's a day where the city caters not just to the adults, but also to its younger visitors, ensuring that everyone gets to enjoy the festivities.
Historical Significance of St. Patrick's Day
St. Patrick's Day celebrated on March 17th is a cultural and religious holiday in Ireland. The day commemorates St. Patrick, one of Ireland's patron saints, who is credited with bringing Christianity to the island in the fifth century.
St. Patrick used the three-leafed shamrock as a metaphor to explain the concept of the Holy Trinity, giving birth to the association of the shamrock with St. Patrick and Ireland. The custom of wearing a shamrock on this day is said to originate from this historical event.
The first St. Patrick's Day parade took place not in Ireland but in New York City in 1762 when Irish soldiers serving in the British army marched to honor St. Patrick. In Ireland, St. Patrick's Day was observed more as a religious event. However, since 1903, when it became a public holiday in Ireland, the celebrations have become increasingly festive, transforming into the extravaganza we know today.
The idea of turning St. Patrick's Day into a multi-day festival was conceived in the late 20th century by the Irish government to showcase Ireland and Irish culture to the rest of the world. The inaugural St. Patrick's Festival took place in Dublin in 1996, and it has grown into a major event on the international festival calendar.
Understanding the historical significance of St. Patrick's Day gives depth to your celebrations in Dublin. It adds an extra layer of meaning to the parades, the music, the food, and, of course, the wearing of green.
Tips for Planning Your Visit
Visiting Dublin for St. Patrick's Day is an exhilarating experience, but it does require some planning to ensure a smooth and enjoyable trip. Here are some practical tips to help you make the most of your visit.
Book in Advance: St. Patrick's Day is a peak time for tourism in Dublin. Hotels, flights, and even some popular restaurants get booked up quickly, so it's advisable to secure your bookings well in advance. As per the Irish Hotels Federation, hotel occupancy rates in Dublin during St. Patrick's week can exceed 90%.
Pack Appropriately: March weather in Dublin can be unpredictable, with chances of both sunny spells and showers. Pack layers, including a waterproof jacket, and comfortable shoes for all the walking you'll be doing.
Plan Your Itinerary: There's so much to see and do in Dublin during St. Patrick's Day, so it's worth having a rough itinerary. Prioritize the events and attractions you most want to experience.
Stay Safe: While Dublin is generally a safe city, it's important to stay vigilant, especially in crowded places. Keep your belongings secure and be aware of your surroundings.
Respect the City: Dublin welcomes its visitors with open arms. In return, it's important to respect the city and its people. Dispose of your litter properly, be mindful of noise levels, and respect public properties.
Visiting Dublin for St. Patrick's Day is a unique experience, filled with music, laughter, and a genuine sense of Irish camaraderie. By following these tips, you'll be well-prepared to immerse yourself in the festivities and create your own unforgettable St. Patrick's Day memories.
In conclusion, St. Patrick's Day in Dublin is a celebration like no other. It's a vibrant showcase of Irish culture, a joyous gathering of people, and an unforgettable experience. So whether you're Irish by blood or at heart, come join in the festivities and experience the warmth, hospitality, and charm of Dublin on St. Patrick's Day. We promise you, it'll be a trip to remember!
We welcome any suggestions or questions. You can email us or contact us using the contact page.
You can also connect with us on the following social networks:
Facebook
Twitter
LinkedIn
Instagram