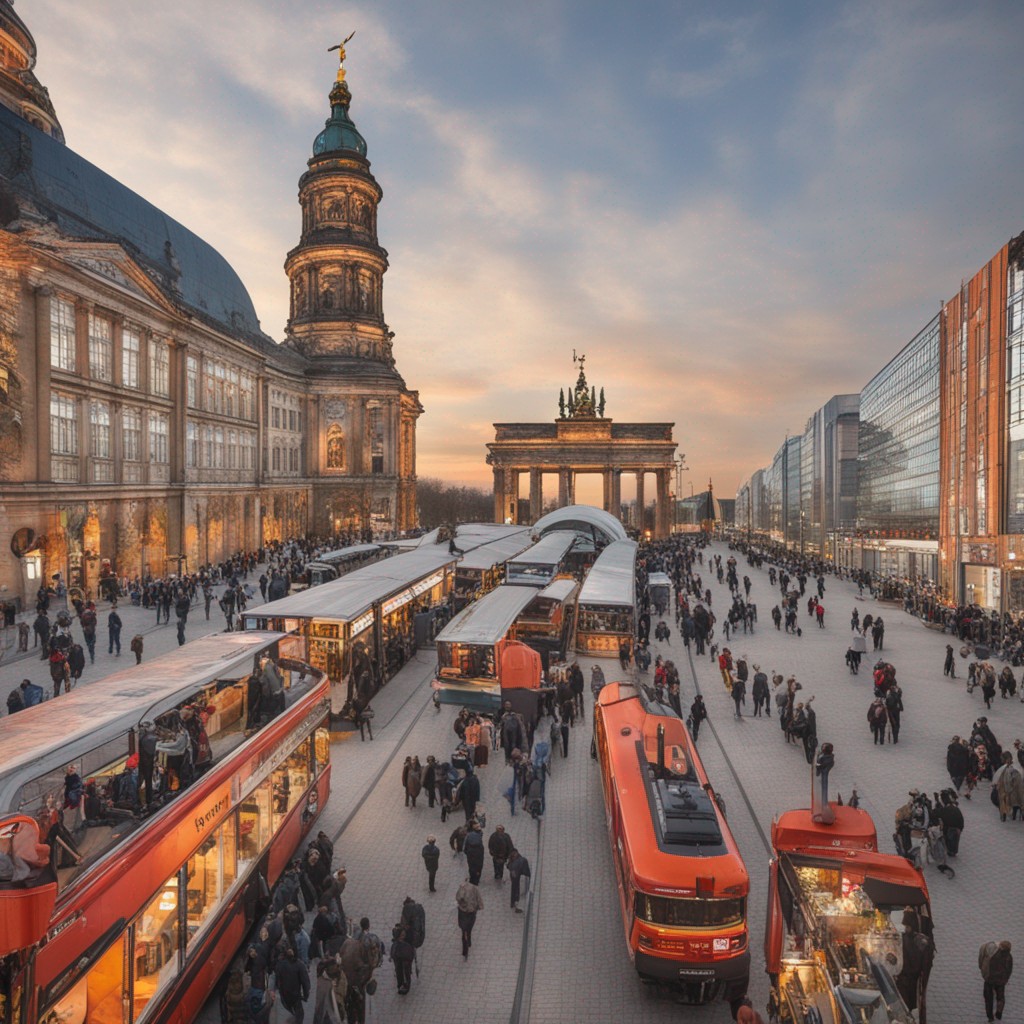 Hello there, dear readers! If you're in the tourism industry, a travel aficionado, or even someone just looking to catch up on what's new and trending in global tourism, let me tell you—you've landed on the right page. Today, we are diving deep into the universe of ITB Berlin, the epitome of travel trade shows. Organized by Messe Berlin GmbH, this annual event occurs at the expansive venue of Messe Berlin in, you guessed it, Berlin, Germany. This isn't just any other trade show; it's a spectacle where businesses bloom, networks expand, and opportunities arise.
ITB Berlin is the focal point of tourism trends, industry insights, and travel innovations. It's a vast and bustling ecosystem where exhibitors and visitors converge to talk shop, discover novel ideas, and make game-changing connections. The estimated turnout for this trade show is staggering, boasting around 160,000 visitors and approximately 10,000 exhibitors. With timings from 9:00 AM to 6:00 PM, the event provides a full day of engaging activities, presentations, and networking sessions that are set to blow your mind. But enough of the teaser—let's delve into the fascinating realms of ITB Berlin.
Some Quick Facts:
Where does it take place?: Messe Berlin, Berlin, Germany
Tickets: Paid tickets required for entry
How to Register?: Usually online through the official ITB Berlin website
Organizer: Messe Berlin GmbH
Event Type: Trade Show
Timings: 09:00 AM – 06:00 PM (expected)
Estimated Turnout: 160,000 Visitors, 10,000 Exhibitors
1. Introduction to ITB Berlin: The Grandest Tourism Trade Show of the Year
When we talk about trade shows in the tourism sector, the name that inevitably pops up is ITB Berlin. But what exactly makes this event the crown jewel of the industry? Well, let me break it down for you. First off, its sheer scale is jaw-dropping. Covering multiple halls and sectors within the industry, from hospitality to destinations and technology, ITB Berlin is an all-encompassing event. If you think you've seen it all, wait till you step into the labyrinthine walkways of Messe Berlin.
Secondly, the event is impeccably organized. Messe Berlin GmbH, the organizer behind this extravaganza, goes to great lengths to ensure everything runs smoothly. From well-coordinated presentations to efficient facilities like restrooms and food stalls, everything is designed to optimize your experience. It's not just a trade show; it's a well-oiled machine that operates on a massive scale.
Thirdly, the range of exhibitors is astounding. We're talking thousands—yes, thousands—of exhibitors from all corners of the globe, each bringing something unique to the table. Whether you're a visitor looking for the next big holiday destination or an exhibitor eyeing new business collaborations, you'll find exactly what you're looking for. It's not just the variety but also the quality of exhibitors that sets ITB Berlin apart from the rest.
Now, let's talk about the attendees. The footfall isn't just high; it's phenomenally diverse. You'll find everyone from business moguls and decision-makers to travel bloggers and tourism students. This diversity adds a dynamic, energetic atmosphere to the trade show, making networking a rewarding and enriching experience.
Last but not least, ITB Berlin is a trendsetter. Every year, several key trends emerge from the event, setting the stage for the industry in the coming months. If you want to stay ahead of the curve, this is the place to be. Whether it's the advent of sustainable tourism practices or the introduction of cutting-edge travel technologies, ITB Berlin is where the future takes shape.
And that, dear readers, is just the tip of the iceberg.
2. Historical Perspective: The Evolution of ITB Berlin Over the Years
Let's turn the clock back and look at the origins of ITB Berlin. Started in 1966, the event has a rich history that's just as captivating as the show itself. In its first edition, there were only five countries with nine exhibitors involved. Yes, you heard that right, just nine! Fast forward to today, and the trade show hosts around 10,000 exhibitors from all over the globe. That's monumental growth by any standard, but what's even more compelling is how ITB Berlin has managed to remain relevant and influential throughout the years.
You see, the key to ITB Berlin's sustained success has been its ability to adapt and evolve. In the early days, the focus was largely on European destinations. But as the world became more connected, so did the trade show. ITB Berlin gradually expanded its scope to include exhibitors from Asia, America, Africa, and even the Polar regions! This global perspective has made it a truly international event, attracting a broad array of exhibitors and visitors alike.
Another fascinating aspect of its history is how ITB Berlin has kept pace with technology. With the advent of the internet and social media, traditional marketing strategies underwent a sea change. Realizing this shift, ITB Berlin incorporated digital marketing sessions, tech-oriented exhibitors, and interactive presentations into its fold. They didn't just adapt to change; they became a part of it, showcasing innovations like virtual reality tours and mobile travel applications that are now industry staples.
But it's not just about business and technology; ITB Berlin has always been socially conscious. Over the years, it has put a spotlight on critical issues like sustainability, responsible tourism, and gender equality. Specialized seminars and panels are dedicated to these topics, facilitating meaningful dialogues that aim to bring about tangible changes in the industry.
So, to sum it up, ITB Berlin is more than just a trade show; it's a living, breathing entity that has grown and evolved with the times, always striving to be at the forefront of the tourism industry. And that's a history worth being a part of.
3. Why You Should Visit: Benefits for Visitors and Tourists
"Okay, I get it, ITB Berlin is big and important," you might say. "But what's in it for me?" Excellent question, and I've got not just one but multiple answers for you. First and foremost, ITB Berlin is a treasure trove of information. Whatever you're looking to learn—be it about exotic destinations, budget travel, or luxury experiences—chances are you'll find it here. The event is like a massive library of travel catalogs, except it's interactive and a lot more fun!
Let's talk about the networking opportunities. Remember, it's not just the exhibitors who are looking to network; you can, too! Want to connect with like-minded travel enthusiasts? Check. Looking to gain some insights from travel bloggers and industry experts? Check. Interested in discussing business opportunities? Double-check! With an estimated turnout of 160,000 visitors, you're bound to meet people who can enrich your travel experiences or professional endeavors.
Now, what about the exclusive deals and offers? Yes, you heard that right! Many exhibitors at ITB Berlin offer special promotions that you can take advantage of. These could range from discounted travel packages to exclusive amenities, and they're typically not available anywhere else. It's like Black Friday for travel enthusiasts!
Let's not forget the entertainment. Apart from the serious business of tourism, ITB Berlin knows how to throw a good party. Cultural showcases, dance performances, food tastings—you name it, they have it. It's an immersive experience that lets you travel the world without leaving the venue. You'll get to enjoy snippets of different cultures and maybe even find your next travel destination in the process.
So, whether you're a seasoned traveler or a newbie looking to get your feet wet, ITB Berlin has something for everyone. It's not just a trade show; it's a holistic experience that educates, entertains, and, most importantly, inspires you to explore the world.
4. Opportunities for Exhibitors: Why You Can't Afford to Miss ITB Berlin
If you're in the tourism industry, missing out on exhibiting at ITB Berlin is akin to a tech company skipping CES—it's just not a smart move. But why, you ask? Well, the reasons are manifold. For starters, ITB Berlin offers an unparalleled platform to showcase your products and services. With an estimated 160,000 visitors passing through the venue, the exposure you get is simply massive. But it's not just about quantity; it's about quality as well. The attendees include industry decision-makers, travel agencies, and tour operators who can directly impact your business.
Now let's talk about networking. At ITB Berlin, you're not just confined to your booth. The event facilitates several networking sessions, meetups, and workshops where you can interact with potential clients or partners. These sessions are finely curated to allow optimal networking opportunities. Some of them are sector-specific, some are based on geographic locations, and some are just casual get-togethers. The point is, there's something for everyone.
ROI, or Return on Investment, is another significant advantage of exhibiting at ITB Berlin. While it's true that setting up a booth may require substantial investment, the potential returns are well worth it. Many exhibitors have reported securing significant business deals at the event, some of which have even been game-changers for their companies. The key is to come well-prepared—know your audience, have an engaging display, and make sure to follow up on the leads post-event.
But it's not all business; there's a fun element to it too. You get to experience the event from a unique standpoint, learning from your peers and competitors alike. The atmosphere is electric, filled with the latest trends and technologies in tourism. Exhibiting at ITB Berlin is as much about growing your business as it is about being a part of a community—a community that's at the forefront of shaping the future of tourism.
Lastly, being an exhibitor at ITB Berlin lends your brand a certain level of prestige. It says that you're serious about what you do and that you're a part of the industry's most significant yearly congregation. The credibility you gain can go a long way in establishing trust with clients and partners. So, if you're looking to make a mark in the tourism industry, ITB Berlin is the stage you want to be on.
5. Understanding the Layout: Zones, Segments, and Special Areas
Navigating ITB Berlin can be both exciting and overwhelming. The event is spread across multiple halls of the Messe Berlin venue, each dedicated to various sectors of the tourism industry. To make the most of your visit, it's crucial to understand the layout. Trust me, the last thing you want is to wander aimlessly, missing out on sections that are most relevant to you.
Firstly, each hall usually focuses on a geographic region or a specific segment of the industry—Adventure Tourism, Business Travel, or Medical Tourism, among others. So, if you have a particular interest, head straight to the respective hall. Many attendees make the mistake of trying to cover everything in one day, but given the sheer scale of ITB Berlin, it's essential to prioritize.
Technology is also given significant space at ITB Berlin, often with an entire hall dedicated to travel technology companies. This is the area where you'll find innovative startups, well-established giants, and everyone in between. If you're a tech enthusiast or simply want to understand how technology is revolutionizing the tourism industry, do not miss this section.
Special areas and stages are also a unique feature of ITB Berlin. These areas often host panel discussions, seminars, and interviews. These discussions can range from deep dives into specific tourism sectors to broader industry trends. It's an excellent opportunity to get insights straight from the experts and thought leaders in the field. And who knows, you might even get a chance to interact with them personally!
Lastly, let's talk about amenities. The venue is equipped with multiple food and beverage stalls, rest areas, and even business centers where you can sit down and check your emails or make a quick call. The organizers at Messe Berlin GmbH understand the needs of attendees and exhibitors, and they've done their best to make the experience as comfortable as possible.
In a nutshell, understanding the layout is like having a roadmap for a treasure hunt. Knowing where to go and what to see ensures that you make the most of your time at ITB Berlin.
6. The Ticketing Experience: From Costs to Registration
So you're convinced that ITB Berlin is the place to be, but what about getting in? As we all know, the first interaction with any event often starts with the ticketing experience, and ITB Berlin is no exception. Before we dive in, let's clarify that ITB Berlin is a paid event. While this may deter some, believe me, the returns you get for your investment are immeasurable.
Ticket prices vary based on the type of access you desire. There are options for single-day tickets, multiple-day tickets, and special passes that give you access to exclusive events and sessions. Now, here's a pro tip: Keep an eye out for early-bird discounts. Registering well in advance can save you a decent amount of money, and who doesn't love a good deal?
The registration process is straightforward, and mostly conducted online. Visit the official ITB Berlin website, and you'll find detailed instructions on how to proceed. You'll be required to fill in some basic information and select your ticket type. Payment options are multiple, accommodating various methods from credit cards to digital wallets. Once your payment is confirmed, your ticket is usually emailed to you. Just print it out or keep a digital copy on your phone, and you're good to go!
But what if you're an exhibitor? Well, the process is a bit more elaborate for you. Given that you'll need a space to showcase your offerings, you'll have to consult with the organizers, Messe Berlin GmbH, for booth costs and arrangements. They offer different sizes and setups, and the cost varies accordingly. Remember, it's crucial to book your space well in advance, as the event is in high demand and slots fill up quickly.
Lastly, for those of you concerned about sustainability, ITB Berlin is way ahead of you. In recent years, they've moved towards electronic tickets and mobile apps to reduce paper waste. They also encourage public transportation to and from the venue, offering detailed guides on how to get there sustainably. In essence, the ticketing and registration process at ITB Berlin is designed to be as user-friendly and responsible as possible.
7. Networking at ITB Berlin: Making the Most of Business Opportunities
Networking is often cited as one of the top reasons professionals attend ITB Berlin. And why wouldn't it be? The event attracts a who's who from the global tourism industry. But merely attending isn't enough; you have to know how to seize these valuable networking opportunities effectively.
Preparation is your first step. Before you even set foot at the Messe Berlin, have a game plan ready. Identify the companies or professionals you want to connect with and do your research on them. The event's official website usually provides a detailed list of exhibitors and attendees, making it easier for you to plan your networking strategy.
Now, let's talk about the business card—a classic yet often overlooked tool in networking. Bring plenty of business cards and make sure they're updated with all your relevant information. In the digital age, a business card may seem archaic, but it's a physical reminder of your meeting, something your new contacts can refer to later. And trust me, after meeting dozens of people, having something tangible helps.
What about networking events within ITB Berlin? The event hosts multiple mixers, roundtables, and "speed dating" style sessions specifically designed for networking. Make sure you sign up for these events beforehand, as spots can be limited. These are excellent platforms where you can have one-on-one conversations with industry leaders, potential clients, or even future partners.
Of course, effective networking doesn't end when the event does. Follow-up is crucial. Whether it's a simple "Nice to meet you" email or a more elaborate proposal, make sure you reach out to your new contacts within a week of the event. You'd be surprised how many people fail to do this, losing potential business opportunities.
In summary, networking at ITB Berlin isn't just about shaking hands and exchanging business cards. It's an intricate dance that begins well before the event and continues long after it ends. With meticulous preparation and diligent follow-up, the connections you make here can offer significant advantages in your professional journey.
8. Showcasing Innovations: The Place for Industry Trends and Launches
When we talk about ITB Berlin, the word that often comes to mind is "innovation." This is the grand stage where new trends are set, groundbreaking technologies are unveiled, and industry norms are challenged. If you're a trend watcher or someone involved in developing new services or technologies, you can't afford to miss this.
Why is ITB Berlin so pivotal for launches and showcasing innovations? For one, it gathers a captive, relevant audience like no other. It's one thing to send out a press release or post a product video online; it's entirely another to showcase it in front of hundreds of intrigued industry leaders, potential clients, and media experts who are already interested in what you have to offer.
But it's not just about having an audience; it's about the right kind of audience. Let's say you've developed an innovative booking engine. At ITB Berlin, not only can you demonstrate it to thousands of attendees, but you can also meet representatives from travel agencies, tour operators, and other potential clients who would be directly interested in your product. Tailoring your pitch and demonstration to such a specific audience can significantly increase your chances of a successful launch.
Media coverage is another reason why ITB Berlin is perfect for showcasing innovations. Journalists and bloggers from all corners of the globe cover the event. A well-timed press conference or product launch can thus gain you not just national but international coverage. Think about the reach and impact that such exposure can generate for your product or service!
Also, remember that innovation is not limited to technology. Innovative travel packages, tourism policies, sustainability initiatives, and marketing strategies also take center stage at ITB Berlin. Whatever your niche, there's a platform for you to showcase your creative solutions.
In a nutshell, ITB Berlin serves as a catalyst for innovation in the global tourism industry. It's the perfect launchpad for your groundbreaking ideas, and missing out on this opportunity is, quite frankly, a strategic mistake you don't want to make.
9. Learning Opportunities: Workshops, Seminars, and Panels
If knowledge is power, then ITB Berlin is undoubtedly one of the most empowering events you can attend. Beyond the networking and business opportunities, the fair offers an extensive array of workshops, seminars, and panels. Whether you're a newbie looking for industry insights or a seasoned professional keen on keeping up with the latest trends, there's something for everyone.
Workshops at ITB Berlin are usually hands-on sessions led by experts in various fields. These could range from practical topics like "Maximizing Your Online Presence" to more niche subjects like "Sustainable Tourism in the Post-COVID World." The key advantage of these workshops is that they offer actionable insights. You walk away not just with theoretical knowledge but with practical skills and strategies that you can implement in your business right away.
Seminars, on the other hand, are more like traditional classroom settings where you can deep-dive into specific subjects. These are perfect for those who want an in-depth understanding of particular topics. Conducted by industry leaders, these seminars offer a wealth of information and often include Q&A sessions, allowing you to get personalized advice.
Panels are perhaps the most exciting learning opportunities at ITB Berlin. These are discussions featuring a diverse group of experts debating on trending topics. Not only do you get to hear multiple perspectives, but these sessions are also often interactive, allowing audience members to pose questions. This makes for a dynamic learning environment where opinions, facts, and ideas are exchanged freely.
Another aspect that sets ITB Berlin apart is the quality of speakers. We're talking about CEOs, policymakers, renowned academics, and thought leaders. The people who are shaping the industry are the ones leading these educational sessions. It's not every day you get to learn directly from the influencers and decision-makers in your field.
In summary, ITB Berlin provides unparalleled learning opportunities. No matter where you are in your professional journey, the knowledge you can gain here can be a significant catalyst for your growth. If you're in the tourism industry, consider these educational sessions not as an option but as a must-attend.
10. The Cultural Experience: Beyond Business—Enjoying Berlin While You're There
While ITB Berlin is undoubtedly a business-centric event, let's not forget the fabulous city that hosts it—Berlin. Known for its rich history, vibrant culture, and dynamic nightlife, Berlin offers a fantastic backdrop to this global event. Trust me, adding a cultural layer to your ITB Berlin experience is not just a nice-to-have; it's a must.
Let's start with the obvious—the food. Berlin offers a culinary adventure that's as diverse as its population. Whether you want to indulge in traditional German cuisine, like Bratwurst and Pretzels, or try something more exotic, you'll find a range of options. Food markets and eateries near the Messe Berlin venue offer quick bites, while the city's numerous restaurants present a more relaxed dining atmosphere.
Art and history buffs, you're in for a treat. Berlin's iconic landmarks like the Berlin Wall, Brandenburg Gate, and Museum Island are must-visits. If your schedule is tight, consider taking a guided city tour that covers these highlights. Many tour operators offer special packages for ITB Berlin attendees, making it convenient for you to soak in some culture between business meetings.
Shopping is another experience you shouldn't miss. From high-end boutiques to quirky flea markets, Berlin has something for every shopper. This could also be an excellent opportunity to pick up souvenirs for your team back home or your family. A thoughtful gift can go a long way in strengthening relationships, both personal and professional.
And then there's the nightlife. Berlin is globally renowned for its vibrant clubbing scene. If you're up for it, step out and experience the pulsating energy of the city after dark. Numerous bars, clubs, and lounges offer a variety of musical experiences, from techno beats to classical performances.
So, why is the cultural experience so important? Because business isn't just about transactions; it's about relationships. Experiencing the local culture gives you something to talk about, something to bond over with your business contacts. When you share a cultural experience, you're not just another attendee or exhibitor; you become a more relatable, well-rounded individual.
---
So there you have it, folks—a comprehensive guide to making the most out of your time at ITB Berlin. From understanding why it's the ultimate hub for the tourism industry to making sense of the ticketing process, leveraging networking opportunities, showcasing innovations, gaining invaluable learning experiences, and even enjoying Berlin's rich cultural landscape, ITB Berlin offers an unparalleled, multi-faceted experience.
By now, you should not only be convinced about attending ITB Berlin but also well-equipped to make the most out of it. And remember, whether you're an attendee looking to broaden your horizons or an exhibitor aiming to skyrocket your business, the event offers ample opportunities for everyone.
So go ahead, mark your calendars, book your tickets, and prepare yourself for an enriching journey at the next ITB Berlin. It promises to be an experience that could very well redefine your understanding of the tourism industry and your place in it.
Thank you for staying with us throughout this detailed guide. We hope to see you at ITB Berlin soon, enjoying the myriad of opportunities it has to offer. Until then, safe travels and good luck!
We welcome any suggestions or questions. You can email us or contact us using the contact page.
You can also connect with us on the following social networks:
Facebook
Twitter
LinkedIn
Instagram