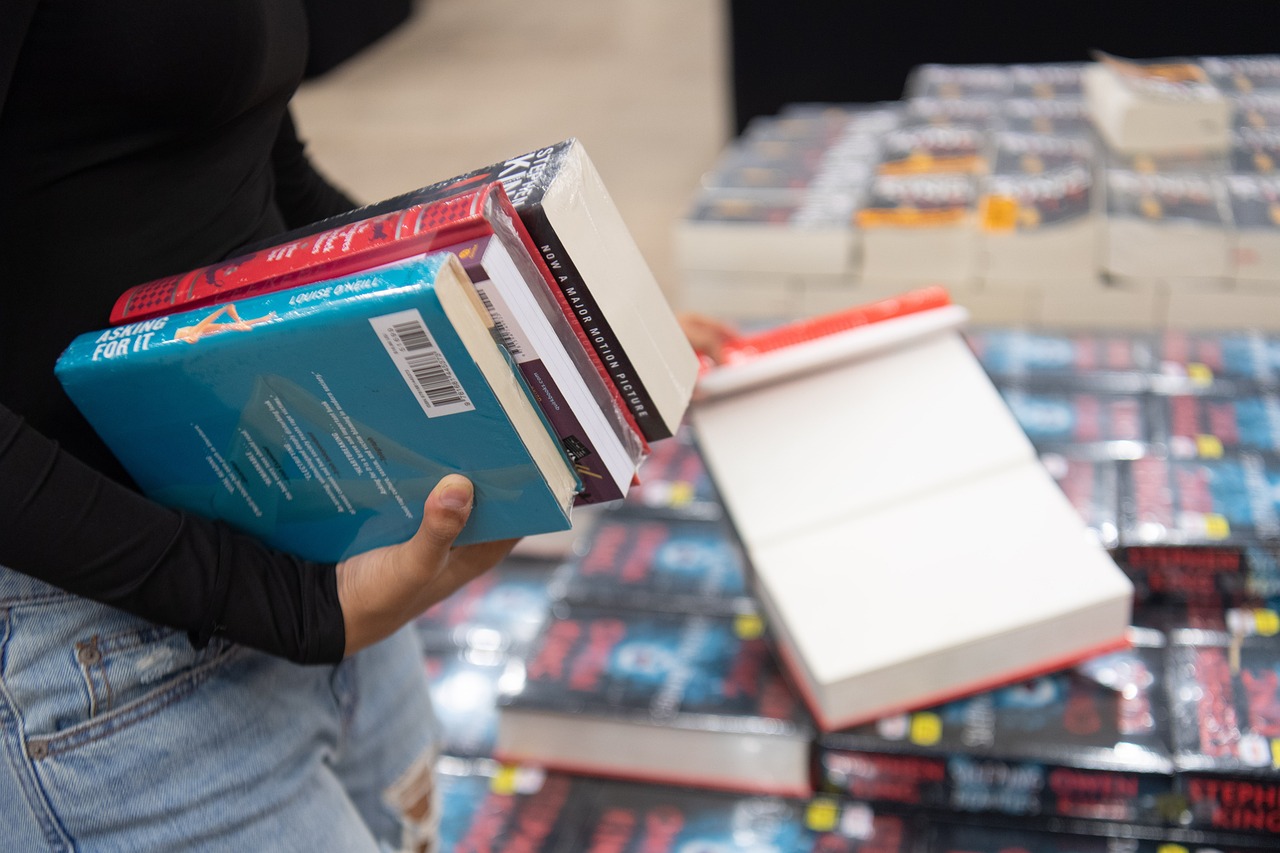 Welcome, dear readers and book lovers! There's a saying that goes, "Books are a uniquely portable magic," and I couldn't agree more. As an avid book enthusiast myself, there's nothing more enticing than immersing myself in the enchanting world of words, stories, and ideas. The beauty of literature is not merely in the act of solitary reading; it extends far beyond that. Imagine a place where you can meet like-minded bibliophiles, engage in insightful discussions, learn from accomplished authors, and explore an ocean of books, all under one roof. This place, my friends, is a book fair.
Book fairs in the US are an exhilarating celebration of literature. They are the perfect rendezvous for authors, publishers, and readers. A hub of creativity and knowledge, they offer something for everyone – be it a gripping mystery, a timeless classic, or an illuminating non-fiction. As we embark on this literary journey together, I'd like to take you on a virtual tour of the top 10 book fairs in the US. From the historical city of Boston to the sunny streets of Los Angeles, these festivals traverse the length and breadth of the country. Brace yourselves for a mesmerizing journey!
1. National Book Festival, Washington D.C.
Organized by the Library of Congress, the National Book Festival first began in 2001, thanks to the inspiration of Laura Bush, then First Lady and a librarian herself. With its inception, it immediately secured a spot as one of the premier book fairs in the US. It takes place annually in Washington D.C., the nation's capital, usually towards the end of summer.
The festival's free entry attracts more than 200,000 visitors each year. Registration is a breeze, with attendees needing only to visit the festival's official website for details. For those unable to attend in person, the festival offers live streaming of sessions, thus ensuring a global reach.
The National Book Festival brings together a stellar list of authors from various genres. From Pulitzer Prize winners to emerging novelists, the festival provides an opportunity to learn and interact with the best in the business. It also hosts an array of panel discussions, book signings, and story-telling sessions that cater to all ages.
Why should you attend? Imagine getting your favorite book signed by the author, or engaging in a stimulating conversation about the latest literary trends. Picture yourself strolling down the venue, lined with stalls featuring a cornucopia of books. For exhibitors, it's a golden chance to display your work to a global audience, network with industry leaders, and gain valuable feedback.
In 2021, the festival adopted a hybrid format, offering both in-person and virtual sessions. It featured over 100 authors, illustrators, and poets who brought their diverse perspectives to the fore. Such is the impact of this festival; it's not just a book fair; it's a celebration of the written word
2. Miami Book Fair, Miami
Each November, the sun-kissed streets of Miami transform into a paradise for book lovers. The Miami Book Fair, organized by Miami Dade College, is a week-long literary feast that has been delighting bibliophiles since 1984. Known as the "nation's finest literary festival," this fair features more than 500 authors and 300 booksellers from around the world.
The Miami Book Fair is open to all, with ticket prices varying for different events. Registration information can be found on their official website. Given its popularity, early booking is recommended.
One of the most attractive features of the Miami Book Fair is its "Street Fair." For three days, the streets around the college are closed off to traffic and turned into an open-air book market. It's a great chance to discover new authors, buy unique books, and engage in lively discussions with fellow book lovers.
For exhibitors, it's a fantastic opportunity to showcase their books and engage with a diverse audience. Whether you're an established author or an emerging one, you're bound to find something of interest here.
The Miami Book Fair goes beyond books. It's an immersive cultural experience featuring live music, culinary presentations, art installations, and much more. In the 2019 edition, for instance, the fair boasted a remarkable attendance of over 200,000 people. In terms of sheer size and popularity, this event is a must-visit for any literature enthusiast.
3. Los Angeles Times Festival of Books, Los Angeles
In the City of Angels, there is a heaven for book lovers. The Los Angeles Times Festival of Books, typically held in April, is the largest book festival in the US. Inaugurated in 1996, it attracts more than 150,000 attendees annually. The festival takes place on the University of Southern California campus and is a testament to the city's rich literary culture.
The event is free to attend, but some sessions require tickets that are typically priced modestly. Registration details are readily available on the festival's website.
This book fair in the US is renowned for its star-studded author line-up and comprehensive program. It features a gamut of literary genres and accommodates everyone, from the hardcore sci-fi fan to the romantic novel enthusiast. This book fair offers a chance to attend engaging author interviews, intriguing panel discussions, and exciting book signings.
Exhibitors stand to gain significantly from this fair. With a massive turnout, there's an opportunity to reach a broad audience, establish fruitful connections, and gather insightful feedback.
The LA Times Festival of Books transcends the conventional boundaries of a book fair. It combines the vibrancy of live music, poetry readings, and food trucks, giving it a festival-like ambiance. In 2019, over 500 authors, celebrities, and musicians participated, making it an irresistible event for literature and culture enthusiasts.
4. Boston Book Festival, Boston
Boston, with its rich historical legacy and vibrant intellectual scene, is home to one of the most respected book fairs in the US – the Boston Book Festival. Held annually in October, it was established in 2009 with the mission of "celebrating the power of words to stimulate, agitate, unite, delight, and inspire."
The festival is free and open to all, making it a highly inclusive event. Registration information can be found on the official website. It's held in Copley Square, in the heart of Boston, allowing attendees to explore the city's literary landmarks as well.
The Boston Book Festival features a diverse range of events. Attendees can partake in workshops, panel discussions, live music, and even a "bookish scavenger hunt." They can also interact with eminent authors and participate in thought-provoking conversations.
The benefits for exhibitors are manifold. The festival offers a perfect platform to showcase your work, meet potential customers, and interact with industry professionals.
One of the key highlights of the Boston Book Festival is its commitment to promoting local talent. They host a writing contest that encourages emerging authors to share their stories, making it a nurturing ground for budding talent. In the 2022 festival, they attracted over 25,000 attendees, further solidifying their place in the literary world.
5. Southern Festival of Books, Nashville
The Southern Festival of Books, hosted in Nashville, Tennessee, has been celebrating literature since 1989. Held annually in October, it attracts more than 25,000 visitors from across the region. The festival's picturesque location, in the heart of downtown Nashville, adds to its charm.
The Southern Festival of Books is free to attend, reinforcing its commitment to making literature accessible to everyone. Details for registration can be obtained from their official website.
What sets this festival apart is its focus on Southern literature. It's a unique opportunity to explore the rich literary tradition of the Southern United States, with a wide range of books on display. Visitors can attend readings, panel discussions, and author signings, providing a unique insight into the world of Southern literature.
Exhibitors, especially those dealing with Southern literature, will find a keen and receptive audience here. They can showcase their work, foster connections, and gain exposure in a relatively niche segment of literature.
The Southern Festival of Books is also known for its children's programming, making it a family-friendly event. Coupled with the charm of Southern hospitality, this book fair presents an unparalleled blend of literature, culture, and community spirit.
6. San Francisco Bay Area Book Festival, Berkeley
The San Francisco Bay Area is well-known for its vibrant culture, technological innovation, and picturesque landscapes. But did you know it also hosts one of the largest book fairs in the US? The San Francisco Bay Area Book Festival, typically held in May, is a two-day event attracting over 300 exhibitors and 150 authors from all around the world.
The festival is open to all, with tickets priced affordably. They also offer discounts for students, seniors, and ADA attendees, ensuring inclusivity. Registration and ticket information can be found on the festival's website.
The festival offers a diverse range of experiences for its attendees. From author talks to writing workshops, book signings to panel discussions, there's a world of literary experiences waiting to be explored.
Exhibitors have the chance to showcase their work to an eclectic and educated audience. It provides a platform for networking, selling books, and even launching new titles.
The San Francisco Bay Area Book Festival is also known for its "Lacuna," an art installation made from 50,000 books. Attendees can take home books from the Lacuna, turning them into a treasure trove for bibliophiles. In the 2019 festival, over 60,000 book lovers flocked to the event, making it a highly anticipated event in the literary calendar.
7. Twin Cities Book Festival, Minneapolis and Saint Paul
Encompassing the cities of Minneapolis and Saint Paul in Minnesota, the Twin Cities Book Festival is a one-day event held annually in October. Launched in 2001, it has grown into the largest and most significant literary event in the Upper Midwest. It is hosted by Rain Taxi, a literary organization dedicated to championing independent literature.
The festival is free and open to the public, with the mission to foster a love for literature among all attendees. Registration details are available on the festival's website.
The Twin Cities Book Festival offers a plethora of activities. With author readings, book signings, panel discussions, and even a children's pavilion filled with activities and storytelling, it caters to a broad spectrum of book lovers.
For exhibitors, it offers an excellent opportunity to interact with an enthusiastic and literary-minded audience. It provides a stage to sell books, meet potential readers, and interact with other authors and publishers.
A unique feature of this festival is its "Used Book Sale," where attendees can find books at deeply discounted prices. With over 7,000 attendees in the last edition, it's a festival that promises a lively atmosphere and memorable experiences.
8. Savannah Book Festival, Savannah
The Savannah Book Festival, held annually in February, is a charming literary event set in the historical city of Savannah, Georgia. Since its inception in 2008, it has been drawing book lovers from all over the country to enjoy four days of author presentations, book signings, and meet-and-greet opportunities.
The festival is open to the public with both free and ticketed events. Information about registration and ticket prices can be found on their website.
This festival's charm lies in its intimacy. It allows attendees to engage with their favorite authors in a more personal setting. The author presentations cover a variety of genres, ensuring there's something for everyone.
For exhibitors, it provides a chance to connect directly with their readers. It offers a platform for networking, promoting their books, and fostering a deeper connection with the literary community.
The Savannah Book Festival also takes pride in its "Opening Address," "Keynote Address," and "Closing Address," which are delivered by best-selling authors. With past speakers including renowned authors like Diana Gabaldon and John Grisham, it's a literary event that cannot be missed.
9. Decatur Book Festival, Decatur
As we reach the end of our list, let's turn our focus towards the south, to the Decatur Book Festival held in Decatur, Georgia. Started in 2006, this Labor Day weekend event is one of the largest independent book festivals in the country.
This community-based festival is free and open to all. Detailed registration and ticketing information for specific events can be found on the festival's website.
The Decatur Book Festival offers an exciting array of literary attractions. It includes author readings, book signings, panel discussions, and a vibrant street fair filled with book stalls. The festival also caters to children and teenagers with its dedicated Kidnote and Teen Stages.
For exhibitors, the Decatur Book Festival provides a golden opportunity to reach a diverse audience, network with other industry professionals, and sell their books.
A distinctive feature of this festival is its emphasis on promoting local talent. The festival's 'Emerging Writers Pavilion' gives budding authors a chance to read from their work, offering a platform for new voices in literature. Also, its 'Writers' Conference', offers a series of workshops and discussions tailored to the needs and interests of local writers.
10. Texas Book Festival, Austin
Last but not least, let's head to the heart of Texas. The Texas Book Festival, held annually in October in the state capital, Austin, is one of the most significant literary events in the country. Founded in 1995 by former First Lady Laura Bush, it has become a staple event for the city's thriving cultural scene.
The festival is free to the public, with some sessions requiring a ticket purchase. Registration and ticketing details can be found on the festival's website.
The Texas Book Festival showcases a wide range of literature genres, with a special emphasis on promoting local Texan authors. Attendees can explore author sessions, book signings, panel discussions, and cooking demonstrations.
Exhibitors can benefit from the festival's massive attendance. It's an excellent platform for authors and publishers to showcase their work, engage with their audience, and connect with industry professionals.
The Texas Book Festival stands out for its commitment to literacy and education. Through its grants and programs, it has donated over $3 million to Texas public libraries. Its 'Reading Rock Stars' program brings authors into Title I schools, offering students an unforgettable literary experience.
And there you have it – a journey through ten of the best book fairs in the US. Each one offers a unique experience, a chance to dive into the rich world of literature, and a celebration of the written word in all its forms. So whether you're a reader, a writer, an exhibitor, or simply someone who enjoys a good story, these festivals await your discovery. Pack your bags and prepare for a memorable literary adventure.
We welcome any suggestions or questions. You can email us or contact us using the contact page.
You can also connect with us on the following social networks:
Facebook
Twitter
LinkedIn
Instagram