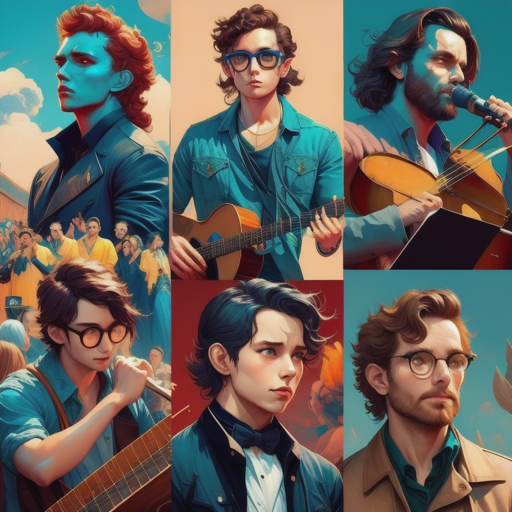 Welcome to our musical journey across the country! Today, we're going to take a melodious ride through the top 10 music festivals in the United States that you absolutely cannot miss. If you're a fan of rhythm and melody, a follower of the beats, or simply an adventurous spirit looking to create unforgettable memories, you've found the right place. I'm here to take you on a voyage to the best destinations where music, people, and culture collide, creating an atmosphere of pure joy, excitement, and unity.
Music Festivals in the United States are not just about the music. They're an amalgamation of rich culture, unforgettable experiences, food that dances on your tongue, art that captures your soul, and of course, a community of people who share your passion. These festivals, large and small, create a different world where you can escape from the humdrum of life, immerse in the music, and let your soul dance. Let's start the exploration!
1. Coachella – Indio, California
Coachella, arguably one of the most famous music festivals worldwide, takes place in the sunny city of Indio, California. Organized by Goldenvoice, a subsidiary of AEG Live, it's held annually at the Empire Polo Club. Usually happening over two weekends in April, this festival draws crowds in hundreds of thousands. For tickets, you can register on the Coachella website, but you'll have to be quick – tickets typically sell out in a matter of hours due to the event's immense popularity.
The allure of Coachella goes beyond its star-studded lineup, featuring genre-defying artists from pop to EDM, rock to hip-hop. It's a convergence of music, art, and culture that offers an unmatched sensory experience. The festival grounds are scattered with awe-inspiring art installations that blend seamlessly with the desert landscape. And let's not forget the iconic Coachella fashion – it's a spectacle in its own right.
This festival not only benefits attendees with unforgettable experiences, but it's also a boon for exhibitors. From food vendors to clothing and accessory brands, businesses find Coachella an excellent platform to reach a diverse, trend-conscious, and enthusiastic audience.
Each year, the festival seems to outdo itself, with performances that push the boundaries of creativity and technology. Remember Tupac's hologram in 2012? That was a game-changer, not only for Coachella but for the music festival industry as a whole.
As a first-timer, you may feel overwhelmed by the sheer scale and energy of Coachella, but trust me, it's worth it. The vibrant crowd, the palpable excitement, the surreal sunsets, and of course, the electrifying performances – there's no other place you'd rather be.
2. Bonnaroo Music and Arts Festival – Manchester, Tennessee
Moving across to the heart of the South, our next stop is the Bonnaroo Music and Arts Festival in Manchester, Tennessee. The festival is usually held in June and is a four-day multi-stage camping festival held on a beautiful 700-acre farm. You can buy tickets and check for updates on their official website.
Bonnaroo, organized by Superfly Presents and AC Entertainment, offers a diversified lineup spanning multiple genres. From indie rock and classic rock to jazz, hip-hop, and electronic music, Bonnaroo has something for everyone. It's not just a music festival; it's a community experience, attracting people from all walks of life who come together to share in this immersive escape from the everyday.
If you're an artist or a craftsperson, you'll find the festival's marketplace a fantastic opportunity to showcase your work to a diverse crowd. And if you're an attendee, you're in for an authentic cultural experience, complete with local food vendors and craft beer.
One unique thing about Bonnaroo is its sustainability efforts. The festival places a high emphasis on 'green' initiatives, encouraging festival-goers to recycle and compost. In 2019, they announced their goal to be plastic-free by 2022 – a move that other festivals are starting to emulate.
Visiting Bonnaroo is a chance to reconnect with the simpler things in life. Camping under the stars, sharing stories around a campfire, exploring diverse music and arts – these are memories that will last a lifetime.
3. Lollapalooza – Chicago, Illinois
Next on our musical map is Lollapalooza, held annually in Grant Park, Chicago, over a span of four days in August. What started as a touring festival in 1991 by Jane's Addiction singer Perry Farrell has become a global music event, with versions of the festival taking place internationally. You can secure your place by purchasing tickets from the festival's official website.
Lollapalooza, operated by Live Nation, boasts eight stages and more than 170 bands from all over the world. This festival is well-known for its diverse lineup that caters to all music tastes, showcasing popular genres such as alternative rock, heavy metal, punk rock, hip hop, and electronic music.
The event also places a strong emphasis on promoting local businesses. From local food vendors in the Chow Town food court to art market vendors selling crafts and goods, Lollapalooza serves as a significant boost for the local economy.
Each year, Lollapalooza brings memorable moments, such as when Chance the Rapper made a surprise appearance during Future's set in 2017, or when Paul McCartney performed a surprise duet with Brittany Howard of Alabama Shakes in 2015.
If you're a music lover, a visit to Lollapalooza is an absolute must. The electric atmosphere, the stunning backdrop of the Chicago skyline, and the array of talent on display create an experience that you won't forget in a hurry.
4. South by Southwest (SXSW) – Austin, Texas
Heading south, we arrive at South by Southwest (SXSW) in Austin, Texas, a vibrant city known as the 'Live Music Capital of the World'. This unique festival takes place annually in March and extends beyond just music to include film and interactive media. Registration for SXSW can be done through their official website.
SXSW, first held in 1987, has grown in size and reputation, drawing creatives from around the globe. The festival, organized by SXSW LLC, prides itself on being a platform for emerging talent, with a particular focus on independent artists.
For exhibitors, SXSW is a golden opportunity to get their products or services in front of a global audience. For attendees, it's a chance to discover the next big thing in music, film, and technology.
In 2019, SXSW boasted 2,000+ official performers, representing 63 countries on 100 stages. If you're a fan of eclectic music and love discovering new talent, SXSW will feel like a musical treasure trove.
Whether you're an industry professional, a music enthusiast, or just someone with a curiosity for creativity, SXSW offers an unparalleled experience. It's a chance to explore new sounds, engage in meaningful discussions, and connect with like-minded individuals.
5. New Orleans Jazz & Heritage Festival – New Orleans, Louisiana
Our musical journey wouldn't be complete without a stop at the New Orleans Jazz & Heritage Festival, commonly known as Jazz Fest. Celebrated annually in late April and early May, it takes place at the Fair Grounds Race Course. Tickets can be bought directly from the festival's official website.
Jazz Fest, produced by Festival Productions Inc.-New Orleans and AEG Live, pays tribute to the rich cultural heritage of New Orleans. Although Jazz is in its name, the festival embraces a wide array of music genres, including blues, R&B, gospel music, Cajun music, zydeco, Afro-Caribbean, folk music, Latin, rock, rap, country music, bluegrass, and everything in between.
For local businesses and craftspersons, Jazz Fest provides a unique platform to exhibit their artistry and creativity to a diverse audience. The festival also offers a deep dive into southern food culture, with mouth-watering delicacies served by local vendors.
In 2019, the festival celebrated its 50th anniversary with an impressive lineup of over 600 artists and a record attendance of 475,000 over its 8-day run.
Jazz Fest is more than a music festival; it's a cultural feast. The rhythm of New Orleans, the flavors of the southern kitchen, the explosion of colors, and the sound of music in the air – these are experiences that will etch themselves onto your soul.
6. Electric Daisy Carnival (EDC) – Las Vegas, Nevada
We now find ourselves in the midst of a different kind of magic, at the Electric Daisy Carnival (EDC) in Las Vegas, Nevada. This annual electronic dance music festival usually takes place in May at the Las Vegas Motor Speedway. Tickets can be bought from the EDC website, with options ranging from General Admission to VIP experiences.
Organized by Insomniac Events, EDC is more than just a music festival – it's a one-of-a-kind, three-day-long immersive experience. With carnival rides, interactive art installations, and hundreds of world-class artists playing across various stages, EDC is a spectacle that embraces creativity, love, and unity.
Exhibitors and businesses find EDC a valuable platform to connect with a passionate, energetic crowd. From food vendors to clothing and merchandise retailers, there's an abundance of opportunities to engage with festival-goers.
If you're an EDM lover, EDC is nothing short of paradise. The festival combines the allure of Las Vegas with the pulsating energy of dance music to create an unforgettable experience. Think of vibrant neon lights, firework displays, and the electric energy of a crowd moving in sync with the beat – that's EDC for you.
7. Burning Man – Black Rock City, Nevada
Next, we head to the temporary city erected in the middle of the Nevada desert – Black Rock City, home to Burning Man. The event typically happens in late August or early September, lasting for a week. Tickets are distributed through a lottery system on the official Burning Man website.
Unlike most music festivals, Burning Man is a city in the desert dedicated to radical self-expression, self-reliance, and art. It is an experiment in community, art, radical self-expression, and radical self-reliance that culminates in the symbolic burning of a large wooden effigy ("The Man").
For the many artists and creatives who attend Burning Man, the festival serves as a unique platform to showcase their work, often in the form of interactive sculpture, performance, and art cars among other mediums. These installations are a significant aspect of Burning Man and are intended to be enjoyed by all participants, not merely viewed.
While Burning Man might not have a traditional lineup of musical acts, it does host a variety of music and performances across various camps, making it a unique addition to this list. The sights and sounds of Burning Man are unlike any other festival, with each visit promising a completely new and unique experience.
8. Pitchfork Music Festival – Chicago, Illinois
Returning to Chicago, our next stop is the Pitchfork Music Festival, usually held in Union Park in July. Organized by the independent music outlet Pitchfork, tickets can be purchased on the festival's website.
Pitchfork Music Festival is well known for its meticulously curated lineup that caters to the most discerning of music fans. Featuring a broad spectrum of artists from alternative rock and hip-hop to jazz and electronica, the festival is a perfect platform for discovering emerging talent.
Local vendors and artists get a chance to exhibit their work at the festival's CHIRP Record Fair, Renegade Craft Fair, and Flatstock, creating a diverse marketplace of unique and exciting goods.
With typically around 50 performers over three days, the festival offers a more intimate experience compared to some of the larger festivals. It's an opportunity to get up close with the artists and immerse yourself in the music.
9. Austin City Limits (ACL) – Austin, Texas
Our next festival takes us back to the heart of Texas, at the Austin City Limits Music Festival, or ACL. Held annually in Zilker Park in Austin, the two-weekend event takes place in October. Tickets are available on the festival's official website.
ACL, produced by Austin-based company C3 Presents, offers more than 130 bands on 8 stages, spanning all genres. From rock and indie to country, folk, and electronic, the diversity of the music is a big draw for attendees.
Local businesses, artisans, and food vendors also get a chance to participate, making the festival a significant contributor to Austin's local economy. For festival-goers, this means an opportunity to enjoy a wide array of local cuisines while exploring unique art and craft.
10. The Governor's Ball Music Festival – New York, New York
Finally, we land in the bustling city of New York for The Governor's Ball Music Festival, usually held in early June on Randall's Island Park. Organized by Founders Entertainment, tickets can be bought directly from the festival's website.
The festival, affectionately known as Gov Ball, offers a multitude of genres, including rock, electronic, hip-hop, indie, Americana, pop, folk, and more. The event is more than just music, though, with a variety of New York City's popular food and drink vendors, as well as activities such as a silent disco, mini golf, and photo booths to keep attendees entertained.
For local businesses and food vendors, Gov Ball is an excellent platform to showcase their offerings, contributing to the vibrant atmosphere of the festival.
Despite being one of the younger festivals, starting in 2011, Gov Ball has quickly established itself as a staple of the New York City summer circuit. With the city's skyline as a backdrop, the festival offers an urban music experience like no other.
There you have it, a guide to the top 10 music festivals in the United States that you can't miss. These events are more than just music; they're a celebration of culture, community, and creativity. They offer unforgettable experiences that extend beyond the performances – it's about the people you meet, the memories you make, and the magic of the music that moves us all. So get your tickets, pack your bags, and lose yourself in the rhythm of these extraordinary festivals.
We welcome any suggestions or questions. You can email us or contact us using the contact page.
You can also connect with us on the following social networks:
Facebook
Twitter
LinkedIn
Instagram