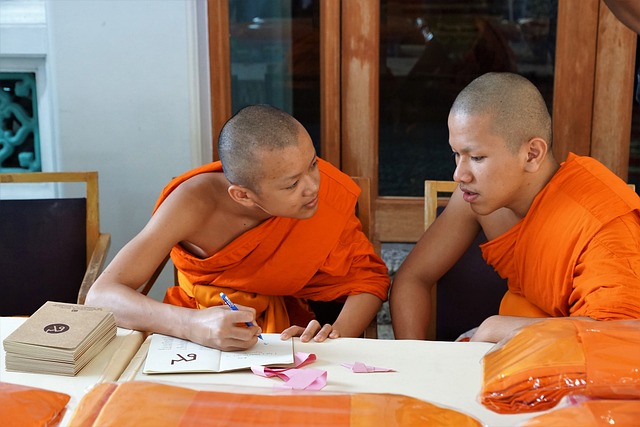 Greetings fellow book enthusiasts! I'm here to share an experience like no other, the alluring event of the Bangkok International Book Fair. Imagine a place where literary dreams come true, where you are surrounded by a vast ocean of books, and each page carries the aroma of a fascinating story that transcends geographical boundaries and timeframes. The book fair that takes place in the bustling city of Bangkok, Thailand is a dream come true for book lovers, authors, publishers, and exhibitors from all around the world.
The Bangkok International Book Fair, organized by the Publishers and Booksellers Association of Thailand (PUBAT), is held annually at the Queen Sirikit National Convention Centre. The tickets for this grand event can be purchased online or at the entrance. Registration is quite simple. Just visit their official website, fill in your details, choose the sessions you are interested in, and voila, you are all set for a literary adventure! Now, let's dive into the mesmerizing world of this book fair.
The Transcendent World of Traditional Literature
The Bangkok International Book Fair is an excellent place to immerse yourself in the richness of traditional literature. It's not just about picking up a book and reading; it's about traveling back in time, experiencing cultures, and understanding the progression of societies. Each book holds a piece of history that has shaped the world we live in.
Thai literature, for example, dates back to the Sukhothai period. In the traditional literature section, you will find a variety of books, manuscripts, and poems that depict the cultural and societal norms of that era. From epic Ramakien, influenced by Indian Ramayana, to lyrical verses of Sunthorn Phu, you'll embark on a journey that reveals a beautiful blend of Indian, Chinese, and Khmer influences on Thai literature.
The stories from the past are not only entertaining but also enriching. They provide insights into the traditions, customs, values, and belief systems of a bygone era. Imagine a book like the Thai version of Jataka tales, a significant part of Buddhist literature that contains stories about the previous lives of the Buddha. These stories are deeply moralistic, teaching the values of self-sacrifice, honesty, and kindness.
What is truly captivating about the traditional literature section is how it's displayed. The books are often encased in glass, with their beautiful, intricate covers reflecting the craftsmanship of the past. Every book, every manuscript, each with its own unique story, is a reminder of how far humanity has come.
Finally, traditional literature provides a foundation for modern literary works. By understanding the past, we can appreciate the present and look forward to the future. The Bangkok International Book Fair is a magnificent space that facilitates this exploration of history through literature.
The Vivid World of Modern Literature
Walking into the modern literature section at the Bangkok International Book Fair, you are instantly hit with a rush of vibrant energy. It's like stepping into a time machine, but instead of traveling back, you're catapulted into the future.
Here, you'll find books from every genre imaginable – sci-fi, fantasy, romance, mystery, horror, and more. These books offer a fascinating view into the complex tapestry of contemporary life and thought, presenting a different kind of history than their traditional counterparts. These stories provide commentary on the social, political, and cultural landscapes of the present day, offering perspectives that are as diverse as the authors themselves.
Notably, Thai modern literature, influenced by Western trends, also displays a significant shift from traditional narratives. Authors like Chart Korbjitti and Duanwad Pimwana challenge societal norms and explore the human condition in their works. These books introduce us to a world that's continually evolving and invite us to ponder the future of literature.
The modern literature section is also home to digital literature – eBooks, online journals, and more. This reflects the transformative impact of technology on the literary world, creating a space where readers can access a global library at their fingertips.
Lastly, modern literature isn't just about reading; it's about engaging. The book fair allows you to connect with authors through signings, readings, and discussions. It's an opportunity to meet the minds behind your favorite books, making the experience all the more personal and memorable.
A Haven for Children's Literature
If there's a magical kingdom at the Bangkok International Book Fair, it's undoubtedly the children's literature section. This space is filled with color, creativity, and laughter, designed to captivate the young and the young at heart.
From fairy tales and myths to educational books, the range is vast and enthralling. Classic Thai folktales like 'Sang Thong' and 'The Princess on the Suphan Mountain' whisk the kids away to enchanting lands. These stories, packed with moral lessons and cultural nuances, are a great way to introduce children to Thai culture.
On the other hand, international classics from authors like Roald Dahl, Dr. Seuss, and J.K. Rowling help cultivate a global perspective in young minds. Plus, comic books and graphic novels with their compelling artwork are a surefire hit among kids.
There's also an emphasis on interactive learning in this section. You'll see children huddled around tables, their faces alight with fascination as they participate in storytelling sessions, puppet shows, and craft workshops. It's a lively, energetic environment that fosters a love for reading and learning.
The children's literature section isn't just for the kids, though. It's a place where adults can revisit their childhood, rekindling their love for the stories that shaped their early years. As such, it's a precious corner where literature bridges the gap between generations.
A Forum for Budding Authors and Aspiring Publishers
What's more exciting than reading a good book? The chance to create one, of course! The Bangkok International Book Fair provides a wonderful platform for aspiring authors and publishers to learn, network, and grow.
The fair hosts numerous workshops aimed at honing writing skills. These sessions, led by established authors and industry professionals, provide guidance on a range of topics – from developing captivating plots to creating relatable characters. They also offer advice on overcoming writer's block, refining your style, and staying motivated throughout the writing process.
Moreover, the book fair provides opportunities to interact with publishers. As an aspiring author, you can gain insights into the publishing process, understand market trends, and learn how to pitch your manuscript. Networking with publishers not only helps you understand the business side of literature but also increases your chances of getting published.
For the ones interested in the publishing business, the fair offers a wealth of information about the latest technologies, marketing strategies, and distribution channels in the publishing industry. Attending these sessions can help them keep up with industry trends and build a successful publishing venture.
Whether you're a budding author dreaming of seeing your book on the shelves or an aspiring publisher wanting to shape the future of literature, the Bangkok International Book Fair is an invaluable resource.
The Exciting World of Book Signings and Author Sessions
Imagine getting your favorite book signed by the author themselves or having a chance to discuss the finer nuances of their work in person. At the Bangkok International Book Fair, such dreams turn into reality.
Author sessions and book signings are some of the most popular events at the fair. These are platforms where the readers can interact directly with the authors, asking questions, sharing their interpretations, or simply expressing their admiration.
Thai authors like Prabda Yoon, Saneh Sangsuk, and Win Lyovarin are often present at these sessions, giving readers a deeper understanding of their work and the inspirations behind them. International authors, too, grace the event, contributing to its global appeal.
These sessions are more than just fan service. They provide insights into the author's writing process, the challenges they faced, and their journey in the literary world. It's inspiring to hear about their successes, struggles, and the sheer determination that went into creating their masterpieces.
Book signings, on the other hand, are an intimate affair. There's something incredibly special about having your copy of a beloved book signed by the author. It's like a tangible connection between the creator and the consumer, a memory that will always remind you of that wonderful encounter.
The Treasure Trove of Rare and Antique Books
One of the most unique aspects of the Bangkok International Book Fair is the section dedicated to rare and antique books. This place is a treasure trove for collectors and history enthusiasts, housing an array of books that have stood the test of time.
These books range from ancient manuscripts, first editions, and signed copies, to out-of-print titles. Each book carries a sense of history, reflecting the literary trends and printing technologies of its time. The charm of these books lies in their imperfections – the yellowed pages, the worn-out covers, and the old-book smell – all reminiscent of a time long gone.
Moreover, the fair often organizes exhibitions showcasing a unique collection of antique books and their fascinating history. These exhibitions offer a chance to learn about the evolution of book production and design, the development of various literary genres, and the influence of historical events on literature.
For book collectors, the antique section provides an opportunity to add some rare gems to their collection. And for those of us who are simply lovers of literature, it's an unforgettable journey through the pages of history.
Exploring the Multicultural Corners
The Bangkok International Book Fair is a global event that truly embraces multiculturalism. Visitors have the unique opportunity to delve into a myriad of cultures through literature.
Every year, several countries set up their stalls to showcase their literary prowess. You can wander into the Japanese corner and get lost in the intricate world of Manga or explore the Russian section to discover the brilliance of Tolstoy and Dostoevsky. One moment you are in India, captivated by the poetic verses of Tagore, and the next, you're in France, immersing yourself in the philosophical musings of Camus.
These multicultural corners also host events that celebrate their unique culture. There could be a flamenco dance performance at the Spanish stall or a sushi-making demonstration at the Japanese one. You might even stumble upon an impromptu recital of Italian poetry.
What's truly delightful about these multicultural corners is how they reflect the universality of human emotions. Whether it's a Japanese haiku or an African fable, the narratives echo similar sentiments of love, loss, joy, and despair. This exploration of global literature reinforces our shared humanity and transcends cultural barriers.
The Fusion of Literature and Technology
The Bangkok International Book Fair is not just about traditional printed books; it also showcases the intersection of literature and technology. It's a place where the charm of pages meets the convenience of screens.
The digital literature section houses a wide array of eBooks, audiobooks, and digital magazines. With the rise of e-readers and audiobook platforms, literature has become more accessible than ever. These digital formats are especially beneficial for those with visual impairments or other disabilities that make traditional reading challenging.
Interactive sessions on digital storytelling techniques are another highlight of this section. These sessions explore innovative ways to narrate a story, such as interactive eBooks, augmented reality (AR) books, and virtual reality (VR) storytelling. These tech-driven narratives have revolutionized the reading experience, making it more immersive and engaging.
Moreover, the fair hosts discussions about the impact of technology on publishing. Topics like digital publishing trends, the shift towards self-publishing, and the use of social media for book promotion are commonly discussed. These discussions provide a comprehensive understanding of the evolving literary landscape.
In essence, the fusion of literature and technology at the Bangkok International Book Fair highlights the exciting future of reading and publishing.
The Impact of the Bangkok International Book Fair on Local Authors and Publishers
The Bangkok International Book Fair is not just an annual event for book enthusiasts; it's a lifeline for local authors and publishers. It provides a platform to showcase their work to a diverse audience, paving the way for recognition and success.
Local authors, both established and new, benefit greatly from this fair. It's an opportunity to introduce their work to a wide audience, connect with their readers, and even attract the attention of international publishers. With author sessions, they can share their inspirations and experiences, adding a personal touch to their work.
For Thai publishers, the book fair serves as a powerful marketing platform. The opportunity to display their catalog to thousands of visitors can significantly boost sales. It's also a chance to identify market trends, gauge readers' preferences, and adapt their publishing strategy accordingly.
Beyond the commercial aspect, the fair contributes to the growth of Thai literature. Workshops and seminars provide a learning platform for authors and publishers. The interaction with international authors and publishers brings in fresh perspectives and innovative ideas.
The fair, in essence, nurtures the local literary ecosystem. It's a catalyst for creative growth, inspiring Thai authors to pen down their stories and empowering publishers to bring those stories to readers.
Why Should You Visit the Bangkok International Book Fair?
Finally, why should you, as a reader, visit the Bangkok International Book Fair? Well, the answer lies in the magic that unfolds when you step into this literary wonderland.
The book fair is an opportunity to expand your literary horizons. You can discover books from diverse genres, cultures, and languages. You might stumble upon a gem that was previously unknown to you, a book that could become your next favorite.
It's also an educational platform. With various workshops, seminars, and discussions, you get a glimpse into the world of literature and publishing. You can learn about the writing process, the publishing industry, and the latest literary trends.
But the book fair is not just about books; it's about experiences. The chance to meet your favorite author, the thrill of finding a rare book, or the joy of exploring multicultural literature. It's about the conversations with fellow book lovers, the excitement in children's eyes, and the nostalgic trip down memory lane.
Most importantly, the Bangkok International Book Fair is a celebration of literature. It's a place that ignites imagination, nurtures creativity and reaffirms our love for stories. So, whether you're an avid reader, a budding author, or just someone who appreciates a good story, this book fair is a must-visit.
With this, I hope to have offered a comprehensive overview of the Bangkok International Book Fair. And more than that, I hope I have inspired you to be a part of this incredible literary event. It's not just about buying books; it's about enriching your life with diverse stories, experiences, and ideas. So, pack your bags and set your sights on Bangkok for a literary adventure you won't forget. See you at the fair!
We welcome any suggestions or questions. You can email us or contact us using the contact page.
You can also connect with us on the following social networks:
Facebook
Twitter
LinkedIn
Instagram