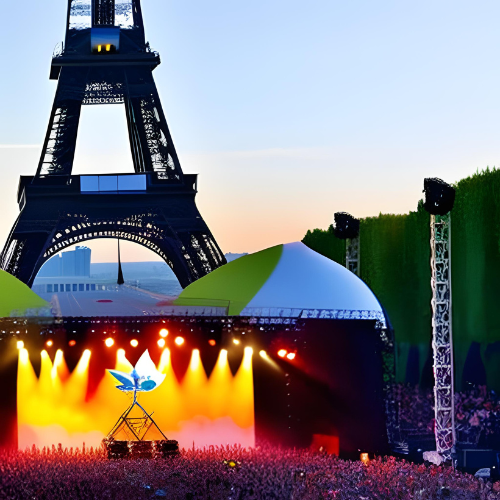 There's something profoundly thrilling about immersing yourself in the electrifying atmosphere of a music festival. Imagine yourself standing in a vast sea of vibrant souls, dancing to the rhythm of your favorite songs, under the broad canopy of the European sky. Welcome to our ultimate guide to the "Music Festivals in Europe," where we take you on an enchanting journey through the heart of Europe's most beloved music events. Whether you're a seasoned festival-goer or a curious first-timer, we've got you covered. From the euphoric energy of electronica to the heartfelt crooning of indie bands, these festivals offer an eclectic mix of genres that cater to every musical palate.
Dive into our meticulously crafted guide and discover the captivating world of music festivals in Europe. We're here to arm you with all the essential details, insider tips, and must-know facts to ensure you have an unforgettable experience. With an open heart and dancing shoes at the ready, let's embark on this adventure!
1. Glastonbury Festival, England: More Than Just Music
Arguably one of the most famous music festivals globally, Glastonbury has been a rite of passage for music lovers since 1970. Nestled in the heart of Somerset, England, this five-day festival is an immersive journey into music, performing arts, and cultural creativity. The key to its enduring charm lies in the event's diversity: from rock to reggae, pop to punk, and folk to electronica, Glastonbury is truly an all-encompassing celebration of the arts.
Getting tickets can be a Herculean task due to the festival's global popularity. However, our top tip is to set reminders for ticket release dates (usually in October) and be ready with lightning-fast fingers. Remember, it's not just about the music; you'll also want to explore the theatrical performances, film screenings, and comedy shows that contribute to Glastonbury's vibrant tapestry. Bring your camping gear and immerse yourself in this unique experience — the magic of Glastonbury extends long into the night.
2. Tomorrowland, Belgium: An Enchanted Adventure
Stepping into Tomorrowland feels like entering a magical realm where music and imagination reign supreme. This Belgian electronic dance music (EDM) festival has been transforming the town of Boom into a fantasy world since 2005, offering festival-goers an unparalleled audio-visual extravaganza. With jaw-dropping stages that look straight out of a fairy tale, the most famous DJs from across the globe, and a firework show that paints the night sky with a thousand colors, Tomorrowland is an EDM lover's paradise.
While the star-studded lineup is a significant draw, don't overlook the festival's commitment to sustainability. Tomorrowland's "Love Tomorrow" initiative focuses on reducing waste, promoting local produce, and raising environmental awareness among attendees. It's a conscious party where you can dance your heart out and know that you're contributing to a greener future.
3. Roskilde Festival, Denmark: A Celebration of Nordic Charm
Denmark's Roskilde Festival is one of the largest in Northern Europe and a testament to the region's rich cultural heritage. Since 1971, this eight-day event has been a blend of music, arts, and activism. While it hosts big names from the international music scene, Roskilde also champions local Nordic talent, giving attendees an authentic taste of Scandinavian music.
The festival's spirit is deeply rooted in community and social consciousness. Run mainly by volunteers, the profits from Roskilde are donated to various social and cultural charities. As you revel in the music, you're also contributing to a worthy cause – a wonderful harmony of enjoyment and altruism.
4. Primavera Sound, Spain: A Music Lover's Paradise
Barcelona's Primavera Sound is a treasure trove of eclectic sounds and genres. Hosting a vast spectrum of music styles – from pop and rock to hip-hop and electronic – this Spanish festival truly lives up to its tagline, "The New Normal," by pushing boundaries and challenging norms. Its progressive approach is reflected in its commitment to gender equality; Primavera was one of the first major festivals to achieve a 50/50 gender balance in its lineup.
Music aside, the festival's location also adds to its charm. Barcelona's cosmopolitan vibes blend seamlessly with the beachside locale, providing festival-goers with a unique backdrop for their sonic journey. So, put on your sunglasses, soak in the Mediterranean sun, and let the vibrant energy of Primavera Sound be your guide!
5. Exit Festival, Serbia: A Party at the Petrovaradin Fortress
There's something undeniably magical about partying in an 18th-century fortress. Serbia's Exit Festival is a perfect fusion of the past and the present, creating an atmosphere that's both electric and historic. With its labyrinthine tunnels and stunning vistas overlooking the Danube River, the Petrovaradin Fortress provides an idyllic setting for this four-day music event.
But Exit is more than just a music festival; it's a symbol of freedom and a platform for social change. Born out of a student movement for peace and democracy, Exit continues to advocate for human rights and social justice. It's a testament to the transformative power of music and a beacon of hope for a better future.
6. Sziget Festival, Hungary: The Island of Freedom
Located on Óbuda Island in the heart of Budapest, Sziget Festival is a seven-day celebration of music, arts, and multiculturalism. Often referred to as the "Island of Freedom," Sziget is a melting pot of different cultures, languages, and music genres, creating an atmosphere of global unity and mutual respect.
The festival's diverse lineup caters to a broad array of musical tastes, but Sziget's appeal goes beyond its music. The event also offers a wide range of activities like yoga sessions, theatre performances, and even a circus, ensuring there's never a dull moment. With its blend of cultural diversity, eclectic entertainment, and picturesque setting along the Danube River, Sziget Festival is a celebration of life in all its vibrant colors.
7. Hellfest, France: A Haven for Heavy Metal
For those with a penchant for heavier tunes, France's Hellfest is a must-visit. As one of Europe's largest heavy metal festivals, Hellfest is a three-day event that unites fans of genres like hard rock, death metal, punk, and everything in between. Held in Clisson, a charming town in western France, the festival creates a fascinating contrast between the tranquil French countryside and the thunderous music that shakes the festival grounds.
But it's not just the robust lineup of international and local bands that makes Hellfest special. The festival's unique aesthetic, complete with fire-breathing sculptures and art installations inspired by the darker side of imagination, adds to the overall experience, making Hellfest more than just a music festival — it's a feast for the senses.
8. Creamfields, England: The Mecca of Dance Music
The UK has long been a pioneer of dance music, and Creamfields is its crowning jewel. This four-day festival takes place in Daresbury, England, every August and has established itself as one of the world's leading electronic music events. With a lineup that regularly features the biggest names in EDM, house, techno, drum and bass, trance, and more, Creamfields is a rite of passage for any dance music aficionado.
While the music is certainly the main attraction, the festival's atmosphere is equally captivating. From mesmerizing light shows to elaborate stage designs and a crowd buzzing with energy, Creamfields offers a sensory overload in the best way possible. So strap on your dancing shoes and prepare to dance the night away under the English stars!
9. Pukkelpop, Belgium: The Eclectic Musical Banquet
Pukkelpop, one of Belgium's largest music festivals, is a testament to the country's diverse and vibrant music scene. Held annually in the city of Hasselt, the festival's name roughly translates to "Pimple Pop," reflecting its aim to push emerging talent to the surface and into the spotlight. From rock and pop to hip-hop and electronic, Pukkelpop's broad range of genres ensures there's something for everyone.
Apart from the diverse lineup, Pukkelpop also places a heavy emphasis on environmental sustainability. With initiatives like using reusable cups, encouraging public transportation, and promoting local food, the festival strives to minimize its ecological footprint. Thus, Pukkelpop allows you to indulge your music cravings while also being kind to the planet.
10. Isle of Wight Festival, England: Where Legends Come to Play
Steeped in history and boasting a list of past performers that reads like a who's who of music legends, the Isle of Wight Festival is an integral part of the UK's festival landscape. This iconic event has seen legendary performances from acts like Jimi Hendrix, The Who, and David Bowie since its inception in 1968.
Located on the picturesque Isle of Wight, this four-day festival is a fusion of top-tier music and the idyllic British countryside. While its roots are in rock music, the festival has evolved over the years to include a wider range of genres. No matter your musical preferences, the Isle of Wight Festival offers a slice of history, an exciting lineup, and the chance to make unforgettable memories.
---
There you have it, your ultimate guide to the best "Music Festivals in Europe." These events offer a unique blend of music, culture, and camaraderie that can't be replicated. Whether you're a first-time attendee or a festival veteran, we hope this guide serves as a useful roadmap as you plan your European festival adventure. Safe travels and happy listening!
We welcome any suggestions or questions. You can email us or contact us using the contact page.
You can also connect with us on the following social networks:
Facebook
Twitter
LinkedIn
Instagram