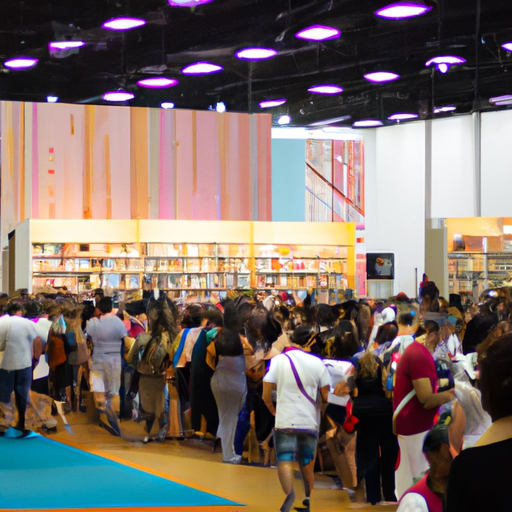 Hello, fellow book lovers! Today, I want to take you on a literary journey. Imagine we're stepping into a world where every corner and aisle whispers tales of imagination, experience, and cultural richness. Yes, you guessed it! We're talking about the Sao Paulo Book Fair, a spectacular celebration of literature and a unique gateway to Brazilian culture. Trust me; this is an adventure you wouldn't want to miss.
Discover the Richness of Brazilian Literature
Delving into the world of Brazilian literature at the Sao Paulo Book Fair is like opening a treasure chest of cultural riches. With over 50,000 attendees in 2022, it's evident that people around the world recognize the fair's immense cultural value.
Brazilian literature offers a unique blend of diverse influences reflecting the country's multiethnic background. The fair presents a golden opportunity for you to explore this diversity. You'll find books spanning multiple genres, from magical realism to contemporary social critique, giving you a glimpse into the Brazilian ethos.
During my research, I stumbled upon "The Posthumous Memoirs of Brás Cubas," a classic from Brazil's literary canon. This unique novel by Machado de Assis, represented at the fair, offers a profound insight into 19th-century Brazilian society. As you stroll through the fair, you'll uncover such gems, making it an enriching experience.
Engage with Brazilian Authors
The Sao Paulo Book Fair isn't just about buying books; it's about the people behind them. The fair invites authors from all over Brazil, offering you the chance to meet the creative minds shaping Brazilian literature.
In 2022, according to official data, over 400 authors graced the event. Imagine engaging in a conversation with an author whose work you admire. You can ask them about their inspirations, their writing process, and their experiences, providing a deeper understanding of the literature you love.
Take, for instance, author Luiz Ruffato. Known for his portrayal of Brazil's working-class struggles, Ruffato's interactions at the fair offer invaluable insights into his works. Meeting such authors not only enhances your reading experience but also nurtures a personal connection with the world of literature.
Participate in Enriching Workshops and Discussions
The Sao Paulo Book Fair is more than a marketplace; it's a vibrant forum for literary discourse. You'll find yourself engrossed in enlightening discussions, workshops, and seminars featuring renowned literary figures.
In 2022, the fair organized more than 300 events, where attendees discussed a range of topics, from socio-political issues in Brazilian literature to the influence of indigenous cultures. Participation in these discussions allows you to delve deeper into Brazilian culture, making your visit to the fair even more rewarding.
Consider a workshop on "The Influence of Afro-Brazilian Culture in Literature." Here, you'll explore how Afro-Brazilian traditions have shaped Brazilian literature, offering a unique perspective on the country's cultural diversity. Such experiences are sure to enhance your understanding and appreciation of Brazilian literature.
Witness the Evolving Brazilian Publishing Industry
Your visit to the Sao Paulo Book Fair is also a great way to understand the trends and dynamics of the Brazilian publishing industry. With over 2,500 exhibitors in 2022, the fair provides a comprehensive view of the publishing landscape in Brazil.
Amidst the bustling stalls, you'll notice the industry's efforts to promote diversity. From mainstream publishing houses to independent presses, all aim to represent voices from across Brazil's social spectrum. As a result, you'll find books by authors from different ethnicities, genders, and social backgrounds, offering a well-rounded view of Brazilian literature.
A walk through the fair will reveal the growing popularity of graphic novels in Brazil. In 2022, for example, the graphic novel "Cidade de Deus" by Paulo Lins and André Diniz generated much buzz, indicating an exciting trend in Brazilian publishing.
Find Exclusive Releases and Collector's Items
For bibliophiles and collectors, the Sao Paulo Book Fair is a paradise. It's not uncommon to find exclusive releases and rare collector's items at the fair. In 2022, over 1,000 new titles were launched at the event.
Imagine getting your hands on a signed first edition of a new release by your favorite Brazilian author or discovering a rare copy of a classic that's been on your wish list. The joy of such finds is hard to match!
Moreover, it's not just about books. You can find unique literary merchandise, from author-themed memorabilia to quirky bookmarks, which can add a special touch to your collection. The thrill of hunting down these treasures makes the Sao Paulo Book Fair a delightful experience for any book lover.
Experience the Power of Storytelling
The Sao Paulo Book Fair brings stories to life, quite literally! Alongside book exhibitions, the fair hosts engaging storytelling sessions, theatrical performances, and literary readings, immersing you in the world of Brazilian literature.
In the 2022 edition, over 150 storytelling sessions were organized, each one attracting crowds of spellbound listeners. Enthralling narratives, coupled with the animated expressions and lively voices of professional storytellers, offer a unique experience.
Picture yourself in a crowd, under the enchanting spell of a storyteller narrating the epic tales of "O Guarani" by Jose de Alencar. These interactive storytelling sessions breathe life into words, creating a memorable experience and a deeper appreciation for the narrative art form.
Encourage Young Readers
The Sao Paulo Book Fair is a fabulous event for young readers as well. With a dedicated section for children's books and various engaging activities, the fair is committed to fostering a love for reading among the younger generation.
In 2022, the fair hosted over 200 activities specifically for children, including storytelling sessions, author meets, and interactive workshops. These activities not only entertain but also instill a love for literature in children from a young age.
For example, a workshop on "Creating Your Own Story" offers young visitors a chance to explore their creative side. As they scribble down their stories, guided by professional authors, they embark on a journey into the fascinating world of literature, making the fair a must-visit for families.
Explore the Impact of Technology on Reading
The Sao Paulo Book Fair isn't stuck in the past. It also explores how technology influences the reading experience. From e-books to audiobooks, the fair reflects the changing landscape of the literary world.
In 2022, one section of the fair was dedicated to digital reading platforms, reflecting their growing popularity. Additionally, there were discussions about the impact of digital reading, its pros and cons, and its future in the literary world.
Think about a discussion on "The Rise of Audiobooks in Brazil," where industry experts discuss how technology is shaping reading habits. It not only offers an interesting perspective but also opens up new ways for you to engage with Brazilian literature.
Opportunities for Authors and Publishers
The Sao Paulo Book Fair isn't just for readers; it offers immense opportunities for authors and publishers. From networking events to professional seminars, the fair provides a platform for industry professionals to connect, learn, and grow.
In 2022, over 1,500 professionals attended the fair, participating in sessions like "The Future of Publishing in Brazil" and "Marketing Strategies for Authors." Such events offer invaluable insights into the industry, making the fair a crucial event for anyone associated with Brazilian literature.
If you're an author, think about the prospect of discussing your work with a prominent publisher. Or if you're a publisher, consider finding a new talent whose work resonates with you. The Sao Paulo Book Fair can be the place where such exciting collaborations begin.
Experience Brazilian Culture
Finally, the Sao Paulo Book Fair is a vibrant cultural festivity. It's not just about books; it's about experiencing Brazil's rich culture. From live music performances to food stalls serving local cuisine, the fair paints a colorful picture of Brazil's cultural tapestry.
In 2022, visitors enjoyed over 100 live performances, savored a wide range of Brazilian dishes, and took part in cultural exhibits. These experiences, combined with the exploration of Brazilian literature, offer a holistic cultural journey, making your visit to the fair more than worthwhile.
Imagine enjoying a captivating samba performance after a day filled with books, discussions, and workshops. As you tap your feet to the rhythmic beats, you'll realize that the Sao Paulo Book Fair is more than an event. It's a celebration of Brazilian literature and culture that leaves a lasting impression.
This marks the end of our exploration into the Sao Paulo Book Fair. I hope this journey has excited and motivated you to experience this literary wonderland for yourself!
We welcome any suggestions or questions. You can email us or contact us using the contact page.
You can also connect with us on the following social networks:
Facebook
Twitter
LinkedIn
Instagram