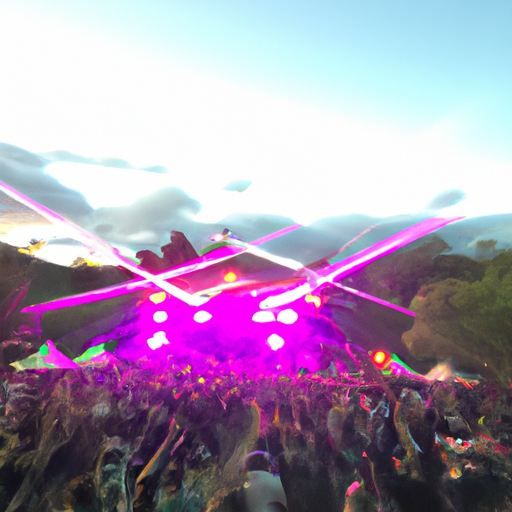 Greetings, dear reader! If you've ever dreamed of a magical New Year's Eve celebration that goes beyond the ordinary, you're in for a treat. Picture this: as the calendar rolls over to another year, you're dancing under the starlit sky, surrounded by the lush green vineyards of New Zealand, with the pulsating rhythm in vines creating an unforgettable symphony. You're not alone. Thousands of others from all over the world have joined you in this breathtakingly beautiful corner of the planet to bid farewell to the old and usher in the new. This is not a dream, but a typical New Year's Eve at the Rhythm and Vines Festival in New Zealand. Intrigued? Let's dive into the details of what makes this celebration a New Year's Eve to remember.
A Symphony of Sound and Scene: The Unique Charm of Rhythm in Vines
Rhythm and Vines is much more than a music festival. It's a sensory feast where the sights and sounds create a symphony that will leave you spellbound. Nestled in the heart of the beautiful Waiohika Estate vineyard in Gisborne, this festival offers a natural amphitheater-like setting where Mother Nature herself seems to join the party. The verdant vineyards, rolling hills, and azure skies form a stunning backdrop to the electric performances on stage.
The atmosphere is nothing short of magnetic. Imagine grooving to the beats of both local and international music icons while the sweet scent of the vineyard fills the air. In the 2022 edition, for instance, more than 100 artists performed, including well-known names like BENEE and Fat Freddy's Drop, according to the official Rhythm and Vines website. The range of music is vast too, covering everything from rock, pop, and electronic dance music (EDM), to reggae, hip-hop, and more. It's like tuning into a global music station, only better because you're living it in real-time.
But it's not just about the music. The setting in Gisborne, the first city in the world to see the sunrise each day, adds an almost surreal beauty to the event. As the first light of the New Year dawns, it's hard not to be moved by the spectacle. It's no wonder that the 2021 festival saw a record attendance of over 23,000 people, according to the New Zealand Herald. With such an offering, it's clear why Rhythm and Vines have become a must-visit New Year's Eve destination for music lovers and adventure seekers alike.
For the exhibitors too, Rhythm and Vines is a great opportunity. It provides a platform to showcase their talents and products to a diverse audience. Many local businesses and food vendors find it a perfect place to cater to a large number of people, resulting in a vibrant mix of food, drink, and merchandise stalls. If you're an artist, food vendor, or craftsman, being part of this festival could expose your work to thousands of potential customers and fans.
The Camaraderie: Experience a Global Gathering at Rhythm in Vines
One of the highlights of Rhythm and Vines is the camaraderie it fosters. Remember, this is not just a New Zealand event but a global gathering. As you dance and celebrate, you'll find yourself amidst people from different corners of the world, each bringing their unique spirit and enthusiasm to the festival.
The diversity of the crowd adds a distinct flavor to the experience. You'll hear languages from around the world, see various fashion styles, and have the chance to interact with a wide array of people. It's an excellent opportunity to expand your social circle, make new friends, or simply enjoy the vibrant cultural exchange.
In recent years, the festival has seen a significant increase in international attendees. The 2021 event, for example, drew people from over 20 countries, according to a report by Stuff.co.nz. This cosmopolitan mix of attendees creates an atmosphere that is not only fun and lively but also inclusive and accepting.
For exhibitors, this diversity translates into a broader customer base. Whether you're selling food, drinks, clothes, or crafts, you're likely to find takers from across the globe. You can cater to a range of tastes and preferences, get feedback from a diverse audience, and even establish international connections that may prove beneficial for your business in the long run.
An Adventurous Affair: Experience Outdoor Fun at Rhythm in Vines
Rhythm and Vines is not just about music and dance. It's an adventurous affair that offers a plethora of outdoor activities to make your experience more exciting and memorable. From camping under the stars to swimming in the refreshing waters of the nearby Waiohika River, the festival provides a range of options for the adventurous soul.
The festival's campsite, a sprawling area set amidst picturesque surroundings, is a significant part of the Rhythm and Vines experience. Here, you get a chance to connect with nature while being a part of a vibrant community of fellow festival-goers. The campsite facilities are designed to make your stay comfortable and enjoyable, with clean toilets, showers, and a variety of food and drink options.
The thrill of swimming in the river, the fun of sharing stories around a campfire, the joy of waking up to a beautiful sunrise – these experiences add an extra dimension to the festival. According to the Rhythm and Vines official site, around 80% of festival-goers prefer camping, which just goes to show how much people enjoy this side of the festival experience.
For exhibitors, the popularity of outdoor activities at Rhythm and Vines opens up additional opportunities. If you offer products or services related to outdoor activities – think camping gear, swimwear, or adventure sports equipment – this is a prime market for you. Additionally, food and drink vendors can capitalize on the steady stream of hungry and thirsty adventurers.
The Artistic Avenue: Discover Vibrant Art and Culture at Rhythm in Vines
While music might be the heart of Rhythm and Vines, art forms its soul. As you wander through the festival grounds, you'll encounter a range of art installations that add to the event's charm and character. These installations, created by local and international artists, transform the vineyard into a dynamic canvas of colors, shapes, and ideas.
Each year, the festival features a different theme, and the art installations reflect this theme in creative ways. The 2022 event, for instance, was themed 'Emergence' and showcased installations that symbolized hope, renewal, and rebirth – quite fitting for a New Year's Eve celebration, don't you think?
What's more, the festival is also a platform for live art performances. From mesmerizing fire dancers to enchanting light shows, the festival is home to a variety of performances that will keep you captivated. You'll find yourself immersed in a world where art and music come together to create a unique sensory experience.
For the exhibitors, especially those in the creative field, Rhythm, and Vines is a fantastic platform. If you're an artist, you get to showcase your talent to a diverse audience and gain recognition. As a craftsman, you can sell your unique creations and earn a good income. The festival encourages creativity and innovation, making it a great place for budding artists and craftsmen.
Sustainable Celebration: Embrace Eco-friendly Practices at Rhythm in Vines
One of the most commendable aspects of Rhythm and Vines is its commitment to sustainability. The festival organizers understand the impact such a large-scale event can have on the environment and have implemented various practices to minimize it.
Their 'Love Your Tent' campaign, for example, encourages festival-goers to take care of their tents and take them home, reducing waste left behind at the site. In 2022, this campaign resulted in a 60% reduction in left-behind tents, according to the festival's official website. Another initiative, the 'Globelet' system, involves reusable cups that can be returned for a refund, significantly reducing plastic waste.
Moreover, the festival recycles as much waste as possible and uses compostable plates and cutlery. It also encourages attendees to use shuttle services to and from the festival site to reduce carbon emissions.
For you, as an attendee, these practices make your celebration guilt-free. You're not just having a great time but also contributing to the environment. And for exhibitors, particularly those dealing in eco-friendly products or services, Rhythm and Vines presents a vast, conscious market that values and supports sustainable practices. It's a win-win for everyone, including our planet.
The Culinary Carnival: Savor Diverse Flavors at Rhythm in Vines
What's a festival without some mouth-watering food and refreshing drinks, right? Rhythm and Vines ensure you don't go hungry or thirsty while you're immersed in the festivities. From classic New Zealand favorites to international cuisines, the festival offers a smorgasbord of culinary delights.
The food stalls at the festival cater to a range of dietary preferences. Whether you're a meat-lover, vegetarian, vegan, or have specific dietary requirements, there's something for everyone. You can indulge in some classic Kiwi BBQ, savor the spicy flavors of Mexican cuisine, or try out a variety of Asian delicacies.
Don't miss out on the vineyard's own selection of wines. The Waiohika Estate vineyard is known for its exquisite wines, and Rhythm and Vines is a perfect opportunity to sample them. There are also a variety of craft beers and cocktails available to keep the party spirits high.
For exhibitors, the culinary avenue at Rhythm and Vines is a golden opportunity. If you're a restaurateur or a food vendor, you get a chance to serve a global audience and win their hearts (and taste buds). It's a fantastic platform to experiment with new dishes, get immediate feedback, and even attract a loyal customer base.
The Memento Market: Take Home Unique Souvenirs from Rhythm in Vines
The festival experience doesn't have to end when the music stops. You can take a piece of Rhythm and Vines home with you, thanks to the variety of unique merchandise available. From festival-themed clothing and accessories to crafts and local products, the memento market is a treasure trove for anyone who wants a tangible memory of their festival experience.
You can choose from a range of T-shirts, hoodies, hats, and more adorned with the festival's logo or the year's theme. You can also find unique art pieces, crafts, and jewelry created by local artisans. These items not only serve as a memento of your time at the festival but also support local businesses.
For exhibitors, particularly those who deal in merchandise or crafts, the memento market at Rhythm and Vines offers a lucrative platform. With thousands of attendees looking for a keepsake, you're likely to find a high demand for your products. It's an excellent opportunity to increase your sales and establish your brand among a wide audience.
The Volunteer Voyage: Contribute and Learn at Rhythm in Vines
Did you know that you could be part of the Rhythm and Vines team? Each year, the festival opens up volunteer opportunities for those who wish to contribute to the event and learn in the process. It's a chance to gain behind-the-scenes insights, work in a dynamic environment, and make new friends.
As a volunteer, you could be assisting in various areas like customer service, festival setup and pack-down campground management, and more. According to the festival's official website, volunteers need to commit to a certain number of hours but also get free time to enjoy the festival. It's a great way to be part of the festival without bearing the full ticket cost.
For exhibitors, having volunteers around can be beneficial too. Volunteers can help with stall setup, customer service, and even promotional activities. It's a win-win situation for everyone involved.
Health and Safety: Ensuring a Secure Experience at Rhythm in Vines
With any large gathering, health, and safety become paramount. Rhythm and Vines take this aspect very seriously to ensure all attendees have a safe and enjoyable experience. A team of medical professionals is always on standby, ready to assist anyone needing medical attention. The festival also provides clearly marked first aid stations across the site, ensuring help is readily accessible.
The festival's comprehensive safety plan also includes fire safety measures. Given the outdoor nature of the event, these precautions are critical. Fire extinguishers and fire safety personnel are present around the festival grounds, adding an extra layer of safety.
Moreover, in recent years, Rhythm and Vines has taken significant steps to address the global concern of COVID-19. The festival has implemented safety measures such as increased sanitation, social distancing guidelines, and strict entry protocols. As per a report by RNZ, in 2022, the festival required all attendees to provide proof of vaccination or a negative test result to gain entry.
For exhibitors, these safety measures ensure a secure environment to conduct their business. Having a health and safety plan in place helps build trust with customers and allows for a smooth and hassle-free business operation.
A Yearly Tradition: Making Rhythm and Vines a Habit
Once you've experienced Rhythm and Vines, it's hard not to make it a yearly tradition. The unique combination of music, art, food, outdoor activities, and the joyous celebration of a New Year's Eve spent under the beautiful New Zealand sky is indeed irresistible.
The growing number of repeat attendees stands as testimony to this. According to the festival's website, a significant portion of each year's crowd comprises those who've attended the festival before. It seems that once people experience the rhythm in vines, they yearn to return year after year.
For exhibitors, this trend is good news. Repeat attendees mean potential repeat customers. The more familiar people become with your product or service, the more likely they are to seek you out year after year. This could lead to a steady stream of loyal customers and consistent business growth.
In conclusion, New Zealand's Rhythm and Vines is more than just a music festival. It's a sensory feast, an unforgettable adventure, a place of camaraderie, and a platform for creativity and business. As we usher in the new year, dancing to the rhythm of vines, we create memories that last a lifetime. So, why not make your next New Year's Eve truly unforgettable? Experience the magic of Rhythm and Vines and start a New Year's tradition like no other. I can guarantee you won't regret it.
We welcome any suggestions or questions. You can email us or contact us using the contact page.
You can also connect with us on the following social networks:
Facebook
Twitter
LinkedIn
Instagram