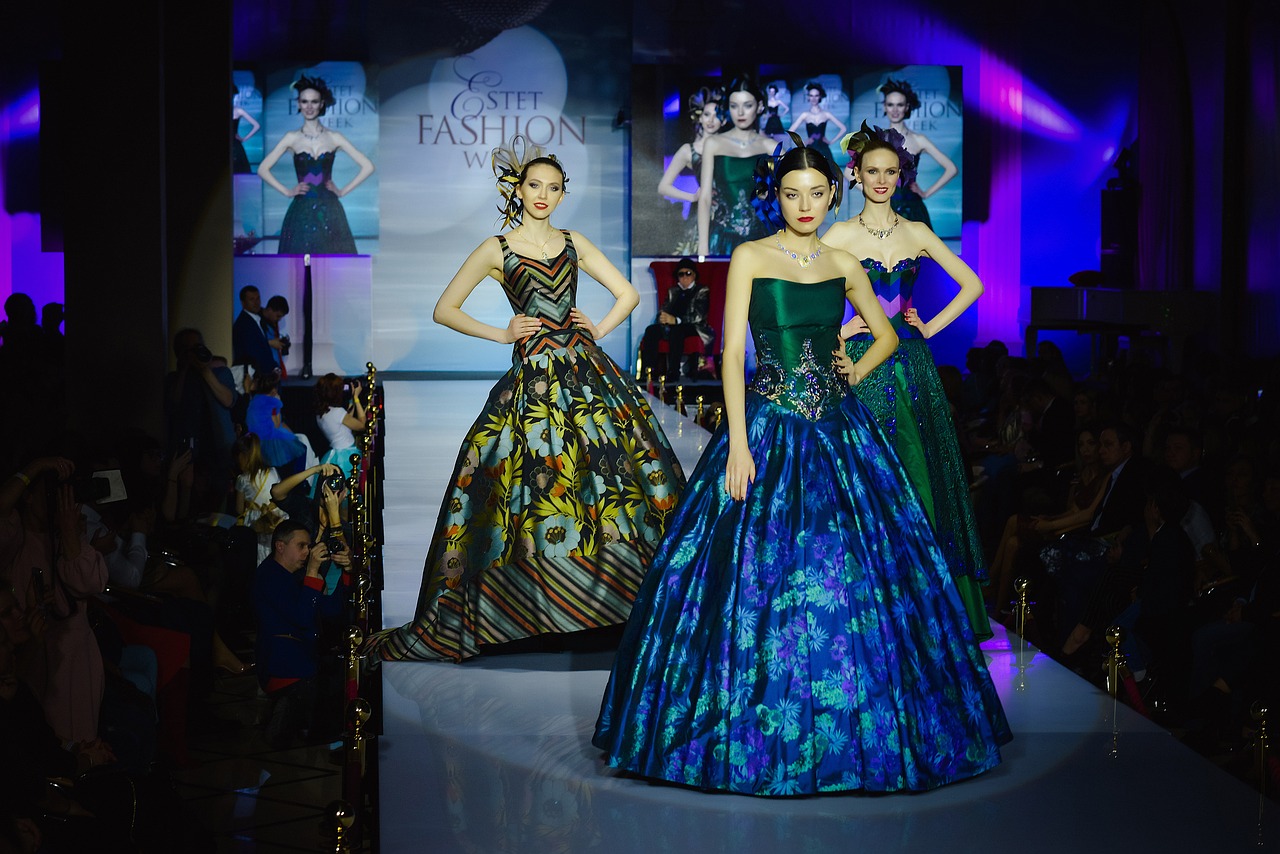 Fashion shows have long been an integral part of the fashion industry, serving as a platform for designers to showcase their latest collections and set the trends for the upcoming seasons. Over the years, we have seen some truly unforgettable moments in fashion history, with certain shows making a lasting impact on the industry and beyond. In this blog post, we will take a closer look at the top 10 most iconic fashion shows of all time, each one marking a significant moment in fashion history.
Chanel Spring/Summer 1994
When it comes to iconic fashion shows, few can compete with Chanel's Spring/Summer 1994 show, which was held at the Grand Palais in Paris. The show, which featured an enormous white circular set inspired by the camellia flower, was a masterclass in understated elegance, with models wearing minimal makeup and classic Chanel suits in muted shades of black and white. The show is perhaps best remembered for its finale, when supermodels including Claudia Schiffer, Naomi Campbell, and Cindy Crawford walked down the runway arm in arm with Karl Lagerfeld himself, making for an unforgettable moment in fashion history.
Alexander McQueen Spring/Summer 1999
The late Alexander McQueen was known for his boundary-pushing designs and theatrical shows, but it was his Spring/Summer 1999 collection that truly captured the fashion world's attention. The show, which was held in a vast, dimly-lit warehouse in London's East End, was a mesmerizing spectacle of fashion and performance art. Models wearing intricate, futuristic designs made their way down a rotating runway, while a live orchestra played a haunting soundtrack in the background. The show's standout piece was a dress made entirely of razor clam shells, which cemented McQueen's reputation as a true fashion visionary.
Dior Fall/Winter 1947
The Dior Fall/Winter 1947 show is widely regarded as the birth of the "New Look" in fashion, a term coined by Harper's Bazaar editor-in-chief Carmel Snow. The collection, which was designed by Christian Dior, was a stark departure from the boxy, utilitarian styles of the wartime era, featuring voluminous skirts and nipped-in waists that emphasized a woman's curves. The show was held in a grand salon on the Avenue Montaigne in Paris, and the press coverage was overwhelmingly positive, with one journalist declaring, "It's quite a revolution, dear Christian! Your dresses have such a new look!" The New Look quickly became a worldwide phenomenon, ushering in a new era of feminine glamour and luxury.
Yves Saint Laurent Fall/Winter 1971
The Yves Saint Laurent Fall/Winter 1971 show, also known as the "Liberation" collection, was a groundbreaking moment in fashion history. The collection was inspired by the 1940s and featured military-style jackets, trousers, and jumpsuits, as well as dresses that were draped and cinched at the waist. The show's finale was particularly memorable, with models taking to the runway in sheer blouses and no bras, a statement of female empowerment and liberation that shocked and delighted audiences. The collection was a critical and commercial success, cementing Saint Laurent's place as one of the most influential designers of the 20th century.
Jean Paul Gaultier Spring/Summer 1995
Jean Paul Gaultier's Spring/Summer 1995 show, held at the Folies Bergère in Paris, was a playful and irreverent celebration of all things kitsch and camp. The show's theme was "Eurotrash," and models walked down the runway in outfits inspired by everything from French maids to nuns to drag queens. The standout piece was a conical bra corset worn by Madonna, which became one of the most iconic fashion moments of the 1990s. Gaultier's show was a refreshing departure from the seriousness of high fashion, proving that fashion could be fun and playful as well.
Versace Spring/Summer 1992
The Versace Spring/Summer 1992 show, held at the Ritz Carlton in Paris, was a star-studded affair that featured some of the biggest names in fashion and entertainment. The show's theme was "Miss S&M," and models strutted down the runway in leather harnesses, studded corsets, and thigh-high boots. The show's standout piece was a black leather dress worn by supermodel Linda Evangelista, which was slashed to the navel and adorned with gold safety pins. The dress became an instant sensation, and the show is remembered as one of the defining moments of the 1990s fashion scene.
Comme des Garçons Spring/Summer 1997
The Comme des Garçons Spring/Summer 1997 show, held in a Parisian parking lot, was a deconstructed and minimalist masterpiece that challenged traditional notions of beauty and femininity. The collection featured oversized shapes and asymmetrical cuts, with models wearing towering platform shoes and avant-garde headpieces. The show's standout piece was a dress made entirely of inflated balloons, which floated down the runway in a surreal and dreamlike display. The show was a testament to designer Rei Kawakubo's innovative vision and cemented Comme des Garçons' place as a leading force in avant-garde fashion.
Marc Jacobs Spring/Summer 1993
The Marc Jacobs Spring/Summer 1993 show, held at the Plaza Hotel in New York City, was a tribute to the glamour and excess of the 1970s disco era. The show's standout piece was a sequin-covered gown worn by model Christy Turlington, which shimmered and sparkled in the spotlight as she sashayed down the runway. The show was a nod to a bygone era of fashion and music, and its bold, colorful designs captured the spirit of the times.
Gucci Spring/Summer 1996
The Gucci Spring/Summer 1996 show, held in a disused railway station in Milan, was a turning point for the brand, which was struggling financially at the time. The collection featured a mix of masculine and feminine styles, with models wearing tailored jackets and pantsuits alongside flowing silk dresses and skirts. The standout piece was a sheer white dress worn by model Carolyn Murphy, which was embroidered with delicate flowers and leaves. The show was a critical and commercial success, revitalizing the Gucci brand and establishing designer Tom Ford as a major force in the fashion industry.
Prada Spring/Summer 1996
The Prada Spring/Summer 1996 show, held in Milan's Teatro Lirico, was a game-changing moment in fashion history. The collection featured a mix of sportswear and traditional menswear, with models wearing oversized jackets, shorts, and sneakers. The show's standout piece was a black nylon backpack, which became an instant icon of 1990s fashion. The show marked a departure from the opulence and excess of the 1980s, embracing a more minimalist and utilitarian aesthetic that would come to define fashion in the years to come.
As we look to the future, it will be interesting to see how fashion shows continue to evolve and adapt to changing times. With the rise of digital media and social media, designers have more opportunities than ever to showcase their work to a global audience. Virtual fashion shows and interactive experiences may become the norm, and designers may need to rethink their approach to traditional runway shows.
However, no matter how much technology advances, the magic, and allure of a live fashion show will always remain. There's something special about being in the presence of beautiful clothes, talented models, and a buzzing audience, and the excitement and energy of a great fashion show is something that can't be replicated.
In conclusion, fashion shows are more than just a showcase for new designs – they are cultural events that reflect the changing times and attitudes of society. The shows mentioned above are just a few examples of the many iconic moments that have left a lasting impact on fashion history. They represent the creativity, innovation, and beauty that fashion can bring to our lives, and inspire us to push boundaries and strive for greatness.
We welcome any suggestions or questions. You can email us or contact us using the contact page.
You can also connect with us on the following social networks:
Facebook
Twitter
LinkedIn
Instagram