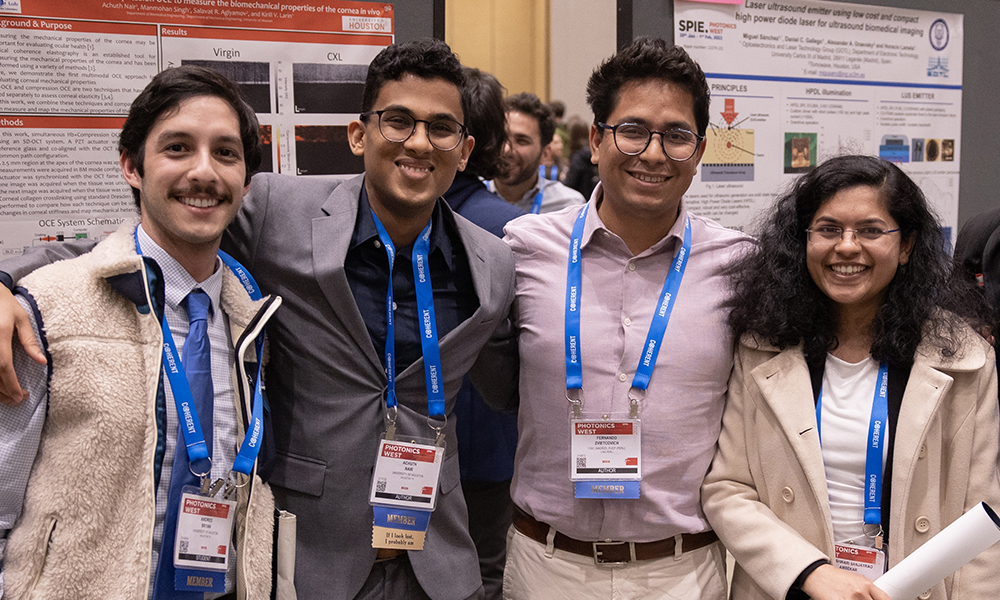 Photonics West SPIE isn't just another trade show; it's a pilgrimage for anyone embedded in the world of optical engineering, lasers, and photonics. From the moment you step into the Moscone Center in San Francisco, you can sense the electrifying atmosphere that brings together industry leaders, innovators, researchers, and eager learners. This is the space where groundbreaking ideas are nurtured and the future of optical technologies is shaped.
Yet, this event is more than just a spectacle of bright lights and high-tech gadgetry. It's an unparalleled opportunity for learning, networking, and even striking business deals that could redefine the future of industries ranging from healthcare to data transmission. Let's delve into why you simply cannot afford to miss this world-class event. And trust me, once you're through reading, you'll want to mark your calendar and start planning your trip to San Francisco right away!
Quick Facts:
Where does it take place?
Moscone Center San Francisco, CA, USA
Tickets:
Free & Paid Tickets for Visitors
Event Type:
Trade Show
Timings:
09:00 AM – 06:00 PM (expected)
Estimated Turnout:
20,000 – 50,000 Visitors, 741 Exhibitors based on previous editions
Organizer:
Spie- International Society for Optical Engineering
How to Register:
Check the website for registration details and ticket options
About the Event:
Attend for the latest in lasers, biophotonics, quantum technologies, and optoelectronics
Exhibitor Profile:
More than 1,500 exhibitors worldwide specializing in various fields of optical technologies
1. What Makes Photonics West SPIE the Must-Visit Event of the Year
Photonics West SPIE is not just another trade show; it's a lifetime experience that you can't afford to miss. Imagine walking into a venue teeming with energy, innovation, and possibilities. The excitement in the air is palpable, and the buzz of people discussing their latest discoveries is enough to give you goosebumps. It's like stepping into a universe dedicated entirely to the advancement of optical engineering and photonics.
What sets this event apart is its scale and diversity. With an expected turnout of 20,000 to 50,000 visitors and 741 exhibitors based on previous editions, the possibilities for learning and networking are endless. Whether you're a seasoned professional or an aspiring student, the event has something to offer for everyone. From hands-on demos to interactive sessions and workshops, you get an all-rounded experience that goes beyond the standard fares of a typical trade show.
Another remarkable feature of Photonics West SPIE is its commitment to innovation. The event serves as a launchpad for companies and researchers to unveil their latest products and discoveries. If you're looking to get a glimpse of what the future holds in the realm of optical technologies, this is the place to be.
The quality of the sessions and workshops is unparalleled. Featuring industry leaders and innovators, these events offer deep insights into various topics like biophotonics, quantum technologies, and optoelectronics. It's not just about acquiring knowledge; it's about inspiring action and change.
Lastly, Photonics West SPIE gives you the opportunity to grow your network like never before. Given the massive turnout and the diversity of participants, networking is an integral part of the experience. You get to interact with like-minded individuals, exchange ideas, and even collaborate on projects. Whether you're looking to advance your career or find business opportunities, your chances are high here.
2. Diving Deep into the World of Lasers: A Key Highlight of Photonics West SPIE
When it comes to lasers, Photonics West SPIE is the place to immerse yourself in this fascinating world. It's not just about appreciating the science and technology behind lasers; it's about understanding their practical applications and their far-reaching implications in our daily lives.
Why should you care about lasers? Because they're everywhere! From medical procedures to telecommunications and from manufacturing to data storage, lasers are revolutionizing how we operate. At Photonics West SPIE, you get to see this revolution up close. Companies and researchers from around the world showcase their latest innovations, offering you a firsthand look at what's shaping the future.
The quality of presentations and papers on lasers is something you won't find elsewhere. Experts in the field offer deep insights into topics like laser material processing, high-power lasers, and the future of laser technology. These sessions are not merely lectures; they're interactive forums where you can ask questions, challenge assumptions, and get clarity on complex issues.
But it's not all about sitting in rooms and absorbing information. The trade show floor offers live demonstrations where you can see lasers in action. Whether it's precision cutting, medical imaging, or data communication, the applications are as varied as they are fascinating. The hands-on experience gives you a new appreciation for the technological marvels that lasers are.
Lastly, for anyone in industries that use lasers, be it healthcare, manufacturing, data, or energy, this is an unmissable networking opportunity. The event attracts the who's who of the laser world, offering you a rare chance to interact with them. Imagine discussing your challenges with someone who's already solved them or finding a business partner who can take your work to the next level. The opportunities are limitless.
3. How Biophotonics is Transforming Medicine and Healthcare
Biophotonics, the interaction of light with biological systems, is among the most captivating topics covered at Photonics West SPIE. From early diagnosis of diseases to innovative treatment methods, biophotonics is changing the medical landscape in unprecedented ways. It's not just about shining light on cells and tissues; it's about harnessing the power of light to make healthcare more efficient, precise, and accessible.
One of the first things you'll notice at the event is the array of companies and researchers showcasing the latest advancements in biophotonic technology. Imagine medical devices that can detect diseases at their earliest stages, making treatment more effective. Or think about innovative imaging technologies that give healthcare providers unparalleled insights into our bodies. The trade show is filled with awe-inspiring innovations that have the potential to save lives.
But what truly stands out is the quality of the sessions. When experts in biophotonics take the stage, the audience is not just listening; they're part of an intellectual exchange that can drive the field forward. You'll find yourself engaged in discussions about ethical considerations, technological barriers, and the future of biophotonics in healthcare. These are not merely academic debates; they're dialogues that can shape policies and influence technological adoption.
Moreover, Photonics West SPIE serves as a bridge between academia and industry. Researchers find a platform to showcase their work and catch the attention of industry players who can turn their discoveries into real-world applications. It's a win-win scenario where both parties stand to benefit significantly.
Lastly, let's talk about networking. Within the realm of biophotonics, the opportunities to meet like-minded professionals are plentiful. Whether you're a researcher looking for collaboration, a healthcare provider seeking the latest technologies, or an entrepreneur aiming to invest in biophotonics, this is the place to be. The contacts you make here could very well be the stepping stones to a brighter, healthier future for everyone.
4. Quantum Technologies: The Future is Here
Ah, quantum technologies—the buzzword that you've been hearing about but might not fully understand. Well, Photonics West SPIE is the perfect place to unravel the mysteries of quantum mechanics and how it's practically applied in technologies that promise to redefine our world. Quantum computing, quantum encryption, and quantum sensors are just some of the intriguing areas where quantum technologies are making a mark.
At the event, you'll find dedicated sessions on quantum technologies that will help you understand this complex field better. Whether you're a newbie just starting to delve into the quantum realm or an expert seeking to expand your knowledge, these sessions are an invaluable resource. The speakers are not just experts in their field; they're exceptional educators who can break down complex concepts into digestible chunks.
But the event goes beyond theory. On the trade show floor, companies and researchers are showcasing actual quantum technologies that are ready for commercial use or are in the late stages of development. Imagine seeing a quantum computer in operation or witnessing a quantum sensor that can detect environmental changes with unprecedented accuracy. These are not science fiction; they're real, and they're here.
One aspect that often gets overlooked but is a significant part of the event is the discussion on the ethical and social implications of quantum technologies. As with any groundbreaking technology, there are always risks and concerns that need to be addressed. These sessions provide a balanced view, allowing for a comprehensive understanding of what quantum technologies bring to the table.
When it comes to networking, Photonics West SPIE doesn't disappoint. The quantum technology sector is still relatively new, making it a ripe field for collaborations and partnerships. Whether you're an investor looking for the next big thing, a researcher seeking broader applications for your findings, or a professional aiming to upskill, you'll find the right connections here. The future of quantum technologies is collaborative, and it's happening right here.
5. Showcasing Optoelectronics: A Revolution in Data Transmission
In a world where data is the new oil, transmitting it efficiently and securely is the engine that drives progress. That's where optoelectronics comes into play, and Photonics West SPIE serves as a comprehensive platform to explore this game-changing technology. Optoelectronics is the blend of optics and electronics, providing high-speed, reliable data transmission through light waves instead of electrical signals.
The trade show floor is a treasure trove for those interested in optoelectronics. As you walk through the aisles, you'll encounter cutting-edge technologies ranging from fiber-optic cables that can transmit data over vast distances without loss of quality, to micro-optoelectronic components that can fit on a single chip. The advancements on display here are not incremental; they are revolutionary, setting new standards for data transmission technologies.
The conference sessions are equally compelling, diving deep into the intricacies of optoelectronics. Expect to learn about topics like the development of ultra-low-loss materials, high-speed modulation techniques, and the role of quantum dots in enhancing optoelectronic performance. The speakers are leading researchers and industry veterans, offering insights that are both technical and practical.
Photonics West SPIE is more than just a learning platform; it's an ecosystem where ideas transform into tangible products. If you're in the business of data—whether as a service provider, hardware manufacturer, or end-user—optoelectronics offers solutions to problems you may not even know you have yet. Imagine transmitting data at previously unattainable speeds or securing your data transmission channels in ways that are unhackable. This isn't future gazing; this is technology available now or in the very near future.
But it's not just about the technologies; it's about the people you meet. Networking at Photonics West SPIE opens doors to collaboration across disciplines and industries. Whether you're a seasoned professional or a student, the connections you make here can be invaluable in progressing your career or research. If optoelectronics is an area that excites you, there's no better place to be.
6. Why Exhibitors Cannot Afford to Miss Out
If you're in the photonics industry, missing out on Photonics West SPIE is like a tech enthusiast skipping CES—it's simply unthinkable! There's a palpable sense of missing out on something big and for a good reason. As an exhibitor, this is not just another trade show; it's THE trade show, a focal point of innovation, learning, and most importantly, business opportunities.
Let's talk numbers first. With an estimated turnout of 20,000 to 50,000 visitors and around 741 exhibitors based on previous editions, your target audience isn't just large; it's colossal. Whether you're a seasoned company or a startup, this exposure can be invaluable. With free and paid tickets for visitors, the event draws a diverse crowd, enhancing the chances of meeting potential clients, partners, or investors.
Then there's the quality of attendees. Photonics West SPIE attracts some of the brightest minds in the fields of lasers, biophotonics, quantum technologies, and optoelectronics. These are people who understand the value of innovation and are actively seeking solutions to complex problems. When you exhibit here, you're not just showcasing your products; you're entering a dialogue with thought leaders who can enrich your perspective and potentially become collaborators.
In terms of return on investment (ROI), the benefits of exhibiting at Photonics West SPIE are multifaceted. Beyond immediate sales or lead generation, there's the long-term value of brand positioning. Being part of such a prestigious event establishes your brand as a serious player in the industry. In a market as competitive as photonics, this can be a significant differentiator that sets you apart from the competition.
Lastly, let's talk about learning and growth. As an exhibitor, you have the opportunity to attend sessions, engage in discussions, and get first-hand exposure to the latest trends and technologies. This knowledge is not just academic; it can inform your business strategies, product development, and even your understanding of where the industry is headed. The insights you gain here can be the catalyst for your next big innovation.
7. SPIE AR | VR | MR: The Convergence of Realities
As part of the larger Photonics West SPIE event, SPIE AR | VR | MR focuses on augmented reality, virtual reality, and mixed reality technologies. If you think this is a niche sector, think again. From healthcare to entertainment and beyond, AR, VR, and MR are reshaping the way we interact with the world around us.
Firstly, the trade show floor is an immersive experience in itself. You'll see firsthand demonstrations of augmented surgeries, virtual training programs, and mixed-reality simulations that defy the imagination. This isn't just about putting on a headset and entering a different world; it's about understanding how these technologies can be practically applied across various industries to solve real-world problems.
Then there are the conference sessions, where you'll dive deep into the mechanics, ethics, and future of AR, VR, and MR technologies. The speakers are pioneers in the field, often unveiling new research or applications that you won't hear about anywhere else. These sessions are intellectually stimulating and challenge your perceptions of what's possible in the realm of augmented and virtual realities.
For businesses and professionals, SPIE AR | VR | MR is a goldmine of opportunities. Whether you're a developer looking for new platforms to showcase your applications, or a company looking for solutions to streamline your operations, you'll find your answers here. The event provides a broad view of the market, from hardware innovations to software developments, making it a one-stop shop for anyone interested in AR, VR, or MR.
Networking, as in other sections of Photonics West SPIE, is an integral part of the experience. The people you meet here aren't just casual attendees; they are as passionate about the future of AR, VR, and MR as you are. The connections made here can lead to collaborative projects, business partnerships, or even just an enriching exchange of ideas. It's more than just business cards; it's the start of lasting relationships in a burgeoning field.
8. Exploring SPIE Photonics West's Global Impact
You might think of Photonics West SPIE as a U.S.-centric event, given its location in San Francisco, but its reach is undoubtedly global. Participants come from all corners of the world, representing a diverse range of cultures, languages, and perspectives. This international flavor is one of the event's most unique and enriching aspects.
The first thing you'll notice is the broad scope of technologies and innovations presented. Whether it's a German company specializing in laser manufacturing, a South Korean startup pushing the boundaries of optoelectronics, or a Brazilian research team presenting groundbreaking work in biophotonics, the global presence is palpable. This diversity not only enriches the quality of the exhibits but also opens up avenues for international collaboration.
Speaking of collaboration, the international nature of the event facilitates dialogues that transcend geographical and political boundaries. This is particularly important for tackling global challenges like healthcare, climate change, and data security, where solutions often require international cooperation. At Photonics West SPIE, you'll find a platform that nurtures such collaborative efforts, making it more than just a trade show.
On a practical note, international exposure can significantly benefit companies and professionals alike. For companies, the global audience expands the potential market reach, providing opportunities for exporting technologies or even establishing overseas partnerships. For professionals, the diversity of attendees offers a broader networking canvas, allowing for connections that could lead to international career opportunities.
Lastly, let's not overlook the impact of cultural exchange. The coming together of diverse minds from across the globe fosters an environment of mutual respect and understanding. It's not just about photonics or the industries it serves; it's about the human connections that inspire us to think bigger, aim higher, and build a better future for all.
9. A Showcase for Startups: Igniting the Next Wave of Innovations
Photonics West SPIE isn't just for industry giants; it's a fertile ground for startups looking to make their mark in the world of photonics and related fields. For young companies, this event is a launchpad that can propel them into the global spotlight. Let's delve into why this is an unparalleled opportunity for startups.
Firstly, visibility is key. As a startup, you're probably competing for attention not just with other emerging companies but also with established industry players. Photonics West SPIE offers you a stage that is as grand as it gets in this sector. With tens of thousands of attendees, including potential investors, customers, and collaborators, your startup could break through the noise and garner the attention it deserves.
Investment opportunities are another compelling reason to exhibit here. Venture capitalists and angel investors walk the halls looking for the next big thing in photonics. Showcasing your innovations at such a prestigious event tells prospective investors that you're serious, innovative, and ready to scale. And with the wide array of industries represented, the chances are high that you'll meet investors who are already interested in your sector.
Participation is also educational. As a startup, you're in constant learning mode. The multitude of conference sessions, technical presentations, and panel discussions provide invaluable insights that can guide your business strategy and product development. Moreover, the feedback you receive from attendees can serve as an informal focus group, helping you tweak your offering to better meet market demands.
Networking is another critical aspect, and perhaps one of the most underestimated benefits of participating in Photonics West SPIE. The event attracts a diverse group of people, from researchers and academics to industry leaders. These contacts can be beneficial in many ways, whether it's forging partnerships, gaining mentors, or simply expanding your industry knowledge through in-depth discussions.
Last but not least, startups also stand a chance to win various awards and recognitions at the event. These accolades provide not just bragging rights but also help in gaining media coverage, attracting talent, and securing additional funding. Being acknowledged on such a significant platform can be a significant boost for any startup, no matter how advanced or fledgling they are.
10. Photonics West SPIE: A Must-Visit for Students and Academics
If you're a student or academic interested in photonics, lasers, or any of the related fields, there's no better place for you than Photonics West SPIE. This isn't just an event where you can learn; it's an event where you can grow—professionally, academically, and even personally.
First of all, the sheer volume of knowledge available is staggering. You can attend multiple tracks covering various sub-disciplines, hear from some of the leading minds in the field, and even get a first-hand look at cutting-edge technologies. Whether you're a Ph.D. candidate looking for research ideas or an undergrad seeking to specialize, the insights you gain here will be invaluable.
Networking is another fantastic opportunity. You're not just mingling with your peers but also with potential future employers, mentors, or collaborators. These relationships can provide the foundation for your future career or research endeavors. Given that most job opportunities and academic collaborations arise from networking, the importance of this aspect cannot be overstated.
For students, especially, there's also the potential for hands-on experience. Many exhibitors offer live demonstrations, and there are often opportunities for attendees to engage with the technologies directly. This practical exposure can be an excellent supplement to your academic knowledge, making you a more rounded and employable candidate in the job market.
Career opportunities are another aspect to consider. Many companies and research institutions come to Photonics West SPIE not just to exhibit but also to scout for talent. With your attendance, you can directly interact with potential employers, learn about job opportunities and even secure interviews. You could very well walk out of the event with a job offer or internship in hand!
Finally, let's talk about inspiration. One of the understated aspects of attending an event like this is the sheer sense of wonder it can instill. You're not just learning about the state of the industry today but also getting a glimpse of what the future could hold. For a student or academic, this can be the spark that ignites a lifelong passion or an epoch-making career in photonics.
And there you have it, a comprehensive guide on why Photonics West SPIE is the ultimate event for anyone involved in photonics and related sectors. From learning and networking to business opportunities and global impact, the event offers something invaluable for everyone. Whether you're an exhibitor, a professional, or a student, booking your ticket now could be the best decision you make this year. So why wait? Illuminate your future by being a part of Photonics West SPIE.
We welcome any suggestions or questions. You can email us or contact us using the contact page.
You can also connect with us on the following social networks:
Facebook
Twitter
LinkedIn
Instagram