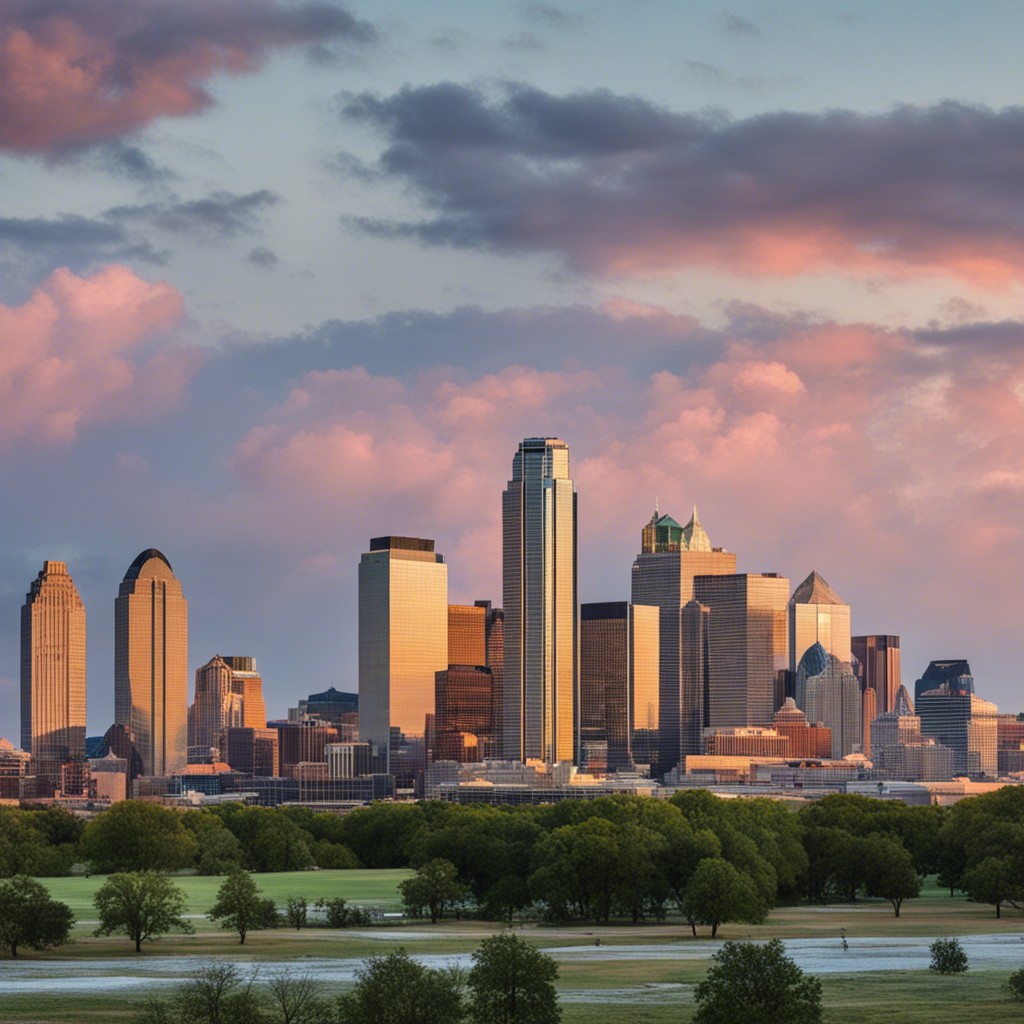 Welcome to the ultimate guide to the best Upcoming Events in Dallas Texas! If you're a Dallas native, a newcomer, or even a tourist planning your next great adventure, you're in for a treat with this detailed blog post. Dallas, the glitzy city known for its dynamic culture and diverse community, has an event calendar that's brimming with excitement, and we've meticulously curated a list of ten events that you simply can't miss! These are gatherings that elevate the city's social scene, showcase its cultural richness, and contribute significantly to the local economy. Trust me, after reading this, you'll be marking your calendar and counting down the days!
But we're not just giving you a list; we're diving deep into the nitty-gritty details of each event. Whether you're a foodie, a movie buff, an art lover, or a fitness fanatic, Dallas has something spectacular to offer. Think of this guide as your golden ticket to insider information — from locations and ticketing to the organizers who pour their hearts into creating memorable experiences. So buckle up and let's explore the kaleidoscope of Upcoming Events in Dallas Texas. Prepare to be amazed, entertained, and possibly transformed by what the city has in store for you.
Quick Facts About the Events:
Riverfront Jazz Festival: Takes place at The Black Academy of Arts and Letters; Tickets available online; Organized by TBAAL.
State Fair of Texas: Hosted at Fair Park; Tickets can be purchased online or at the gate; Organized by State Fair of Texas organization.
Taste of Dallas: Located at Dallas Market Hall; Tickets sold online and on-site; Organized by Taste of Dallas LLC.
Dallas International Film Festival: Various venues; Tickets and passes sold online; Organized by Dallas Film.
Dallas Holiday Parade: Downtown Dallas; Free to watch, VIP seating available; Organized by Dallas Holiday Parade Foundation.
BMW Dallas Marathon: Starts and ends at Dallas City Hall; Registration required; Organized by Dallas Marathon.
Dallas Blooms: Located at Dallas Arboretum and Botanical Garden; Tickets available at the entrance or online; Organized by Dallas Arboretum.
Dallas Arts Month: Various venues; Some events are free, others require tickets; Organized by City of Dallas Office of Arts and Culture.
St. Patrick's Day Parade & Festival: Takes place on Greenville Avenue; Free to watch, VIP seating available; Organized by Dallas St. Patrick's Parade Foundation.
North Texas Irish Festival: Fair Park; Tickets sold online and at the gate; Organized by Southwest Celtic Music Association.

Riverfront Jazz Festival: Unleash the Power of Music and Unity
The Riverfront Jazz Festival is more than just a musical event; it's a spiritual experience that brings communities together. Hosted by The Black Academy of Arts and Letters (TBAAL), it usually takes place annually over Labor Day weekend. Here's the thing about jazz — it transcends musical notation. It's about freedom, improvisation, and most importantly, unity. And when you blend that ethos with the rich culture of Dallas, you've got yourself a recipe for a memorable outing. You'll find an impressive line-up of jazz, blues, and soul musicians that will make you sway, dance, and perhaps even introspect.
Firstly, let's talk about the venue, The Black Academy of Arts and Letters. Nestled in the heart of the city, this cultural center is more than just a place; it's a movement aimed at celebrating Black culture and arts. The auditorium usually reverberates with the timeless tunes of jazz, making it an intimate space where musicians and listeners alike can connect deeply. And because it's located centrally, reaching there is a breeze. Whether you're coming in a car, taking a bus, or even biking, the festival is accessible from all corners of the city. Parking is usually well-organized, and there's also a decent range of public transport options.
Tickets for the Riverfront Jazz Festival are typically available online, and early birds get the advantage of discounted prices. However, if you're someone who prefers making last-minute plans, you can always buy tickets at the venue, although they might be a bit pricier. The ticketing process is straightforward and user-friendly. Whether you're tech-savvy or not, navigating through the purchase pathway is a piece of cake. You can choose between general admission and VIP tickets, the latter offering a more luxurious experience with perks like premium seating, backstage access, and complimentary refreshments.
The organizers, TBAAL, pour their soul into the event to make it more than just another gig. The academy itself has a rich history of promoting art and culture, especially focusing on the African-American community. What makes the Riverfront Jazz Festival unique is its diversity—not just in terms of the audience but also the artists. You'll find both seasoned musicians and emerging talents sharing the stage, contributing to a vibrant atmosphere. The event usually also hosts workshops, panel discussions, and exhibitions related to jazz and African-American culture. It's a holistic experience that offers something enriching for everyone.
So why should you attend the Riverfront Jazz Festival? For starters, it offers a mesmerizing musical experience that's rare to find. But beyond the music, it's about feeling connected—both with the community and yourself. The festival promotes a sense of belonging, and you'll find yourself being part of something much larger than your individual self. If you're a business, setting up a stall or sponsoring an event like this can significantly increase your brand's visibility and association with positive community values. Don't miss out on the chance to be part of this soulful journey; it's one of those Upcoming Events in Dallas Texas that you'll regret not attending.

State Fair of Texas: The Iconic Carnival of Traditions, Food, and Much More!
Nothing screams "Texas" more than the State Fair held annually at Fair Park. A tradition that has captivated residents and visitors alike since 1886, this colossal event is about everything that makes Texas unique—heritage, food, art, music, and yes, cowboys! For approximately three weeks in late September to October, the Fair Park turns into a wonderland of possibilities, offering an extensive range of activities and attractions that appeal to people of all ages. If there's one event that truly encapsulates the spirit of the Lone Star State, it's the State Fair of Texas.
Let's talk about Fair Park, a historic location dating back to 1886. Sprawling across 277 acres, this Dallas landmark boasts an array of stunning Art Deco architecture, museums, theaters, and the legendary Cotton Bowl Stadium. It's a versatile venue that welcomes over 2 million visitors during the fair season, making it the largest fair in the country by daily attendance. Accessibility is a breeze, with convenient public transit options like the DART Rail, along with ample parking space for those who prefer driving.
When it comes to tickets, you have choices galore. The State Fair of Texas organization makes it super easy to purchase tickets, either online or at the gate. Plus, there are several discount days, so if you're smart about when you go, you can save a buck or two. The fair also offers season passes for die-hard fans who want to experience it multiple times. One of the notable features is the "Big Tex Choice Awards," where you can try some of the most innovative (and outrageous) food items that you won't find elsewhere. Trust me, your taste buds are in for an unforgettable ride.
The organizers make a significant effort to ensure that the event is more than just a fun-filled gathering. With its roots in agricultural fairs, the State Fair of Texas serves as an educational platform as well, hosting workshops, livestock contests, and cooking classes. Student organizations and local businesses often set up booths, thereby offering networking opportunities for young professionals and entrepreneurs. So, this isn't just a place to have fun; it's a hub for learning, engagement, and making meaningful connections.
Why should you, or anyone else, be part of the State Fair of Texas? For one, it's a rite of passage for anyone who lives in or visits Texas. The fair provides an unrivaled blend of entertainment, culture, and community spirit. Businesses can leverage the fair's widespread appeal for brand exposure or even direct sales. As for individuals, there's no better way to plunge into Texan culture and bask in an eclectic mix of music, food, and art. Simply put, if you're looking to experience the heartbeat of Texas, missing out on this fair would be downright criminal.

Taste of Dallas: A Gastronomic Journey Through the City's Culinary Landscape
The Taste of Dallas is a foodie's dream come true. Hosted at the Dallas Market Hall, this event usually takes place over a summer weekend and features the city's finest culinary talents. From local food trucks to five-star restaurants, the Taste of Dallas is a gastronomic spectacle that offers a diverse array of flavors, cuisines, and culinary styles. You'll find everything from classic Texan BBQ and Mexican street food to gourmet vegan options. It's a food festival that encapsulates the diverse culinary landscape of Dallas, making it one of the most anticipated Upcoming Events in Dallas Texas for food enthusiasts.
Ticketing is straightforward, with options to buy online or at the gate. And if you're really into sampling the best of what Dallas has to offer, VIP tickets are available that give you access to exclusive tastings, cooking demonstrations, and even some swag to take home. The event is organized by Taste of Dallas LLC, a team that knows how to put on a show. They partner with local charities, making this not just a feast for your senses but also a way to give back to the community.
Why should you attend? For starters, it's a culinary adventure that will likely introduce you to flavors and dishes you've never tried before. It's also a fantastic opportunity for local restaurants to showcase their offerings, which benefits both attendees looking for new dining spots and the eateries looking for new patrons. If you're in the food and beverage industry, having a presence at the Taste of Dallas could significantly boost your brand's visibility and reputation. So, whether you're a food lover or a food provider, this event promises a delicious win-win for everyone.

Dallas International Film Festival: Where Cinema and Culture Intersect
If you're a film aficionado, the Dallas International Film Festival is your gateway to cinematic heaven. Held annually, usually in the spring, this festival showcases an eclectic mix of local, national, and international films, from blockbusters to indie gems. The festival screens movies at various venues across the city, including landmark theaters like the Magnolia and the Texas Theatre. It's not just about watching films; it's about experiencing the culture, talent, and diverse perspectives that cinema brings to the table.
Ticketing for this festival is highly organized and is generally made available online a few weeks before the event starts. There are various ticket packages to choose from, such as single tickets, day passes, or even festival passes for the true cinephile. The event is organized by the Dallas Film Society, a nonprofit organization dedicated to promoting the art and business of film in Dallas. They also host Q&A sessions, panel discussions, and networking events, making it an enriching experience for aspiring filmmakers and film enthusiasts alike.
Why attend the Dallas International Film Festival? If you love movies, the answer is obvious: this is a rare opportunity to immerse yourself in a world of cinematic storytelling that you won't find in mainstream theaters. For filmmakers and industry professionals, this festival serves as a platform for exposure and network-building, offering a chance to connect with like-minded individuals and potential collaborators. The Dallas International Film Festival is not just about screening movies; it's about celebrating the art of storytelling, making it a must-visit for anyone who appreciates the power and magic of cinema.

Dallas Holiday Parade: Unleash the Magic of the Holiday Season in the Heart of Texas
Nothing captures the magic of the holiday season quite like the Dallas Holiday Parade. Typically held on the first Saturday of December, the parade winds its way through the streets of downtown Dallas, mesmerizing thousands of spectators with floats, marching bands, and performers. From vibrant balloons to elaborately decorated floats and cheerful dance troupes, this parade is a kaleidoscope of colors and excitement. The atmosphere is electric, filled with the sounds of carols, the scent of hot cocoa, and the collective joy of a community coming together to celebrate.
Tickets are available in a variety of options, including general admission and VIP seats. The latter often includes perks like a better view, seating comfort, and some warm holiday treats. The Dallas Holiday Parade is a not-for-profit event, with a focus on bringing joy to children and families, including those from less fortunate backgrounds. Organizations and corporate sponsors often buy tickets in bulk to distribute to charity organizations, making it an event that spreads not just cheer but also goodwill.
Why should you attend the Dallas Holiday Parade? For families, this is a tradition that makes for memorable holiday photos and cherished memories. For businesses, it's an excellent opportunity for branding, as sponsorship options come with the benefit of positive community engagement. The atmosphere is so infectious that even if you arrive as a Grinch, you'll leave with your heart a few sizes larger. With floats as creative canvases and streets as stages, the Dallas Holiday Parade is a holiday spectacle you won't want to miss.

BMW Dallas Marathon: Race Through the Big D with Purpose and Endurance
The BMW Dallas Marathon isn't just a race; it's an experience that unites the community in the spirit of health, athleticism, and philanthropy. Usually held in December, this event has been a staple of the Dallas sports calendar since 1971. With a range of categories, from full marathons to half marathons and even kids races, there's a spot for everyone, no matter their skill level. The course meanders through iconic Dallas neighborhoods, offering participants a unique view of the city while testing their physical and mental endurance.
Registration is conveniently done online, often several months in advance, due to the popularity of the event. Ticket pricing varies depending on the race category you choose, but regardless of the cost, a portion of the proceeds goes to charity. The BMW Dallas Marathon is more than a race; it's a charitable event that supports the Texas Scottish Rite Hospital for Children. This gives every participant a chance to not only achieve their personal best but also contribute to a meaningful cause.
Why run the BMW Dallas Marathon? If you're an athlete, the challenge and the thrill of the race are calling your name. The event is also a great motivator for people looking to kickstart their fitness journey. For businesses, sponsoring the event or entering a corporate team can boost employee morale and offer a unique team-building experience. Plus, let's not forget the bragging rights and the sense of accomplishment that comes with crossing that finish line. Whether you're a seasoned runner or a first-timer, the BMW Dallas Marathon offers an incomparable experience of personal achievement coupled with community spirit.

Dallas Blooms: A Symphony of Colors in the Dallas Arboretum
When spring arrives, the Dallas Arboretum and Botanical Garden transforms into a breathtaking canvas of color during its annual Dallas Blooms Festival. Generally running from February to April, this event is considered one of the largest floral festivals in the Southwest. Imagine walking through more than 500,000 blooming spring bulbs, including tulips, daffodils, and hyacinths, set against a backdrop of the stunning White Rock Lake and the Dallas skyline. It's not just a feast for the eyes; it's nourishment for the soul.
Tickets to this natural spectacle are available online or at the entrance to the Arboretum. Various ticketing options cater to both adults and children, and there are even memberships for those who wish to make frequent visits. The Dallas Arboretum itself organizes this event, ensuring that it's not only beautiful but also educational. Various workshops and guided tours run throughout the festival, where you can learn about the different plant species, gardening tips, and even some botanical history.
Why should you immerse yourself in Dallas Blooms? For one, it's an incredible opportunity to escape the urban hustle and bustle and reconnect with nature in its most glorious form. For photography enthusiasts, the landscapes offer endless possibilities for that perfect shot. Businesses in the horticulture or outdoor living sectors can gain significant exposure by participating as sponsors or vendors. So whether you're looking to unwind, snap some Instagram-worthy photos, or educate yourself about the world of flora, Dallas Blooms offers a serene and enlightening experience you won't want to miss.

Dallas Arts Month: A Citywide Celebration of Creativity and Culture
April is a special month in Dallas, and it's not just because of the spring bloom. It's Dallas Arts Month, a citywide celebration that showcases the diverse and vibrant arts scene across the city. From visual arts and theater performances to music concerts and dance recitals, Dallas Arts Month offers something for every artistic palate. It's a month that turns the entire city into a dynamic arts venue, with exhibitions, performances, and interactive events occurring in various locations, including art galleries, parks, and even on the streets!
Event details and tickets are usually made available on the official Dallas Arts Month website. Depending on the event, tickets can either be free or require a fee. Some venues offer discounted group rates, so consider gathering some friends for a cultural outing. The event is coordinated by the City of Dallas Office of Arts and Culture, and it collaborates with various local organizations and artists to offer a comprehensive slate of events, making it a melting pot of creative expression.
So why should you partake in Dallas Arts Month? First, it's a fantastic way to get acquainted with local talent and perhaps discover a new favorite artist or performer. For families, it's an educational opportunity to expose children to the wonders of the artistic world. Businesses in the arts and crafts sectors will find an active and engaged audience, making it a perfect time for exhibitions or releases. In short, whether you're an artist, an aficionado, or simply someone curious about arts and culture, Dallas Arts Month is a treasure trove of artistic riches waiting to be explored.

St. Patrick's Day Parade & Festival: A Green Extravaganza Celebrating Irish Heritage
The Dallas St. Patrick's Day Parade & Festival is an annual burst of green that lights up Greenville Avenue every March. Over 125,000 people typically attend, making it one of the largest St. Patrick's Day parades in the South. Picture this: a two-mile route awash in green, with spirited floats, bagpipe bands, Irish dancers, and all sorts of colorful characters celebrating Irish culture. It's not just a parade but a full-day experience, including a festival where you can enjoy live music, food vendors offering Irish delicacies, and plenty of activities for the little leprechauns in your family.
Tickets for special seating areas can be purchased online, but the parade itself is free to attend. Various organizations and businesses take part, making it a lively community affair. The event is put on by the Greenville Avenue Area Business Association, with a portion of the proceeds often benefiting local charities. It's a day of merriment, but it's also an event that gives back to the community.
Why should you attend the St. Patrick's Day Parade & Festival in Dallas? For starters, it's an extraordinary day out for families, packed with entertaining and educational experiences that delve into Irish culture. For local businesses, participating in the parade or festival can offer a fun way to engage with the community and attract new customers. Most importantly, it's a day to let loose, celebrate, and maybe even find your own 'pot of gold' in the form of lasting memories, new friendships, or a newfound appreciation for Irish heritage.

North Texas Irish Festival: Immerse Yourself in Authentic Irish Culture
Usually held in March at Dallas's Fair Park, the North Texas Irish Festival is one of the largest Irish cultural events in the United States. This three-day extravaganza is more than just a festival; it's a gateway to experiencing the rich and diverse traditions of Ireland. Think Celtic music performances, Irish dance shows, storytelling sessions, and workshops on everything from playing the tin whistle to Irish cooking. If you've ever been curious about Irish culture or simply want to experience something different, this is the event to mark on your calendar.
Tickets to the festival can be purchased online or at the entrance, with options ranging from single-day tickets to weekend passes. The event is organized by the Southwest Celtic Music Association, a non-profit dedicated to promoting awareness and appreciation of Celtic heritage. One of the festival's distinct features is its emphasis on family-friendly activities, making it an inclusive experience for folks of all ages.
Why attend the North Texas Irish Festival? It's a cultural deep-dive that offers a break from the usual weekend activities. For families, it provides an educational yet entertaining platform to introduce kids to a different culture. Businesses specializing in Celtic or Irish products have a golden opportunity to showcase their offerings to a targeted audience. So whether you're of Irish descent or just Irish at heart, this festival offers music, dance, food, and education, all wrapped up in an atmosphere of warm Irish hospitality.
---
We've traversed an incredible array of events, each offering its unique flavor and experiences. From the jazz melodies at the Riverfront Jazz Festival to the cinematic wonders of the Dallas International Film Festival, the wholesome fun of the State Fair of Texas to the culinary delights of Taste of Dallas, there's something for everyone. Not to forget the vibrant Dallas Holiday Parade, the physically challenging BMW Dallas Marathon, the floral paradise of Dallas Blooms, the artistic tapestry of Dallas Arts Month, and the rich Irish heritage celebrated in the St. Patrick's Day Parade & Festival and North Texas Irish Festival. There's no shortage of ways to enrich your year with the Upcoming Events in Dallas Texas. So why wait? Dive in and make the most of what this fabulous city has to offer!
We welcome any suggestions or questions. You can email us or contact us using the contact page.
You can also connect with us on the following social networks:
Facebook
Twitter
LinkedIn
Instagram