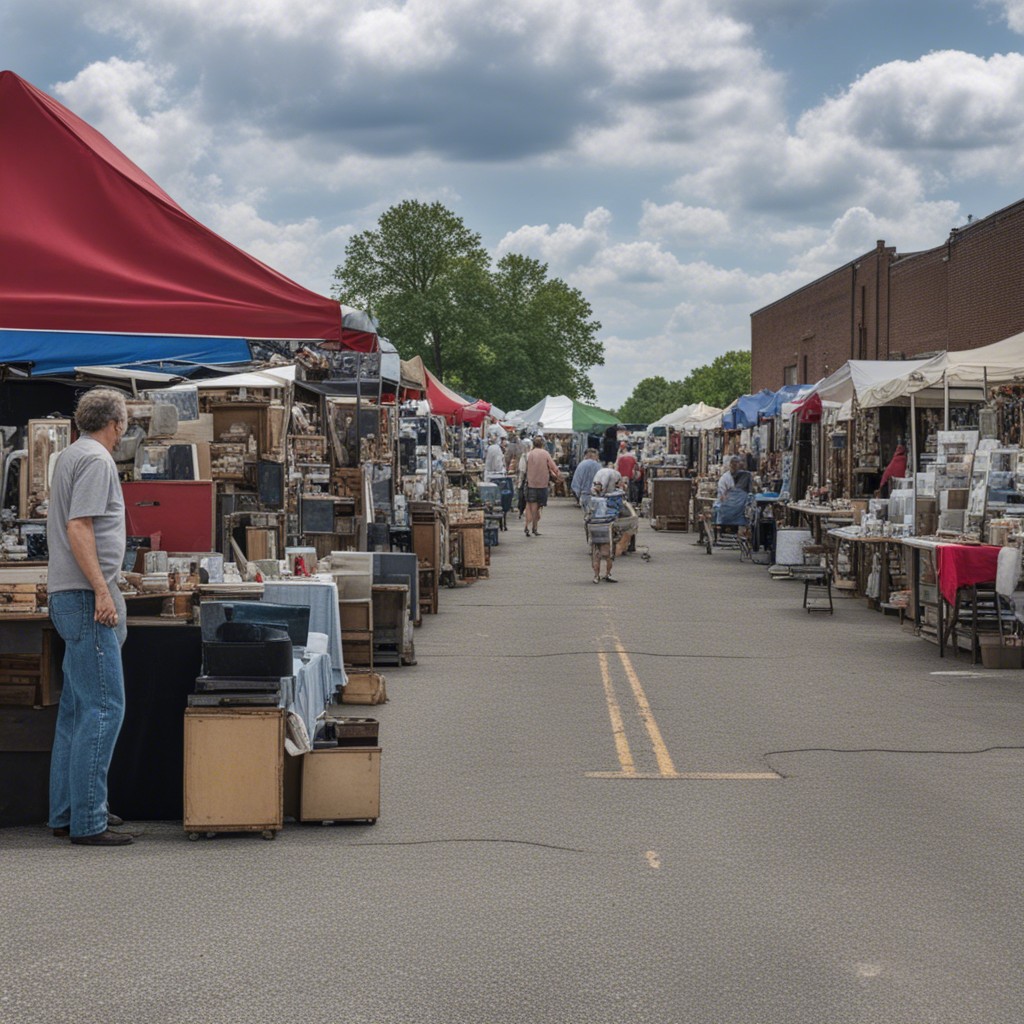 Oh boy, do I have something exciting for you! Imagine a place where you can find everything—literally, everything—from antique furniture to mouth-watering food stalls, all under one roof. Well, you don't have to imagine anymore because the Kentucky Flea Market Louisville is that paradise. And guess what? You don't even have to break the bank to enjoy it!
Whether you're a seasoned flea market aficionado or a curious first-timer looking to dip your toes into the world of bargain-hunting and unique finds, this event is a treasure trove just waiting to be explored. So, grab a pen and paper because you're going to want to jot down the reasons why the Kentucky Flea Market is the ultimate haven for shoppers, foodies, and antique lovers alike.
Fact Sheet:
Where: Kentucky Exposition Center, Louisville, USA
Tickets: Free and Paid
How to Register: Tickets are available at the entrance and online
Organizer: Stewart Promotions
Timings: 10:00 AM – 06:00 PM (General)
Estimated Turnout: 20,000 – 50,000 Visitors, 500+ Exhibitors (based on previous editions)
1. Introduction to the Kentucky Flea Market in Louisville
The Kentucky Flea Market is more than just an event; it's a phenomenon. Organized by Stewart Promotions, this market is an extravaganza that encapsulates the spirit of Louisville and offers a unique shopping experience unlike any other. It's not just a place to buy things; it's a place to explore, to engage, and to be inspired. And with free admission and discounted parking, you're already winning before you've even stepped inside!
So what makes it special? Well, think of it as a kaleidoscope of opportunities—whether you're a shopper with a penchant for unique finds, a food lover craving delectable delights, or an exhibitor looking to showcase your unique products. This bustling market is also a trade show, attracting an impressive range of exhibitors in the Gifts and Handicrafts industry. With such a diverse offering, it's no wonder that the event draws a massive crowd, ranging from 20,000 to 50,000 visitors based on previous editions.
The venue itself, the Kentucky Exposition Center, perfectly accommodates this massive gathering with ample space, providing a seamless experience for both visitors and exhibitors. The Exposition Center is strategically located in Louisville, making it easily accessible whether you're a local or a traveler looking to soak in some authentic Kentucky culture. And let's not forget the timings: the event runs from 10:00 AM to 06:00 PM, giving you ample time to explore and enjoy everything on offer.
But enough of the formalities, let's dive into the nitty-gritty details. We're talking booth layouts, food stalls, antiques, and all the hidden gems you can uncover during your visit. Trust me, this is an adventure you don't want to miss!
With over 800 booths and more than 200 antique pavilion booths, the Kentucky Flea Market is the place where you can rediscover the joy of shopping and exploration. And the best part? You'll find everything from craft items, fantastic food, homemade cakes, biscuits, treats, and fresh produce to spit roast, wraps, sandwiches, pies, and handmade gifts. It's like an endless maze of wonders just waiting for you to discover.
2. The Vital Stats: When, Where, and How
Whenever you're heading to an event as grand as the Kentucky Flea Market Louisville, knowing the logistics is paramount. I mean, you don't want to reach the venue and realize you forgot to check essential details like timings or how to get tickets, right? So let's get those basics down first.
First off, the venue: is the Kentucky Exposition Center in Louisville. This location is fantastic, not just because it's spacious but because it's easy to get to. It's not one of those obscure venues that you'll need a map, compass, and a prayer to locate. Simple GPS coordinates will guide you straight to this hub of endless treasures. Once you're there, you'll find plenty of parking spaces—yes, with discounted rates!
Now, let's talk about the tickets. You've got two options here: free and paid. No, that's not a typo; you can actually enter for free! But if you're the kind of person who likes a little extra, the paid tickets offer added benefits, which we'll dive into in later sections. You can grab your ticket at the entrance or even book it online if you're the plan-ahead type.
The event runs from 10:00 AM to 06:00 PM. That's a solid eight hours to explore, shop, eat, and enjoy. But let me tell you, time flies when you're having this much fun, so you might want to get there early to make the most of it. The general timing ensures that whether you're an early bird or a late riser, there's ample time for you to explore the market fully.
Given that the Kentucky Flea Market Louisville attracts between 20,000 to 50,000 visitors and hosts more than 500 exhibitors, you're going to be in good company. These aren't just random numbers; these statistics highlight the event's appeal and indicate the kind of diverse, vibrant crowd you can expect to mingle with. So mark your calendars, folks, because this is one event you don't want to miss out on!
3. The Magnificent Layout: An Overview of the 800+ Booths
Alright, let's get into the juicy details—the layout. With over 800 booths to explore, you might think it's easy to get overwhelmed. But fear not, my friend! The layout of the Kentucky Flea Market is designed to offer a seamless, enjoyable experience. Each section is well-marked, so you know exactly what you're getting into.
When you enter, you'll be greeted by a directory that gives you the lay of the land. Think of this directory as your treasure map, guiding you through a maze of endless discoveries. Each booth is allocated a specific spot in the hall, making it easier for you to plan your route. After all, with so many things to see, you'll want to make sure you don't miss out on anything that catches your eye.
Now, 800 booths are a lot, but they're wonderfully categorized. Whether you're into antiques, crafts, food, or something else entirely, you can head straight to the section that piques your interest. This means you can tailor your experience to suit your tastes. Want to explore the food stalls first and then move on to the antique section? You got it!
What I particularly love about the layout is how it caters to different types of visitors. If you're a meticulous planner, you can easily chart out your day to cover the most ground. On the other hand, if you're more of a wanderer like me, the layout allows for plenty of spontaneous discoveries. Just roam around and let your curiosity guide you.
Accessibility is another strong point of the layout. Even during peak hours, when the market is buzzing with people, you won't feel cramped or confined. Wide aisles between booths and clear signage ensure that you can move around comfortably. Plus, let's not forget the scooter rentals available for those who prefer to shop without tiring their feet.
4. The Antique Pavilion: A Timeless Adventure
Ah, antiques! The word alone conjures images of hidden treasures and timeless elegance. If you're an antique enthusiast, the Kentucky Flea Market Louisville has a section that you absolutely cannot skip: the Antique Pavilion. Comprising over 200 booths, this area is nothing short of a history-packed adventure.
When you step into the Antique Pavilion, it's like walking into a different era. Each booth offers a unique experience—antique furniture, vintage clothing, rare books, classic toys, and even old-school electronics. You'll find items here that not only serve as beautiful collectibles but also offer a slice of history. It's a fascinating area that invites you to explore and discover at your leisure.
The vendors in this section are extremely knowledgeable and passionate about what they're selling. So, don't shy away from striking up a conversation! They're usually more than willing to share the stories and histories behind their items, providing a rich context that adds value to your finds. Trust me, shopping for antiques here is not just a transaction but an educational experience.
Now, you might think that antiques are expensive, and you're not entirely wrong. But the beauty of the Antique Pavilion is that it caters to a range of budgets. From high-end, museum-quality pieces to affordable vintage gems, there's something for everyone. Plus, let's not forget the thrill of bargaining; you never know when you might score a great deal!
And the best part? All of these 200-plus booths are concentrated in one area, so you won't have to dart across the entire venue to satisfy your antique cravings. It's like a one-stop shop for history buffs, collectors, and even casual browsers. So, put on your explorer hat, because the Antique Pavilion is one timeless adventure you won't want to miss.
5. Food and Refreshments: A Foodie's Paradise
When I say the Kentucky Flea Market Louisville is a complete experience, I mean it, and what's a complete experience without scrumptious food and refreshing beverages? You didn't think I'd leave out the best part, did you? So, welcome to a foodie's paradise!
As you roam the aisles and explore various booths, you'll inevitably be greeted by the intoxicating aromas of food that are too good to pass up. Whether you're in the mood for some down-home southern comfort food, exotic international dishes, or quick snacks, the market's got you covered. You can't say you've truly experienced the flea market without trying the food.
Let's talk specifics. Are you a fan of homemade cakes? Check! How about fresh produce? Double-check! And don't even get me started on the spit roasts, wraps, sandwiches, and pies. The range is incredible, and the quality is top-notch. It's not just about filling your stomach; it's about delighting your taste buds.
Of course, the best part about the food section is that it caters to all dietary preferences and restrictions. Whether you're vegan, vegetarian, or a meat lover, you'll find plenty of options to choose from. The food stalls are very accommodating, so if you have any special dietary needs, don't hesitate to ask.
What sets the food experience at the Kentucky Flea Market apart is how it complements the shopping. Imagine finding a rare antique or a beautiful piece of craft and then celebrating your find with a tasty treat. Trust me; it's a cycle of happiness that keeps on giving. So don't miss out on the culinary delights, because it truly is a foodie's paradise in there.
6. The Exhibitors: Who You'll Meet and What You'll Find
Now, let's shift our focus to the people who make this grand event possible—the exhibitors. With over 500 stalls set up at the Kentucky Flea Market Louisville, you're not just walking into a shopping venue; you're stepping into a vibrant community. And that community represents a variety of industries, primarily centered around gifts and handicrafts.
First off, you'll meet a bunch of super-talented crafters. If you're someone who appreciates the art of making things by hand, you'll be in heaven. We're talking about everything from custom jewelry to handcrafted furniture to unique art pieces. And each exhibitor brings a personal touch to what they're selling, making your shopping experience much more meaningful.
But it's not just crafts. The event also has plenty of food exhibitors who make sure you're well-fed and happy. These are folks who take tremendous pride in what they put on your plate. Fresh produce, homemade cakes, biscuits, treats—you name it. Many of these exhibitors are local businesses, so when you buy from them, you're supporting the local economy.
What's also impressive is the inclusion of antique sellers. These aren't just people who found something old in their attic; these are experts in the field of antiques. Whether it's furniture, vintage clothing, or artifacts, each piece comes with a story, a slice of history that the exhibitors are more than willing to share.
And guess what? The trade show format means that these exhibitors are not just there to sell; they're also looking to collaborate, share ideas, and network. So if you're someone with a keen interest in gifts, crafts, or food, this is a fantastic opportunity to meet like-minded people and even make some long-lasting connections.
To sum it up, the variety of exhibitors ensures that every visitor, regardless of their interest, will find something captivating. It's a fantastic blend of shopping, learning, and networking that you won't find in a regular retail setting. So come on down and immerse yourself in this bustling exhibitor community.
7. Budget-Friendly Shopping: Free Entry and Discounted Parking
Budget-conscious folks, rejoice! The Kentucky Flea Market Louisville offers a shopping experience that won't burn a hole in your pocket, and that starts right at the entrance. Yes, you heard it right—free entry! In a world where even breathing seems to cost money, being able to enter such an expansive marketplace for free is a breath of fresh air.
Now, let's talk about parking. How many times have you been excited about an event, only to be turned off by exorbitant parking fees? Well, put those fears to rest because the flea market offers discounted parking. That means you can spend more on what really matters: the incredible range of goods on offer.
But wait, there's more. A lot of the items you'll find at the flea market are exceptionally budget-friendly. Whether it's food, antiques, or handicrafts, there are options for every pocket size. You won't have to wade through overpriced goods to find something that fits your budget. There are plenty of affordable treasures just waiting to be discovered.
For instance, let's say you're in the mood for some foodie delights. The range of affordable options is jaw-dropping. Whether it's wraps, sandwiches, or homemade cakes, there's something for every palate and pocket. Even within the Antique Pavilion, you'll find both high-end collectibles and budget-friendly vintage items.
In essence, the Kentucky Flea Market Louisville has done an excellent job of making sure the event is inclusive. The free entry and discounted parking are just the cherries on top of a budget-friendly experience. So whether you're looking to spend lavishly or you're on a tight budget, rest assured, this flea market welcomes everyone with open arms.
8. How to Maximize Your Experience: Tips and Tricks
So you've decided to take the plunge and explore the magical world of the Kentucky Flea Market Louisville. Great decision! But like any massive event, navigating this flea market can be overwhelming if you're not prepared. That's why I've compiled a list of tips and tricks to ensure you make the most of your experience.
First things first, come early! With over 20,000 to 50,000 visitors expected, it can get crowded. Being an early bird means you get the first dibs on unique items and also have the chance to chat with exhibitors when they are fresh and full of energy. Plus, who doesn't like a bit of morning shopping?
Secondly, make a game plan. With over 800 booths to explore, winging it might leave you exhausted and possibly even frustrated. Before arriving, check out the event map and list of exhibitors online to identify your must-see stalls. Divide your time accordingly and stick to the plan as much as possible. This way, you won't miss out on anything important to you.
Comfort is key! This might seem obvious, but you'd be surprised how many people show up in uncomfortable shoes and end up paying for it later. Since you'll be on your feet for hours, wear your most comfortable shoes and attire. Also, considering Kentucky weather, make sure to dress in layers so you can easily adapt to temperature changes.
Another tip is to come with an appetite. Seriously, the food here is too good to pass up, and it's a vital part of the experience. Plan meal breaks into your day, or at least allow yourself the pleasure of sampling snacks from various vendors. Trust me; your taste buds will thank you.
Finally, don't forget to bring cash. While many vendors accept credit cards these days, some of the smaller stalls might not. Having cash on hand will ensure that you can buy whatever catches your eye without any hassles. Plus, cash transactions make haggling easier if you're into that kind of thing.
9. The Business Side: Opportunities for Exhibitors
While the Kentucky Flea Market Louisville is a paradise for shoppers and enthusiasts, it's also a golden opportunity for exhibitors. If you have a product or a craft that you think people should know about, then this is the platform for you. Why? Let's break it down.
First and foremost, the footfall is incredible. With an estimated turnout of between 20,000 and 50,000 visitors, the exposure for your brand is unmatched. That's a potential 20,000 to 50,000 customers in a single event, which is a goldmine for small businesses looking to make a name for themselves.
Next, the event offers a great networking platform. Remember, you're not just setting up shop amidst visitors; you're also in the company of other exhibitors who are as passionate and skilled as you. This presents an excellent opportunity for partnerships, collaborations, and even some friendly competition to keep you motivated.
It's also worth mentioning the variety of the audience. Given the broad range of products on display—from food to crafts to antiques—you're looking at a highly diverse crowd. This is particularly beneficial if you're looking to test the market for a new product or if you're aiming to broaden your customer base.
Furthermore, let's talk logistics. The organizers, Stewart Promotions, have been in the game for a long time and know how to put on a good show. They offer a comprehensive support system for exhibitors, including well-spaced booths, adequate utilities, and promotional support. That means you can focus on what you do best: showcasing your products.
And let's not forget the financial aspect. Participating in an event of this magnitude would usually cost an arm and a leg, but the booth costs here are surprisingly reasonable. Given the potential returns in terms of sales and brand recognition, it's an investment that's well worth it.
10. The Final Takeaway: Why You Can't-Miss This Experience
So, here we are at the finish line, and if you've been following along, you're likely brimming with excitement about the Kentucky Flea Market Louisville. But if you still need that final nudge, here are compelling reasons why this isn't just another outing—it's an experience you can't afford to miss.
Firstly, let's consider the sheer scale of the event. Over 800 booths featuring a dizzying array of products mean that this isn't just a market; it's a kaleidoscope of creativity and passion. Where else can you find such a wide spectrum of unique goods, all under one roof? The sheer variety guarantees that you'll not only find something you love, but you'll also stumble upon items that you didn't even know you needed.
Next up is the sense of community. As I've mentioned before, the event goes beyond mere transactions. It's about human connections, about meeting and engaging with individuals who pour their hearts into what they do. It's a rare chance to be a part of a community that celebrates creativity, craftsmanship, and entrepreneurial spirit.
The affordability factor is another major selling point. Free entry, discounted parking, and a plethora of budget-friendly shopping options make this event accessible to everyone. Whether you're a frugal shopper or someone who likes to splurge, the flea market caters to all.
Don't overlook the learning opportunities, either. For antique enthusiasts, the Antique Pavilion is like a hands-on museum where you can touch, buy, and even haggle. For foodies, it's an opportunity to taste different cuisines and perhaps even pick up a secret recipe or two. For the curious souls, it's a chance to meet artisans and learn about their craft right from the source.
Last but certainly not least, the event is impeccably organized. Kudos to Stewart Promotions for ensuring that the vast venue is navigable, that there are ample facilities, and that exhibitors and visitors alike have a positive experience. The focus is not just on commerce but on providing a comprehensive experience that leaves everyone satisfied.
To wrap it all up, the Kentucky Flea Market Louisville is more than an event; it's an institution that celebrates the spirit of community, creativity, and commerce. It's a place where you can shop, eat, learn, network, and simply enjoy the pleasure of discovering something new. So clear your schedule, put on your most comfortable shoes, and come join this grand adventure. Trust me; you won't regret it.
---
There you have it! A complete, detailed look at why the Kentucky Flea Market Louisville should be high on your list of places to visit. Whether you're a visitor looking to soak in the experience or an exhibitor eyeing the vast business opportunities, this flea market has something for everyone. Hope to see you there!
We welcome any suggestions or questions. You can email us or contact us using the contact page.
You can also connect with us on the following social networks:
Facebook
Twitter
LinkedIn
Instagram