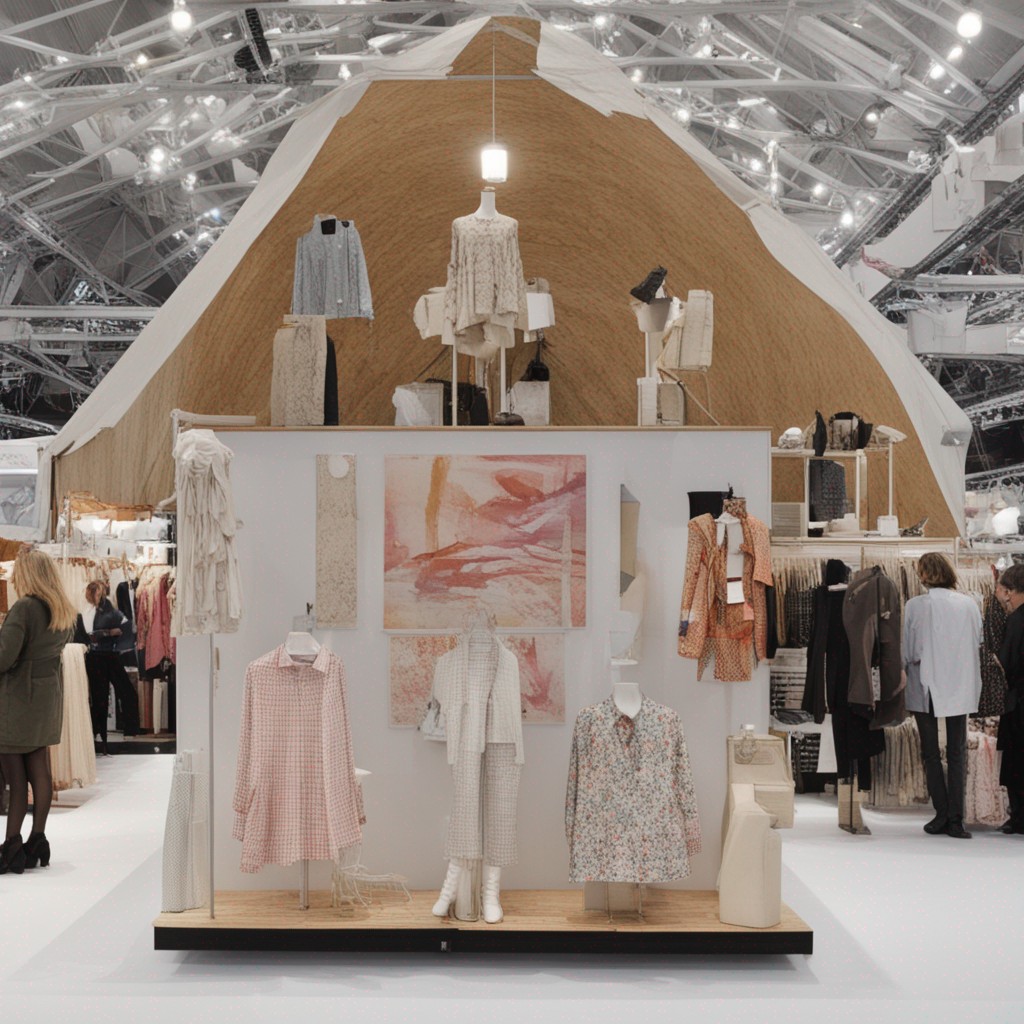 Hey there fashion enthusiasts, brand pioneers, and retail moguls! If you've been scouring the industry calendar for the most must-see events, you've probably come across the Pure London Trade Show. Now, if you're still humming and hawing over whether or not to attend, let me save you the mental gymnastics—go for it! The Pure London Trade Show is more than just a typical fashion event. It's an exhilarating blend of networking, trendspotting, and business insights that you absolutely can't miss. Hosted twice a year, this global platform gathers the creme de la creme of the fashion industry, all under one stunning roof.
You're about to read the most detailed, well-researched guide on why this extravaganza is well worth your time and attention. Whether you're an industry professional, a designer, a buyer, or just someone who loves fashion, this article is for you. We'll delve deep into each aspect of the trade show, and I promise you, by the end of this read, you'll be racing to register your spot at the event!
Quick Facts About the Pure London Trade Show:
Where Does It Take Place?: Olympia London, London, UK
Tickets: Free entry for industry professionals
How to Register?: Simply visit the official website to register
Event Type: Trade Show
Timings:

Business: 09:30 AM – 06:00 PM
General: 09:30 AM – 04:00 PM

Estimated Turnout: 17,000 visitors and 500 exhibitors
Organizer: Hyve Group Plc
1. Global Networking Opportunities
Imagine walking into a room where everyone speaks your language—not English, French, or any other spoken language, but the language of fashion and business. That's precisely what the Pure London Trade Show offers. It's a hotspot for global networking, creating an environment where like-minded people from diverse backgrounds congregate.
The first beauty of this show is that it's not just a UK event; it's a global phenomenon. Exhibitors and visitors hail from every corner of the world, providing a diverse range of perspectives and experiences. Whether you're a designer looking to collaborate, a buyer aiming to expand your catalog or an industry professional searching for new opportunities, you'll find it here.
Attendance numbers are a testament to this. With an estimated 17,000 visitors and 500 exhibitors, you have a wide array of individuals to connect with. These aren't just fleeting encounters; they are potential long-term partnerships waiting to be formed.
Another significant aspect of networking at the Pure London Trade Show is its organized nature. The event is segmented into various categories, including women's wear, accessories, and footwear. This organization makes it easier to navigate the show and find the people who align with your specific interests.
Lastly, the social events! No networking opportunity would be complete without a series of after-parties, coffee sessions, and informal meet-ups that allow you to interact on a more personal level. So if you're looking to grow your business, or simply make more industry connections, the Pure London Trade Show should be on your calendar.
2. Trend Discovery and Fashion Forecasting
If you're in the fashion industry, staying ahead of trends is crucial. Well, there's no better place to get a first-hand look at what's hot and what's not than the Pure London Trade Show. Here, you'll find a vast range of fashion collections that signify what's coming next in the fashion world. The collections are carefully curated to represent a balanced view of upcoming trends, including both mainstream and indie vibes.
Designers at the show are incredibly diverse, showcasing everything from streetwear to high fashion. This allows for a more rounded understanding of where the fashion world is heading. Remember, trends aren't just set by big-name designers; sometimes, they stem from the creativity of lesser-known talents who dare to think outside the box.
But it's not just about looking; it's about engaging. The event also features panel discussions and presentations that delve into trend analysis and fashion forecasting. Industry experts share their thoughts on what we can expect to see in the coming seasons, providing valuable insights for buyers, retailers, and designers alike.
A great advantage of these forecasting sessions is that they often provide retail analytics and consumer behavior data. This information can be invaluable for your business strategy. It gives you a sense of direction and helps you make informed decisions.
Lastly, discovering trends at the Pure London Trade Show also offers a competitive edge. Being among the first to know what's going to be popular puts you in an advantageous position, whether you're a designer planning your next collection or a retailer deciding what to stock up on. In the fast-paced world of fashion, having this kind of head start can make all the difference.
3. Exclusive Business Insights and Seminars
One of the standout features that makes the Pure London Trade Show a must-attend event is its wealth of business insights and seminars. Whether you're a seasoned industry veteran or someone who's just stepping foot into the fashion world, there's a wealth of knowledge available here that you simply can't find anywhere else.
The seminars are led by industry leaders who are well-versed in various topics, from sustainable fashion to e-commerce trends. These aren't your run-of-the-mill speakers; they're experts who've worked in the trenches and are willing to share their experiences and insights to help others succeed.
Next, let's talk about the content. The seminars are well-structured and highly informative, covering a broad range of topics. You could be learning about the art of ethical fashion in one session and delving into the analytics of consumer behavior in the next. And the best part? These sessions aren't just theoretical. They often include case studies, real-world examples, and interactive Q&A sessions to ensure that you walk away with practical knowledge.
Then there's the flexibility. The Pure London Trade Show typically has multiple seminar tracks running concurrently. So if you find that one session isn't aligning with your interests, you're free to hop into another that does. It's like having an all-access pass to a repository of fashion business knowledge.
Last but not least, these seminars provide an additional networking platform. Imagine discussing the latest e-commerce strategies and then having the chance to connect with someone who can help implement them in your own business. The insights you gain here aren't just academic; they're actionable and can be directly applied to your professional life.
4. A Showcase of Niche Brands and Unique Designs
Let's shift gears a bit and talk about the vibrant and diverse array of brands that grace the floors of the Pure London Trade Show. Unlike other trade shows that might focus solely on mainstream fashion, Pure London prides itself on being a platform for niche brands and unique designs. It's a fashion lover's paradise, offering a smorgasbord of styles that cater to all tastes.
The first thing you'll notice is the array of small, independent brands showcasing their collections. These brands might not have the global recognition of high-street names, but they more than makeup for it in creativity and originality. It's an exciting opportunity to discover hidden gems in the fashion world.
For buyers and retailers, this provides a fantastic opportunity to diversify your product offering. These unique brands can help you stand out in an increasingly competitive market. Offering products that can't be found in every other store can give you a serious edge.
For designers, the showcase of niche brands serves as a goldmine of inspiration. Seeing how smaller brands have innovated and differentiated themselves can spark ideas for your own collections. It can also serve as a motivational force; if they can do it, so can you.
The show also excels in representing cultural diversity. Expect to see collections that draw inspiration from various ethnic backgrounds, offering a global perspective on fashion. It's an eye-opening experience that encourages inclusivity and broadens your understanding of fashion as a global language.
Finally, the showcase isn't just about the visual feast; it's also about the stories behind these brands. Many stands offer in-depth information about their design philosophies, manufacturing processes, and sustainability efforts. It's a holistic fashion experience that offers much more than just something to look at.
5. Opportunities for Up-and-Coming Designers
If you're an aspiring designer, the Pure London Trade Show is your golden ticket to stepping up your game and getting noticed. The event serves as a critical platform for new talents to showcase their work, receive valuable feedback, and even attract potential investors or partnerships.
Firstly, the visibility is unparalleled. With an estimated 17,000 visitors, including industry professionals and buyers, showcasing your designs here can provide the kind of exposure that's hard to come by. It's not just about the quantity but the quality of the audience. These are people who can make things happen for you.
Second, the opportunity for feedback is invaluable. One of the hardest things for up-and-coming designers is to get honest, constructive criticism from people who understand the industry. At Pure London, you have that in abundance. It's a learning experience that can help you refine your designs and business strategies.
Moreover, the show often features special segments or competitions aimed at giving young designers a platform. This is not just a place for the big names; it's an inclusive environment where new talent is actively celebrated. Winning or even just participating in one of these competitions can add significant credibility to your fledgling brand.
But it doesn't stop at showcasing. The networking opportunities for young designers are endless. You'll be mingling with suppliers, manufacturers, retailers, and other designers. These connections can open doors that would otherwise take years to unlock.
Lastly, there's the inspiration factor. Being surrounded by so much creativity and innovation is bound to get your creative juices flowing. Whether it's a unique fabric, a bold design, or a new approach to sustainable fashion, you're guaranteed to leave the show brimming with new ideas for your next collection.
6. The Ideal Marketplace for Buyers
For buyers, the Pure London Trade Show is nothing short of a utopia. In today's age, where online catalogs and virtual showrooms are convenient but often lack the tactile experience, this event allows you to not just see, but touch, feel, and even try on some of the items on display.
First, let's talk about the variety. Pure London goes beyond mere fashion and extends into accessories, footwear, and even lifestyle products. This holistic approach means you're not just sourcing for one category; you're potentially filling your entire inventory in a single visit. It's efficient, effective, and incredibly valuable in today's fast-paced retail environment.
What's more, the show provides an excellent opportunity for trend-spotting. Runway shows, design exhibitions, and even the choice of booths can give you insights into what will be the 'next big thing.' These are the kinds of market insights that are invaluable in keeping your business ahead of the curve.
There's also the chance for real-time negotiation. While online platforms offer the convenience of instant buying, they often lack the opportunity for dialogue. At Pure London, you're directly dealing with brand representatives, which allows for real-time discussions, immediate answers to your questions, and often better deals.
Additionally, the event facilitates long-term relationship building. Today's market isn't just about one-time purchases; it's about building lasting relationships for recurring business. The face-to-face interactions you have at Pure London can be the foundation of long-term partnerships, essential for any business's growth.
Lastly, there's the added benefit of competitive analysis. As a buyer, it's crucial to understand not just what's available for you to purchase, but what your competitors might be interested in as well. Observing other buyers, seeing what they're interested in, and even overhearing discussions can provide intelligence that's as valuable as any trend report.
7. Women's Wear, Accessories, and Footwear Galore
For aficionados of women's fashion, the Pure London Trade Show is akin to stepping into Aladdin's cave of wonders. From high-end couture to street-smart casuals, there's something for everyone.
Firstly, the women's wear section is expansive, offering an array of styles, from contemporary to classic and everything in between. It's not just about the quantity but the quality of the collections that makes this segment a crowd-puller. Every piece is curated to ensure it represents the highest standard of fashion, making it a prime destination for buyers and fashion enthusiasts.
The accessories section is equally spellbinding. Think of any accessory—scarves, hats, jewelry, handbags—they've got it all. It's a one-stop shop for rounding off any outfit or fashion statement. Plus, with the current trend towards statement accessories, this section is often the busiest in terms of buyer footfall.
Now, let's talk footwear. From stilettos to sneakers, the variety on offer is phenomenal. For retailers, it's a fantastic opportunity to source shoes that perfectly complement the clothing collections they've purchased. For designers, it serves as inspiration, helping to visualize entire ensembles rather than individual items.
What sets this section apart is the focus on sustainable fashion. More and more brands are showcasing eco-friendly accessories and shoes, made from sustainable materials and following ethical manufacturing processes. It's not just fashion for fashion's sake; it's fashion with a conscience.
Finally, the women's section also hosts several runway shows featuring the latest collections. These shows are not just visual spectacles but also offer valuable insights into upcoming trends and styling techniques. They're a must-see whether you're a buyer, retailer, or just a fashion enthusiast.
8. The Venue: Olympia London
Pure London's choice of venue, Olympia London, adds another layer of allure to this already captivating event. This iconic location is not just a venue but a part of London's rich history, having hosted an array of events since its opening in 1886.
Firstly, the venue itself is easily accessible, situated in the heart of London. Whether you're coming in from another country or just another part of the city, getting there is a breeze. Multiple public transport options, including buses and trains, make the commute hassle-free, adding to the overall experience.
The interior of Olympia London adds a touch of grandeur to the event. Its architectural elements, including a glass ceiling and spacious halls, provide the perfect backdrop for a fashion event of this magnitude. The venue is so visually appealing that it often becomes part of the event's social media buzz, adding another layer of engagement for attendees.
From a logistical standpoint, Olympia London is equipped with all the modern amenities you'd expect. Free Wi-Fi, ample restroom facilities, and numerous food and beverage options ensure that you can spend the entire day at the event without a hitch.
Lastly, the venue has excellent security measures in place, ensuring that the event runs smoothly. From entrance checks to crowd management, every aspect is handled professionally, allowing you to focus solely on the event.
9. The Schedules, Timings, and Efficiency
When attending a trade show, especially one as expansive as Pure London, the organization and timing of the event are crucial factors in maximizing your experience. Thankfully, Pure London scores top marks on both counts.
Firstly, let's talk about the show timings. For business attendees, the event is open from 09:30 AM to 06:00 PM, giving you ample time to explore, network, and potentially close deals. For general visitors, the timings are slightly shorter, closing at 04:00 PM. This flexible scheduling accommodates a variety of needs and agendas, allowing for both in-depth exploration and quick visits.
Another remarkable feature is the efficiency with which the entire event is organized. The venue is segmented into clear sections for women's wear, accessories, footwear, and so on. You won't waste time trying to locate specific categories or brands, as there's ample signage and even staff to guide you. This level of organization enables you to make the most of your visit, optimizing your time to visit the stalls that interest you the most.
Efficiency extends to the scheduling of runway shows, seminars, and other events within the show. These are well-spaced throughout the day and are meticulously punctual. If you've ever been to trade shows where events run late, leading to a domino effect of delays, you'll appreciate how Pure London's punctuality enhances your experience.
Then there's the Pure London app, which is another game-changer. It contains a detailed map, real-time updates, and schedules of all events, and even allows you to set reminders. It's like having a personal assistant helping you navigate through the extravaganza.
Last but not least, should you need to step out for a meeting or any other reason, re-entry is smooth and hassle-free, thanks to efficient badge-scanning systems. All in all, the organizers, Hyve Group Plc, go to great lengths to ensure that your time is well-spent.
10. Free Entry for Industry Professionals: Don't Miss Out!
If you're still on the fence about attending the Pure London Trade Show, let this be the clincher: Entry is free for industry professionals. Yes, you read that right. All the benefits we've talked about, from exclusive insights to networking opportunities, come at zero cost if you're an industry professional.
Firstly, free entry significantly lowers the cost of your business trip. When attending trade shows, especially if you're traveling from outside London, expenses can quickly add up. By eliminating the entry fee, Pure London becomes incredibly cost-effective, allowing you to allocate resources to other aspects, like accommodation or even more buying power.
Moreover, the free entry is not a gimmick. You're not getting a watered-down version of the event; you get full access. This is incredibly valuable, considering the quality of the seminars, the range of brands showcased, and the networking opportunities at hand.
The free entry also reflects Pure London's commitment to nurturing the fashion industry. By removing financial barriers, the event opens doors for smaller retailers, startups, and aspiring designers who might otherwise be unable to attend such a high-caliber event.
What's required for free entry? Generally, a business card or some professional identification is enough to gain you full access. It's a streamlined process, aimed at ensuring that bona fide industry professionals can enjoy the show's benefits without any hurdles.
Lastly, the zero-cost aspect makes the decision to attend virtually risk-free. Even if you walk away with just a few contacts or insights, you've gained value without losing any financial investment. But considering Pure London's expansive offerings, it's more likely that you'll walk away with a wealth of benefits that far outweigh the time and effort spent attending.
Blog Conclusion
We've just taken an exciting deep dive into the multifaceted world of the Pure London Trade Show, and if you haven't marked this event in your calendar yet, now is the time! This is more than just a fashion show; it's an invaluable resource for industry professionals, an inspiration hub for fashion enthusiasts, and a must-visit for anyone looking to elevate their fashion business or career.
From the incredible diversity of women's wear, accessories, and footwear to the meticulous organization and efficiency of the event—Pure London truly offers a 360-degree experience. Add to that the golden opportunity for networking, learning, and even clinching business deals, and you've got an event that's too good to miss, especially when entry for industry professionals is free.
So, pack your bags, sharpen your business cards, and prepare yourself for a fashion experience like no other. Whether you're an exhibitor looking to skyrocket your brand's presence or a visitor aiming to soak in all the industry knowledge and trends, Pure London promises to exceed your expectations in every way.
If this blog has piqued your interest, don't hesitate. Register, plan your visit, and get ready to step into a world of limitless fashion opportunities at the Pure London Trade Show.
Thank you for taking the time to read this comprehensive guide, and I look forward to seeing you at the event! Safe travels and happy networking!
We welcome any suggestions or questions. You can email us or contact us using the contact page.
You can also connect with us on the following social networks:
Facebook
Twitter
LinkedIn
Instagram