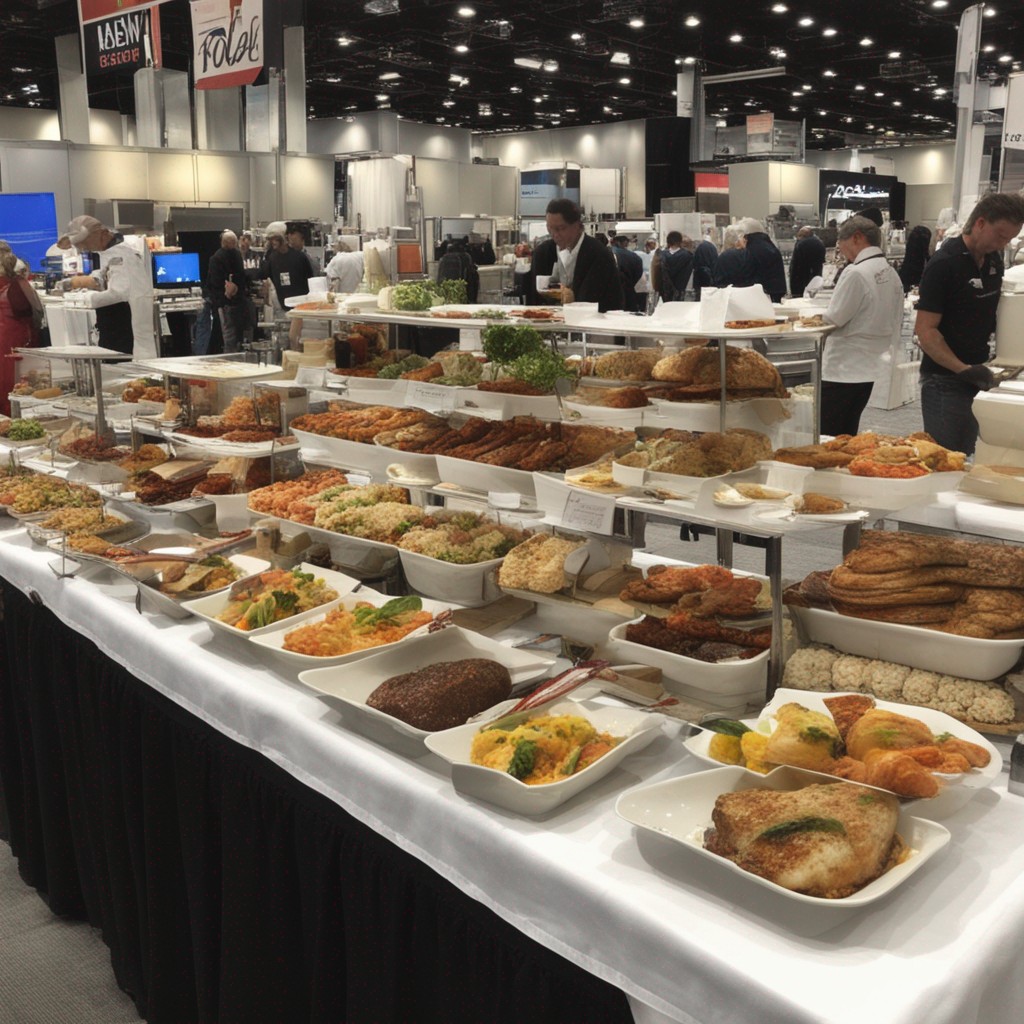 Welcome to the incredible world of food and hospitality! If you're in the restaurant business or even just passionate about the culinary arts, you simply can't afford to miss the annual National Restaurant Association Show in Chicago. Trust me, this event is the Holy Grail for anyone and everyone connected to the food industry. With over 45,000 visitors and 1,529 exhibitors, this trade show is a smorgasbord of inspiration, knowledge, and opportunities.
Held at the breathtaking McCormick Place in the heart of Chicago, USA, this show is organized by Winsight, LLC. The event usually operates from 09:30 AM to 05:00 PM, catering specifically to business professionals. Entry isn't free; you have to purchase a ticket to explore this extravagant affair. Registering for the event is usually straightforward and can typically be done online or on the day of the event. Now, let's get into the nitty-gritty and explore the 10 most riveting aspects of the National Restaurant Association Show in Chicago.
1. Why the National Restaurant Association Show is a Can't-Miss Event
The Scale and Importance
The National Restaurant Association Show in Chicago is not just another trade show; it's an ecosystem. For four days, you'll be enveloped in a world that revolves around food, innovation, and business. With an estimated turnout of 45,000 visitors, this isn't merely a local affair but a global phenomenon.
The Spectrum of Opportunities
From restaurateurs to chefs and food suppliers to marketers, the range of professionals you meet here is staggering. Everyone comes with their own set of skills and interests, and yet, they all share one common goal: exponential growth and success in the food industry.
A Burst of Innovation
Innovation is the lifeblood of this trade show. You'll witness the unveiling of groundbreaking technologies, new culinary techniques, and novel marketing strategies. If you're looking to bring something new to your restaurant or food-related business, this is the place to find it.
The Networking Potential
Here, you'll be rubbing shoulders with the who's who of the food industry. These aren't just brief encounters but meaningful interactions that can result in lasting partnerships or provide insights that can revolutionize your business.
FOMO is Real!
Fear of Missing Out (FOMO) is not a term we use lightly. Miss this event, and you're missing out on a wealth of knowledge, a galaxy of opportunities, and the chance to see and be seen in the global food marketplace. In short, it's a once-in-a-year chance to fast-track your journey to success.
2. The Importance of the Venue: McCormick Place, Chicago
Setting the Stage
McCormick Place isn't just another convention center; it's the largest such facility in North America. Situated in Chicago, a city known for its rich culinary history and vibrant food scene, the venue adds an extra layer of allure to the event. The venue provides the perfect setting for an event of this magnitude.
Accessibility and Convenience
Being in Chicago means you're at a place well connected by all modes of transportation. Whether you're flying in from another state or country, or just taking the local metro, getting to McCormick Place is a breeze.
Spacious and Well-Planned
With millions of square feet of exhibit halls, meeting rooms, and auditoriums, McCormick Place offers a sprawling area to accommodate all the activities planned for the National Restaurant Association Show. You'll never feel cramped or limited, whether you're an exhibitor or a visitor.
Technological Infrastructure
One of the key features that set McCormick Place apart is its state-of-the-art technology. From high-speed internet to cutting-edge audio-visual facilities, the venue ensures that presentations, demonstrations, and meetings go off without a hitch.
The X-Factor
Hosting the National Restaurant Association Show in Chicago at McCormick Place brings a certain charisma to the event. The venue itself is a statement of grandeur and professionalism, setting the tone for what attendees can expect throughout the event.
3. How to Navigate Entry Fees and Tickets
Budgeting Your Visit
When planning your visit to the National Restaurant Association Show in Chicago, budgeting is crucial. Entry to this trade show isn't free; you have to purchase a ticket. While the cost may vary depending on the type of access you want (single-day pass, multi-day pass, VIP access, etc.), consider it an investment rather than an expense.
Ease of Booking
Tickets can usually be purchased online well in advance, giving you ample time to prepare for your visit. Online registration is generally smooth, requiring just a few clicks. Some prefer to buy tickets on the day, but we highly recommend booking in advance to skip the long queues and to secure any early-bird discounts that may be available.
The 'Business-Only' Angle
Remember, this event operates from 09:30 AM to 05:00 PM and specifically caters to business professionals in the food and restaurant industry. So, make sure your ticket aligns with your business objectives. Some ticket types may offer perks like exclusive seminar access or networking events, which can significantly enhance your show experience.
Cancellation and Refund Policies
Always read the cancellation and refund policy when purchasing your ticket. While we hope you won't have to cancel this exciting experience, life happens. Being familiar with the terms can save you from potential financial loss.
ROI – The Return on Investment
The ticket may seem like a significant expenditure, but when you consider the wealth of knowledge, connections, and potential business opportunities you gain, the ROI can be phenomenal. So don't let the entry fee deter you; the benefits far outweigh the costs.
4. A Glimpse at the Stunning Range of Exhibitors
The Wide Array
With 1,529 exhibitors lined up, the National Restaurant Association Show in Chicago is nothing short of a spectacle. From established giants in the food industry to innovative startups, the range of exhibitors is awe-inspiring.
The Categories
Exhibitors often fall into categories like Food & Beverages, Technology, Equipment, Supplies, and more. This categorization helps you navigate the massive exhibit hall more effectively, ensuring you spend time where it matters most to you and your business.
Quality over Quantity
Although the number of exhibitors is impressive, it's the quality and innovation they bring to the table that make the event exceptional. Most exhibitors go all out to present their products or services, often launching new items exclusively at this show.
Live Demos and Trials
What sets this event apart is the opportunity to experience live demonstrations and trials. Whether it's a new cooking appliance, a software solution for restaurant management, or even a groundbreaking food product, you get to see it in action. This hands-on approach enables better decision-making.
Why Exhibitors Can't Afford to Miss
If you're considering being an exhibitor, this is your platform to shine. With a dedicated audience interested in the food industry and a large turnout, it's an invaluable opportunity to generate leads, make sales, and build brand awareness. The investment in an exhibit booth can offer tremendous returns.
5. Timings and Scheduling: How to Make the Most of Your Time
Planning is Key
With the show running from 09:30 AM to 05:00 PM, you have a limited window each day to absorb all that it offers. A well-planned schedule is your best friend. Prioritize what you want to see and whom you want to meet. The National Restaurant Association Show is so vast that winging it is not an option. Be sure to download the event app or get a schedule from the organizers for maximum efficiency.
Flexibility is a Virtue
While it's essential to plan, some flexibility is beneficial. Sometimes the most fruitful encounters at the National Restaurant Association Show in Chicago are unplanned. You might stumble upon a groundbreaking product while wandering or spark a conversation with a stranger who becomes a significant business contact. So, reserve some "free time" in your schedule for unexpected surprises.
The Early Bird Advantage
We can't stress this enough: Early birds catch the worm. Arriving early allows you to avoid the rush, take a leisurely walk around before the crowds pour in, and perhaps even get some one-on-one time with exhibitors or speakers who interest you.
Seminars and Workshops
The show is not just about products and exhibitors; it's a learning experience. There are numerous seminars, workshops, and panels happening throughout the day. Prioritize these based on your interests and business needs, and allocate specific time slots to attend them.
Wrap-up and Follow-up
End your day by revisiting booths where you had meaningful interactions or by checking out what you might have missed. Once the show is over, remember that follow-up is key. Whether it's an email, a LinkedIn connection, or a phone call, be sure to reach out to the contacts you made, while your interaction is still fresh in their minds.
6. The Revolutionary Tools and Technologies Unveiled
A Hotbed for Innovation
One of the most exciting aspects of the National Restaurant Association Show in Chicago is the unveiling of new tools and technologies. With the food industry continually evolving, this event serves as a launchpad for groundbreaking innovations that can revolutionize the way you operate your restaurant or food business.
Tech for Efficiency
Whether it's inventory management software or a new POS (Point of Sale) system, technology aimed at making your business more efficient is a staple at the show. The demonstrations for these tools are usually highly interactive, allowing you to get a hands-on feel of the products before making a decision.
Sustainability Focus
In the modern world, sustainability isn't a choice; it's a necessity. The show often features tools and products that help make your operation more eco-friendly. From energy-efficient appliances to biodegradable packaging, the options are plentiful.
Food Safety Innovations
Food safety is paramount in the restaurant business, and the show dedicates significant attention to this. Whether it's smart thermometers or innovative sanitation equipment, these tools are designed to keep your food, staff, and customers safe.
For the Love of Gadgets
Lastly, for those who love gadgets, this is your playground. From smart kitchen appliances that can be controlled via smartphone to virtual reality experiences that can train your staff, the range of gadgets is both fascinating and functional.
7. The Power of Networking at the Show
Networking – A Core Element
Networking is not just a side activity at the National Restaurant Association Show; it's one of its core elements. With a crowd of 45,000 visitors from diverse sectors within the food industry, the networking opportunities are unparalleled.
Quality Over Quantity
While it may be tempting to collect as many business cards as possible, quality trumps quantity. Look for meaningful interactions that can lead to fruitful collaborations or partnerships. Sometimes, a deep conversation with one person can be more valuable than exchanging pleasantries with twenty.
Exclusive Networking Events
Some ticket types offer access to exclusive networking events. These are gold mines for making connections as they gather a curated crowd of professionals. If your budget allows, opting for a ticket with these perks is highly advisable.
The Power of Social Media
In today's digital age, networking isn't confined to the physical event. Platforms like LinkedIn can be powerful tools to maintain the connections you've made. Post about your experiences, tag the people and companies you've interacted with, and keep the conversation going even after the event has ended.
Networking for Exhibitors
If you're an exhibitor, networking takes on a whole new level of importance. Not only are you interacting with potential customers, but you also have the chance to connect with suppliers, investors, and even competitors. These interactions can provide valuable market insights and opportunities for business growth.
8. The Educational Aspects: Seminars and Workshops
A Learning Experience
When you visit the National Restaurant Association Show in Chicago, you are signing up for a rich educational experience. The seminars and workshops are not mere fillers in the schedule; they are often the most insightful part of the entire show.
Tailored to Your Needs
The educational sessions are typically designed to address a wide range of issues and opportunities within the food and restaurant industry. Whether you are interested in marketing strategies, employee management, sustainability, or culinary trends, there's something for everyone. The diversity in topics ensures that you can find sessions that align perfectly with your business needs.
Industry Leaders as Speakers
What sets these seminars apart is the quality of the speakers. You are not just listening to any random person; these are industry leaders and experts who have years of experience and insights that are genuinely beneficial. Their tips and strategies can often be immediately implemented, offering tangible benefits to your business.
Interactive Formats
Many of the workshops adopt an interactive format to ensure engagement and better learning. These are not just monotonous PowerPoint presentations but interactive sessions where you can ask questions, participate in live polls, or even engage in small group discussions. The goal is not just to provide information but to facilitate real understanding and application.
Takeaways for Immediate Implementation
One of the best parts about these educational sessions is that you walk away with actionable insights. These are not theoretical concepts but practical solutions to common challenges. They can serve as the starting point for implementing new strategies or improving existing processes, equipping you with the tools you need for immediate action.
9. Discovering the Latest Food Trends
A Culinary Journey
The National Restaurant Association Show in Chicago isn't just about business and technology; it's a celebration of food. You'll discover the latest food trends, from exotic ingredients to innovative cooking techniques. For any restaurateur or food business owner, staying ahead or at least keeping up with these trends is crucial.
From Farm to Table
The show often features a strong emphasis on organic, locally sourced produce. This is not just a trend but a movement in the food industry, and the show provides an excellent platform to understand its intricacies. It could be the perfect opportunity for you to find local suppliers or learn how to incorporate sustainable practices into your menu.
Health and Wellness
In recent years, health and wellness have taken center stage in the food industry. At the show, you will find a range of health-focused foods, from gluten-free options to plant-based alternatives. Learning about these trends first-hand gives you a competitive edge.
Culinary Demonstrations
What better way to understand a food trend than to witness it being prepared right in front of you? The show features numerous live culinary demonstrations where top chefs showcase the latest trends. These sessions are not only educational but also an absolute treat for the senses.
Ethnic Flavors and Fusion Foods
Ethnic foods and fusion cuisines are continually evolving, and the show serves as a melting pot of global flavors. Whether you are looking to expand your menu or simply draw inspiration, the exposure to diverse cuisines can be incredibly enriching.
10. The Takeaway: Why This Show is Unmissable
ROI is King
Let's talk numbers for a moment. The time, money, and energy you invest in visiting the National Restaurant Association Show can offer an incredible ROI. From actionable business insights to potential partnerships, the gains are multifaceted and long-lasting.
A Year's Worth of Insights in a Few Days
Imagine cramming months, or even a year's worth of market research, networking, and learning into just a few days. That's precisely what this show offers. It is a concentrated dose of everything you need to succeed in the restaurant industry.
The Energy and Inspiration
Beyond the tangible benefits lies something more intangible yet equally valuable – inspiration. Being around so many people who are passionate about the same things as you can serve as a significant morale booster. The energy at the show is palpable, and you can't help but leave feeling motivated and rejuvenated.
Building a Community
The relationships you form here can last a lifetime. Whether it's a potential business partner or a mentor, the sense of community at the National Restaurant Association Show is extraordinary. These relationships often extend beyond the duration of the show and can offer long-term benefits.
A Catalyst for Change
Finally, attending this show could be the catalyst that propels your business to the next level. The insights you gain, the trends you discover, and the connections you make are all powerful tools for change and growth.
---
And there you have it, a comprehensive look at what makes the National Restaurant Association Show in Chicago an absolute must-visit. If you are in the food and restaurant industry, missing this event is not an option. The benefits are too great, and the opportunities too numerous to ignore. See you there!
We welcome any suggestions or questions. You can email us or contact us using the contact page.
You can also connect with us on the following social networks:
Facebook
Twitter
LinkedIn
Instagram