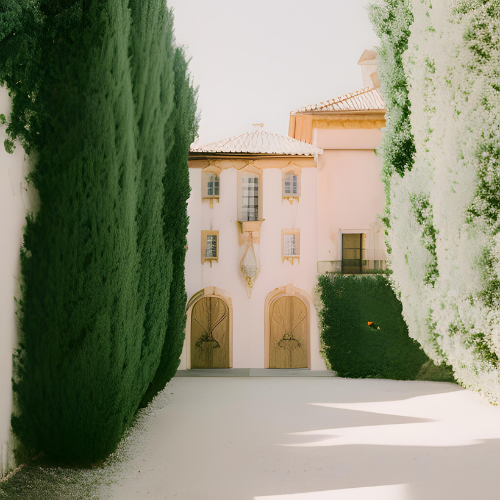 Planning a wedding can feel like a monumental task. From choosing the theme to selecting the perfect venue, every decision seems to be packed with potential for joy or disaster. If you're reading this, you've probably envisioned yourself saying "I do" in a romantic French chateau for weddings, the sunlight cascading over grandiose stone walls, the faint notes of a string quartet floating through the air. Perhaps you see your loved ones laughing and clinking glasses in a glorious garden, under the twinkling stars of the French countryside. The allure is undeniable.
The good news? This dream can absolutely become your reality. And we're here to guide you on this journey to plan the perfect French chateau wedding. We'll share insider tips and secrets, unpacking everything you need to know across comprehensive points. Each one is crucial, each one is insightful, and each one is designed to make your wedding a seamless, memorable event.
Choosing the Perfect French Chateau for Weddings
With countless options available, deciding on the perfect French chateau for your wedding can be overwhelming. You want a place that speaks to your personal style and love story but also meets your logistical needs. When you start your search, consider what kind of atmosphere you desire. For a fairytale-esque day, the Chateau de Chantilly's impressive towers and reflective moats make for a truly enchanting choice. If you want a more intimate, rustic feel, the charming Chateau de Vallery, surrounded by beautiful gardens and a fragrant rose orchard, might be the one for you.
However, it's not just about the looks. Always consider the venue's capacity, availability, and facilities. Don't forget to check whether they can accommodate your preferred wedding date, and if they offer any wedding planning services. As lovely as a chateau may be, if it can't meet your requirements, it may not be the best choice.
Don't be afraid to ask questions. After all, you're investing in a once-in-a-lifetime event.
Understanding the Legalities of a French Wedding
While French chateaus are known for their stunning vistas and charming ambiance, you should understand the legalities of getting married in France before deciding on this as your venue. The country has strict rules about marriage, including a requirement for at least one of the parties to have resided in France for a minimum of 40 days prior to the wedding.
Therefore, many international couples choose to have a symbolic ceremony at the chateau, having officially wed in their home country beforehand. This way, you get to enjoy all the glamour and romance of a French chateau wedding, without worrying about the legal complexities.
However, if you have your heart set on a legal French wedding, it's crucial to familiarize yourself with the country's marriage laws and procedures. It may be worth hiring a local wedding planner or solicitor who can guide you through the process.
Planning for Weather and Seasonality
When you picture a French chateau wedding, you're probably envisioning a beautiful sunny day with clear blue skies. However, it's crucial to remember that weather can be unpredictable, and different seasons bring different charms and challenges.
Most couples choose to wed in the spring or summer months when the French countryside is in full bloom and the weather is warm and pleasant. However, these are also the most popular (and expensive) times. If you're on a tighter budget, you might want to consider a fall or winter wedding. The changing leaves or the soft snow can offer a unique backdrop to your wedding photos, and the cooler temperatures mean fewer tourists and lower prices.
No matter the season, it's always a good idea to have a plan B in case of adverse weather. Ensure your chosen chateau has suitable indoor facilities where the ceremony and reception can be moved to if needed.
Navigating Language and Cultural Differences
While the French are known for their warm hospitality, language, and cultural differences can pose challenges in planning your wedding. If you don't speak French, consider hiring a bilingual wedding planner who can help communicate your vision to vendors, staff, and guests.
When it comes to the wedding itself, French traditions might differ from what you're used to. For instance, French weddings often last well into the night, with a late-night buffet called 'La Soupe à l'Oignon' served to refuel guests. Understanding and respecting these traditions can help ensure a smoother experience and create a truly authentic French wedding.
Considering Accessibility and Accommodations
A French chateau, nestled in the heart of the countryside, provides an idyllic setting for your wedding. However, its location might pose accessibility issues for your guests. When choosing your venue, consider its proximity to major cities, airports, and public transportation.
In addition, ensure there is ample accommodation available for your guests either on-site or nearby. Some chateaus offer rooms, while others may have partnerships with local hotels. It's also a thoughtful gesture to provide your guests with information on travel arrangements and accommodations in their invitations.
Embracing the Local Cuisine and Wine
When hosting your wedding in a French chateau, don't miss out on the opportunity to explore France's renowned culinary scene. French cuisine is known for its diversity and sophistication, and there's no better way to immerse your guests in the culture than through their taste buds.
Partner with a local caterer who can introduce you to regional specialties. Whether you choose a seated multi-course dinner or a more casual buffet, featuring local and seasonal ingredients will elevate your reception meal.
Moreover, France is known for its exceptional wines. Consider a wine tasting or pairing for your reception. Many chateaus also have their own vineyards, providing a unique opportunity to serve estate-grown wines at your wedding.
Capturing the Moment: Photography and Videography
One of the perks of having a French chateau wedding is the breathtaking backdrops, perfect for capturing your special day. Hiring a professional photographer and videographer is an investment that will help you relive your wedding day for years to come.
When choosing a photographer, look for someone whose style aligns with your vision. Share your itinerary with them in advance and discuss any specific shots you want. Consider doing a walk-through of the chateau together to scout out the best photo locations.
As for videography, a highlight reel of your wedding day makes for a timeless keepsake. Ensure your videographer knows the schedule and important moments you want to be captured.
Styling Your French Chateau Wedding
Choosing the right decor can enhance the natural beauty of your chosen chateau. If your venue has historical significance, consider a vintage theme that plays into its old-world charm. For outdoor weddings, a rustic chic or garden theme can complement the lush surroundings.
Working with a local florist can also bring an authentic French touch to your decorations. France is home to beautiful flowers like lavender, sunflowers, and roses. Incorporating these into your floral arrangements can tie in the French aesthetic.
Always remember: the aim is to complement, not overshadow, the chateau's inherent beauty. Let the venue speak for itself.
Ensuring Entertainment and Music
Music and entertainment are key elements of any wedding celebration. For your French chateau wedding, consider incorporating live music, such as a string quartet or jazz band, that aligns with your theme and setting.
If you want a lively party, hiring a DJ can ensure a night full of dancing. Remember to check with your venue regarding any noise restrictions or curfews.
Besides music, consider adding unique entertainment like a magician, a caricature artist, or even a fireworks show. Such elements will make your wedding memorable and enjoyable for your guests.
After the Wedding: Post-Wedding Logistics
The festivities might be over, but there are still a few logistics to consider. Ensure you have a plan for clean-up and break-down. Some venues might offer these services, while others might require you to hire a separate team.
Don't forget about your wedding gifts. If any of your guests are from abroad, it might be more convenient to have a gift registry that ships to your home country.
Lastly, consider how you'd like to preserve your wedding attire. Some services will clean, preserve, and box your wedding dress for you.
---
In conclusion, planning a French chateau wedding can be a complicated yet rewarding process. With meticulous preparation and a clear understanding of what to expect, your dream French wedding can become a reality. So go forth, and let the magical journey to your 'happily ever after' begin in a beautiful French chateau.
We welcome any suggestions or questions. You can email us or contact us using the contact page.
You can also connect with us on the following social networks:
Facebook
Twitter
LinkedIn
Instagram