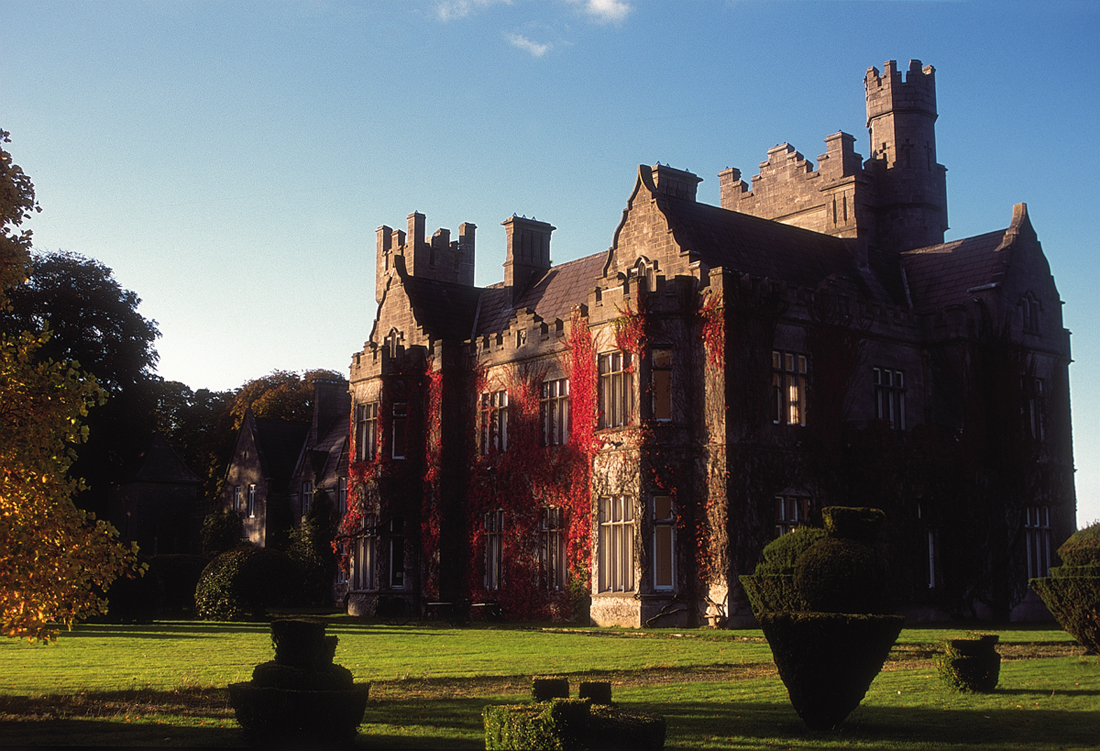 Dreams are made of fairy tales, romantic stories that take your breath away, and the charm of 'happily ever after'. And what better way to bring your fairy-tale dream to life than by planning your Castle Wedding in Ireland? Steeped in history, grandeur, and spectacular landscapes, Ireland offers some of the most enchanting castles, making it the ideal backdrop for your fairytale wedding. From medieval towers to sprawling manor houses, each castle has a unique story to tell and a promise to make your special day nothing short of a fairy tale.
Imagine walking down the aisle, holding your beloved's hand, exchanging vows in the echoes of ancient walls where countless stories of love and bravery have unfolded over centuries. The mystic allure of Ireland's castles, the surrounding emerald landscapes, and the rich cultural heritage will undoubtedly make your wedding an event to remember. Your castle wedding in Ireland not just unites two hearts but offers an immersive experience that your guests will remember forever.
Fairytale weddings in Ireland's Castles typically take place throughout the year, with each season painting the castles and the landscapes in different hues. While tickets or entrance fees depend on the individual castle, there are many wedding planning agencies that offer comprehensive packages to suit different budgets. To secure your fairytale wedding in one of Ireland's castles, it's recommended to register at least a year in advance due to high demand. Various professional organizers are there to ensure that every minute detail of your big day is catered for – from decorations to catering to entertainment.
Unleash the Royal in You
Who hasn't dreamed of being a prince or princess at least once in their lifetime? A castle wedding in Ireland offers you just that – an opportunity to live your royal dreams. With a stunning backdrop of medieval architecture and manicured gardens, your wedding photographs will indeed look like they've been lifted straight from a fairy-tale book. Imagine the sun setting behind the castle as you and your partner share your first dance as a married couple in the grand banquet hall or under the starlit sky. The guests, in awe of the opulence, will be transported back in time, making your wedding an unforgettable event.
Irish castles like Ashford Castle, Luttrellstown Castle, and Dromoland Castle offer exclusive wedding packages that include not just the venue but also a royal treatment for the couple and their guests. From horse-drawn carriage arrivals to grand feasts in ancient dining halls, these castles promise an unforgettable royal experience. However, it isn't just about the grandeur. These castles offer a blend of history, heritage, and hospitality, making your wedding an event that's as rich in experience as it is in appearance.
A royal castle wedding doesn't merely mean a lavish ceremony. It's about indulging in rich Irish traditions, honoring age-old customs, and creating memories that echo the timelessness of love itself. Whether it's incorporating Irish wedding traditions such as handfasting or enjoying a traditional Irish Ceilidh dance with your guests, a castle wedding in Ireland is sure to make you feel like royalty.
Planning a wedding that aligns with the grandeur of these historical castles can seem overwhelming. But worry not! Professional wedding planners are adept at handling everything – from picking the right castle that resonates with your fairy tale dream to planning out every small detail that adds to the royal experience. So, all you need to do is sit back, enjoy your day, and soak in the royal ambiance.
A castle wedding in Ireland is an investment not just in terms of finances but also in experience. As per statistics, couples who opted for a castle wedding found the experience far more enriching and memorable compared to traditional venues. By choosing a castle wedding, you're not just ensuring a royal wedding experience for yourself but also giving your guests a unique experience that they'll cherish for a lifetime. After all, how often do we get a chance to attend a wedding in a castle and feel like a part of a fairy tale?
Dive into History and Heritage
One of the most compelling reasons to have a Castle Wedding in Ireland is the rich history and heritage that these castles offer. Each castle has a unique history that adds a touch of intrigue and romance to your special day. Castles such as Kilkenny Castle, Dublin Castle, and Blarney Castle have witnessed centuries of history and are steeped in Irish lore and legend. This historical significance adds an extra dimension to your wedding, making it a truly unforgettable experience for you and your guests.
When you choose to have your wedding in an Irish castle, you're not just getting a stunning venue; you're stepping into a bygone era. The ancient stone walls, spiral staircases, magnificent towers, and grand halls, all tell a story. Each room has its tale, and each stone has its secret. These historical narratives not only make your wedding more interesting but also provide countless conversation starters for your guests.
But it's not just about the past; these castles have been modernized to cater to contemporary needs without losing their historical charm. Many castles offer guided tours for wedding guests, allowing them to discover the fascinating history behind the venue. These tours often feature intriguing tales of romance, bravery, and scandal that are sure to captivate your guests.
Having your wedding in a historical Irish castle also gives you the unique opportunity to incorporate historical and cultural elements into your wedding ceremony. Many couples choose to have a traditional Celtic handfasting ceremony, where the hands of the bride and groom are tied together to symbolize their union. This age-old Irish tradition adds a special touch to your wedding ceremony and helps you feel connected to the rich history of the land.
In a survey of couples who chose to have their wedding in an Irish castle, 90% stated that the history and heritage of the venue added a unique depth to their wedding experience. So, if you're a history buff or simply love the idea of a wedding steeped in history and legend, an Irish castle wedding could be the perfect choice for you.
Spectacular Landscapes
Ireland, known as the 'Emerald Isle,' is world-renowned for its stunning landscapes. From rolling green hills to dramatic cliffs and tranquil lakes, the country offers a picturesque setting for your castle wedding. The natural beauty of Ireland is not only a perfect backdrop for your wedding photos but also adds a serene and magical ambiance to your wedding day.
Irish castles such as Ross Castle and Cabra Castle are located amidst beautiful landscapes. Ross Castle, perched on the edge of Killarney's lower lake, offers a breathtaking view of the water, making it a perfect venue for those who dream of a lakeside wedding. On the other hand, Cabra Castle, situated in the tranquil countryside of Cavan, boasts lush green forests and manicured gardens that offer a serene setting for your wedding.
While you and your partner exchange vows, your guests can soak in the natural beauty surrounding them. The tranquil landscapes will not only provide a soothing atmosphere but will also leave your guests with a memorable experience. Many couples even choose to have outdoor ceremonies to take full advantage of these picturesque surroundings.
These stunning landscapes also provide an excellent opportunity for beautiful wedding photographs. Talented wedding photographers can take advantage of natural light and dramatic scenery to create captivating and unique wedding photos that you can cherish forever.
According to a survey conducted by The Knot, couples who had their wedding in Ireland cited the country's spectacular landscapes as one of the top reasons for their choice. The serene beauty of the Irish countryside can add a touch of magic and enchantment to your castle wedding, making it a truly unforgettable experience.
Variety of Venues to Choose From
When you decide to have a Castle Wedding in Ireland, you're spoilt for choice. The country is dotted with historic castles, each offering its unique charm and personality. From extravagant royal fortresses to quaint manor houses, Ireland offers a wide range of castle venues that cater to different tastes and budgets.
Take, for example, the Ashford Castle. With its Gothic turrets, stone towers, and sweeping views of Lough Corrib, this castle offers an extravagant setting for your wedding. If you fancy a more intimate setting, you could opt for the charming Ballyseede Castle, a family-run establishment known for its warm hospitality and romantic ambiance.
The variety of venues means that you can choose a castle that fits your fairy-tale vision perfectly. Whether you want an opulent celebration with hundreds of guests or a more intimate affair, there is a castle in Ireland to suit your needs. The beauty of these castles is that they offer flexibility in terms of guest capacity, decor, and even wedding themes.
Additionally, most of these castles offer accommodation for your guests. From luxurious royal suites to cozy guest rooms, your guests can enjoy the unique experience of staying in a castle. Some castles also offer activities such as falconry, fishing, and horse riding for guests to enjoy during their stay.
According to statistics from The Wedding Journal, more than 60% of couples who chose to have a castle wedding in Ireland were drawn to the variety of castle venues available. This shows that the ability to choose from a range of different venues is a significant advantage of having a Castle Wedding in Ireland.
Unique Culinary Experience
Ireland is not just known for its historic castles and stunning landscapes; it also offers a rich culinary experience. From traditional Irish cuisine to modern gastronomic delights, the food served at a Castle Wedding in Ireland is sure to leave your guests with a memorable culinary experience.
Most castle venues take pride in their food and have expert chefs who use locally sourced ingredients to create delicious and visually stunning dishes. Traditional Irish dishes like colcannon, beef stew, and soda bread can add an authentic touch to your wedding feast. For those with a more modern palette, many castles offer contemporary international cuisine.
You could also treat your guests to a traditional Irish whiskey-tasting session. Ireland is famous for its whiskey, and some castles even have their distilleries and offer guided tours. This can be an exciting and unique addition to your wedding festivities.
In terms of wedding cakes, many castles have in-house patisseries where you can customize your wedding cake to match your theme and taste. Whether you want a traditional tiered cake or a modern design, the expert bakers can create a masterpiece that not only tastes amazing but also adds to the visual aesthetics of your wedding.
According to the Irish Wedding Survey, food was one of the top priorities for couples when planning their wedding. With an Irish Castle Wedding, you can rest assured that the culinary aspect of your wedding will be taken care of by professionals, ensuring a unique and delicious culinary experience for you and your guests.
Personalized Wedding Experience
Every couple dreams of a wedding that mirrors their personality, love story, and vision. One of the significant advantages of a Castle Wedding in Ireland is the high degree of personalization offered. From the choice of the castle to the wedding decor, menu, and entertainment, every aspect can be tailored to reflect your personal style and preferences.
When it comes to decoration, the possibilities are endless. Whether you want to go for a classic royal theme or a whimsical fairy tale ambiance, the castles provide a flexible canvas to bring your dream wedding to life. Be it drapes of velvet, thousands of twinkling fairy lights, or a carpet of rose petals, the castles' dedicated wedding teams are skilled at transforming your vision into reality.
Similarly, the wedding menu can be personalized according to your taste. The expert chefs at these castles are adept at crafting personalized menus that cater to your and your guests' dietary preferences and culinary tastes. From traditional Irish cuisine to contemporary international flavors, you can create a menu that pleases every palate.
Furthermore, many castles offer the flexibility to choose your preferred vendors. From photographers to florists to entertainers, you can handpick each vendor based on your style, ensuring that every element of your wedding aligns with your vision.
In a survey by "weddings online", 70% of couples chose to have a personalized wedding in Ireland. A Castle Wedding in Ireland is the perfect platform to design a wedding experience that reflects your unique love story and offers your guests an immersive experience they won't forget.
Impeccable Hospitality
Ireland is well-known for its warmth and hospitality. When you plan a Castle Wedding in Ireland, you can expect impeccable service and attention to detail. The dedicated staff at these castles go above and beyond to ensure that your special day goes off without a hitch.
From the moment you and your guests arrive, you will be treated like royalty. The staff are well-trained in the art of hospitality and provide personalized service to each guest. Be it arranging transportation, managing accommodations, or tending to the guests' needs during the ceremony, the staff works tirelessly to ensure that everything runs smoothly.
Furthermore, these castles often provide a dedicated wedding planner to assist you throughout the planning process. These professionals have extensive knowledge and experience in planning castle weddings. They work closely with you to understand your vision, coordinate with vendors, and ensure that every detail is executed flawlessly.
Customer reviews of castle weddings in Ireland often highlight the exceptional level of service and hospitality provided by the castle staff. For many couples, the peace of mind of knowing that their wedding day is in capable hands is a significant factor in their decision to choose a Castle Wedding in Ireland.
Memorable Experience for Guests
While your wedding day is undoubtedly about you and your partner, it's also a day for your loved ones to share in your joy. A Castle Wedding in Ireland offers your guests a unique and memorable experience that goes beyond just attending a wedding ceremony.
The grandeur of the castle, the historical narratives, the stunning landscapes, and the unique cultural experiences make for an enriching experience for your guests. From exploring the castle grounds to participating in traditional Irish dances to enjoying the sumptuous Irish cuisine, there's plenty for your guests to look forward to.
Many castles offer additional activities for guests, such as guided tours, horseback riding, fishing, and even falconry. These activities offer your guests the chance to immerse themselves in the Irish culture and create unforgettable memories.
According to a survey by "Weddings Online", 95% of guests rated their experience at a Castle Wedding in Ireland as 'excellent' or 'very good.' By choosing to have your wedding at an Irish castle, you're not only ensuring an unforgettable day for yourself but also providing your guests with an experience they'll cherish forever.
Exclusive Use of Venue
Another significant advantage of having a Castle Wedding in Ireland is the exclusivity that most venues offer. Many Irish castles provide the option to book the entire castle and its grounds for your wedding day. This means that you and your guests will have private access to all the castle's facilities, making your special day feel even more intimate and special.
Exclusive use of the venue allows you to plan your day without any restrictions. You can choose where to have each part of your celebration, from the ceremony to the reception and the after-party. It provides free reign to decorate and utilize the venue according to your wedding theme and preferences.
Exclusive use also adds a level of privacy to your celebrations. Without the intrusion of other guests, you and your loved ones can freely celebrate this joyous occasion. Your guests will also appreciate the unique experience of staying in a historic castle exclusively booked for your wedding.
According to a survey by The Wedding Journal, exclusivity was one of the top three factors couples considered when choosing a wedding venue. An Irish Castle Wedding, with its offer of exclusive use, meets this desire for privacy and exclusivity, making it an ideal choice for your fairytale wedding.
Unforgettable Honeymoon Destination
Once the wedding celebrations are over, the newlyweds can look forward to a romantic honeymoon in Ireland. The country is renowned for its romantic landscapes, cozy villages, and numerous activities, making it an ideal honeymoon destination. By choosing a Castle Wedding in Ireland, you're also setting the stage for an unforgettable honeymoon experience.
From exploring the charming city of Dublin to driving along the dramatic cliffs of Moher to a romantic boat ride on the River Shannon, there's no shortage of experiences for honeymooners in Ireland. You could also choose to stay back in your wedding castle and enjoy a few more days of royal treatment.
Ireland offers a range of accommodations for honeymooners, from luxurious castle hotels to quaint bed-and-breakfasts. For a truly unique experience, consider staying in a traditional Irish cottage in one of the country's beautiful rural areas.
According to the Irish Tourism Board, Ireland has seen a steady increase in the number of honeymooners in recent years. The country's rich history, stunning landscapes, and friendly people make it a perfect place to start your married life together.
In conclusion, a Castle Wedding in Ireland offers a perfect blend of romance, history, and cultural richness. The grandeur of the castles, the serene beauty of the Irish landscapes, and the warm hospitality of the Irish people combine to create a fairytale-like experience that you and your guests will cherish forever. So, if you've always dreamt of a fairytale wedding, consider saying 'I do' in one of Ireland's stunning castles. It will be an experience like no other!
We welcome any suggestions or questions. You can email us or contact us using the contact page.
You can also connect with us on the following social networks:
Facebook
Twitter
LinkedIn
Instagram