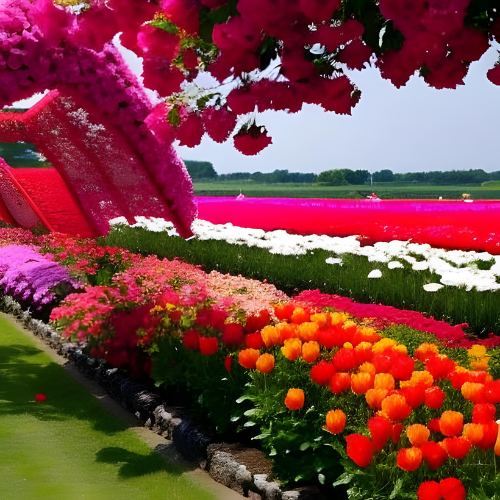 Hello there, dear readers! If you're reading this, you're probably searching for unique ways to create unforgettable moments with your partner. What could be more enchanting than witnessing nature in its most vibrant form, the spectacle of blooming flowers? Well, you've landed at just the right spot. Our comprehensive guide will take you on a whirlwind tour of the top 10 romantic flower festivals worldwide. Yes, we're talking about the celebration of love amidst kaleidoscopic landscapes, perfumed breezes, and the soft hum of bees. So, fasten your seatbelts, grab your partner's hand, and get ready to embark on an adventure of a lifetime. Now, let's get started on this exciting journey.
---
1. Cherry Blossom Festival – Japan
First on our list, and for good reason, is the Cherry Blossom Festival in Japan, or 'Sakura' as it's locally known. Japan is synonymous with cherry blossoms, and the festival's reputation precedes itself. The sakura blooms herald the arrival of spring and evoke feelings of fleeting beauty and renewal, which make it an ideal romantic setting.
Imagine strolling hand-in-hand under a pink-hued canopy, the delicate petals swirling around you like confetti. The symbolic resonance of cherry blossoms offers a unique perspective on life and love – the transient beauty of the flowers reminds us to cherish each moment we have with our loved ones.
In addition to viewing the blossoms, there are many activities you and your partner can engage in. Try Yozakura, the practice of viewing cherry blossoms at night. Underneath the illuminated trees, sharing a bento box and sake, you'd feel as if time stands still.
Couples can also participate in Hanami parties, where you picnic under the blooming trees with other revelers. It's a fantastic opportunity to immerse yourself in Japanese culture and meet locals who share your love for the Sakura.
So, what are you waiting for? Pack your bags, and let's head to Japan for an unforgettable springtime experience.
2. Keukenhof Gardens – Netherlands
For couples who are fans of tulips, Keukenhof Gardens in the Netherlands is your haven. Affectionately known as the "Garden of Europe," this place is one of the world's largest flower gardens. Imagine over 79 acres of land, teeming with over 7 million flowers, and you're only beginning to grasp the magnitude of Keukenhof's beauty.
Each year, a unique theme dictates the floral design, ensuring you'll never see the same landscape twice. Wandering through the maze-like garden, with multicolored tulips stretching as far as the eye can see, is like stepping into a living painting. The plethora of colors and the sweet scent of flowers in the air create a sensory feast.
The garden also boasts other flowering plants, including daffodils, orchids, roses, carnations, irises, lilies, and hyacinths. While tulips take center stage, these supporting actors add depth to the experience.
Why not take a leisurely boat ride along the canal that borders the gardens? It's a uniquely Dutch experience that allows you to appreciate the vibrant tulip fields from a different perspective. Then, end the day at one of the many cozy cafes in the garden, sipping Dutch tea and tasting traditional pastries.
Keukenhof Gardens gives lovebirds a unique opportunity to lose themselves in the sheer grandeur of nature's artistry, making it a must-visit destination.
3. Lavender Festival – Provence, France
Let's now journey to the south of France, to the land of fragrant lavender fields – Provence. Provence's Lavender Festival is not only a feast for the eyes but also for the senses, making it a truly immersive experience for couples in love.
Lavender, known for its calming properties, symbolizes love and devotion, making it an apt backdrop for a romantic getaway. Strolling through the purple haze of blooming lavender, with the subtle scent filling the air, is both relaxing and invigorating.
During the festival, local farms and distilleries open their doors to visitors. You can learn about the process of turning lavender into essential oils and other products. These intimate tours often end with lavender-infused food and beverages – an unexpected delight that couples can enjoy together.
Additionally, many musical and cultural events take place during the festival, providing plenty of opportunities to dance and mingle with locals. For the more adventurous couples, hot air balloon rides over the sprawling lavender fields offer an unforgettable aerial view.
The Lavender Festival in Provence is an intoxicating blend of sight, scent, and sound, making it a unique romantic experience that couples won't soon forget.
4. Floriade – Canberra, Australia
Next up is Floriade, Australia's biggest celebration of spring, located in the heart of Canberra. This flower festival is a month-long celebration filled with vibrant displays of more than a million blooms, including tulips, daffodils, hyacinths, and more.
Floriade isn't just a visual feast. The festival is known for its engaging line-up of activities, workshops, music, cultural celebrations, and food events that run the gamut from wine tastings to gourmet BBQs.
Walking hand-in-hand through the meticulously designed flower beds, you and your partner can soak up the beauty of the blooms. And when you need a break from exploring, the pop-up picnic spots provide an ideal setting to sit back and enjoy some local food and wine while soaking up the atmosphere.
For a truly unforgettable experience, don't miss the NightFest. It transforms the gardens into an illuminated wonderland, offering a totally different perspective on the floral displays. The combination of light shows, live music, and the aroma of blooming flowers in the cool night air makes for a magical, romantic evening.
Floriade offers couples an enchanting blend of natural beauty, culture, and fun activities. Whether you're a nature lover, a foodie, or just looking for a unique adventure, Floriade won't disappoint.
5. Rose Festival – Portland, USA
Now, let's jet off to the USA for the Portland Rose Festival. Portland, Oregon, also known as the 'City of Roses,' is home to this century-old tradition. The festival is not only a celebration of roses but also the city's rich history and culture.
At the heart of the Rose Festival is the breathtaking Rose Garden. With over 10,000 rose bushes of approximately 650 varieties, it's like walking into a living encyclopedia of roses. The variety of colors, shapes, and fragrances is mind-boggling, and every turn brings a new favorite.
The festival's highlights include the Grand Floral Parade, where elaborately decorated floats adorned with roses make their way through the city. There's also the Rose Show, where growers from across the region showcase their finest specimens.
In the spirit of Portland's quirky and artistic vibe, the festival also hosts a series of concerts, art shows, and funfair events. A visit to the CityFair, with its carnival games and food stalls, will make you and your partner feel like teenagers on a first date.
For couples who love history and culture as much as they love flowers, the Portland Rose Festival is an excellent choice for a romantic getaway.
6. Sunflower Festival – Tuscany, Italy
Sunflowers symbolize adoration, loyalty, and longevity, making them the perfect emblem for enduring love. And there's no better place to experience a sea of these golden beauties than in Tuscany, Italy, during the Sunflower Festival.
During the festival, the Tuscan countryside transforms into a vibrant tapestry of gold, green, and blue. Picture yourselves driving through winding roads, flanked by towering sunflowers as far as the eye can see. It's like being in your private slice of paradise.
Don't miss out on a picnic amidst the sunflower fields. The local farms often offer gourmet picnic baskets filled with Tuscan specialties. Imagine savoring a slice of pecorino cheese, a piece of Tuscan salami, and a glass of local wine, all while basking in the golden glow of the sunflowers.
For the ultimate romantic experience, why not enjoy a hot air balloon ride over the sunflower fields at sunset? Watching the fields bathed in the golden light of the setting sun is a sight that will be etched in your memory forever.
The Sunflower Festival in Tuscany provides couples with a unique, romantic experience that blends rustic charm with the stunning natural beauty of Italy.
7. Orchid Show – Singapore
Stepping away from the field and into the tropics, our next stop is the Orchid Show in Singapore. Singapore is home to the world's largest display of tropical orchids, with over 1,000 species and 2,000 hybrids. This exotic and diverse array of orchids, housed within the National Orchid Garden, is a dream come true for couples seeking a romantic escape.
The show-stopping displays of orchids offer a mesmerizing sight, with each variety more beautiful and unique than the last. The meticulously maintained gardens, coupled with the tropical climate, create a lush, verdant backdrop that feels like you've stepped into a fairytale.
Don't miss the VIP Orchid Garden, where orchids named after international celebrities and dignitaries, including Princess Diana and Nelson Mandela, are showcased. Each orchid is as unique and vibrant as the personality it's named after.
Couple your orchid-gazing with a romantic walk through the city's Botanic Gardens. The lush greenery, interspersed with serene ponds and charming gazebos, provides a peaceful retreat from the bustling city.
The Orchid Show in Singapore offers a unique blend of natural beauty and urban sophistication, making it a captivating romantic destination.
8. Almond Blossom Festival – Majorca, Spain
If the vibrant colors of orchids feel too overwhelming, how about a festival that celebrates the understated elegance of almond blossoms? Our next stop is Majorca, Spain, home to the Almond Blossom Festival.
Every spring, the island is blanketed in soft pink and white blossoms as millions of almond trees burst into bloom. These delicate flowers offer a subtle beauty that's as enchanting as it's romantic.
Strolling through the almond groves with your partner, you'll be greeted by the sweet scent of the blossoms and the gentle hum of bees. It's a sensory experience that's both tranquil and invigorating.
During the festival, the island comes alive with cultural events, including traditional music and dance performances. Join in the festivities and immerse yourself in the local culture.
Don't forget to taste the local delicacies made from almonds. From almond cakes to almond ice cream, the island's love for almonds is apparent in its cuisine.
The Almond Blossom Festival in Majorca is an intimate, peaceful celebration that offers couples a unique, laid-back romantic getaway.
9. Chrysanthemum Festival – Nihonmatsu, Japan
Returning to Japan for our penultimate festival, we find ourselves amidst the vibrant colors and intricate displays of the Nihonmatsu Chrysanthemum Festival.
Chrysanthemums, or "Kiku" in Japanese, are considered symbols of longevity and rejuvenation. This makes them the perfect emblem for a relationship that's enduring and always renewing itself.
During the festival, the city of Nihonmatsu showcases over 30,000 chrysanthemums in a variety of stunning displays. These range from traditional Japanese-style gardens to more intricate configurations like dolls and samurais dressed in chrysanthemum flowers. The craftsmanship and creativity that go into these displays are awe-inspiring.
The festival also features a competition where local growers showcase their finest chrysanthemum plants. The varieties on display are vast, with colors ranging from soft whites and pinks to vibrant oranges and reds.
Experiencing the Chrysanthemum Festival offers a unique insight into Japanese culture and tradition. It's an ideal choice for couples looking for a romantic experience that's not just about stunning visuals but also about rich cultural heritage.
10. Canadian Tulip Festival – Ottawa, Canada
Last but not least, let's travel to Ottawa, Canada, for the Canadian Tulip Festival. This world-renowned festival celebrates the historic royal gift of tulips from the Netherlands to Canada as a symbol of international friendship.
The festival is a colorful spectacle that transforms Ottawa into a vibrant, blooming wonderland. Over a million tulips in hundreds of varieties bloom across the city, creating an enchanting sea of colors. The sight of these beautiful flowers swaying in the gentle spring breeze is both calming and invigorating.
There's more to this festival than just marveling at the flowers, though. The event includes art installations, live music, cultural displays, fireworks, and a night-time tulip illumination that bathes the park in a magical glow. Taking a twilight stroll through the illuminated park with your partner will make you feel like you're in a dream.
Moreover, the festival is held in the heart of Ottawa, which means you can couple your tulip-gazing with exploring this beautiful city. From the stunning architecture of Parliament Hill to the lively ByWard Market, there's plenty to see and do.
With its mix of natural beauty, cultural experiences, and city life, the Canadian Tulip Festival is a multifaceted romantic destination that's sure to impress.
---
Conclusion
And there you have it, our tour of the top 10 most romantic flower festivals around the world. Each of these festivals offers a unique, magical experience that combines the breathtaking beauty of flowers with cultural festivities and local attractions. Whether you're celebrating a milestone, rekindling your romance, or just looking for an unforgettable adventure, these festivals offer the perfect setting.
Remember, love, like flowers, needs nurturing to bloom. So, why not take a leap and plan a trip to one of these flower festivals? Let the beauty of the blooms inspire you and your partner to grow your love stronger and deeper.
Thank you for joining us on this journey. We hope it's inspired you to embark on your own romantic flower festival adventure. Safe travels, dear readers, and may love continue to bloom in your lives!
We welcome any suggestions or questions. You can email us or contact us using the contact page.
You can also connect with us on the following social networks:
Facebook
Twitter
LinkedIn
Instagram
About Organizer
EventsWOW.com is the foremost international leader catered to online B2B and B2C marketplace fervent in exhibitions worldwide to generate effective business leads and earning the integrity of billions of users who will access this website.