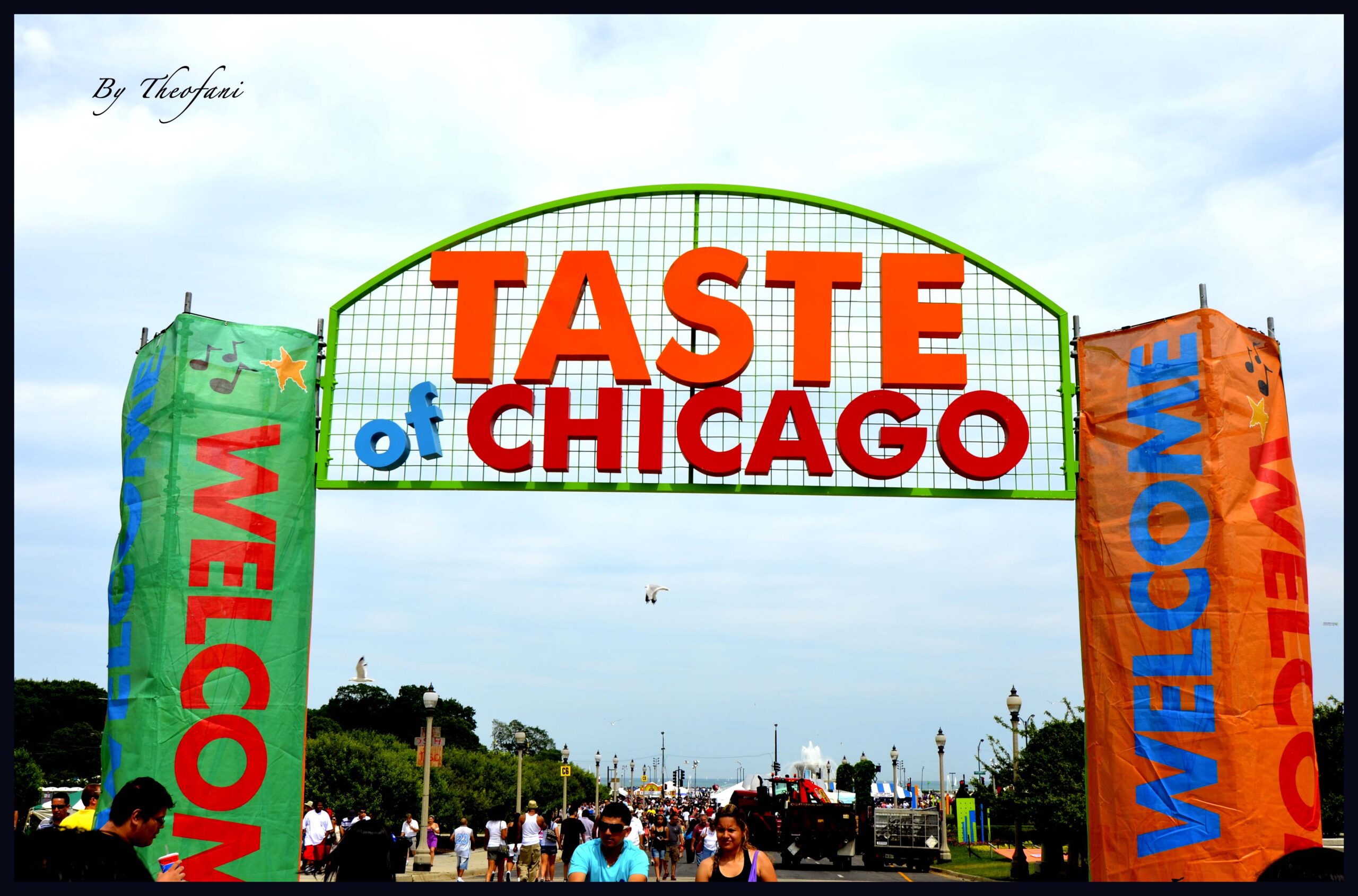 Chicago, the "Windy City", is not just known for its deep-dish pizza or its towering skyscrapers. It's also home to one of the largest food festivals in the world, the Taste of Chicago. This annual gastronomic event has been tantalizing the taste buds of locals and tourists alike since 1980. The event takes place in Grant Park, a green oasis in the heart of the city, and spans five full days. Offering a delightful mixture of flavors, the Taste of Chicago attracts a multitude of people, embracing the diverse palate of the city, and celebrating the universal language of food. The Taste of Chicago is where local foodies, culinary enthusiasts, and international tourists converge, united by their love for extraordinary food experiences.
Embodying the vibrant and diverse culinary scene of Chicago, this gourmet festival showcases everything from local food trucks to fine-dining establishments. The event features an array of mouth-watering food offerings that range from the well-known Chicago-style hot dogs and deep-dish pizzas to innovative and exotic international cuisine. This culinary extravaganza provides a platform for local chefs and restaurateurs to showcase their culinary prowess, and for attendees to broaden their food horizons. No tickets are required to enter the festival; it's free for all. However, food and beverage tickets are available for purchase to enjoy the vast variety of offerings. To partake in this unforgettable culinary adventure, all one needs to do is register online on the official website, organized and managed by the Chicago Department of Cultural Affairs and Special Events.
A Culinary Melting Pot
The Taste of Chicago offers an astounding variety of cuisines that mirror the city's cultural diversity. Each food stall is a new doorway into a different culture, inviting you to experience a multitude of flavors. In a single visit, you can journey from the streets of Mexico with tangy tacos, to the heart of Italy with hand-tossed pizzas, and even to the bustling streets of Thailand with flavorful Pad Thai. Each bite tells a story of heritage and tradition, offering a unique insight into the world's cuisines.
This variety is not only a testament to Chicago's multicultural population, but it also speaks volumes about the inclusivity of the event. The festival respects and appreciates the value of every culture, providing equal opportunities for all to share their culinary treasures. It's not just about sampling a dish; it's about understanding the rich cultural history behind it. By doing so, the Taste of Chicago builds a bridge of empathy and understanding, transcending boundaries through food.
To fully grasp the beauty of this diversity, let's look at the numbers. In the 2022 edition of the Taste of Chicago, more than 200 food vendors showcased their culinary skills, representing over 30 different countries. Each vendor brought a unique taste profile, creating a gastronomic mosaic that accurately represented Chicago's cultural diversity. Whether you're a fan of Italian cannolis, Indian biryanis, or Cuban sandwiches, the Taste of Chicago had something for everyone.
When you visit the Taste of Chicago, you're not only indulging your taste buds, but you're also supporting local businesses. Many of these food vendors are small businesses that rely on the festival to showcase their talents and attract a wider customer base. The event serves as an incredible platform for these vendors to gain recognition, enhance their customer reach, and boost their business.
Therefore, if you consider yourself a true food lover, the Taste of Chicago is a golden opportunity to discover new flavors, learn about different cultures, and support local businesses. This is not just a food festival; it's a cultural movement celebrating diversity through food.
A Platform for Culinary Innovation
The Taste of Chicago is not just about enjoying food, but it's also about witnessing culinary innovation firsthand. The event has consistently served as a platform for chefs and restaurateurs to push the boundaries of traditional cooking and create something extraordinary. With its competitive spirit, the Taste of Chicago motivates participants to think outside the box, leading to a variety of inventive and exciting dishes.
Let's take a look at the 2022 edition of the event. One of the crowd's favorite dishes was a fusion taco that combined the elements of Korean and Mexican cuisine, creating a flavorful explosion in every bite. Another standout was a vegan twist on the classic Chicago-style hot dog, which won rave reviews for its exceptional taste and texture. These culinary innovations not only impress the attendees but also inspire other food vendors to take risks and experiment with their offerings.
For aspiring chefs and culinary enthusiasts, the Taste of Chicago offers invaluable learning experiences. Many vendors organize live cooking demonstrations where you can watch these culinary artists at work, pick up new cooking techniques, and even learn secret recipes. These demonstrations are not just about watching; they're about interacting, asking questions, and absorbing knowledge from some of the best in the business.
Furthermore, the Taste of Chicago helps foster a sense of community among the participating chefs and food vendors. They share ideas, critique each other's dishes, and collectively strive to elevate the city's food scene. This friendly competition leads to the birth of new culinary trends and the continuous evolution of the Chicago food scene.
So, whether you're a foodie seeking novel culinary experiences or a budding chef looking for inspiration, the Taste of Chicago is a hotbed of culinary creativity waiting to be explored. The event encourages risk-taking, fosters creativity, and celebrates innovation, making it a must-visit for anyone who appreciates the art of cooking.
Food for Every Palate
The Taste of Chicago is not just a melting pot of cuisines, but it also caters to a variety of dietary preferences and restrictions. Whether you're vegan, vegetarian, gluten-free, or simply health-conscious, the Taste of Chicago ensures that every visitor can partake in this culinary extravaganza. This inclusivity goes beyond cultural diversity and into the realm of personal food choices, making the festival truly universal.
As a foodie, there's nothing worse than feeling left out at a food festival due to dietary restrictions. The Taste of Chicago acknowledges this and hence provides a plethora of options to suit every palate. Each vendor clearly labels their offerings, making it easier for you to make informed food choices. In fact, many vendors offer creative alternatives to traditional dishes, ensuring that everyone gets to experience the full breadth of flavors on offer.
For instance, during the 2022 edition, vegan and vegetarian options were in abundance. From the vegan hot dog that emulated the flavors of a traditional Chicago-style hot dog to a vegetarian deep-dish pizza loaded with fresh vegetables and vegan cheese, the choices were both delightful and satisfying. And it's not just about vegans and vegetarians; those with gluten intolerance weren't left out either. Many vendors offered gluten-free variations of their dishes, ensuring that no one missed out on the deliciousness.
This inclusivity reflects in the event's statistics. According to a survey conducted during the 2022 edition, more than 70% of the attendees found the dietary options to be satisfactory or above. The same survey indicated that over 60% of the vendors provided at least one dish catering to a specific dietary preference or restriction.
The Taste of Chicago's focus on inclusivity goes beyond merely providing options. It's about acknowledging and respecting personal food choices. By ensuring everyone gets to enjoy the festival regardless of their dietary restrictions, the Taste of Chicago promotes a sense of belonging, making it a truly inclusive culinary event.
More than just a Food Festival
While the main attraction at the Taste of Chicago is undoubtedly the food, it's worth noting that this event is more than just a food festival. It's a celebration of the city's culture, art, and music, intertwined with a culinary experience like no other. By offering a plethora of entertainment options alongside gastronomic delights, the Taste of Chicago becomes a comprehensive sensory extravaganza.
Consider the musical performances that are an integral part of the festival. The Taste of Chicago is known to host a wide array of musicians, ranging from local bands to international celebrities. The 2022 edition, for instance, saw performances from a diverse mix of genres, including blues, jazz, rock, and pop. These concerts not only offer great entertainment but also provide a platform for local musicians to showcase their talents to a broader audience.
Art is another crucial component of the Taste of Chicago. The event features a vibrant art marketplace where local artists and artisans display their work. From handcrafted jewelry and pottery to unique paintings and sculptures, this marketplace is a haven for art lovers. By offering a platform for these artists, the Taste of Chicago supports the local art community and contributes to the city's thriving art scene.
And let's not forget about the fun activities and games that add an element of excitement to the event. Whether it's the Ferris wheel that offers a stunning view of the festival, the interactive cooking workshops for kids, or the friendly hot-dog eating competition, there's never a dull moment at the Taste of Chicago.
In essence, the Taste of Chicago is more than just a food festival; it's a cultural extravaganza that combines the joy of food with the thrill of entertainment. So, whether you're a foodie, a music enthusiast, an art lover, or someone looking for a fun day out, the Taste of Chicago offers something for everyone.
A Celebration of Chicago's Food History
The Taste of Chicago is not just a culinary showcase; it's a celebration of Chicago's rich food history. The city's culinary heritage is a fascinating blend of traditional foods influenced by various immigrant communities over the centuries. From the iconic deep-dish pizza, a legacy of Italian immigrants, to the Chicago-style hot dog, a testament to the city's meatpacking history, the festival offers a unique opportunity to explore Chicago's food timeline.
The Taste of Chicago takes you on a historical journey, introducing you to the city's food staples and their origins. For example, the festival features food stalls specializing in Chicago-style pizza, a culinary marvel dating back to the early 1940s. With its thick, buttery crust and hearty toppings, this local favorite has a dedicated fan base, both within and outside the city.
Likewise, the Chicago-style hot dog, another city classic, is a festival mainstay. Steamed or water-simmered, topped with yellow mustard, bright green relish, chopped onions, juicy red tomatoes, a dill pickle spear, sport peppers, and a dash of celery salt, all enveloped in a poppy seed bun – it's a testament to the city's love for loaded hot dogs. It's not merely a dish; it's a piece of Chicago's history.
But it's not just about pizza and hot dogs. The festival also highlights contributions from various immigrant communities that have enriched the city's food landscape. Whether it's the Mexican influence seen in the flavorful tacos and tamales, the Polish heritage evident in the hearty pierogi, or the Chinese imprint in the form of savory dumplings and stir-fries, each food offering tells a story of migration, adaptation, and culinary innovation.
By exploring these historical food offerings at the Taste of Chicago, you're not just satisfying your taste buds, but you're also gaining a deeper understanding of the city's culinary evolution. In essence, this festival is a delicious history lesson that will leave you both enlightened and satiated.
Boost to Local Economy
Beyond being a culinary paradise for food lovers, the Taste of Chicago serves a significant economic purpose. It plays a crucial role in boosting the local economy, benefiting small businesses, and promoting tourism in the city. With an estimated annual attendance of over one million, the festival has a significant economic impact on the city.
For small food vendors and businesses, the Taste of Chicago is an unrivaled opportunity to increase visibility and customer reach. With thousands of potential customers at their doorstep, these businesses can showcase their offerings, attract new customers, and boost their revenues significantly. According to a survey from the 2022 edition, over 60% of the vendors reported a substantial increase in business following their participation in the festival.
Beyond the direct benefit to food vendors, the festival also contributes to the local economy through increased tourism. Visitors from across the country and around the globe come to Chicago to experience this culinary event. They stay in local hotels, shop at local stores, and visit local attractions, thus injecting money into various sectors of the city's economy. It's estimated that the 2022 Taste of Chicago generated over $100 million in total economic activity, a significant boost for the city.
Moreover, the festival creates temporary employment opportunities for hundreds of people, contributing to the local job market. From setup crews and security staff to food servers and cleanup crews, the Taste of Chicago requires a large workforce to ensure its smooth operation.
In conclusion, the Taste of Chicago is not just a food festival; it's a powerful economic engine that stimulates the local economy, supports small businesses, promotes tourism, and creates employment opportunities. It's a testament to the significant role that such cultural events can play in a city's economic health.
An Opportunity to Network
The Taste of Chicago isn't just about satiating your taste buds; it's also an excellent platform for networking. With hundreds of food vendors, musicians, artists, and a diverse crowd, the event provides countless opportunities to connect with like-minded people, build relationships, and even foster potential business collaborations. From casual conversations at food stalls to engaging chats during concerts, networking opportunities are abundant at the festival.
For example, budding chefs and food enthusiasts can connect with seasoned professionals, learn about their experiences, and gain valuable insights. This could potentially open doors for mentorship opportunities, culinary collaborations, or even job offers. In fact, many food vendors are local restaurants looking to scout fresh talent, making the festival an unofficial job fair for the culinary industry.
Musicians and artists also find the event to be a valuable networking platform. With the festival drawing performances from a diverse range of artists, it provides an excellent opportunity for upcoming musicians to connect with industry veterans, learn from their experiences, and maybe even collaborate on future projects.
Moreover, the festival also provides a perfect backdrop for businesses to network. Local enterprises can use the event as an opportunity to promote their products, connect with potential clients, and forge strategic partnerships. For example, a local brewery might collaborate with a food vendor to pair their drinks with specific dishes, creating a win-win situation for both.
Networking at the Taste of Chicago isn't confined to professional growth alone. The festival's friendly and relaxed environment fosters social interactions and friendships. With communal eating areas and shared activities, it's easy to strike up a conversation with fellow attendees and forge new friendships. You might start the day as strangers, but end up as food buddies, planning your next culinary adventure together.
A Family-Friendly Event
The Taste of Chicago isn't exclusively for food connoisseurs or culinary experts. It's a family-friendly event designed to ensure everyone, irrespective of their age, can partake in the festivities. The festival offers a wide range of activities and entertainment options tailored to families and children, making it an ideal outing for the whole family.
Children can partake in various fun-filled activities specifically designed to keep them entertained. For instance, the Kids Eat Chicago section of the festival features a variety of games, interactive activities, and entertainment tailored for the young ones. Activities like face painting, balloon art, and magic shows are regular features that keep the kids entertained while the adults explore the culinary landscape.
Moreover, kids also get an opportunity to participate in interactive cooking workshops. These workshops are designed to be fun and educational, teaching kids basic cooking techniques, food safety, and even nutrition. It's a fantastic way to cultivate their interest in food and cooking from a young age.
For families, the Taste of Chicago offers an opportunity to bond over shared experiences. Whether it's sampling a new dish together, enjoying a concert, or participating in a fun activity, these shared experiences foster familial bonds and create lasting memories. Plus, the festival's relaxed and friendly environment is perfect for families to unwind and spend quality time together.
In a nutshell, the Taste of Chicago is more than just a food festival; it's a family event. By providing activities and entertainment for all ages, the festival ensures that it's not just about the food; it's about bringing people together, fostering relationships, and creating memorable experiences.
A Platform for Sustainable Practices
The Taste of Chicago isn't just a leader in showcasing culinary diversity; it also leads the way in promoting sustainable practices. Understanding the environmental impact such a large-scale event can have, the organizers are committed to minimizing waste and promoting eco-friendly initiatives. The festival has integrated sustainability at its core, ensuring that the fun doesn't come at the expense of the environment.
Firstly, recycling is a key component of the festival's waste management strategy. Multiple recycling stations are scattered across the festival grounds, allowing attendees to dispose of their waste responsibly. Vendors are encouraged to use biodegradable or recyclable packaging for their food, further reducing the event's ecological footprint.
The Taste of Chicago also promotes water conservation. Instead of selling plastic water bottles, the festival provides water refilling stations throughout the venue. Attendees are encouraged to bring their own reusable water bottles to stay hydrated while minimizing plastic waste.
Furthermore, the festival organizers have incorporated energy-efficient measures. Most of the lighting across the festival grounds is LED, which consumes significantly less energy than traditional lighting. Even the concert stages are powered by generators using biodiesel, a cleaner, more sustainable fuel alternative.
But the commitment to sustainability doesn't end there. In recent years, the Taste of Chicago has partnered with local farms and suppliers to source ingredients, thus promoting the local economy and reducing the carbon footprint associated with food transportation.
By integrating these sustainable practices, the Taste of Chicago demonstrates that large-scale events can be both entertaining and environmentally conscious. It's a testament to the festival's commitment not just to culinary excellence, but also to a healthier planet.
An Ever-Evolving Culinary Adventure
The Taste of Chicago is not a static event; it's an ever-evolving culinary adventure that continues to surprise and delight attendees year after year. Despite being rooted in tradition, the festival isn't afraid to innovate and adapt, ensuring that each edition brings something new to the table.
Every year, the festival introduces new vendors, bringing a fresh set of flavors and dishes for attendees to explore. This not only keeps the culinary experience fresh but also gives newer, lesser-known establishments a chance to showcase their offerings.
The Taste of Chicago also continuously expands its culinary horizon by introducing cuisines from around the world. This reflects the city's diverse food landscape and ensures that attendees get a taste of global flavors. Whether it's introducing attendees to Peruvian cuisine or giving them a taste of Ethiopian dishes, the festival is always expanding its culinary repertoire.
Moreover, the Taste of Chicago consistently incorporates contemporary food trends into its offerings. Be it the rise of plant-based foods, the popularity of fermented foods, or the focus on locally sourced ingredients, the festival ensures that it remains at the forefront of culinary trends.
Even the entertainment and activities at the festival continue to evolve. Every year, the festival features different musicians, artists, and performers, ensuring that the non-food aspects of the festival remain as exciting and dynamic as the culinary ones.
In essence, the Taste of Chicago is more than just a food festival; it's an ever-evolving culinary journey that offers something new each year. It's a testament to the festival's commitment to innovation, diversity, and culinary excellence, promising an unforgettable experience for each attendee, every single year.
We welcome any suggestions or questions. You can email us or contact us using the contact page.
You can also connect with us on the following social networks:
Facebook
Twitter
LinkedIn
Instagram