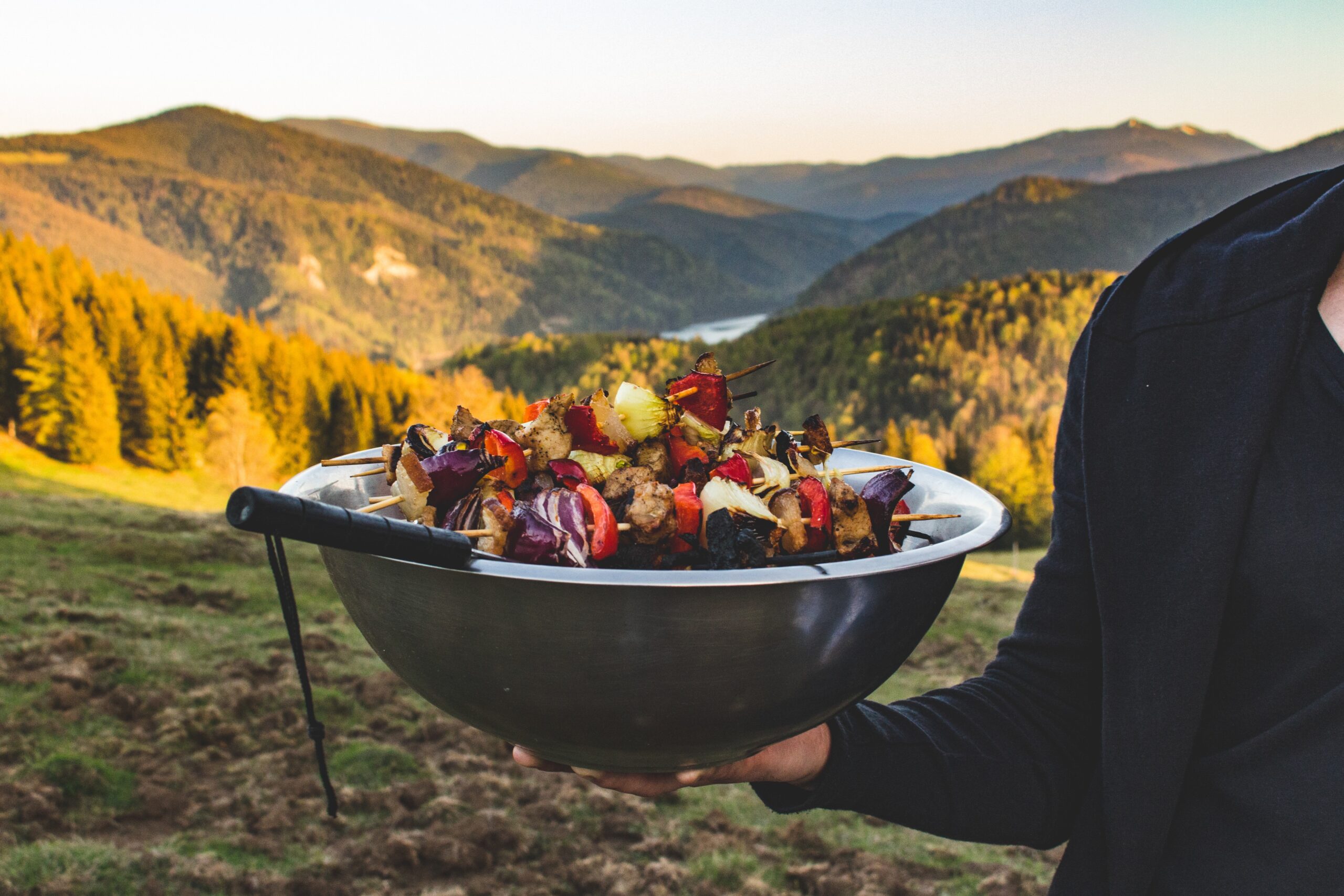 There's something truly magical about food and beverages. They are more than mere sustenance – they're a medium through which we explore cultures, build relationships, and create memories. We've always believed that the best food experiences are about more than just what's on the plate or in the glass. The ambiance, the people, the very location itself – they all come together to create an experience that's greater than the sum of its parts. So, if you're someone who, like us, has a penchant for exploring the world through its food and beverage offerings, then this blog post is for you.
Our journey today takes us through the top 10 Food and Beverage Event Locations around the world. Each place we'll visit is unique, and each has its own special charm. But they all have one thing in common – they're places where food and beverages aren't just consumed but celebrated. So, let's buckle up, fellow gastronomes. Our culinary voyage begins now.
Napa Valley, California, USA
Napa Valley, known for its picturesque vineyards and gourmet restaurants, is a feast for all the senses. The region is a haven for wine lovers and food connoisseurs alike. Its wine tours, offering opportunities to sample some of the finest wines, are almost as legendary as the wines themselves. The rolling vineyards, with their meticulously tended rows of grapevines, create an ambiance that's both serene and beautiful.
The Napa Valley Wine Train, a restored historic train, offers a unique dining experience. You can savor a multi-course gourmet meal while drinking in the scenic beauty of the vineyards. The annual Napa Valley Wine Festival, where you can sample both local and international wines, offers masterclasses and gourmet dining experiences. This event is something every wine lover should have on their bucket list.
In Napa Valley, food is just as much a star as the wine. The region is home to numerous Michelin-starred restaurants. Chefs here often source their ingredients from local farms, ensuring the freshest produce graces their plates. They create dishes that not only taste divine but also are works of art.
What makes Napa Valley one of the top food and beverage event locations, though, is its commitment to creating unforgettable experiences. Whether it's a private wine-tasting session in a picturesque vineyard, a cooking class with a renowned chef, or a meal aboard the wine train, every moment here is designed to delight.
Bordeaux, France
No food and beverage journey can be complete without a visit to France, and Bordeaux, in particular, is a city that every foodie and wine lover must explore. Bordeaux is one of the most revered wine regions in the world. With its stunning vineyards, historic chateaus, and high-quality wines, it's no wonder that it attracts wine connoisseurs from around the globe.
Wine tours here are more than just about tasting wines. They're about delving into the history and traditions that go into making each bottle of Bordeaux wine unique. You'll get to visit some of the most prestigious vineyards and chateaus, learn about their wine-making processes, and, of course, taste some exquisite wines.
But it's not just the wine that makes Bordeaux a top food and beverage event location. Bordeaux's food scene is equally enchanting. The city's bistros and restaurants serve everything from traditional French dishes to innovative cuisine. Local markets, like the Marché des Capucins, give you a taste of the region's fresh produce and local delicacies.
Bordeaux also hosts numerous food and wine events throughout the year. The Bordeaux Wine Festival, for instance, is a grand celebration of the region's wines. With tastings, wine cruises, workshops, and a firework display to cap it off, it's a spectacle not to be missed.
Tokyo, Japan
If you're looking for a blend of tradition and modernity in your food and beverage experience, Tokyo is the place to be. As the city with the most Michelin stars in the world, Tokyo's food scene is unparalleled. From sushi to ramen, yakitori to tempura, the food here is a reflection of the city itself – a blend of the traditional and the contemporary.
Izakayas, traditional Japanese pubs, offer a unique dining experience. Here, you can enjoy a variety of small dishes, accompanied by drinks such as sake or beer, in a cozy, relaxed atmosphere. For a more refined dining experience, kaiseki restaurants serve multi-course meals that are as much a visual treat as they are a gastronomic one.
Tokyo also boasts some fantastic food markets. Tsukiji Fish Market, for instance, is a must-visit for seafood lovers. You can sample some of the freshest sushi and sashimi here and even watch tuna auctions.
But it's not just the food that makes Tokyo a top food and beverage event location. The city is also home to some amazing bars and breweries. Whether you're a fan of sake, beer, or cocktails, you'll find plenty to enjoy here.
Tokyo's food and beverage events, like the Tokyo Ramen Show or the Japan Sake and Shochu Information Center's tasting events, offer a deep dive into the city's culinary scene. These events are a celebration of Japanese cuisine and beverages and a testament to the city's love for food
Rome, Italy
There's a reason why Rome is often called the 'Eternal City'. It's a city where the past and present merge seamlessly, and that's evident in its food culture as well. From traditional trattorias serving age-old recipes to modern restaurants pushing culinary boundaries, Rome's food scene is as diverse as it is delightful.
You can start your day with a classic Italian breakfast – a cappuccino and cornetto at one of the city's many cafes. For lunch, tuck into a plate of pasta at a trattoria. As evening falls, join the locals for 'aperitivo' – pre-dinner drinks and snacks. And then, end the day with a slice of pizza at a pizzeria.
But Rome's food and beverage scene is not just about dining at restaurants. It's also about exploring markets like Campo de' Fiori, where you can find fresh produce, meats, cheeses, and more. Or participating in a cooking class and learning how to make classic Italian dishes.
Rome also hosts several food and beverage events throughout the year. From wine-tasting events to food festivals celebrating everything from pasta to gelato, these events are a gastronomic delight.
Bangkok, Thailand
Bangkok is a city that never fails to enchant, and its food scene is a big part of its charm. Whether it's street food or fine dining, Bangkok's food scene is vibrant and diverse.
Street food is an integral part of Bangkok's culinary landscape. From stalls selling pad Thai and som tum (green papaya salad) to vendors dishing out mango sticky rice and coconut ice cream, street food in Bangkok is an experience not to be missed.
Bangkok's restaurants, too, offer a gastronomic feast. You can find everything from traditional Thai cuisine to international fare. Some of these restaurants, like Gaggan Anand's Gaggan, have also earned international acclaim.
Bangkok is also known for its bustling food markets. Places like Or Tor Kor Market and Chatuchak Weekend Market offer a chance to sample a wide variety of Thai food.
Moreover, Bangkok hosts several food and beverage events. The Bangkok Street Food Festival and the Bangkok Wine Festival are just a couple of examples. These events offer a chance to explore Bangkok's culinary scene in a unique and exciting way.
Barcelona, Spain
Barcelona is a city that thrives on its food and drink culture. It's a place where food is a way of life and meals are a celebration. From tapas bars to Michelin-starred restaurants, and food markets to wine tours, Barcelona offers a culinary experience like no other.
Tapas are an integral part of Barcelona's food culture. These small plates of food are meant to be shared, making meals a communal affair. There's a wide variety of tapas to choose from – patatas bravas (spicy potatoes), gambas al ajillo (garlic shrimp), tortilla española (Spanish omelet), and more.
Barcelona is also known for its seafood and its avant-garde cuisine. Its seafood dishes, made with the freshest catch from the Mediterranean, are a treat for the palate. And restaurants like El Celler de Can Roca and Tickets, with their innovative cuisine, push the boundaries of food.
But it's not just about food in Barcelona. The city is also renowned for its drinks. Whether it's the local beers, the wines, or the cava (a sparkling wine from Catalonia), Barcelona's beverage scene is as exciting as its food scene.
New York City, USA
New York City, often called the 'melting pot' of cultures, offers a culinary scene that's as diverse as its population. From hot dogs and pizzas to sushi and falafel, you can find almost every cuisine in the world here.
One of the highlights of New York's food scene is its street food. Food carts and food trucks serve a variety of food – hot dogs, pretzels, tacos, falafel, and more. Each bite of this street food is a testament to the city's multicultural heritage.
New York is also known for its upscale dining scene. Its restaurants are often at the forefront of culinary innovation, and many of them are regularly listed among the world's best.
The city's beverage scene, too, is worth exploring. From craft beers and cocktails to some of the finest wines, there's something for every kind of drinker in New York.
New York also hosts numerous food and beverage events throughout the year. Events like the New York City Wine & Food Festival and the NYC Craft Beer Festival offer a chance to indulge in the city's culinary offerings.
Whether it's the food, the drinks, or the sheer variety of offerings, it's no wonder that New York is one of the top food and beverage event locations in the world. From food festivals to wine tastings, there's always something happening in the city's culinary scene.
Sydney, Australia
Sydney, with its beautiful beaches and stunning harbor, offers a food and beverage scene that's just as impressive. The city is known for its fresh seafood, top-notch restaurants, and vibrant food markets.
Sydney's restaurants serve up a range of cuisine, from traditional Australian fare to international dishes. Many of these restaurants also offer breathtaking views of the city's harbor, making dining here a visual treat as well.
One of the highlights of Sydney's food scene is its seafood. Whether it's the Sydney rock oysters, Balmain bugs, or the iconic fish and chips, seafood in Sydney is a must-try. You can also visit the Sydney Fish Market, one of the largest seafood markets in the world, to see the catch of the day and sample some fresh seafood.
Sydney's beverage scene is equally enticing. Its craft beer scene is booming, with local breweries producing a range of beers. The city's wine bars also offer a chance to sample some of Australia's finest wines.
The city also hosts several food and beverage events. Sydney Good Food Month, for instance, is a month-long food festival that features pop-up restaurants, cooking classes, and food talks. These events not only provide a taste of Sydney's culinary offerings but also bring together food lovers from across the city.
Marrakech, Morocco
Marrakech, with its bustling souks and stunning palaces, offers a food and beverage experience that's steeped in tradition. The city is known for its traditional Moroccan cuisine, aromatic spices, and tea culture.
One of the best ways to experience Marrakech's food scene is by exploring its street food. Jemaa el-Fnaa, the city's main square, is filled with food stalls serving traditional Moroccan dishes. From tagines and couscous to pastilla and harira, these dishes are a testament to Morocco's rich culinary heritage.
Marrakech's restaurants also offer a chance to delve into Moroccan cuisine. Many of these restaurants are located in traditional riads, offering a unique dining experience.
The city's tea culture is another highlight. Mint tea, also known as 'Moroccan whiskey', is a staple here. Whether you're in a café or a local's home, you'll likely be offered a glass of this sweet, refreshing tea.
Marrakech also hosts several food and beverage events, like the Marrakech Food Tour and the Marrakech Cooking Class. These events offer an in-depth look into the city's culinary scene and are a must for any food lover.
Cape Town, South Africa
Cape Town, known for its stunning landscapes and diverse culture, offers a food and beverage scene that's as vibrant as the city itself. The city is known for its seafood, local dishes, and wines.
Cape Town's restaurants serve a variety of food, from traditional South African dishes to international fare. Many of these restaurants also offer stunning views of the city and its surroundings.
Seafood is a must-try in Cape Town. The city's location, surrounded by two oceans, means that the seafood here is incredibly fresh. Dishes like fish and chips, crayfish, and snoek (a type of mackerel) are popular here.
The city's wine scene is also worth exploring. The Cape Winelands, located just outside the city, produce some of the country's best wines. You can take a wine tour, visit vineyards, and sample some excellent wines.
Cape Town also hosts several food and beverage events. The Taste of Cape Town, for instance, is a food festival that showcases the city's culinary offerings. The Constantia Food and Wine Festival is another event that brings together food and wine lovers.
So, there you have it – our top 10 Food and Beverage Event Locations around the world. Each of these places offers a unique culinary experience, and we hope this post has inspired you to explore them. After all, as they say, the best way to a place's heart is through its stomach. Bon Appétit!
We welcome any suggestions or questions. You can email us or contact us using the contact page.
You can also connect with us on the following social networks:
Facebook
Twitter
LinkedIn
Instagram