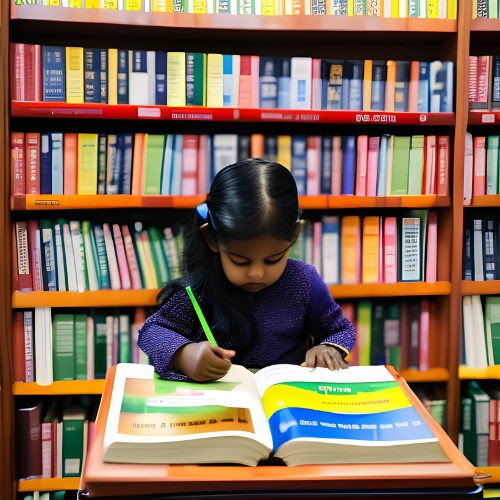 Nestled in the heart of India, the New Delhi World Book Fair (NDWBF) isn't merely an event; it's a celebration, a cultural exchange, and an opportunity for literary enthusiasts to dive into the vast ocean of books. Ever since its inception, the fair has played a pivotal role in shaping the contours of Indian literature, creating an indelible imprint that's worth delving into. From encouraging emerging authors to promoting regional languages, let's unveil the transformative journey of the NDWBF, exploring how it has revolutionized Indian literature one book at a time.
Nurturing Emerging Writers
The first milestone on our journey is understanding how the New Delhi World Book Fair has become a nurturing ground for emerging writers. Imagine walking through the bustling lanes of the fair, the air thick with the smell of paper and ink, the sound of eager conversations reverberating around you, and amidst all this, you find a secluded corner dedicated to the works of new authors.
The NDWBF has consistently carved out space for budding writers, providing them a platform to showcase their talent to an international audience. This exposure goes a long way in shaping their writing careers. It's not just about selling books; it's about striking a conversation, getting feedback, and fostering a deeper understanding of their readership.
For instance, let's take the case of Pankaj Dubey. A relatively unknown author in 2011, Dubey leveraged the fair to introduce his debut novel "What a Loser!" The interaction, feedback, and networking he experienced at the fair not only boosted his confidence but also helped him refine his writing style. Today, he is one of the most celebrated bilingual authors in India, and he credits a significant part of his success to the platform provided by the NDWBF.
The fair, thus, plays a crucial role in discovering and nurturing new voices, paving the way for a more diverse and rich literary culture in India.
Boosting Regional Languages
The New Delhi World Book Fair's impact on promoting regional languages and literature is another dimension of its profound influence. The NDWBF is not just a fair; it's a melting pot of cultures and languages. One can stroll through one aisle filled with the richness of Bengali literature, then turn a corner to be immersed in the vivid storytelling of Tamil authors.
The theme-based approach adopted by the fair plays a significant role in this. Each year, a particular Indian language is highlighted, encouraging publishers and authors of that language to showcase their work prominently. For example, in 2018, the focus was on the literature of North-Eastern states, which brought attention to the rich and diverse literary treasures of this region.
This promotion of regional literature has multiple impacts. It helps regional authors gain a broader audience, keeps the languages alive, and also fosters a sense of unity and understanding among diverse cultures in India.
International Collaboration
The New Delhi World Book Fair has emerged as a platform for international collaboration, and in doing so, it has played a crucial role in influencing Indian literature. Every year, the fair invites a 'Guest of Honor country, promoting literary exchange and fostering mutual understanding. This leads to translations, collaborations, and sometimes even global recognition for Indian authors.
For instance, when France was the 'Guest of Honour', several Indian books were translated into French, and French literature saw a rise in popularity in India. This exchange creates an environment where ideas, themes, and styles intermingle, influencing authors and resulting in a rich blend of global and local narratives.
Inspiring Youth
The New Delhi World Book Fair plays a significant role in inspiring the younger generation toward literature. The book fair is not just about buying and selling books; it's about cultivating a love for literature among young minds. Special zones dedicated to children's literature, interactive sessions with authors, storytelling sessions, and workshops are part of the NDWBF's effort to engage children and teenagers.
Let's take the example of the 'Children's Pavilion' at the fair. This dedicated area offers a wide range of activities such as meet-your-favorite-author sessions, magic shows, and art & craft workshops. Such initiatives make literature accessible and fun for the younger audience, fostering a reading habit that can shape their intellectual growth.
Digital Expansion
The influence of the New Delhi World Book Fair extends beyond physical boundaries with its digital expansion. Over the past few years, NDWBF has embraced digital platforms, enabling it to reach a wider audience. Live streaming of sessions, online book launches, virtual tours, and digital interaction with authors have transformed the fair into a global event.
This digital expansion has democratized access to the fair, allowing individuals from remote areas of India and other parts of the world to be part of this literary celebration. This increased accessibility has had a broad impact on Indian literature, extending its reach globally and allowing diverse voices to be heard.
Promoting Self-Publishing
The New Delhi World Book Fair has played a significant role in promoting self-publishing in India. With numerous self-publishing companies participating in the fair, authors who might struggle to find traditional publishing avenues can reach out to potential readers. This has encouraged a wave of indie authors to bring their unique narratives to the forefront, adding a vibrant new dimension to Indian literature.
Encouraging Translation Works
Translation works are another facet of Indian literature that has been significantly impacted by the New Delhi World Book Fair. As the fair brings together publishers, authors, and readers from diverse linguistic backgrounds under one roof, it creates a conducive environment for the propagation of translation works. This facilitates the cross-pollination of literary ideas across various languages, enriching the diversity of Indian literature.
Supporting Graphic Novels
The New Delhi World Book Fair has also played a pivotal role in supporting unconventional genres like graphic novels in India. By providing a platform for creators and publishers of graphic novels, the fair has contributed to the acceptance and popularity of this genre, once considered niche, in mainstream Indian literature.
Developing the Publishing Industry
The publishing industry in India has significantly developed and grown with the support of the New Delhi World Book Fair. The fair acts as a bridge between publishers, booksellers, authors, and readers, fostering relationships that are instrumental in the growth of the industry. This has ultimately resulted in a richer and more varied literary landscape in India.
Increasing Literacy Rate
Finally, the NDWBF plays a crucial role in promoting a reading culture in India, which indirectly contributes to increasing the literacy rate. By making books accessible to the masses and promoting a love for reading, the fair impacts the nation's educational development.
In conclusion, the New Delhi World Book Fair is much more than a fair; it is an influential force shaping the course of Indian literature. From nurturing new voices to encouraging linguistic diversity, from fostering international collaborations to inspiring the youth, NDWBF has touched and transformed Indian literature in numerous ways. The imprints of this transformative journey will continue to influence and shape the contours of Indian literature for generations to come.
We welcome any suggestions or questions. You can email us or contact us using the contact page.
You can also connect with us on the following social networks:
Facebook
Twitter
LinkedIn
Instagram