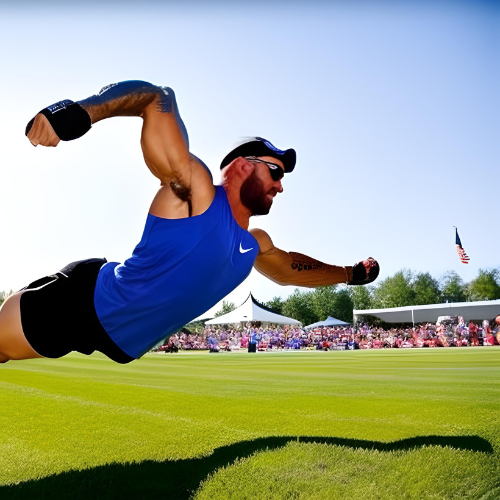 Fitness isn't just a fad; it's a way of life that fosters discipline, determination, and dedication. A vibrant culture surrounds it, uniting people of diverse backgrounds around a common pursuit of physical well-being and the joy of overcoming challenges. Nowhere is this better exemplified than in the numerous fitness events held across the United States. These occasions aren't just about competition; they're about community, camaraderie, and celebration of the human spirit's resilience. Whether you're a seasoned athlete, an amateur fitness enthusiast, or just curious about stepping into this dynamic world, there's an event out there that's a perfect fit for you. In this blog post, we'll journey through the "Top 10 Fitness Events in the US" to attend this year. We'll give you a behind-the-scenes look at each event, delve into what makes them special, and provide tips to help you make the most of these experiences. So, lace up your trainers, brace yourself for some adrenaline-pumping action, and join us as we traverse the vast landscape of "Fitness Events in the US."
The Boston Marathon
When it comes to classic races in the United States, the Boston Marathon is the crème de la crème. It's the world's oldest annual marathon, with its inaugural run dating back to 1897, inspired by the success of the first marathon competition in the modern Olympics.
The Boston Marathon is much more than a race; it's a tradition. Over the years, the marathon has evolved into a symbol of the city's grit and determination. Each year, on Patriots' Day, the third Monday in April, thousands of runners from around the world converge in Boston, each bearing a unique story, each driven by individual motivations.
This race is not for the faint-hearted. It's a test of endurance, with the famous Heartbreak Hill challenging even the most seasoned athletes. The course's undulating nature, combined with unpredictable spring weather, adds an additional layer of complexity to the race.
Yet, it's not just the physical challenge that draws people to the Boston Marathon. There's a sense of camaraderie that permeates the air, a shared understanding of the commitment, sacrifice, and mental fortitude required to participate in this event. From the deafening cheers of the crowd lining the route to the fellow runners who become your allies on this journey, it's a truly unique experience.
Preparing for the Boston Marathon involves rigorous training, both physical and mental. Following a structured running plan is essential. You'll need to gradually increase your distance and incorporate hill training. However, equally important is mental preparation. Visualizing the race, setting realistic goals, and developing coping strategies for when times get tough will all contribute to your success.
However, the Boston Marathon is not just for runners. It's a city-wide celebration, and spectators play a critical role in the event. If running isn't your forte, consider volunteering or cheering on the participants. The energy, enthusiasm, and electric atmosphere make the Boston Marathon a must-visit event on any fitness enthusiast's calendar. Whether you're crossing the finish line or cheering from the sidelines, the Boston Marathon is an embodiment of the human spirit's indomitable will and an event that truly lives up to its motto: "It all starts here."
For more information about the Boston Marathon, visit their official website. Remember to plan well in advance, as the event is known for its rigorous qualifying standards and lottery system.
The Boston Marathon is just the first step on our fitness journey across America. Next, we'll take a look at a unique event that blends the power of teamwork with the thrill of obstacle racing… Stay tuned!
The Spartan Race Series
If you're someone who thrives on challenges and believes that fitness is as much about mental toughness as it is about physical strength, then the Spartan Race Series is a must-try experience. This obstacle course race (OCR) is held in various locations across the United States, and it's not just a race – it's a testament to human endurance, resilience, and spirit.
The Spartan Race is not your typical run. It pushes you beyond your comfort zone, testing your strength, agility, and endurance with a variety of challenging obstacles spread along the course. Depending on your fitness level and competitive spirit, you can choose from several Spartan Race categories – Sprint (3 miles, 20 obstacles), Super (8 miles, 25 obstacles), Beast (13 miles, 30 obstacles), or the ultimate Ultra (30 miles, 60 obstacles).
One of the most admirable aspects of the Spartan Race is its ethos. This event fosters a spirit of camaraderie and resilience that extends beyond the race course. You'll see participants helping each other overcome obstacles, cheering each other on, and sharing in the joy of accomplishment at the finish line. It's less about winning and more about completing the race, emerging stronger and tougher.
Preparation for a Spartan Race requires a well-rounded fitness routine that goes beyond running. Incorporate strength training, particularly functional movements, into your routine. Work on improving grip strength, upper body strength, and core stability. Mental preparation is equally important, as you'll be tested on your ability to overcome not just physical obstacles, but mental ones as well.
If you're a fitness enthusiast looking for an event that offers more than just a physical challenge, the Spartan Race Series is worth exploring. Not only will it test your physical capabilities, but it will also foster a sense of teamwork, resilience, and mental toughness. So, whether you're an OCR veteran or a beginner looking to test your limits, gear up for an exhilarating fitness journey with the Spartan Race Series.
But what if you prefer a more serene and peaceful fitness event that still challenges your strength and flexibility? Don't worry, our next stop on this fitness journey across America is just the place for you.
Wanderlust 108
Welcome to the world's only mindful triathlon. The Wanderlust 108 brings together three events that promote peace, health, and community – a 5K run/walk, a yoga class, and a guided meditation session. This one-of-a-kind fitness event takes place in several cities across the U.S. every year, providing a nurturing environment for those seeking balance, wellness, and mindfulness.
The day begins with a 5K run/walk that is unlike any other. It's non-competitive, allowing participants to set their own pace. It's not about who crosses the finish line first, but about enjoying the journey, the scenery, and the company of like-minded individuals.
The 5K run/walk is followed by a yoga session, often led by renowned yoga instructors. Whether you're a seasoned yogi or a first-timer, this session caters to all skill levels, offering an opportunity to stretch your muscles, strengthen your core, and find your balance amidst the hustle and bustle of life.
The event concludes with a guided meditation session, providing a tranquil ending to the triathlon. It's a time to quiet the mind, reflect on the day's experiences, and feel a sense of connectedness with yourself and the community around you.
Preparing for Wanderlust 108 is more about mental readiness than physical. It's about opening yourself up to new experiences and connections. Of course, a basic level of fitness will make the 5K more enjoyable, and familiarity with yoga poses can enhance your yoga session, but at its core, Wanderlust 108 is about embracing mindfulness and community.
Wanderlust 108 is a unique entry on our list of "Fitness Events in the US." It's perfect for those looking for a non-traditional fitness event that promotes not just physical health, but mental and spiritual well-being too. Remember, at Wanderlust 108, the focus is not on the destination, but on the journey.
So far, we've covered a traditional marathon, a challenging obstacle race, and a mindful triathlon. But what about those who find their strength in the rhythm and beats of music? Our next stop caters just to them.
ZINCON – Zumba Instructor's Convention
Zumba has taken the world by storm with its infectious music and high-energy dance moves. It's not just a workout; it's a party. And if you're a fan, then there's no better place to be than the Zumba Instructor's Convention, affectionately known as ZINCON.
Held annually in Orlando, Florida, ZINCON is a massive gathering of Zumba instructors and enthusiasts from around the world. Over the course of four exciting days, attendees get to participate in a variety of activities, from master classes led by Zumba's top instructors to training sessions where you can learn new rhythms, choreography, and teaching techniques.
The energy at ZINCON is palpable. The moment you step into the convention center, you can feel the rhythm pulsing through the air. People from different walks of life, unified by their love for Zumba, come together to dance, learn, and celebrate. Whether you're a Zumba novice or a seasoned instructor, there's something for everyone.
One of the highlights of ZINCON is the fitness concert, a high-energy event where you get to dance alongside Zumba's founder, Beto Perez, and other top instructors. It's an experience like no other, with thousands of Zumba enthusiasts moving in sync to the pulsating beats.
To prepare for ZINCON, all you need is a love for Zumba and a willingness to let loose and have fun. Attend Zumba classes regularly, familiarize yourself with different rhythms, and most importantly, remember that Zumba is about enjoying the music and the movement. It's not about getting the steps perfect; it's about having fun.
ZINCON is a testament to the power of music and movement to bring people together and create a sense of community. It's not just a fitness event; it's a celebration of life, diversity, and the joy of dance.
Now, let's shift gears from the high-energy world of Zumba to an event that will challenge your strength, agility, and fearlessness.
CrossFit Games
In the realm of high-intensity workouts, few things match up to the challenge of CrossFit. And when it comes to CrossFit competitions, the CrossFit Games are the pinnacle. Held annually, this multi-day event pushes athletes to their limits, testing various aspects of fitness like strength, endurance, agility, and speed.
The CrossFit Games takes place in Madison, Wisconsin, attracting the fittest men, women, and teams from across the globe. The athletes compete in a series of workouts, known as WODs (Workout of the Day), which are kept secret until right before the competition. This element of surprise adds to the thrill of the event, as competitors must be prepared for any physical challenge.
Watching the CrossFit Games, whether in-person or via live broadcast, is a breathtaking experience. You'll witness feats of strength, displays of raw determination, and moments of triumph that can inspire even the most laid-back individuals to start their fitness journey.
If you plan to compete, prepare for the unexpected. Since the workouts are not revealed in advance, training for the CrossFit Games involves being proficient in various fitness domains. Regular CrossFit training that incorporates cardiovascular exercises, weightlifting, and gymnastics is key. And since the competition is as much a mental game as a physical one, developing mental toughness and resilience is equally important.
But the CrossFit Games is not just for the competitors. Spectators too play a crucial role, their cheers providing a boost to the athletes during grueling workouts. If competing isn't your cup of tea, the CrossFit Games offers an equally thrilling experience as a spectator event.
From witnessing the peak of physical fitness to soaking up the infectious energy and community spirit, the CrossFit Games offers an experience that's unparalleled. It's a testament to human potential and the lengths to which people can push their physical boundaries when they set their minds to it.
So, we've journeyed through five incredible fitness events. But we're only halfway through. Buckle up, because there's more to come on our tour of "Fitness Events in the US."
The Hood to Coast Relay
Tagged as the "Mother of All Relays," the Hood to Coast Relay is an extraordinary running event in the U.S., combining distance running, team spirit, and stunning landscapes. Starting at the Timberline Lodge on Mount Hood in Oregon, this relay race covers around 200 miles, passing through breathtaking terrain before concluding at the Pacific coastline in Seaside.
What makes the Hood to Coast Relay unique is its team format. Each team, typically comprising twelve members, splits the distance into 36 legs. While one member runs, the rest of the team travels ahead by van to the next exchange point. This rotation continues until the team reaches the finish line. It's not just a test of endurance but also of coordination, teamwork, and spirit.
Being a part of the Hood to Coast Relay is a memorable experience. The sense of camaraderie among team members, the cheers and encouragement from fellow teams, the exhilaration of running through scenic landscapes, and the satisfaction of completing a challenging race together make this event truly special.
Preparing for the Hood to Coast Relay involves regular long-distance running to build stamina and endurance. But don't forget to practice running at different times of the day and under various weather conditions, as the relay continues non-stop, day and night, come rain or shine. Also, getting comfortable with the idea of rest and recovery in a moving vehicle is an essential part of the preparation.
The Hood to Coast Relay is a unique blend of running, teamwork, and adventure. It's an opportunity to challenge yourself, strengthen bonds with teammates, and create unforgettable memories. So, if you're looking for an event that offers more than just a physical challenge, gear up for this exceptional fitness journey from Mount Hood to the Pacific Coast.
With that, let's move from the adventurous trails of Oregon to the exciting world of triathlons.
IRONMAN World Championship in Kailua-Kona, Hawaii
In the world of endurance sports, there's nothing quite as revered or as daunting as the IRONMAN triathlon. And among IRONMAN events, the World Championship in Kailua-Kona, Hawaii stands atop. It's the ultimate test of physical endurance and mental strength, an event where athletes push their limits in a grueling 140.6-mile journey encompassing swimming, biking, and running.
The race begins with a 2.4-mile open water swim in the crystal-clear waters of Kailua Bay. Athletes then transition to the 112-mile bike leg, which takes them through the starkly beautiful and challenging lava desert of the Big Island. The event concludes with a marathon (26.2 miles), where competitors run through the scorching heat and infamous winds of the Hawaiian coast.
The Kona IRONMAN is not just an endurance event; it's a global spectacle. It brings together the best IRONMAN athletes from around the world, who have earned their spots through qualifying events. The atmosphere is electric, filled with the energy and anticipation of thousands of athletes who have trained extensively for this one day.
Preparing for Kona is a commitment like no other. Athletes typically train for many months, building their endurance and honing their skills in each discipline. Nutrition and hydration strategies, transition training, and mental preparation are all crucial components of a successful IRONMAN race.
But you don't have to be an elite athlete to experience the magic of Kona. As a spectator, you can witness inspiring displays of determination, cheer on the athletes, and soak up the unique energy and spirit of this iconic event.
The IRONMAN World Championship in Kailua-Kona, Hawaii, is more than a race. It's a celebration of human potential, a testament to the strength of the human spirit, and an event that truly embodies the mantra: "Anything is Possible."
Our next destination takes us from the tropical paradise of Hawaii to a picturesque island in the Upper Midwest.
The Mackinac Island Great Turtle Half Marathon and 5.7 Mile Run/Walk
Every year, fitness enthusiasts gather in the scenic locale of Mackinac Island, Michigan, to participate in a truly unique fitness event – the Mackinac Island Great Turtle Half Marathon and 5.7 Mile Run/Walk. This event provides an opportunity to combine a love for fitness with an appreciation for nature's unparalleled beauty.
Mackinac Island is known for its charm, with horse-drawn carriages, bicycles, and pedestrians being the primary modes of transport. The island prohibits cars, making it an ideal location for a peaceful and invigorating run. The event offers two races – a half marathon (13.1 miles) and a 5.7-mile run/walk, catering to both seasoned runners and those seeking a less demanding, yet equally enjoyable, fitness event.
The course winds its way around the island, providing runners with spectacular views of the pristine Lake Huron, dramatic cliffs, tranquil woods, and historic landmarks. The changing colors of the fall foliage make the October event even more picturesque and captivating.
Preparing for the Great Turtle Half Marathon involves consistent running training, with an emphasis on building stamina for long-distance running. However, since the course includes some hilly terrains, incorporating hill workouts in your training can be beneficial. For the 5.7-mile event, a regular routine of shorter-distance running or walking should suffice.
The Mackinac Island Great Turtle Half Marathon and 5.7 Mile Run/Walk offers an unparalleled fusion of fitness and nature. Whether you're a competitive runner or someone who enjoys leisurely walks amidst scenic landscapes, this event promises a fulfilling and unforgettable experience.
From the tranquil trails of Mackinac Island, we now journey to the bustling city of New York for a fitness event that's sure to challenge and inspire.
SoulCycle Charity Ride
If you're a fan of high-energy, music-driven workouts, then SoulCycle's Charity Rides are perfect for you. SoulCycle, known for its unique blend of inspirational coaching and invigorating indoor cycling, regularly hosts charity rides where participants can break a sweat while supporting a good cause.
Taking place in various SoulCycle locations across New York City, these charity rides offer a full-body workout, including cardio, weightlifting with hand weights, and core exercises. Each ride is led by charismatic instructors who guide, motivate, and inspire riders throughout the session. It's a high-energy fitness event that's as challenging as it's enjoyable.
But what makes SoulCycle's Charity Rides stand out is their philanthropic angle. Each ride supports a specific cause or charity, giving participants an opportunity to contribute to a meaningful purpose. Whether it's supporting medical research, education, or social initiatives, each pedal stroke brings you closer not just to your fitness goals, but also to making a positive impact on the community.
Preparing for a SoulCycle Charity Ride is all about embracing the ride's intensity and rhythm. Regular indoor cycling classes can help you build stamina and get accustomed to the pace and style of a SoulCycle class. Don't worry if you're new to indoor cycling; the welcoming environment and supportive instructors make it easy for beginners to join in.
SoulCycle Charity Rides are a unique mix of fitness, fun, and philanthropy. It's an event that leaves you feeling physically invigorated and emotionally fulfilled, knowing that you've done something good for yourself and others.
And finally, let's round out our top 10 fitness events list with a fitness event that's as entertaining as it's physically challenging.
The Color Run
Rounding off our list of top fitness events to attend in the US is The Color Run, also known as the "Happiest 5k on the Planet." This unique paint race celebrates health, happiness, and individuality, bringing together people of all ages and fitness levels for a vibrant and fun-filled event.
The Color Run is not your typical competitive race. Instead, it's an untimed 5k where participants, or "Color Runners," are doused from head to toe in different colors at each kilometer. By the end of the course, runners are covered in a rainbow of colors, making for a cheerful and picturesque sight.
The run concludes with a grand finale – the Finish Festival. This larger-than-life party is filled with music, dancing, and massive color throws, which create millions of vivid color combinations. It's an unforgettable celebration of life, joy, and community.
Preparing for The Color Run is more about gearing up for fun rather than intensive physical training. Of course, a basic level of fitness will enhance your experience, and if you're new to running, a training routine comprising regular short runs can be beneficial. But the primary focus here is on enjoying the experience, making happy memories, and, of course, getting as colorful as you can!
The Color Run is a fantastic event to attend with friends and family, and it's also an excellent opportunity to meet new people and be part of a vibrant, positive community. It's not just a fitness event; it's a celebration of life, diversity, and happiness.
We've journeyed through marathons, triathlons, obstacle courses, cycling, and dancing events, among others. We hope our list of "Top 10 Fitness Events to Attend in the US This Year" has given you a flavor of the diverse fitness experiences available across the country. Each event offers a unique blend of physical challenge, personal growth, community spirit, and sheer enjoyment. So, choose an event (or two!) that resonates with you, lace up your sneakers, and embark on a memorable fitness journey!
Conclusion
The wonderful world of fitness is vast and varied, brimming with opportunities to challenge yourself, try new things, and meet like-minded individuals. Whether you're a fitness enthusiast, a casual exerciser, or someone just embarking on their fitness journey, there's an event out there for you.
Perhaps you've found inspiration in the grueling challenge of the Spartan Race or the community spirit of the Hood to Coast Relay. Maybe the electric energy of ZINCON or the philanthropic approach of the SoulCycle Charity Ride resonates with you. Or, it could be that the joyful celebration of The Color Run is more your style. Whatever your preference, these top fitness events to attend in the US offer something for everyone.
Remember, fitness is not a destination but a journey. It's not just about physical strength or endurance, but also about personal growth, community, and enjoyment. So, as you prepare to embark on these fitness events, don't forget to embrace the experience, celebrate each milestone, and most importantly, have fun!
Joining a fitness event is a fantastic way to invigorate your fitness journey. So, what are you waiting for? Dive in, try something new, and discover the transformative power of fitness events. Your adventure awaits!
Remember: "Fitness is not about being better than someone else… It's about being better than you used to be."
Thank you for joining us on this exploration of fitness events across the US. We hope you've been inspired to step out of your comfort zone, challenge yourself, and experience the joy and community spirit of these events. Until next time, stay active and keep moving towards your fitness goals!
We welcome any suggestions or questions. You can email us or contact us using the contact page.
You can also connect with us on the following social networks:
Facebook
Twitter
LinkedIn
Instagram