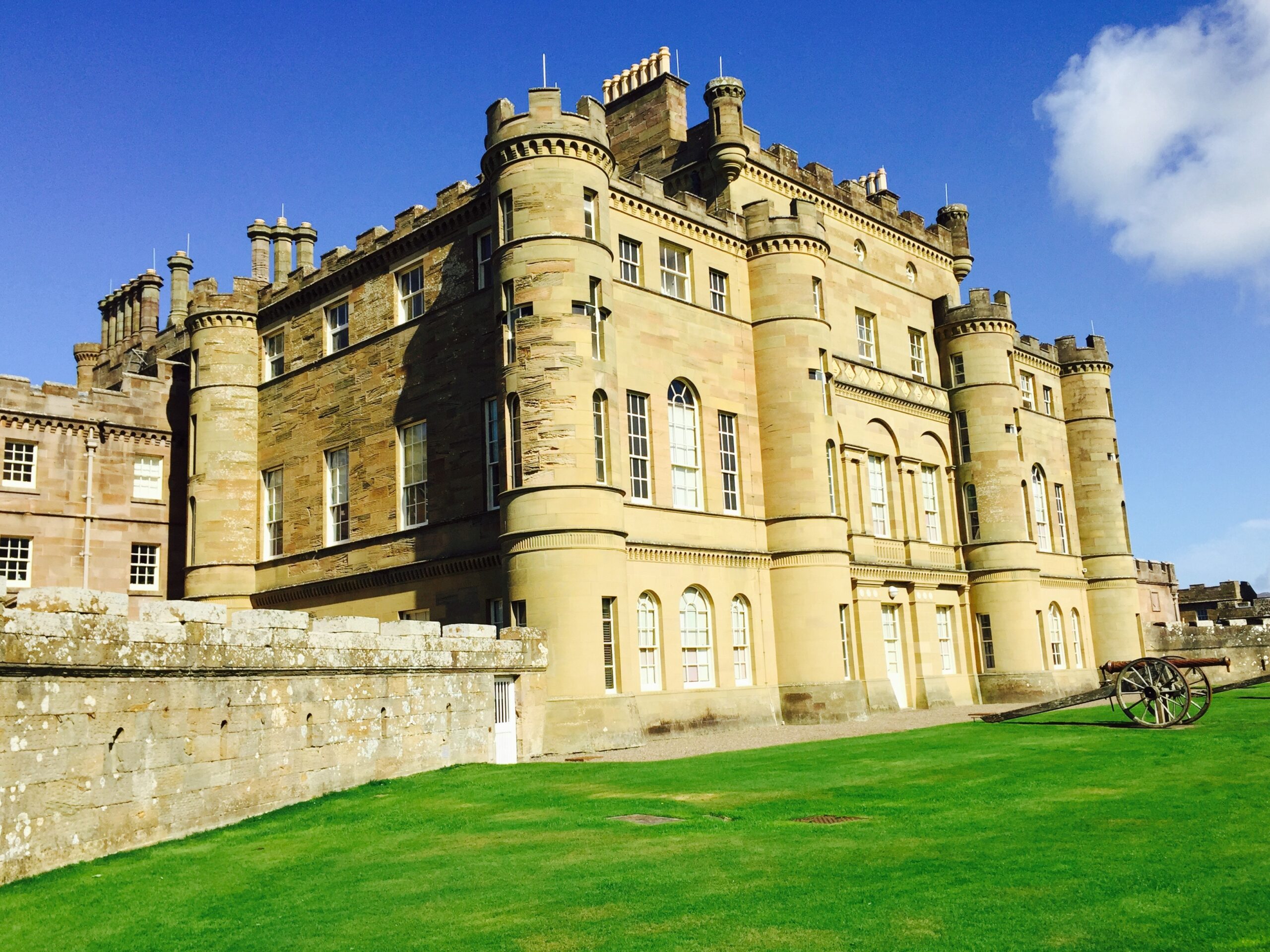 Dawn breaks over the verdant hills, a hush falls over the misty lochs, and the imposing silhouette of a castle cuts through the crisp Scottish air. There's an undeniably romantic allure to these ancient structures; their history-soaked stones whisper stories of nobility, bravery, and love. This is Scotland, the land where dreams of fairy tale weddings come to life, framed by the captivating grandeur of its many castles. If you've ever dreamt of a castle wedding in Scotland, then read on! In this comprehensive guide, we'll uncover the magic that awaits you, as we delve into the heart of ten Scottish castles that could be the magnificent backdrop for your most cherished memories.
Now, you might ask, "Why Scotland?" And why not? The charm of Scotland lies in its culture, its history, and its breathtaking landscapes – it's a country where every corner seems to be pulled straight from a romantic novel. And for those dreamers among you, who've always imagined a wedding as unique as your love story, Scotland's castles offer an unforgettable experience, steeped in history and splendor. But let's not get ahead of ourselves. This is more than a simple exploration of stunning venues; it's a journey that celebrates love, history, and the magic of saying 'I do' in the heart of a Scottish castle.
Experience the Grandeur of Edinburgh Castle
Edinburgh Castle, perched atop Castle Rock, is nothing short of an architectural masterpiece. Imagine pledging your eternal love while the grandeur of this majestic castle, one of Scotland's most iconic landmarks, forms the backdrop. With a history that spans over a millennium, every stone in the castle has a tale to tell, a tale that could become a part of your love story.
As you exchange vows in the exquisite St Margaret's Chapel – the oldest building in Edinburgh – you are not just marrying the person you love, but also creating a personal bond with centuries of Scottish history. The chapel, with its simple yet enchanting interiors, can accommodate 25 of your closest family and friends, offering an intimate setting for your ceremony.
Your wedding photographs, with the sweeping cityscape and the castle's stunning architecture as the backdrop, will be nothing short of a royal portrait. After the ceremony, celebrate your union in one of the castle's grand rooms. The Queen Anne Room, with its ornate plasterwork and sparkling chandeliers, offers an air of regal elegance that is hard to replicate.
However, a castle wedding in Scotland is not just about the ceremony. The build-up to the big day is equally essential. With its central location, Edinburgh offers plenty of opportunities for pre-wedding events. Treat your guests to a traditional Scottish ceilidh, or host a whiskey-tasting evening at one of the city's renowned distilleries.
With its rich history, spectacular views, and unique wedding spaces, Edinburgh Castle offers the perfect blend of tradition and grandeur, making your big day nothing short of a regal affair.
Enter the Fairy Tale World of Dunrobin Castle
Nestled in the northern Highlands, overlooking the North Sea, Dunrobin Castle's turreted silhouette and beautiful gardens seem straight out of a fairy tale. With its spires reaching out to the sky, the castle exudes an ethereal beauty that captivates the senses.
This stunning castle, which has been the seat of the Earls and Dukes of Sutherland for over 700 years, offers a fairy tale setting for your castle wedding in Scotland. The castle's main hall, with its gilded ceiling and gothic details, creates an atmosphere of timeless romance, making it the ideal location for your ceremony.
The castle's gardens, inspired by the Palace of Versailles, provide a perfect backdrop for your wedding photographs. The parterre garden, adorned with intricate patterns and symmetrical designs, offers endless opportunities for capturing precious moments.
As the sun sets, the castle's exterior, bathed in soft golden light, provides a mesmerizing backdrop for an al fresco wedding dinner. As your loved one toasts to your happiness, the sea's gentle lullaby and the enchanting glow of the castle make for an unforgettable evening.
Dunrobin Castle isn't just a wedding venue. It's a portal to a world where fairy tale dreams come true. With its exquisite architecture, lush gardens, and serene sea views, your wedding at Dunrobin Castle will be a magical celebration of love and happiness.
Time-Travel with a Wedding at Stirling Castle
Stirling Castle, located on a rocky crag, has been a strategic stronghold and a symbol of Scottish independence for centuries. Today, it serves as an idyllic location for your castle wedding in Scotland, offering a blend of history and romance.
As you step through the castle's gates, you'll feel as though you've traveled back in time. Its Great Hall, with its hammer-beam ceiling and medieval charm, can host a grand wedding banquet. Its golden wood, decorated with Scottish heraldic symbols, along with the warmth of a roaring fireplace, creates an ambiance of intimate grandeur.
Stirling Castle is also home to the beautiful Chapel Royal. It is frescoes and intricate stonework make it a serene spot for exchanging vows. As your ceremony concludes, the sound of bagpipes playing traditional Scottish tunes adds a distinctive touch to your special day, a celebration that honors both your love and the rich culture of Scotland.
Stirling Castle offers more than just a unique wedding venue. It is a place where centuries-old traditions meet the joy of new beginnings, providing a timeless setting for your castle wedding in Scotland. Whether you envision a grand celebration or a more intimate gathering, Stirling Castle promises an unforgettable experience.
Discover the Enchanting Beauty of Culzean Castle
Perched on a cliff above the Firth of Clyde, Culzean Castle is a gem of Scottish architecture. This magnificent castle, surrounded by lush gardens and forests, offers a picturesque setting for your dream wedding.
Imagine saying 'I do' in the elegant Round Drawing Room, with its panoramic windows offering stunning views of the sea and the Isle of Arran. As you share your first dance as a married couple, the castle's ornate interiors and timeless elegance add a touch of magic to every moment.
The castle's gardens, with their blooming flowers and enchanting woodland paths, are perfect for your wedding photos. A sunset photoshoot by the sea, with the castle as your backdrop, promises to capture the romance and joy of your special day.
Culzean Castle also offers a unique feature – the Eisenhower Suite. Named after President Dwight Eisenhower, who was a frequent visitor, this luxurious apartment can be your honeymoon suite, marking the perfect end to your castle wedding in Scotland.
From the moment you enter Culzean Castle to the moment you bid your guests farewell, every aspect of your wedding will be steeped in beauty and charm. It's a place where dreams of a fairy tale wedding become reality, surrounded by the timeless beauty of Scotland's landscape.
Embrace Seclusion at Eilean Donan Castle
Eilean Donan Castle, one of the most photographed castles in Scotland, is nestled on a small tidal island at the confluence of three sea lochs. It's the perfect venue if you're seeking seclusion and stunning vistas for your castle wedding in Scotland.
The castle's Banqueting Hall, with its exposed stonework and open fireplace, sets the stage for an intimate ceremony. As you walk down the aisle, the room's candlelit ambiance creates a romantic and evocative atmosphere, reflecting the timeless love you share with your partner.
The castle's outdoor setting, with panoramic views of the surrounding lochs and mountains, makes it a photogenic location for your wedding album. The sight of the castle, bathed in the warm hues of the setting sun, will leave your guests spellbound, creating memories that will last a lifetime.
Eilean Donan Castle offers not just a venue, but a complete wedding experience. The castle's team of dedicated wedding planners will help you plan every detail, from the ceremony to the reception, ensuring that your special day is as unique as your love story.
Be Enchanted by the Mystical Atmosphere at Glamis Castle
Glamis Castle, with its turreted towers and fairy tale charm, is considered one of the most beautiful castles in Scotland. Steeped in history and folklore, Glamis Castle offers an enchanting venue for your castle wedding in Scotland.
The castle's main dining room, with its rich tapestries and antique furnishings, provides a regal setting for your wedding reception. As your guests revel in the castle's grandeur and charm, you and your partner can steal away for a quiet moment in the castle's beautiful Italian Garden.
For a smaller, more intimate wedding, the Victorian dining room, with its elegant decor and warm ambiance, is an excellent choice. Whichever venue you choose, a wedding at Glamis Castle is guaranteed to be a memorable event.
From the ceremony to the reception, Glamis Castle's dedicated team ensures that every detail of your wedding reflects your unique style and taste. And as you embark on your journey of love and commitment, the castle's mystical charm and timeless elegance will forever remain in your hearts.
Step into a Historic Love Story at Blair Castle
Blair Castle, nestled in the heart of Highland Perthshire, offers a majestic setting for your castle wedding in Scotland. Its white facade, surrounded by extensive gardens and parklands, is a sight to behold.
The castle's Ballroom, adorned with centuries-old weaponry and stag antlers, is a testament to the castle's rich history. It can comfortably accommodate a grand wedding banquet, while still maintaining an intimate atmosphere.
The castle also offers a variety of outdoor locations for your ceremony. The Hercules Garden, a nine-acre walled garden with a tranquil pond and colorful flower beds, is a picturesque spot for saying 'I do'. As you exchange vows under the Scottish sky, the serene beauty of the garden will only add to the magic of the moment.
Blair Castle doesn't just provide a unique venue; it ensures a bespoke wedding experience. From horse-drawn carriage rides to Scottish pipe bands, the castle offers various services to make your big day even more special.
Enjoy the Sophisticated Elegance of Dalhousie Castle
Dalhousie Castle, located on the banks of the River Esk, offers a romantic setting for your castle wedding in Scotland. This 13th-century fortress, transformed into a luxurious hotel, combines historical charm with modern comforts to deliver an exceptional wedding experience.
The castle's chapel, with its intimate atmosphere and beautiful stained glass windows, is a wonderful spot for your ceremony. Alternatively, the Library, with its rich mahogany decor and stunning views of the river, is an equally captivating location.
The castle's Dungeon Restaurant, located in the castle's ancient vaults, offers a unique setting for your wedding dinner. With its stone walls, atmospheric lighting, and sophisticated menu, your reception will be a celebration of love, laughter, and fine dining.
At Dalhousie Castle, every wedding is a royal affair. The castle's dedicated team ensures that your wedding day is a perfect reflection of your love story, right down to the smallest detail.
Witness the Rugged Charm of Castle Stalker
Castle Stalker, dramatically located on a tiny island in Loch Laich, is a vision of secluded splendor. The castle's stark beauty, combined with its rugged surroundings, offers a unique setting for your castle wedding in Scotland.
While the castle itself cannot host large gatherings due to its size, it offers an intimate location for the ceremony. The enchanting views of the loch and the distant mountains create a magical backdrop as you exchange your vows.
Following the ceremony, your reception can be held at one of the nearby venues on the mainland. As you celebrate your union, the castle's silhouette against the setting sun will add a touch of romantic mystique to your evening.
A wedding at Castle Stalker is not just about the ceremony and reception. The journey to the castle, aboard a small boat, sets the tone for a day of adventure and romance. As you traverse the calm waters of the loch, you'll feel a sense of anticipation and excitement, making your wedding day all the more memorable.
Enjoy the Royal Splendour of Balmoral Castle
Last but not least, we journey to Balmoral Castle, the Scottish home of the British royal family. Surrounded by breathtaking Cairngorms, the castle's grand architecture and beautiful gardens offer a royal setting for your castle wedding in Scotland.
The castle's Ballroom, adorned with portraits of the royal family and historical artifacts, provides a regal backdrop for your wedding banquet. As you celebrate your special day, you'll be following in the footsteps of the royals, adding an extra touch of elegance and prestige to your wedding.
The castle's extensive gardens, with their manicured lawns and colorful flower beds, provide numerous picturesque spots for your wedding photos. As you pose against the backdrop of the castle and the surrounding mountains, your wedding album will capture the joy and romance of your special day.
A wedding at Balmoral Castle is more than a ceremony; it's an experience of royal splendor. As you embark on your marital journey in this iconic castle, your wedding will become a part of its rich history, creating memories that will be cherished for generations.
---
In conclusion, a castle wedding in Scotland offers an unparalleled romantic experience. These historic castles, with their timeless charm and breathtaking locations, provide an idyllic backdrop for your special day. Whether you dream of a grand celebration or a quiet, intimate gathering, Scotland's castles promise an unforgettable wedding experience, filled with love, joy, and the unique magic of the Scottish landscape. So, what are you waiting for? Start planning your fairy tale wedding in Scotland today!
We welcome any suggestions or questions. You can email us or contact us using the contact page.
You can also connect with us on the following social networks:
Facebook
Twitter
LinkedIn
Instagram