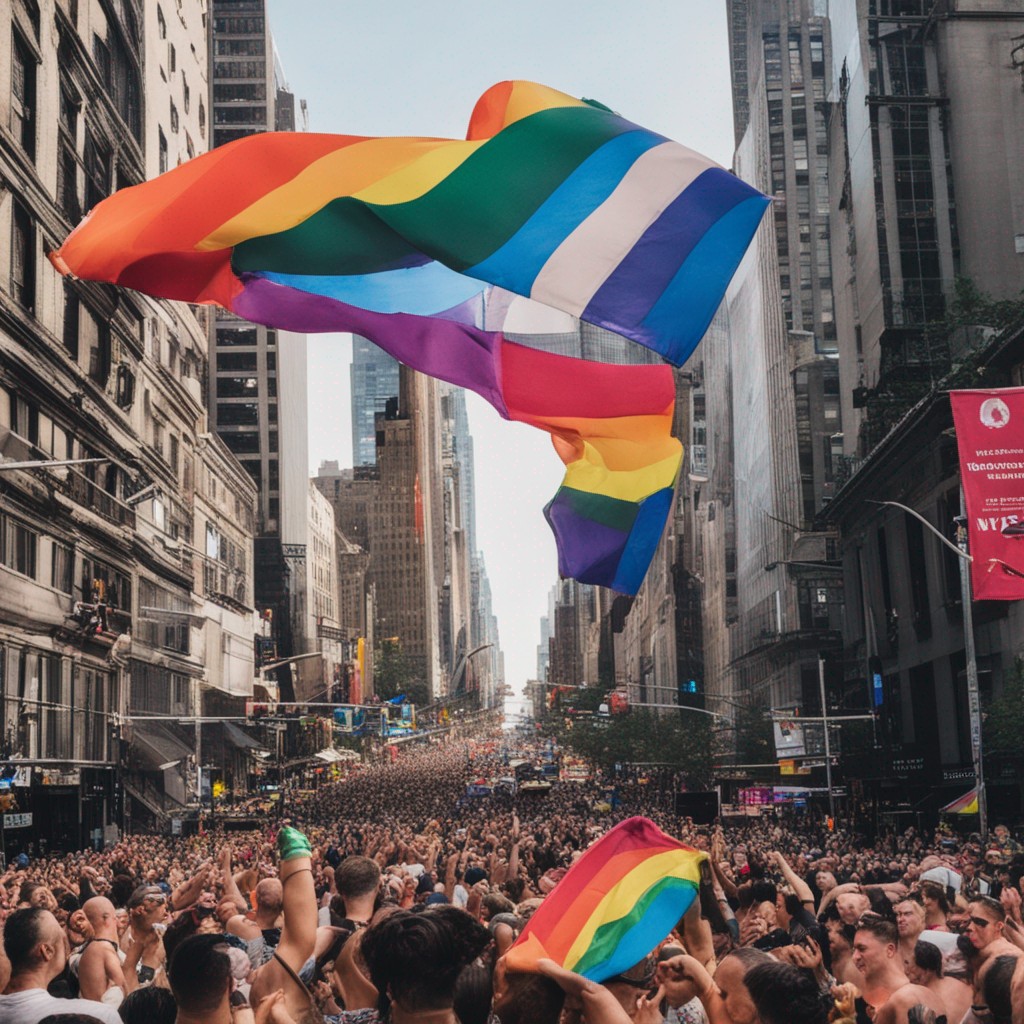 Welcome to a blog post that's all about love, freedom, and the celebration of identity—yes, you guessed it, we're diving deep into NYC Pride Weekend! This annual event is a kaleidoscope of color, creativity, and camaraderie that lights up the streets of New York City like nothing else. Whether you're a lifelong attendee or a curious first-timer, you've come to the right place to understand what makes this event so incredibly special.
But before you tie up those rainbow laces and don your most fabulous outfit, let's take a moment to unpack what NYC Pride Weekend truly represents. Beyond the glitter and the glam, this event serves as an important milestone in the ongoing struggle for LGBTQ+ rights. It's a statement, a party, and a revolutionary act all rolled into one, offering a space for individuals to be freely and unapologetically themselves. Are you ready to get into the nitty-gritty details? Then let's go!
Quick Facts about NYC Pride Weekend:
Where does it take place?: Various locations throughout Manhattan, Brooklyn, and other boroughs of NYC.
Tickets: Some events are free, but others require purchased tickets.
How to Register: Visit the official NYC Pride website for registration information and ticket purchasing.
Organizer: The main event is organized by Heritage of Pride, a non-profit organization.
Date: The last Sunday in June, with events occurring throughout the month.
The Historical Significance of NYC Pride Weekend
NYC Pride isn't just a weekend—it's a living testament to the resilience and courage of the LGBTQ+ community. Its origins trace back to the Stonewall Riots of 1969, which was a turning point in the gay rights movement. These riots were a series of spontaneous demonstrations by members of the LGBTQ+ community in response to a police raid at the Stonewall Inn, a gay bar in Greenwich Village, Manhattan. In many ways, Pride serves as an annual reminder of how far we've come, and how far there is still to go.
Understanding the historical significance of NYC Pride Weekend adds an extra layer of meaning to the festivities. It's not just about waving rainbow flags or attending jaw-dropping events. It's about acknowledging the struggles and sacrifices that led to this moment of celebration. Every float you see and every dance you dance is a tribute to a hard-fought battle for equality and acceptance.
The event's history also serves as a poignant reminder of the challenges still faced by the LGBTQ+ community. While the atmosphere is jubilant and uplifting, many use the platform to advocate for ongoing issues, including discriminatory laws, unequal healthcare, and social stigmatization. In that sense, NYC Pride is as much a political event as it is a party.
So, as you take in the sights and sounds of NYC Pride, remember that this isn't just a weekend of fun—it's a symbol of struggle, resilience, and the enduring fight for equal rights. Attending NYC Pride is a way to honor the past, celebrate the present, and inspire change for the future.
Statistics can paint a powerful picture: According to a study by the Williams Institute, approximately 1.7% of American adults identify as gay or lesbian, with another 1.8% identifying as bisexual. That means millions of lives are directly impacted by the rights and recognition that events like NYC Pride champion. So, the next time you cheer for a float or sing along to an anthem, remember the numbers. You're part of something much bigger.
The Must-See Events of NYC Pride Weekend
New York City itself is a spectacle, but during NYC Pride Weekend, the city takes entertainment, advocacy, and celebration to the next level. Whether you're a culture vulture, a party animal, or a social justice warrior, there's something for everyone to experience and enjoy. Let's kick off with the opening ceremony, usually a star-studded affair featuring celebrity hosts and awe-inspiring performances. It's an event that sets the tone for the entire weekend, combining humor, talent, and a dash of political fervor.
While many people focus on the parade, there are numerous other events that capture the essence of Pride. How about dancing the night away at one of the many themed parties? Or perhaps you're more into the intellectual panel discussions and workshops that dive into LGBTQ+ issues? These events offer a balance between fun and education, allowing attendees to be enlightened even as they are entertained.
Family-friendly events are also part of the lineup. From picnics to storytelling sessions, there's plenty of room for the little ones to get in on the Pride action. For many families, attending these events has become a tradition, a way to educate the younger generation about the importance of acceptance and equality.
Don't forget about the variety of concerts and shows that take place. From world-renowned artists to local talent, the music scene during NYC Pride is eclectic and thrilling. It's a chance to discover new artists or sing along with familiar ones, all while basking in an atmosphere of love and unity.
According to a report by Community Marketing & Insights, 79% of LGBTQ+ adults attended a Pride event in 2019. This shows the immense popularity and significance of Pride events across the country, and NYC Pride Weekend is no exception. The multitude of events attracts a diverse crowd, making it a rich and rewarding experience for all. So, make sure you research well and mark your calendar for the events that resonate with you the most. You won't want to miss a thing!
A Guide to the NYC Pride Parade
Let's get to the heart of NYC Pride Weekend—the Pride Parade! This vibrant event is the crown jewel of the weekend, a pulsating and jubilant spectacle that takes over the streets of Manhattan. Imagine a sea of rainbow flags, extravagant floats, and revelers dressed in outfits that range from glam to outrageous, all coming together to form a tableau of human diversity and creativity.
The parade route usually stretches through key landmarks, providing not just an exciting parade but also a scenic tour of NYC itself. From starting points in the Flatiron District to the grand finale in Greenwich Village, close to the Stonewall Inn, the journey is a feast for the eyes and soul. Trust us, whether you're a spectator or a participant, this is a march you won't forget.
Year after year, the NYC Pride Parade features a diverse array of groups. You'll see corporate organizations showcasing their support for the LGBTQ+ community, local grassroots organizations advocating for specific causes, and a plethora of cultural groups adding a dash of international flair. The variety underscores the inclusive nature of Pride, welcoming everyone under its rainbow umbrella.
While the atmosphere is festive, the parade is also an effective platform for social change. Activists and advocacy groups seize this opportunity to raise awareness about various issues affecting the LGBTQ+ community, from healthcare inequality to anti-LGBTQ+ legislation. So, as you enjoy the dazzling displays, take a moment to listen to the messages being shared. They're an integral part of what Pride is all about.
To give you a sense of scale, the 2019 NYC Pride March was one of the largest in history, attracting approximately 5 million attendees from around the world. That's roughly the entire population of Norway! It was a record-breaking gathering that not only celebrated the 50th anniversary of the Stonewall Riots but also marked the first time the WorldPride event was held in the United States. With numbers like these, it's clear the NYC Pride Parade is a must-see, once-in-a-lifetime kind of event.
How to Register and Get Tickets for NYC Pride
So you're pumped and ready for NYC Pride Weekend, but wait—how exactly do you make sure you're part of the action? Fortunately, getting involved is simpler than you might think. First things first: check out the official NYC Pride website. It's your one-stop hub for all things Pride-related, and it's where you'll find details on how to register for various events, purchase tickets, and even volunteer if you're inclined to give back during this celebratory weekend.
Now, not all events during NYC Pride Weekend require registration or tickets. For example, watching the Pride Parade is generally free and doesn't require any sort of pre-planning, other than deciding where along the route you'd like to stand. However, for special events like the opening ceremony, certain parties, or exclusive performances, you'll need to purchase tickets in advance. These can often sell out quickly, especially for high-profile events, so it's best to get on it as soon as tickets go on sale.
Let's talk about payment methods. Most ticket sales are conducted online, and the usual modes of payment like credit cards and digital wallets are accepted. Some events might offer physical tickets at designated locations, but given the convenience of online transactions, why take the extra trip? The official website is usually encrypted, ensuring a secure transaction process, so you can buy with confidence.
If you're planning to attend multiple events that require tickets, look out for package deals or passes that offer access to multiple events at a discounted rate. These bundles can provide substantial savings and make your NYC Pride experience more streamlined. Plus, they often include perks like fast-track entry or VIP access to certain areas.
A study by Eventbrite in 2018 found that 48% of American millennials prefer spending on experiences rather than material things. NYC Pride is a fantastic example of an experience that's worth every penny. It offers a rich, diverse, and exhilarating set of events that create lifelong memories. So, registering and buying tickets isn't just a logistical necessity—it's your gateway to a transformative experience. And considering the millions who attend, you definitely don't want to miss out because you forgot to click 'Buy.'
The Importance of Safety and Awareness During NYC Pride Weekend
With all the glitter, glamour, and euphoria, it's easy to get caught up in the excitement of NYC Pride Weekend. However, it's crucial to remember the importance of safety and awareness, both for yourself and others around you. As with any large public event, there are potential risks, and it's always better to be prepared. A little bit of caution can go a long way in ensuring that your Pride experience is not only fun but also safe.
Firstly, let's talk about personal safety. With large crowds and packed venues, it's easy to lose track of your belongings or even get separated from your group. Always keep your essential items—like your phone, wallet, and identification—in a secure place. Many people opt for fanny packs or small backpacks that are easy to carry and keep close. It's also a good idea to set a designated meeting spot with your group in case anyone gets lost.
Health is another major concern. Hydration and sunscreen are key, especially if you plan to be outdoors for an extended period. It might be tempting to indulge in alcoholic beverages or other substances, but moderation is vital. Remember, it's a marathon, not a sprint; pacing yourself ensures you can enjoy the entire weekend without any hiccups. Many events also provide free water stations and first-aid tents, so take advantage of these services.
On the note of community safety, NYC Pride is a space of inclusion and respect. This is not just in terms of sexual orientation and gender identity, but also race, nationality, and religion. Discriminatory or hateful behavior has no place at Pride. If you witness something that concerns you, many events have security personnel and volunteers who are trained to handle such situations. Don't hesitate to reach out to them.
While Pride is a celebration, it's also a platform for activism. Awareness doesn't just mean knowing where the nearest exit is; it's also about understanding the issues that affect the LGBTQ+ community. Many organizations distribute literature or host discussions on topics like LGBTQ+ rights, healthcare access, and legal protections. Engaging with these issues enriches your NYC Pride experience and makes you a more informed advocate for equality.
In 2017, the New York City Police Department reported that overall crime during NYC Pride was relatively low compared to other large-scale events. This speaks volumes about the general atmosphere of respect and community during the weekend. However, it's a shared responsibility to maintain that safety record. By being vigilant and aware, you contribute to making NYC Pride a secure and welcoming space for all.
The Economic Impact of NYC Pride Weekend on the City
When we celebrate NYC Pride, it's easy to focus on the personal and emotional aspects of the experience, but it's important to also acknowledge the massive economic impact of the event on the city. In a city where tourism is a significant driver of the economy, the infusion of millions of visitors for Pride Weekend is nothing short of an economic windfall. And it's not just about hotels and restaurants; the ripple effects touch various sectors, from retail to transportation.
Let's talk numbers. According to NYC & Company, the city's official tourism organization, NYC Pride brings in an estimated $6 billion in economic benefits annually. That's not pocket change; it's a substantial contribution that supports local jobs and public services. The hotels are often booked to capacity, and restaurants see an uptick in reservations and walk-ins. It's a weekend where businesses city-wide can expect to see a surge in clientele and, consequently, in profits.
But it's not just the established businesses that gain. Pop-up shops, street vendors, and small entrepreneurs also benefit enormously from the increased foot traffic. NYC Pride is a chance for local artisans and makers to showcase their products to a diverse and engaged audience. Many of these small business owners create Pride-specific merchandise, tapping into the celebratory mood and the demand for unique, commemorative items.
Public services, too, get a boost. The increased demand for transportation means more shifts and hours for those working in public transit as well as private services like taxis and ride-shares. Many of these services also get into the spirit of Pride, offering special promotions or rainbow-themed vehicles, creating an atmosphere of celebration that stretches from the parade route to the subway car.
So, while you're enjoying the festivities, give a thought to the economic machinery at work. When you spend your money during NYC Pride Weekend, you're contributing to a cycle of economic growth that benefits the city at large. Plus, this financial stimulus often leads to increased funding for public projects and services that benefit residents year-round. It's a win-win situation, a cycle of support that makes NYC Pride not just a party, but a critical component of New York City's economic landscape.
A Spotlight on Local Businesses and Exhibitors
While global brands and large corporations often dominate the conversation around NYC Pride sponsorship and participation, let's not forget the lifeblood of the city: local businesses and exhibitors. These are the enterprises that add local flavor and uniqueness to the NYC Pride experience, and their role cannot be overstated. From the charming bookstores in the Village to the food trucks serving mouth-watering delicacies, local businesses make NYC Pride truly special.
The first point of contact for many attendees is usually the PrideFest street fair, where numerous local businesses set up stalls. This is a golden opportunity for small enterprises to get in front of potentially millions of attendees. And it's not just about sales for the day; the visibility and networking opportunities are invaluable for long-term growth. A memorable booth or a unique product can result in social media buzz, repeat customers, and even potential business partnerships.
Many local businesses also become exhibitors at various events and shows that are part of NYC Pride. Whether it's a cooking class highlighting LGBTQ+ chefs, a pop-up art gallery featuring queer artists, or a workshop led by a local activist, these spaces provide an intimate setting for businesses to interact with the community. And it's not just B2C; B2B opportunities are abundant for those who know where to look.
For local businesses, the benefits extend beyond the immediate financial gain. NYC Pride is a platform for brand-building and community engagement. By participating in Pride activities, businesses can showcase their commitment to diversity and inclusion, which resonates not just with LGBTQ+ customers but with all patrons who value equality and social responsibility. It's a chance to stand for something bigger than profits, to be part of a historical movement that champions human rights.
According to a 2021 report by the National LGBT Chamber of Commerce, LGBTQ+ Americans have an estimated buying power of $1 trillion. Tapping into this market isn't just about economic sense; it's about aligning your business values with the needs and aspirations of a vibrant, diverse community. So, as you navigate the various activities of NYC Pride Weekend, take some time to engage with local businesses and exhibitors. Your patronage not only supports them financially but also strengthens the fabric of the local LGBTQ+ community.
How NYC Pride Weekend Impacts the LGBTQ+ Community
NYC Pride Weekend is a behemoth event, not just in terms of scale and grandeur, but in the significant and lasting impact it has on the LGBTQ+ community. In a world where being "different" can still lead to discrimination and marginalization, NYC Pride stands as a beacon of acceptance and validation. It's more than just a weekend-long party; it's a powerful statement of community resilience and visibility.
The first and most obvious impact is the sense of belonging it creates. Many LGBTQ+ individuals struggle with isolation and a lack of acceptance in their daily lives. NYC Pride offers a chance to be surrounded by millions who share similar experiences, challenges, and triumphs. The emotional weight of seeing that you're not alone, that you're part of a broader, incredibly diverse community, is immeasurable. For many, especially young people, this can be a life-changing experience.
Then there's the educational aspect. NYC Pride is not just about parades and parties; there are numerous events, seminars, and discussions aimed at spreading awareness about critical LGBTQ+ issues such as healthcare disparities, mental health, and legal protections. It's an educational hub, an opportunity for people to broaden their understanding of the complexities and nuances of the LGBTQ+ experience. Knowledge is power, and the more we know, the better equipped we are to enact positive change in our communities.
For LGBTQ+ professionals, NYC Pride is also a potent networking event. Whether you're a budding entrepreneur, a seasoned businessperson, or just someone looking to make connections in your field, the range of professional events is staggering. From business forums to job fairs focused on diversity, NYC Pride offers a wealth of opportunities to forge beneficial relationships.
Moreover, the visibility generated by NYC Pride has a significant impact on advancing the civil rights of the LGBTQ+ community. Imagine the power of millions of people, all congregated in one of the world's most iconic cities, advocating for equality. It sends a powerful message to lawmakers, both local and national, that the issues affecting the LGBTQ+ community are important and deserve attention. This visibility can lead to tangible changes in policy and legislation, making the event not just a celebration but a form of peaceful protest.
Lastly, the sense of community fostered during NYC Pride has long-lasting impacts. Many people leave the event with not just great memories but also with new friendships, partnerships, and a renewed sense of purpose. The American Psychological Association highlights the importance of community support in improving mental health among LGBTQ+ individuals. Thus, the connections made during NYC Pride can serve as a vital support network long after the festivities have ended, proving that its impact is not fleeting but enduring.
NYC Pride Weekend Through the Lens of Art and Culture
If you're an aficionado of arts and culture, NYC Pride Weekend offers a smorgasbord of delights that go beyond the typical paradigms of a civic event. Whether it's visual arts, performance arts, literature, or music, the LGBTQ+ community has significantly influenced every facet of art and culture, and NYC Pride serves as a spectacular showcase for this creative richness.
Let's start with visual arts. Galleries around the city, both big and small, host exhibitions featuring LGBTQ+ artists or themes relevant to the community. Some of these exhibitions are mainstream, but many are grassroots efforts, set up in community centers or even in people's homes. The artwork often dives deep into personal stories, societal issues, and aspirations, offering a multi-layered narrative that resonates profoundly with attendees.
Performance art, too, takes center stage during NYC Pride. From high-energy drag shows to powerful spoken-word performances, the breadth and depth of talent are astonishing. Often these performances are not just entertainment; they are also social commentary, delving into complex issues like identity, acceptance, and the ongoing fight for equality. It's art with a message, designed not just to entertain but also to educate and inspire.
Literature plays a special role in enriching the NYC Pride experience. Book readings, author meets, and literary discussions provide a quiet yet impactful counterpoint to the high-energy activities. LGBTQ+ literature is rich and varied, dealing with themes that can be both intensely personal and universally relatable. These events offer a serene environment to connect with literature and delve into the written word, something especially appealing to the bibliophiles among us.
And then there's music, the universal language. NYC Pride is known for its eclectic mix of musical experiences, featuring artists from all genres and all walks of life. It's a celebration of the enormous contribution of LGBTQ+ individuals to the world of music, from classical compositions to pop hits. Whether you're into soulful ballads or pulsating dance tracks, the musical offerings are as diverse as the community itself.
In a study by the National Endowment for the Arts, it was revealed that 72% of Americans believe "the arts unify our communities regardless of age, race, and ethnicity." NYC Pride is living proof of this. It's a place where art and culture not only entertain but also serve as a unifying force, transcending barriers and bringing people together under the banner of equality and love.
Tips and Tricks for Making the Most Out of Your NYC Pride Experience
So you've decided to dive into the colorful whirlpool that is NYC Pride Weekend—fantastic choice! Whether you're a seasoned Pride-goer or a first-timer, navigating such an enormous and multifaceted event can be daunting. But fret not; we've got some practical tips and tricks to help you make the most of your experience, all while staying safe and having an absolute blast.
First things first, planning is crucial. NYC Pride has an extensive schedule with events happening all over the city. From parades and parties to workshops and exhibitions, the sheer volume can be overwhelming. The key is to prioritize. Decide what you absolutely must see and experience, then build your schedule around those events. There are excellent apps and websites that offer real-time updates and schedules, so make technology your ally in this endeavor.
Next, let's talk about location. New York is a vast city, and Pride events are scattered across various neighborhoods. Accommodation can be pricey, especially if you're looking to stay in the heart of Manhattan, where much of the action happens. Consider staying in one of the outer boroughs like Brooklyn or Queens, where lodging might be more affordable. Public transportation is excellent, and a quick subway ride can get you to most locations fairly easily. Just be sure to account for travel time when planning your day.
Comfort is king, especially when you're going to be on your feet most of the day. Wear comfortable clothing and, most importantly, comfortable shoes. New York summers can be sweltering, so hydrate continuously. Many events have water stations, but it's a good idea to carry a reusable water bottle. Also, while it might be tempting to indulge in alcohol or other substances, remember that moderation is key. The last thing you want is to miss out on the fun because you overdid it.
Social media is your friend but also your potential time-sucker. It's natural to want to capture every exciting moment on camera and share it with the world. But sometimes, this can detract from the actual experience. Designate specific times to update your social media so that you're not constantly glued to your phone. Engage with the people around you, make new friends, and soak in the atmosphere. The memories you make will be far more valuable than any picture or post.
Finally, practice kindness and open-mindedness. NYC Pride is a celebration of diversity, inclusion, and acceptance. You'll meet people from all walks of life, each with their unique stories and perspectives. Listen more than you speak, offer a helping hand when you can, and, above all, respect personal boundaries. A little kindness goes a long way in making your NYC Pride experience not just enjoyable for you, but also for everyone around you.
And there you have it—your comprehensive guide to NYC Pride Weekend. Whether you're an attendee looking to partake in the festivities, a business aiming to tap into the vibrant market, or simply an ally wanting to support the LGBTQ+ community, NYC Pride has something for everyone. It's more than just a weekend; it's a cultural phenomenon, an economic powerhouse, and a beacon for social change. So mark your calendar, put on your most fabulous outfit, and become part of this incredible celebration. The impact will not just last for a weekend; it's a lifetime experience that you'll cherish forever.
We welcome any suggestions or questions. You can email us or contact us using the contact page.
You can also connect with us on the following social networks:
Facebook
Twitter
LinkedIn
Instagram