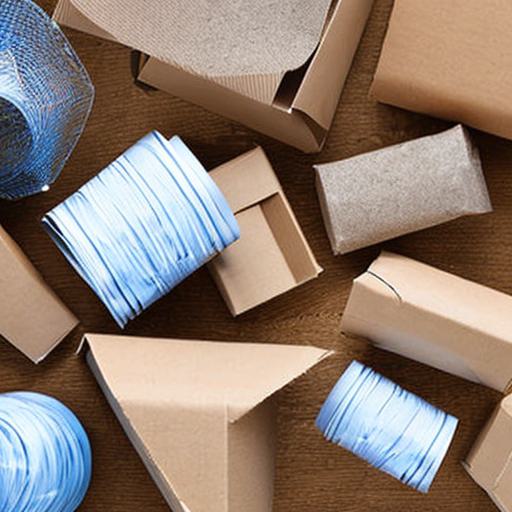 The world of packaging is vast and complex, covering a wide range of materials, processes, and applications. From the design and development of new packaging concepts to the actual production and delivery of finished products, there is a whole chain of activities and players involved.
Packaging Materials Trade Shows are one of the most important events in this chain, where stakeholders from all stages of the supply chain gather to share insights, discover new technologies, and network with their peers. In this blog post, we'll explore in detail how these trade shows cater to the entire packaging supply chain, from design to delivery.
Design Stage
The first stage in the packaging supply chain is the design phase, where packaging concepts are ideated, drafted, and refined until they meet the desired specifications. This phase involves close collaboration between designers, engineers, marketers, and other stakeholders to ensure that the packaging design is functional, aesthetically appealing, and cost-effective.
Packaging Materials Trade Shows offer a wealth of resources and opportunities for designers and engineers to showcase their ideas, learn from others, and get inspired by new trends and technologies. Exhibitors at these events display the latest packaging materials, machinery, and intelligent packaging solutions that can help designers bring their concepts to life.
For instance, at the PACK Expo, held annually in Chicago, design professionals can attend educational sessions and exhibits showcasing the latest innovations in packaging machinery, containers, adhesives, and coatings. The event attracts over 2,500 exhibitors and more than 50,000 attendees from more than 125 countries, making it one of the biggest packaging trade shows in the world.
Another example is the WestPack Trade Show in California, which focuses on packaging design and engineering. This event features exhibits and educational sessions on emerging technologies such as 3D printing, robotics, and automation, which can help designers create more sustainable, efficient, and customizable packaging solutions.
Manufacturing Stage
Once a packaging design is finalized, the manufacturing stage begins, where the packaging is produced by converting or molding the chosen material into the desired shape and size. This stage also involves testing and quality control to ensure that the packaging meets the required specifications and performs as intended.
Packaging Materials Trade Shows can provide valuable resources for manufacturers, including access to new and improved raw materials, equipment, and testing services. For instance, at the Interpack Trade Show held in Dusseldorf, Germany, manufacturers can find exhibits showcasing a wide range of packaging materials, from paper and plastics to metals and composites.
Interpack also features exhibits on packaging machinery, such as filling, labeling, and sealing equipment, and provides opportunities to connect with suppliers of testing and measuring instruments that ensure compliance with quality standards and environmental regulations.
Another important trade show for manufacturers is the Global Pouch Forum, held annually in Florida, USA. This event focuses on flexible packaging, which is often used for products such as snacks, pet food, and healthcare items. The Global Pouch Forum provides a platform for manufacturers and converters to discuss new trends in materials, printing, and sustainability, and to showcase their latest products and services.
Distribution Stage
The final stage in the packaging supply chain is distribution, where the packaged products are shipped, stored, and delivered to retailers, consumers, or other end-users. This stage involves logistics, warehousing, and transportation, as well as marketing and branding activities to promote the packaged products and their benefits.
Packaging Materials Trade Shows can be useful for distributors and retailers in several ways, such as discovering new packaging options that protect the products during transport and storage or finding sustainable packaging solutions that appeal to eco-conscious consumers.
One such trade show is the ProMat Show, held in Chicago, which focuses on materials handling, logistics, and distribution. At this event, distributors and retailers can learn about the latest advancements in automated storage and retrieval systems, conveyors, and pallets, as well as the latest trends in e-commerce packaging and fulfillment.
Another relevant event for distributors is the Retail Packaging Association (RPA) annual conference, which brings together retailers, manufacturers, and suppliers of retail packaging solutions. The RPA conference provides opportunities to learn about new packaging designs, materials, and technologies that can enhance product visibility, shelf life, and branding.
Conclusion
In conclusion, Packaging Materials Trade Shows are a crucial element in the packaging supply chain, providing a platform for stakeholders from all stages to come together, share ideas, and find solutions to common challenges. From designers and engineers to manufacturers and distributors, these events catalyze innovation, foster collaboration, and drive growth in the packaging industry.
With an ever-increasing demand for sustainable, efficient, and customizable packaging, trade shows are becoming more important than ever. As new materials, machinery, and technologies emerge, trade shows offer a unique opportunity to stay current and competitive in a rapidly evolving industry.
So, whether you're a designer, a manufacturer, or a distributor, attending a Packaging Materials Trade Show could be the key to unlocking new opportunities, building partnerships, and taking your business to the next level.
We welcome any suggestions or questions. You can email us or contact us using the contact page.
You can also connect with us on the following social networks:
Facebook
Twitter
LinkedIn
Instagram
About Organizer
EventsWOW.com is the foremost international leader catered to online B2B and B2C marketplace fervent in exhibitions worldwide to generate effective business leads and earning the integrity of billions of users who will access this website.