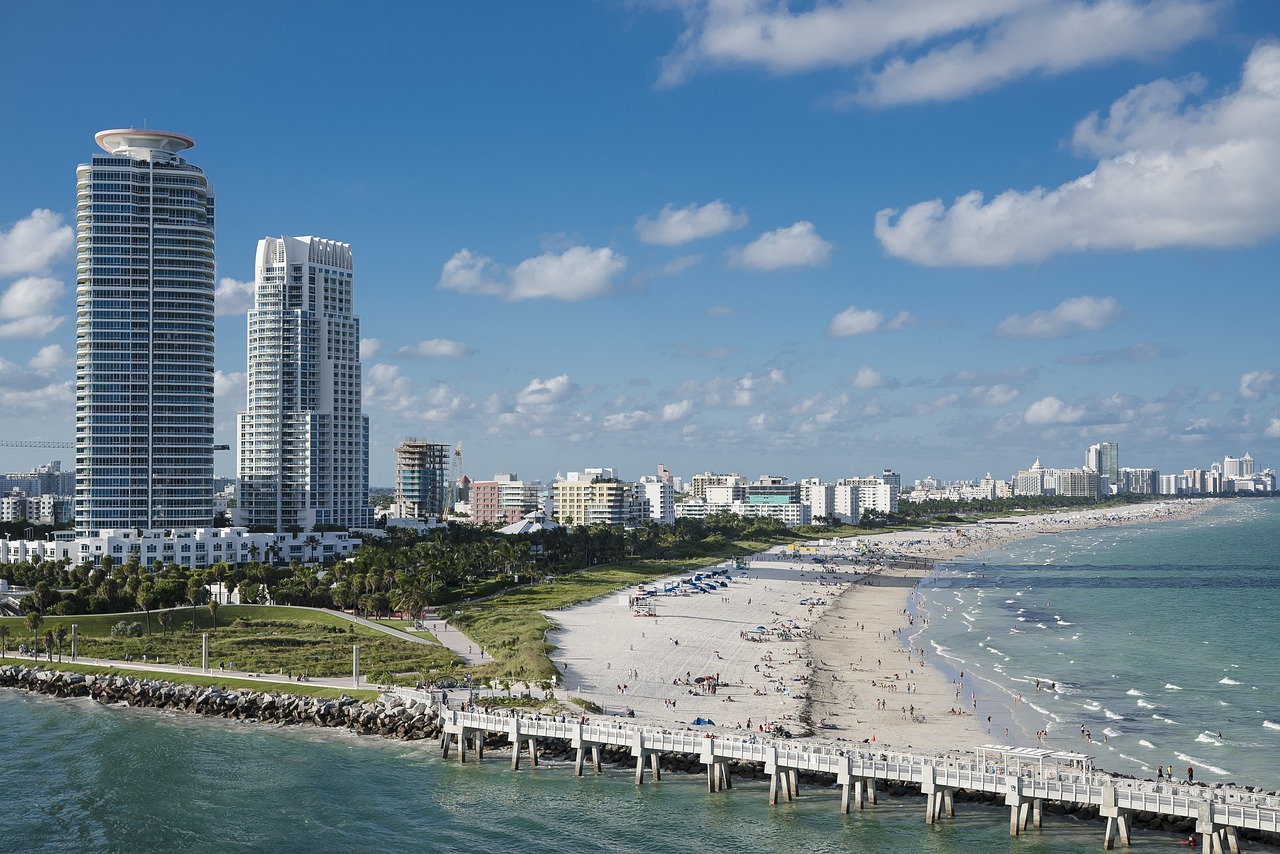 Miami, often referred to as the "Magic City," isn't just renowned for its beaches, art deco, and vibrant nightlife. The city also hosts a plethora of events that cater to diverse interests, from art aficionados to sports enthusiasts and culinary experts. If you're planning a visit or are lucky enough to reside here, ensuring that you're updated on the upcoming events in Miami FL is a must. These events not only showcase the city's rich culture and diversity but also offer a chance for both locals and visitors to engage in unique experiences that stay etched in memory for a lifetime. In this guide, we'll delve deep into ten such events, offering you all the details you'd need, and perhaps, enticing you enough to mark your calendars!
The beauty of Miami lies in its ability to blend the traditional with the contemporary, making it a melting pot of cultures and festivities. Whether you're looking to immerse yourself in the Latin beats of a music festival, marvel at cutting-edge art installations, or experience the rush of an exhilarating sports match, Miami has it all. But with so many events taking place, how do you decide which ones to attend? Fear not! We've curated a list of ten outstanding upcoming events in Miami FL, each described in intricate detail. By the end of this article, you'll be armed with all the information you need to make informed choices and enrich your Miami experience.

1. Miami Art Basel
Where: Miami Beach Convention Center.
Tickets: Available online on the official website.
How to Register: Visit the Art Basel website.
Organizer: Art Basel.
Art Basel, a globally recognized art show, finds its home in Miami every winter. Its prominence in the art world is undeniable, attracting art lovers, collectors, and enthusiasts from all over the globe. This event showcases contemporary artworks from established and emerging artists, making it a treasure trove of visual delights. Not only does attending this show offer insights into the dynamic world of contemporary art, but it also presents a unique networking opportunity. Here, you can rub shoulders with art influencers, critics, and artists themselves.
For exhibitors, Art Basel in Miami serves as a pivotal platform to showcase their pieces to a vast and discerning audience. The event's reputation ensures high footfall, guaranteeing that artworks receive the attention they deserve. As for attendees, besides the visual treat, the event also provides a chance to engage in intriguing discussions, panel talks, and art-themed parties around the city. So, whether you're an art aficionado or a casual observer, this event promises a wholesome and enriching experience.
What makes Miami's Art Basel even more special is its location. Set against the backdrop of Miami's picturesque beaches and vibrant nightlife, the event offers a perfect blend of art and leisure. As someone who's always been enamored by art, I'd urge you not to miss this. Trust me, the feeling of witnessing avant-garde art in such a mesmerizing setting is unparalleled.
To all the artists and exhibitors reading this: if you're looking for a platform that promises exposure, engagement, and appreciation, Miami's Art Basel should be on your radar. And to all the art lovers, this is an event where you'll not only witness art but also live it.

2. Ultra Music Festival
Where: Bayfront Park, Downtown Miami.
Tickets: Available on the official Ultra Music Festival website.
How to Register: Registration and ticket purchase through the event's official website.
Organizer: Ultra Enterprises Inc.
The pulsating beats of electronic dance music (EDM) reverberating through the heart of Miami signals the commencement of the Ultra Music Festival. Renowned as one of the premier electronic music festivals globally, Ultra attracts a plethora of international DJs, producers, and music enthusiasts every year. This three-day extravaganza boasts stages that seem to transcend reality, with light shows and visual effects that amplify the electrifying music.
For attendees, Ultra offers more than just music; it's an immersive experience. Dancing under the Miami sky with the skyline on the horizon and surrounded by fellow music lovers is nothing short of magical. If you've never felt the rush of being part of a massive crowd, all vibing to the same beat, then Ultra is where you need to be.
For artists and exhibitors, Ultra serves as an influential platform. New tracks are often debuted here, and emerging talents get a chance to showcase their skills to a discerning, international audience. This festival has been the launching pad for many artists who are now household names in the EDM world.
So, why should you attend? Besides the top-tier music and the chance to witness some of the best DJs live, Ultra is a testament to Miami's youthful and energetic spirit. It's a call to let loose, to be free, and to celebrate the universal language of music. And trust me, once you've been to Ultra, music festivals will never feel the same again.

3. Calle Ocho Festival
Where: Little Havana, Miami.
Tickets: It's a free event!
How to Register: No registration is required; just show up and enjoy.
Organizer: Kiwanis Club of Little Havana.
Calle Ocho Festival is the epitome of Miami's rich Cuban heritage and Latin influence. Hosted in the vibrant streets of Little Havana, this one-day festival is the largest Hispanic street festival in the USA. Calle Ocho celebrates the Hispanic culture with lively music, delectable foods, and traditional dances, promising a day full of fun and festivity.
Now, if you've never been to Little Havana or haven't experienced the Latin culture up close, Calle Ocho is the perfect introduction. From salsa to reggaeton, the music here will make it hard for you to stay still. And the food! From empanadas to arepas and churros, your taste buds are in for a treat.
For vendors and exhibitors, Calle Ocho is a golden opportunity. With thousands of attendees, both locals and tourists, this festival provides a platform to showcase and sell products. Many local businesses and artisans eagerly await this day to exhibit their crafts, foods, and services.
You might wonder, with so many music festivals around, why Calle Ocho? To that, I'd say, Calle Ocho is not just a festival; it's a feeling. It encapsulates the essence of Miami's Latin heart. It's where you'd experience Miami's soul, its warmth, and its rhythm. So, whether you're a local or a visitor, Calle Ocho is where you'll feel Miami's heartbeat.

4. Miami Film Festival
Where: Various venues across Miami, including the historic Olympia Theater.
Tickets: Can be purchased online on the Miami Film Festival's official website.
How to Register: Visit the official website for registration and schedule details.
Organizer: Miami Dade College.
The world of cinema finds its celebratory space in Miami through the Miami Film Festival. This annual event, spanning over ten days, showcases the best in world cinema, with a special emphasis on Ibero-American films. It's a haven for filmmakers, critics, and cinema lovers, offering a mix of feature films, documentaries, shorts, and masterclasses.
For filmmakers and exhibitors, the festival presents a chance to showcase their work to a diverse audience and interact with some of the industry's stalwarts. Every year, emerging filmmakers get a platform to debut their films, making the Miami Film Festival a significant event in their calendar.
Why should you attend? For one, the festival offers a curated selection of films that you might not get to see elsewhere. It's a chance to broaden your cinematic horizons and experience stories from different parts of the world. Furthermore, the festival's setting in Miami, with its blend of cultures, adds a unique charm. Here, cinema is not just watched; it's celebrated, discussed, and cherished.
Attending the Miami Film Festival has always been an enriching experience for me. The stories, the discussions, the passion for cinema—it's palpable. So, if you share even an iota of love for cinema, this is one event you shouldn't miss. Plus, there's the added advantage of occasionally bumping into renowned filmmakers and actors in the corridors or during panel discussions, allowing for an intimate interaction with the maestros of the craft.

5. Miami Open Tennis Tournament
Where: Hard Rock Stadium, Miami Gardens.
Tickets: Available on the Miami Open's official website.
How to Register: Purchase tickets directly from their site or authorized dealers.
Organizer: International Tennis Federation (ITF) and the Association of Tennis Professionals (ATP).
Tennis enthusiasts, gear up! The Miami Open is one of the key stops in the professional tennis calendar. This prestigious tournament attracts the crème de la crème of tennis, with top-ranked players battling it out on the sun-kissed courts of Miami. The Miami Open has seen many epic clashes, and legendary matches, and has been the birthplace of several iconic tennis moments.
But the Miami Open isn't just for die-hard tennis fans. Even if you're not deeply familiar with the sport, the atmosphere is electric. There's a certain thrill in watching live sports, the adrenaline, the suspense, the collective gasp of the audience – it's unparalleled. Plus, the Hard Rock Stadium is an architectural marvel in itself, adding to the overall experience.
For sponsors and exhibitors, the Miami Open offers a platform par excellence. Brands get incredible visibility, given the global viewership of the tournament. Players, on the other hand, get an opportunity to further their rankings and etch their names in tennis history.
If you've never witnessed a live tennis match, the Miami Open is a great place to start. The energy, the crowd, the world-class players, all set against the backdrop of vibrant Miami—it's an experience to cherish. I can't emphasize enough the thrill of watching a match point live, surrounded by thousands of cheering fans. It's pure magic!
6. Miami Spice Restaurant Month
Where: Participating restaurants across Miami.
Tickets: No tickets are needed; just make a reservation at participating venues.
How to Register: Visit the official Miami Spice website for a list of restaurants and their menus.
Organizer: Greater Miami Convention & Visitors Bureau.
Miami Spice Restaurant Month is a culinary celebration that foodies eagerly await all year. For two months, top-tier restaurants across Miami offer three-course meals at reduced prices, allowing residents and visitors to indulge in gourmet experiences without breaking the bank. From fine-dining establishments to hidden gems, Miami Spice showcases the city's rich and diverse culinary landscape.
Why is Miami Spice so special? For one, it's a golden opportunity to explore new restaurants and cuisines. The curated menus ensure you get the best of what each restaurant has to offer. Whether you're into Latin cuisines, Asian flavors, European classics, or American staples, there's something for every palate.
For restaurants, this is a chance to attract new customers and showcase their best dishes. Many establishments even report a surge in regular clientele post the Miami Spice month. As someone who loves exploring diverse cuisines, I've discovered some of my favorite spots during Miami Spice. So, if you're looking to expand your culinary horizons and enjoy gourmet meals without the hefty price tag, mark your calendar for Miami Spice Restaurant Month.

7. South Beach Wine & Food Festival
Where: Various venues across Miami Beach.
Tickets: Available on the festival's official website.
How to Register: Purchase tickets for individual events or packages through their official site.
Organizer: Florida International University.
South Beach Wine & Food Festival (SOBEWFF) is a gastronomic delight that graces Miami's shores every year. This five-day event brings together renowned chefs, culinary personalities, wine and spirit producers, and food lovers from across the globe. From wine tastings, gourmet dinners, and brunches, to hands-on classes, SOBEWFF offers a smorgasbord of experiences.
If you're a food and wine enthusiast, this festival is akin to paradise. Imagine sipping on the finest wines, curated from around the world, while listening to a chef explain the intricacies of the gourmet dish you're about to savor. The festival, in essence, is a celebration of all things delicious.
For participants, chefs, and exhibitors, SOBEWFF is more than just a festival; it's a platform. It allows for networking, showcasing, learning, and of course, celebrating the culinary arts. So, whether you're a seasoned gourmand, a budding chef, or someone who simply enjoys good food and wine, SOBEWFF is a must-attend. And trust me, your taste buds will thank you!

8. Miami International Boat Show
Where: Miami Marine Stadium & Basin, Virginia Key.
Tickets: Available on the Miami International Boat Show's official website.
How to Register: Secure tickets directly from the official site or authorized vendors.
Organizer: National Marine Manufacturers Association (NMMA).
The Miami International Boat Show is a spectacle for marine enthusiasts. This annual event, set against the azure waters of Miami, showcases the latest in boating technology, design, and innovation. From super-yachts to kayaks, and from speedboats to fishing vessels, the Boat Show offers a glimpse into the expansive marine world.
Why attend? Even if you aren't in the market to buy a boat, the sheer grandeur of the showcased vessels, the innovation in design, and the ambiance created by fellow marine enthusiasts make it worth a visit. Walking the piers, you can feel the passion of builders, designers, and sellers who have put their heart and soul into these watercraft.
For exhibitors and manufacturers, this event is pivotal. It provides an unparalleled platform to showcase their products to a discerning audience. It's also an opportunity to gauge market trends, understand customer preferences, and engage in meaningful business networking.
Having walked the decks of these majestic vessels, I can vouch for the awe they inspire. The Miami International Boat Show isn't just an exhibition; it's an experience, a celebration of man's marvelous marine creations. If you're in Miami during the Boat Show, don't miss out. Even if you aren't a boat enthusiast, the sheer beauty and engineering marvel of these vessels are bound to leave you impressed.

9. Miami Carnival
Where: Miami-Dade County Fairgrounds.
Tickets: Tickets can be sourced from the Miami Carnival's official website.
How to Register: Get tickets online or at selected outlets.
Organizer: Miami Broward One Carnival Host Committee.
Miami Carnival is a radiant, pulsating, and kaleidoscopic celebration of Caribbean culture. Think vibrant costumes, electrifying soca music, traditional steel pan rhythms, and a sea of revelers lost in the beats. Rooted in Trinidadian tradition, this carnival has grown to encompass the broader Caribbean culture, making it a melting pot of rhythms, flavors, and colors.
For attendees, the Miami Carnival is a chance to immerse oneself in the vibrant Caribbean culture. From the mesmerizing parade of bands with participants in bedazzling costumes to the mouth-watering Caribbean cuisine, this carnival promises an experience for all the senses.
Exhibitors, vendors, and bands view the Miami Carnival as a platform to showcase the richness of Caribbean culture. From food stalls selling jerk chicken and rotis to vendors with handmade Caribbean crafts, there's an entrepreneurial spirit in the air.
I've danced to the beats of the Carnival, and I can attest to its infectious energy. Whether you're of Caribbean descent or just someone looking for a good time, the Miami Carnival welcomes all. And trust me, once you get into the groove, it's hard to stop!

10. Miami International Auto Show
Where: Miami Beach Convention Center.
Tickets: Available at the Miami International Auto Show's official website.
How to Register: Direct ticket purchase through the official site.
Organizer: South Florida Automobile Dealers Association.
For automobile aficionados, the Miami International Auto Show is the event of the year. Showcasing a blend of luxury cars, the latest technological innovations, classic vehicles, and even futuristic concepts, this auto show is a paradise for car lovers.
Why should you attend? Beyond the obvious allure of sleek designs and roaring engines, the auto show offers insights into the future of mobility. You'll witness first-hand the advancements in electric vehicles, self-driving technology, and sustainable transportation solutions.
For exhibitors and auto manufacturers, the Miami International Auto Show is a platform to showcase their latest models, garner customer feedback, and gauge market trends. Attendees, on the other hand, get to sit in the latest models, test drive select vehicles, and even engage with designers and engineers behind these automotive marvels.
Having walked the aisles of this auto show, I've marveled at the blend of art and engineering that goes into every vehicle. Whether you're in the market for a new car, a car enthusiast, or someone intrigued by the future of transport, the Miami International Auto Show is a must-visit. It's not just about cars; it's about the journey, the innovation, and the dream of the open road.
---
With this detailed exploration of Miami's most sought-after events, it's evident that the Magic City offers experiences that cater to diverse interests. Each event, in its essence, captures a facet of Miami's vibrant and multifaceted culture. Whether you're a resident or a visitor, these events promise memories that'll last a lifetime. So, pencil in these dates, prep up and dive into the dynamic tapestry of experiences that Miami offers. From the electrifying beats of the Ultra Music Festival to the sophisticated charm of the Miami International Boat Show, there's a world waiting for you to discover.
For the sports enthusiast, events like the Miami Open Tennis Tournament promise adrenaline-packed moments that will keep you on the edge of your seat. For the art lover, Art Basel and the Miami Film Festival provide a dive into the rich world of creativity, expression, and innovation. If your heart beats to the rhythms of diverse cultures, the Calle Ocho Festival and Miami Carnival invite you to lose yourself in the music, dance, and traditions that have shaped Miami's multicultural identity.
Foodies and gourmet enthusiasts have their calendars marked for the Miami Spice Restaurant Month and the South Beach Wine & Food Festival, where culinary delights from around the world promise a sensory extravaganza. And for those who're fascinated by the marvels of engineering, be it on land or sea, the Miami International Auto Show and the Miami International Boat Show beckon with displays of design, innovation, and technology.
But beyond the individual allure of each event, there's a common thread that weaves them all – the spirit of Miami. A city that's both dynamic and laid-back, traditional and modern, Miami's events mirror its essence. They are not just about participation; they're about immersion. It's about feeling the pulse of the city, understanding its rhythm, and becoming a part of its ever-evolving narrative.
So, as you plan your visit or, if you're a local, as you decide on which events to attend, remember that these aren't just events. They're experiences. Experiences that offer a deeper insight into what makes Miami the vibrant, dynamic, and enchanting city that it is.
In closing, I'd urge you to not just read about these events but to experience them firsthand. There's a certain magic in being a part of a larger community, sharing moments of joy, wonder, and discovery. After all, isn't that what life's about? Creating memories, forging connections, and discovering new horizons. And where better to do that than in the heart of the Magic City itself – Miami!
Come, be a part of these stories. Dive into the culture, feel the energy, and let Miami's charm envelop you. Here's to new adventures, memorable moments, and the myriad upcoming events in Miami FL! See you there!
We welcome any suggestions or questions. You can email us or contact us using the contact page.
You can also connect with us on the following social networks:
Facebook
Twitter
LinkedIn
Instagram