There's a palpable thrill coursing through the veins of every entrepreneur, a sizzle that makes the world vibrate in a completely unique way. As someone who shares this feeling, I can tell you there's nothing quite like it. Yet, even in this era of digital connectivity and remote work, nothing can replace the excitement and inspiration drawn from attending live entrepreneurship events. If you're ready to take the plunge into the vibrant world of startup events in NYC and across the United States, here are the top 10 inspiring gatherings you simply must experience.
One of the most fascinating aspects of these events is the meeting of minds from all walks of life, providing a dynamic environment that fosters creativity, innovation, and learning. It's where raw ideas are forged into solid business plans, where entrepreneurs build their networks, and where startups are connected with potential investors. Here's the rundown on where these events take place, ticketing information, registration process, organizers, and other relevant details to help you plan your attendance.
1. TechCrunch Disrupt (San Francisco, California)
TechCrunch Disrupt is arguably the holy grail of all tech and entrepreneurship events. It's a three-day conference held annually in the Silicon Valley hotspot, San Francisco. Organized by TechCrunch, a leading tech media platform, this event is a must-attend for anyone with a taste for technological disruption.
Getting a ticket to this event is straightforward. Just visit the TechCrunch Disrupt website and follow the prompts. Prices range from $345 for a basic pass to $2,195 for a VIP pass. The good news is that students and government, military, and nonprofit employees get special discounts.
If you've always dreamed of rubbing shoulders with the likes of Mark Zuckerberg or Reid Hoffman, TechCrunch Disrupt is where your dreams come true. It's also a fantastic platform for startups looking for funding as it attracts investors from all over the world.
2. SXSW (Austin, Texas)
South by Southwest (SXSW) is a multi-dimensional event hosted annually in the vibrant city of Austin, Texas. Although it's best known for its music and film segments, SXSW's Interactive track has grown into a global hub for technology and entrepreneurship. Organized by SXSW, LLC, this event offers an incredible platform for networking, learning, and inspiration.
Registering for SXSW is simple, just visit their website, and follow the prompts. Tickets range from $1,225 for the Interactive track pass to $1,650 for a Platinum pass that includes access to all SXSW events.
In addition to a broad range of keynote speakers and sessions, SXSW offers a plethora of opportunities for startups. There's the SXSW Pitch, where entrepreneurs get to present their innovative ideas to a panel of expert judges, and the SXSW Trade Show, where startups can showcase their products or services.
3. Collision Conference (Toronto, Canada)
I know, this event isn't technically in the United States, but it's so close and offers such an extraordinary platform for entrepreneurs that I felt it deserved a spot on the list. The Collision Conference, held in Toronto, Canada, is one of the fastest-growing tech conferences in North America.
Organized by Web Summit, the same folks who host the largest tech event in Europe, Collision boasts an impressive array of speakers, exhibitors, and attendees from all over the globe. Tickets start at $595 for a General Attendee pass, and you can register directly on their website.
For startups, there's an exciting event within the event: Collision's PITCH competition. Here, early-stage startups get to present their business plans to industry leaders and investors. It's a fantastic opportunity to gain exposure and possibly secure funding.
Remember, these events are not only about securing funding or learning about the latest trends. They're about meeting like-minded individuals, expanding your network, and becoming part of the vibrant global entrepreneurial ecosystem. So, pack your bags and get ready to immerse yourself in the captivating world of startup events, not just in NYC, but across the United States and beyond.
4. StartUp Grind Global Conference (Redwood City, California)
StartUp Grind Global Conference, organized by StartUp Grind, a global startup community, is a flagship event that takes place in Redwood City, California. Known for its dynamic community-centric approach, this event is perfect if you're looking for something more intimate yet equally inspiring.
Registration is a straightforward process via their website, with ticket prices starting at $355 for a General Admission pass. The organizers also offer discounts for bootstrapped startups, making it an attractive choice for entrepreneurs operating on a shoestring budget.
The event offers a platform for learning, networking, and mentorship. You'll hear from a stellar lineup of speakers, participate in breakout sessions, and have an opportunity to engage one-on-one with successful entrepreneurs and investors. For startups, it's an ideal place to connect with potential investors and meet potential clients.
5. The Lean Startup Conference (San Francisco, California)
Entrepreneurs and startups familiar with the "Lean Startup" methodology won't want to miss this event. The Lean Startup Conference, held annually in San Francisco, is where the biggest minds in the startup scene gather to discuss innovation, growth, and business agility.
Tickets for this conference are quite affordable, starting at $700 for a standard pass. You can purchase them directly from the Lean Startup Conference website.
What sets this event apart is its focus on the practical application of lean startup principles. You'll learn from successful entrepreneurs and innovators, participate in interactive workshops, and leave with actionable strategies to apply in your own venture. It's a platform that bridges the gap between theory and practice, making it incredibly valuable for startups at all stages.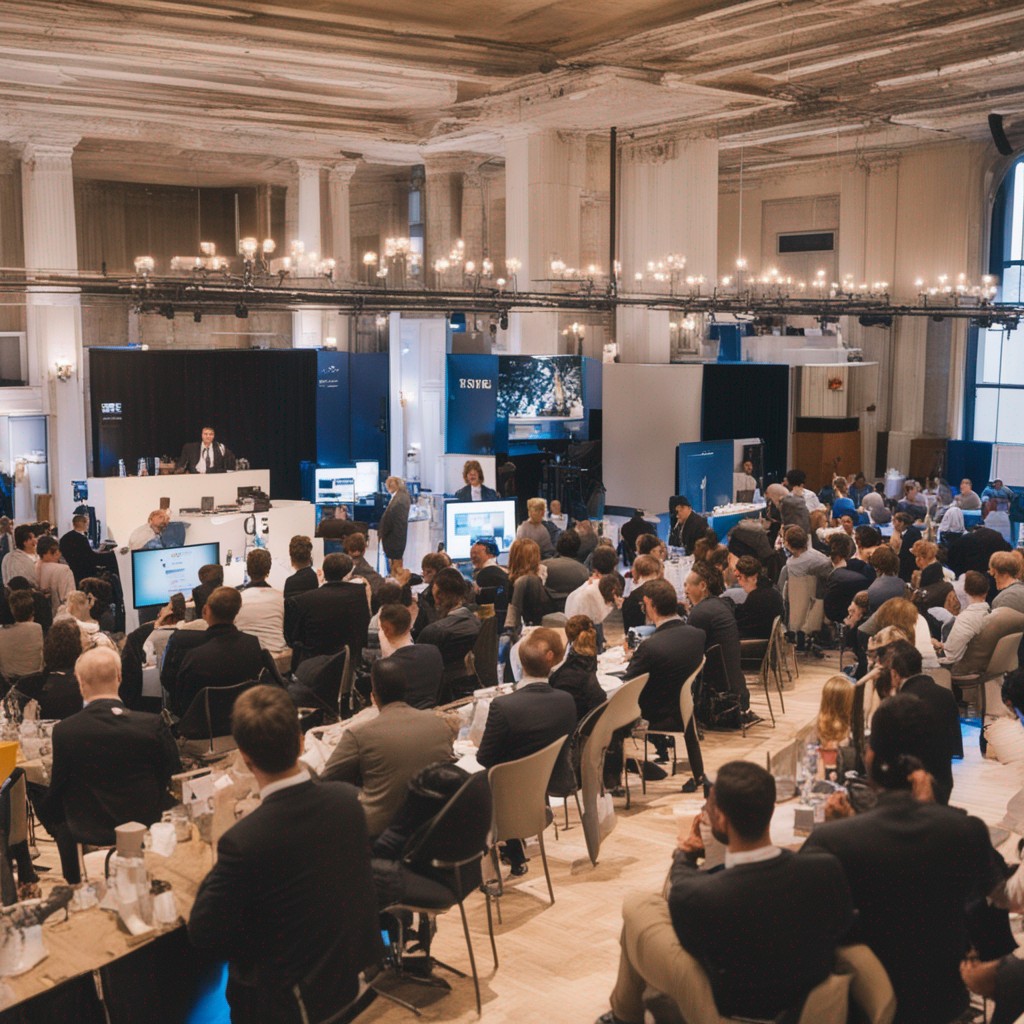 6. New York Startup Week (New York City, New York)
From the city that never sleeps comes an event that keeps entrepreneurs on their toes. New York Startup Week, one of the many startup events NYC has to offer, is a week-long series of events dedicated to celebrating the city's vibrant startup scene.
Organized by Techstars, a renowned startup accelerator, New York Startup Week provides a platform for networking, learning, and showcasing the innovative spirit of the city's entrepreneurial ecosystem. You can register for this event via their website, with the general pass being free of charge.
Aside from networking events and panel discussions, New York Startup Week also hosts Startup Weekend, where teams of entrepreneurs, developers, and designers come together to create a startup in just 54 hours. It's a hands-on, high-energy event that offers an invaluable learning experience for budding entrepreneurs.
Engaging with these events is not only about learning and networking; it's also about contributing to a larger community of like-minded individuals. It's about joining a movement that fosters innovation, encourages risk-taking, and celebrates entrepreneurial spirit. So whether you're a seasoned entrepreneur or just starting your journey, there's a seat waiting for you in these gatherings. Ready to join the ride?
7. Consumer Electronics Show (CES) (Las Vegas, Nevada)
For tech entrepreneurs, the Consumer Electronics Show (CES) held in Las Vegas is a must-attend event. Organized by the Consumer Technology Association (CTA), it's the most influential tech event on the planet, where groundbreaking technologies are introduced to the market.
Purchasing a ticket is as simple as heading over to the CES website. A general admission pass costs around $300.
CES offers a unique platform for startups through Eureka Park, a dedicated space for showcasing innovative concepts and fledgling products. With over 1,200 startups from around the world, it's an excellent opportunity to present your innovations, connect with potential partners, and catch the eye of industry influencers.
8. Inc. 5000 Conference (Different Locations Every Year)
The Inc. 5000 Conference, held in varying locations every year, celebrates the fastest-growing companies in America. It's organized by Inc. Magazine, the leading publication for entrepreneurs and business owners.
You can purchase a ticket directly from the Inc. 5000 Conference website. Prices range from $995 for a standard pass to $1,395 for an all-access pass.
The event features three days of networking, learning, and celebration. It offers interactive sessions, keynotes by renowned entrepreneurs, and an opportunity to connect with the leaders of America's fastest-growing companies. For startups, it's a chance to learn from the best and make connections that could propel your business to new heights.
9. Web Summit (Lisbon, Portugal)
Even though it's not based in the United States, Web Summit in Lisbon, Portugal, has become a global meeting point for tech industries and startups.
Tickets start from €850, and you can get them directly from the Web Summit website.
Web Summit is known for its vast array of topics and variety of stages, covering everything from deep tech and data science to design and environmental sustainability. It's where Fortune 500 companies mingle with startups, where Nobel Prize winners share stages with political leaders and emerging entrepreneurs. It offers an unparalleled opportunity to learn from the best and connect with potential investors, partners, and mentors.
There's a unique excitement that fills the air at these events. It's the electric hum of ideas being born, of partnerships forming, and of dreams taking flight. If you've never experienced it, there's no better time than now. Immerse yourself in these vibrant entrepreneurial ecosystems and let them fuel your journey to success. Ready to take the leap?
10. Startup Events NYC: The Entrepreneurs Festival (New York City, New York)
Last, but by no means least, we venture back into the heart of the Big Apple for the Entrepreneurs Festival, one of the most anticipated startup events NYC hosts each year. Organized by the NYU Stern School of Business, it's an action-packed, two-day event offering a wealth of resources for both budding and seasoned entrepreneurs.
You can grab your tickets directly from the NYU Entrepreneurs Festival website. Pricing varies, with a slight discount offered to NYU students and alumni.
What sets the NYU Entrepreneurs Festival apart is its strong focus on storytelling. Attendees get the opportunity to hear firsthand accounts from successful entrepreneurs, learning about their journeys, their triumphs, and their struggles. For startups, this event offers inspiration, real-world insights, and a strong network of potential mentors, investors, and partners.
Now that you have an idea of the remarkable startup events that the United States (and a few beyond) have to offer, the ball is in your court. Each event is a unique universe of opportunities, ripe with knowledge, networks, potential partnerships, and a wealth of inspiration.
Remember, attending these events isn't merely about the quest for funding or connections. It's about immersing yourself in a community that understands your drive, your dreams, and your struggles. It's about finding your tribe in an ecosystem that celebrates the courage it takes to start something from scratch and the resilience to keep going in the face of adversity.
Whether you're a startup looking to gain exposure, an entrepreneur seeking to learn from the best, or an investor on the lookout for the next big thing, these events promise a rich, rewarding, and potentially life-changing experience.
So, what are you waiting for? The lights are on, the stage is set, and your entrepreneurial journey awaits. Let these inspiring entrepreneurship events fuel your spirit, broaden your horizons, and guide you toward your entrepreneurial goals.
After all, every great journey begins with a single step. Make attending one of these top startup events your next one. See you there!
We welcome any suggestions or questions. You can email us or contact us using the contact page.
You can also connect with us on the following social networks:
Facebook
Twitter
LinkedIn
Instagram