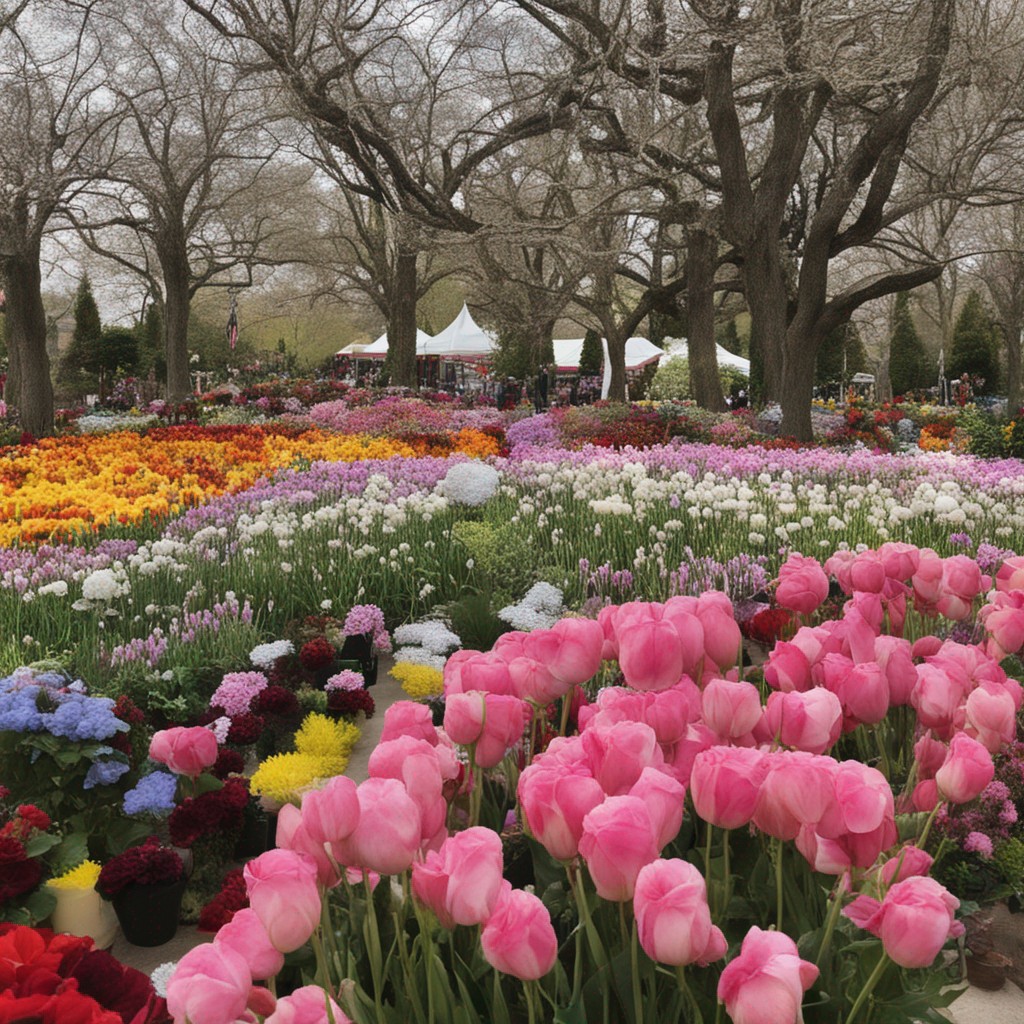 Hey, flower enthusiasts and green thumbs! 🌸 If you're anything like me, you probably find yourself enchanted by the sheer diversity and beauty that a well-orchestrated flower show brings. From rose varieties that you never knew existed to succulents that seem straight out of a fairy tale, these events can transport us into a mesmerizing world of petals and leaves. But let's face it: not all flower shows are created equal. That's why we've taken the effort to sift through the blooms and the buzz to bring you the list of the 10 best flower shows in the US that you absolutely can't afford to miss.
In today's post, we're diving deep—really deep—into what makes each of these events a must-visit. Whether you're a casual admirer of florals or a dedicated horticulturist, you'll find something that tickles your fancy. We'll cover everything you need to know from ticket info, how to register, to who's organizing these dazzling displays. So grab your calendar, because after reading this, you'll want to block off some dates to immerse yourself in the world of flowers. Let's go ahead and sow the seeds for your next floral adventure!
Facts About The Events:
Where do these events take place? The locations vary widely, from major cities like Philadelphia and New York City to natural reserves in California.
Tickets: Tickets for most of these events can be purchased online, with options for single-day passes, multiple-day passes, and VIP packages.
How to Register? Registering usually involves visiting the event's official website and selecting your ticket options.
Organizers: These events are typically organized by horticultural societies, city councils, or major companies like Disney for the Epcot International Flower & Garden Festival.
Additional Information: Many of these events also feature workshops, speaker sessions, and vendor stalls. Online pre-registration is often required for these extra activities.
Philadelphia Flower Show, Pennsylvania
Overview
First up on our journey is the iconic Philadelphia Flower Show, a mecca for flower and garden enthusiasts. This show is practically an institution; it's the oldest and largest indoor flower show in the world, dating back to 1829. Imagine a sprawling space, about 10 acres in size, blanketed with the most diverse array of flora you could ever dream of. From tropical orchids to roses bred exclusively for the event, the Philadelphia Flower Show is a paradise on Earth for anyone who appreciates the beauty and complexity of nature.
Must-See Attractions
As you navigate your way through this floral labyrinth, there are a few spots you simply must check out. The Designer's Studio offers an interactive stage where the country's top floral designers showcase their skills in real-time competitions. For those of you who like to roll up your sleeves and get your hands dirty, the Gardener's Studio offers a line-up of how-to demonstrations and workshops, which are both enlightening and entertaining.
Ticket Information
When it comes to ticket options, you'll find a range to suit every preference. Single-day tickets start at around $42 for adults and $26 for children. Want to take your experience up a notch? Consider splurging on a VIP package, which includes perks like an early-morning tour, reserved seating at designer showcases, and more. It's an investment you won't regret.
Exhibitors' Benefits
For those of you considering setting up a booth or garden display, participating in the Philadelphia Flower Show offers unparalleled exposure. With hundreds of thousands of attendees each year, this is the place to connect with a highly targeted audience, ranging from amateur home gardeners to professional horticulturists. This platform provides the opportunity to grow your brand, launch new products, and establish meaningful connections in the industry.
Why You Should Visit
Now, why should you clear your schedule for this grand spectacle? Simply put, attending the Philadelphia Flower Show is like stepping into another universe where the rules of time and space seem to melt away. You'll return feeling rejuvenated, inspired, and maybe even a little more knowledgeable about the world of plants. And hey, your Instagram feed will be the envy of all your friends—just saying!
Chelsea Flower Show, New York City (U.S. Version)
Overview
Next on our list is the Chelsea Flower Show in New York City, which is the U.S. version of the famous Royal Horticultural Society's Chelsea Flower Show in London. While it's relatively new compared to its British counterpart, it's quickly gained a reputation for showcasing the cutting edge of garden design. Imagine strolling through avant-garde installations that challenge your perceptions of what a garden can be. We're talking about innovative designs that fuse architecture, art, and horticulture into a unified experience.
Must-See Attractions
While every exhibit at the Chelsea Flower Show is worth your attention, make sure to not miss the 'Show Gardens.' Here, top-tier designers from around the globe construct immersive garden spaces that are equal parts experimental and stunning. Another crowd-pleaser is the 'Artisan Gardens,' which provide a more intimate setting and often utilize rare and endangered plant species in their designs.
Ticket Information
Prices for the Chelsea Flower Show in NYC vary depending on the day and time you plan to visit. Weekday tickets start at around $50 per adult, while weekends see a slight uptick. If you're in the industry, there are also options for trade tickets which offer special access and privileges.
Exhibitors' Benefits
Being an exhibitor at the Chelsea Flower Show in NYC is akin to having your work featured in a high-end art gallery. This is the place to catch the eye of industry influencers, media personalities, and passionate gardeners who are always on the lookout for the next big thing. Plus, the accolades received here carry international recognition, providing a fantastic springboard for your brand.
Why You Should Visit
Visiting the Chelsea Flower Show is akin to entering a world where creativity knows no bounds. It's an educational and sensory adventure that will push you to think outside the box, both in terms of garden design and broader environmental issues. Plus, the location in the heart of NYC means you can pair your visit with other big-city attractions.
Epcot International Flower & Garden Festival, Florida
Overview
If you think Disney World is magical on a regular day, wait until you experience it during the Epcot International Flower & Garden Festival. This event takes place at the Epcot theme park in Orlando, Florida, and it's a sensational fusion of the natural world and Disney enchantment. Picture this: You're walking past a topiary shaped like Mickey Mouse while surrounded by an array of exotic flowers and tantalizing fragrances. Disney takes landscaping to a whole new level during this festival, merging it with themes and characters that have delighted generations.
Must-See Attractions
One word: topiaries. The intricately crafted shrubs and trees shaped like beloved Disney characters steal the show. Each year features new designs, making every festival unique. Another must-see is the Outdoor Kitchens. Yeah, I know this isn't strictly flower-related, but trust me, sampling garden-fresh cuisine while admiring the scenery is an experience you don't want to miss.
Ticket Information
Admission to the festival is included with your standard Epcot admission ticket, which starts at around $109 for a one-day pass. There are also park-hopper options if you want to visit other Disney parks. Special guided tours focusing on the horticultural wonders of Epcot are available at an additional cost.
Exhibitors' Benefits
As for exhibitors, the exposure you can garner at a venue like Epcot is enormous. Since the festival draws a large, diverse crowd that includes families, couples, and Disney aficionados, the branding opportunity is unparalleled. Plus, Disney's knack for marketing and attention to detail will ensure that your exhibit is presented in the best light possible.
Why You Should Visit
Visiting the Epcot International Flower & Garden Festival is like stepping into a fairy tale where flora takes center stage. It's the perfect outing for families, as there are plenty of activities for kids, like scavenger hunts and play areas. Also, it's Epcot; the fusion of culture, technology, and nature ensures a well-rounded and enchanting experience that goes beyond flowers. You'll leave with not just photographs but cherished memories.
Northwest Flower & Garden Festival, Washington
Overview
Held in Seattle, the Northwest Flower & Garden Festival is a haven for those who thrive in the diverse ecosystems of the Pacific Northwest. This event spans five days and features not only flowers and gardens but also sustainable living practices. Think of it as a massive convergence of garden design, nature conservation, and lifestyle improvement. The focus here is not just on the beauty of plants, but also on their role in our lives and ecosystems.
Must-See Attractions
One of the highlights is the 'Garden Wars' competition, where local celebrities go head-to-head in a garden-building contest. It's fun, educational, and surprisingly intense! Don't miss the 'Container Wars' either, where experts show you how to make stunning arrangements in confined spaces—a must-watch for apartment dwellers.
Ticket Information
Ticket prices are quite reasonable, with early-bird rates around $20 for a one-day adult pass. Multi-day packages and group rates are also available, making it accessible to all kinds of visitors.
Exhibitors' Benefits
If you're an exhibitor, especially one focused on sustainable practices or local flora, this is the event for you. The festival has a dedicated 'green' ethos, and attendees are often looking for eco-friendly solutions and products. It's a match made in environmental heaven!
Why You Should Visit
The Northwest Flower & Garden Festival is not just a visual feast, but an educational journey. It emphasizes the harmonious coexistence of man and nature, making it much more than a typical flower show. Plus, being in Seattle, you get to experience the vibrant culture and natural beauty of the Pacific Northwest as an added bonus.
San Francisco Flower & Garden Show, California
Overview
San Francisco, known for its iconic Golden Gate Bridge and vibrant cultural scene, also hosts one of the most exciting flower and garden shows in the country. The San Francisco Flower & Garden Show transforms the Cow Palace into a blooming paradise every spring. It's a celebration that pays tribute to California's diverse ecology and the rich tapestry of international garden designs. If you're a fan of innovation and diversity, this is the show for you.
Must-See Attractions
Don't miss the 'Showcase Gardens,' where landscape architects and designers go all out to present jaw-dropping garden setups. These are often theatrical, multi-sensory experiences that push the boundaries of what you thought a garden could be. The "Marketplace" is another essential stop. Here, you can purchase rare plants, bespoke garden furniture, and unique crafts from international vendors.
Ticket Information
Tickets usually range from $20-$25 for a one-day pass, with discounts for seniors and free admission for children under 16. Multi-day passes are also available if you want to soak in the experience at a leisurely pace.
Exhibitors' Benefits
For exhibitors, the San Francisco Flower & Garden Show is a golden opportunity to tap into a diverse and affluent market. Given San Francisco's reputation for embracing innovation and diversity, this is the place to showcase unique and cutting-edge products. The show offers various workshops and seminars, providing an excellent platform for sharing expertise and positioning yourself as an industry leader.
Why You Should Visit
Why should you add this to your must-visit list? Well, it's San Francisco! Combine the flower show with the endless list of attractions that the city has to offer, and you've got yourself an incredible trip. Plus, the focus on sustainable gardening and environmental conservation resonates with the global need for ecological awareness. You'll leave not just inspired but also better informed.
Antelope Valley California Poppy Reserve, California
Overview
Now, how about we step out of the garden shows for a moment and talk about a natural spectacle that rivals any organized event? The Antelope Valley California Poppy Reserve offers something different—it's not a show, but a state-protected reserve that bursts into a sea of orange every spring. Located in Lancaster, California, this reserve covers 1,781 acres and is Mother Nature's own flower show.
Must-See Attractions
The main attraction here is, of course, the California poppies. These stunning orange flowers carpet the fields as far as the eye can see. If you're a photography enthusiast, this is heaven on earth. While the poppies are the stars, the reserve also features a variety of other wildflowers, adding a splash of other colors to the mix.
Ticket Information
Admission is a flat fee of $10 per vehicle, making this a budget-friendly option. Keep in mind that the poppies are at their peak during specific times of the year, usually from late March through early May, depending on the rainfall.
Exhibitors' Benefits
This is a natural reserve, so commercial exhibiting isn't applicable here. However, if you're a nature photographer, botanist, or even an eco-blogger, the Antelope Valley offers endless content opportunities. It's also an excellent spot for educators to give field lessons on botany and ecology.
Why You Should Visit
If you want to see the untamed, unfiltered beauty of nature, you cannot miss the Antelope Valley California Poppy Reserve. The experience is meditative, allowing you to connect with nature in its purest form. Bring a picnic basket, wear a good pair of hiking shoes, and lose yourself in this floral wonderland. Plus, your Instagram will thank you!
Boston Flower & Garden Show, Massachusetts
Overview
Ah, Boston, is a city steeped in history and renowned for its academic and cultural institutions. But did you know that it's also home to one of the most prestigious flower and garden shows in America? Taking place at the Seaport World Trade Center, the Boston Flower & Garden Show is a five-day event that brings together horticulture experts, landscape professionals, and garden enthusiasts from across the region.
Must-See Attractions
The "Gardeners of Tomorrow" competition is a highlight, showcasing the creativity and innovation of the younger generation. These installations often feature cutting-edge sustainable technologies and unique design concepts. Then there's the "Garden Marketplace" where you can shop for everything from rare orchids to hand-crafted garden sculptures.
Ticket Information
Ticket prices for adults range from $20 to $22 depending on whether you buy in advance or at the door, and there are discounts for seniors and children. Multi-day passes are also available, providing the freedom to explore at your own pace.
Exhibitors' Benefits
As an exhibitor, the Boston Flower & Garden Show offers a great platform for exposure. With thousands of attendees comprising both the general public and industry professionals, you have the chance to expand your customer base and network with key influencers in the horticultural realm.
Why You Should Visit
For starters, Boston itself is a lovely city to explore, rich in history and culture. The flower show makes for a fabulous reason to visit. It's a great outing for families, gardening aficionados, and even those with a passing interest in horticulture. The show doesn't just display flowers; it provides a comprehensive gardening experience, from workshops to expert Q&As, making it both an educational and visually stimulating experience.
Cincinnati Flower Show, Ohio
Overview
Next on our list is the Cincinnati Flower Show, held in the picturesque Yeatman's Cove along the Ohio River. This flower show is different in that it places a heavy emphasis on community involvement and educational outreach. It's not just a place to admire beautiful gardens but also a platform to learn about environmental stewardship and sustainable living.
Must-See Attractions
The "Designer Gardens" is a must-see, featuring thematic landscapes that tell stories or advocate for environmental causes. Equally captivating are the floral marquee exhibits that often feature breathtaking floral designs in a kaleidoscope of colors. The culinary events, where local chefs incorporate floral and botanical elements into their dishes, are another unique feature you shouldn't miss.
Ticket Information
Tickets generally cost around $20 for adults, with discounts available for seniors, military personnel, and children. Special VIP tickets, which include exclusive access to certain areas and events, are also available for those looking for a more luxurious experience.
Exhibitors' Benefits
The Cincinnati Flower Show offers a unique opportunity for exhibitors to not just showcase their products but also to engage in meaningful dialogue about sustainability and community engagement. The crowd here is not just interested in buying; they're interested in learning and contributing to a better future.
Why You Should Visit
If you're looking to combine your love for flowers with social responsibility, the Cincinnati Flower Show is where you should be. It's not just about the spectacle; it's about making a difference. Plus, Cincinnati has its own array of attractions to explore, making it a worthy travel destination in its own right.
Hampton Court Palace Flower Show, Virginia (U.S. Version)
Overview
Taking its cue from the iconic UK event of the same name, the Hampton Court Palace Flower Show in Virginia is a must-visit spectacle for American garden lovers. Held in Hampton, Virginia, this show is a melting pot of historic grandeur and modern garden design. This is the spot for those who love the classics but also enjoy a dash of contemporary flair in their gardens.
Must-See Attractions
The "Show Gardens" are the crowning jewel of this event. Designers from around the world put on a show of elegance, blending historical motifs with new-age garden techniques. "The Royal Marquee" is another must-see. Here, florists display arrangements fit for royalty, which you can even purchase!
Ticket Information
Ticket prices can vary but expect to pay around $30 for a general admission one-day pass. Discounts are available for seniors, military, and youth. You can also purchase VIP packages that offer exclusive garden tours and fine dining experiences.
Exhibitors' Benefits
For exhibitors, the Hampton Court Palace Flower Show in Virginia is a unique platform. The audience here values tradition but is also keen on innovation, giving you the chance to showcase a wide range of products. Moreover, the event has cultivated partnerships with various gardening societies and organizations, offering additional avenues for networking and exposure.
Why You Should Visit
The event itself is a fantastic excuse to explore the historic city of Hampton and its surroundings. With a perfect blend of educational workshops, hands-on experiences, and spectacular visual displays, this flower show offers a well-rounded experience for garden enthusiasts and casual visitors alike.
Rochester Lilac Festival, New York
Overview
How does an entire festival dedicated to lilacs sound? Fantastic? We thought so too! The Rochester Lilac Festival in New York is a 10-day extravaganza held in Highland Park, home to one of the largest collections of lilacs in North America. You won't just see lilacs; you'll be enveloped in their sweet, lingering fragrance.
Must-See Attractions
The "Lilac Loop" is a 1.5-mile trail that takes you through more than 500 varieties of lilacs. But that's not all. There's also a parade, live music, craft beer tastings, and even a 5K and 10K run. If you're visiting with kids, make sure to check out the children's amusement rides.
Ticket Information
Here's the kicker—the festival itself is free to attend! However, some special events and tastings within the festival may have a ticket price. Check the festival's official website for detailed information on this.
Exhibitors' Benefits
The Rochester Lilac Festival offers exhibitors a unique chance to showcase their products or services to a large, diverse crowd. From garden furniture to organic produce, this event attracts a wide variety of vendors. It's a fantastic opportunity to gain brand exposure while engaging with an audience that values nature and outdoor activities.
Why You Should Visit
Let's be real. Who wouldn't want to spend a day or more wandering through aromatic fields of lilacs? This festival offers something for everyone—whether you're a flower enthusiast, a runner, a beer lover, or a parent looking for a fun day out with the kids. And it's not just about the lilacs. The festival showcases Rochester's broader horticultural and artistic talents, making it a truly enriching experience.
Why You Shouldn't Miss These Floral Extravaganzas
And there you have it, folks! We've taken you on a floral adventure through some of the best flower shows in the US, each with its unique appeal, specialties, and experiences. From the West Coast's splendor in the San Francisco Flower & Garden Show to the historical richness of the Hampton Court Palace Flower Show in Virginia, each event offers something beautiful and enriching. Then there are the thematic wonders of the Boston Flower & Garden Show and the community spirit of Cincinnati, not to forget the fragrant allure of Rochester's Lilac Festival. It's a diverse palette, offering something for everyone—gardeners, nature lovers, families, and even those who simply appreciate beauty.
So, why should you consider visiting one—or more—of these shows? Well, besides the visual feast that they promise, these events offer immersive educational experiences. You can hone your gardening skills, learn about sustainable practices, discover new floral species, or simply enjoy a day out in a spectacular setting. Exhibitors, on the other hand, get an unparalleled platform to showcase their products, network with industry leaders, and engage with a captive audience eager to learn and purchase.
Think about it this way: In a world that increasingly values virtual experiences, these flower shows offer something tangibly beautiful. It's not just about looking at pretty flowers; it's about feeling the soil, smelling the blooms, and engaging in activities that enrich your understanding of nature and horticulture.
Don't let another year pass by without experiencing one of these floral wonders. Pack your bags, gather your loved ones, and prepare yourself for a floral journey that promises not just the sights, but also a bouquet of lifelong memories and learning. We're not exaggerating when we say that your senses—and your soul—will thank you for it.
We welcome any suggestions or questions. You can email us or contact us using the contact page.
You can also connect with us on the following social networks:
Facebook
Twitter
LinkedIn
Instagram