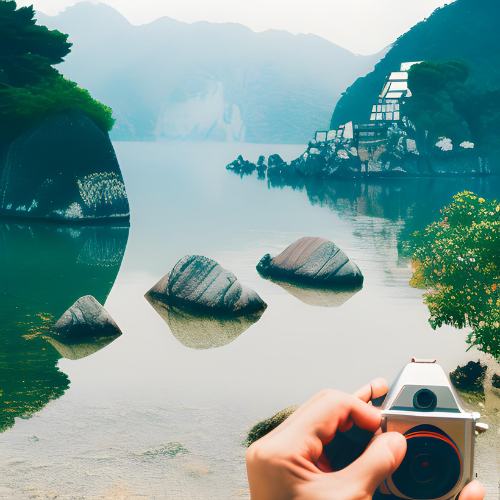 Lights flashing, shutters clicking, vibrant images on display; this is the CP+ Photography Convention. As an annual event in Japan, it brings together passionate photographers from all walks of life. Professional and amateur photographers, photography enthusiasts, and even the casually curious are drawn to its vibrant halls every year. This riveting showcase of creativity and technological innovation in photography doesn't merely display pictures; it encapsulates experiences and captures the essence of a moment, transcending language barriers to touch people's hearts. If you're a photographer – whether a seasoned pro, a budding amateur, or simply a lover of beautiful images – you cannot afford to miss out on the insights and experiences shared at this celebrated gathering.
Unleashing Creativity: The Heart of the CP+ Photography Convention
At its core, the CP+ Photography Convention is all about embracing and encouraging creativity. Photography is a unique art form that captures moments in time, transforming them into lasting memories. The Convention encourages this by creating an environment where photographers from all over the world can display their work, exchange ideas, and stimulate their creativity.
Here, you'll find a collection of images that tell stories – stories of different cultures, unique perspectives, and human emotions. It's a vibrant blend of traditional and modern, with black-and-white prints sharing space with digital art. This diversity reflects the Convention's commitment to honoring the past while forging ahead into the future of photography.
For example, let's consider the Nature Photography section. You'll find breathtaking landscapes, intimate animal portraits, and extreme weather phenomena, each photo telling a unique story. Amateur photographers have the chance to showcase their work alongside professionals, bridging the gap and fostering an environment of mutual learning and respect. This interplay between established and emerging photographers is a key element of the CP+ Photography Convention's identity, and it's what makes it a must-attend event for photographers worldwide.
Equipment Exhibition: A Playground for Tech Enthusiasts
The CP+ Photography Convention is also a technological extravaganza. Renowned camera manufacturers, lens makers, and photography accessory companies unveil their latest offerings here. If you're a tech enthusiast, the Convention is like a giant playground waiting to be explored.
From the latest DSLRs and mirrorless cameras to cutting-edge drone technology, everything you can imagine related to photography is here. In the past, exciting innovations such as Canon's AI-driven autofocus system or Sony's record-breaking Alpha 1 with its 50.1-megapixel sensor and 30 fps continuous shooting were unveiled at the Convention, keeping visitors on their toes, anticipating the next breakthrough.
With hands-on experiences and demos available, visitors can get a feel for the latest equipment before deciding on their next purchase. Camera brands use this opportunity to interact with their user base directly, answer queries, and get feedback. In this way, the CP+ Photography Convention is not only a showcase for current photography tech but also an incubator for future innovations.
The Seminars and Workshops: Learning from the Masters
CP+ Photography Convention's seminars and workshops are a treasure trove for knowledge seekers. Renowned photographers and industry experts hold sessions to share their insights, techniques, and experiences.
These workshops cater to all levels of photographers – from beginners eager to learn the basics, to seasoned professionals looking to perfect their craft. Topics range from understanding light and composition to mastering post-production techniques.
For example, at a recent convention, a seminar on "The Art of Street Photography" by a world-renowned photojournalist offered insights into capturing candid moments in bustling cityscapes. Attendees learned how to stay unobtrusive, anticipate moments, and use their environment effectively to tell compelling stories. This is just one example of the many learning opportunities the Convention provides.
The Convention also fosters a sense of community. In these workshops, you're not just an attendee; you're a participant. You can ask questions, share your thoughts, and even network with other photographers. This opportunity for interaction sets the CP+ Photography Convention apart from other photography events.
Awards and Recognitions: Honoring the Best in the Field
CP+ Photography Convention isn't just about learning and showcasing; it's also about acknowledging and rewarding talent. The Convention plays host to numerous photography competitions, where photographers from across the globe submit their best work in various categories.
From landscape and wildlife to portrait and street photography, the competitions cover a broad spectrum of photography genres. The submitted works are evaluated by a panel of experts, and the best ones are awarded during the Convention. This not only encourages photographers to push their creative boundaries but also gives them a platform to gain recognition for their work.
In the previous year's "Emerging Talent" category, for instance, a young photographer from Thailand stunned everyone with his breathtaking portrait of a local fisherman at work. The image's composition, lighting, and the emotion it evoked won him the top prize and put him on the global photography map. Stories like these underscore the significant role the Convention plays in shaping photography careers and trends.
The Business Side of Photography: Bridging the Gap Between Passion and Profession
The CP+ Photography Convention isn't just for photographers – it's a must-attend event for anyone involved in the business side of photography too. Be it camera retailers, picture editors, advertising agencies, or publishers, they all flock to the Convention to network, scout for new talent, and keep up with the latest trends in photography.
The Convention provides a platform for business transactions and collaborations. It's not uncommon to see a camera store owner striking a deal with a manufacturer, an advertising agency recruiting a photographer whose work caught their eye, or a publisher finding the perfect image for their next book cover.
Moreover, seminars targeted at photography professionals cover topics such as marketing strategies for photographers, understanding copyright laws, and managing finances. For example, a past seminar titled "Monetizing Your Passion: From Photographer to Entrepreneur" offered attendees insights into turning their photography hobby into a profitable business.
Through these diverse offerings, the Convention highlights that success in photography is not just about capturing the perfect shot; it's also about understanding and navigating the business landscape.
Beyond the Camera: Celebrating the Art of Print
In an age where digital images have become the norm, the CP+ Photography Convention is a haven for lovers of printed photographs. There's something magical about holding a physical print, feeling its texture, and seeing an image come to life on paper.
In the Convention's print galleries, you'll find an array of images – from large, wall-sized prints that command your attention to smaller, intimate pictures that draw you in. You'll see a variety of printing techniques on display, from traditional methods like silver gelatin and cyanotype prints to modern, digital prints. This diversity reflects the Convention's ethos of embracing all facets of photography.
One particularly popular feature is the live print demonstrations, where visitors can watch experienced darkroom technicians create prints right before their eyes. It's an opportunity to witness the alchemy of photography firsthand, to see how an image captured in a camera is transformed into a tangible print.
Photography for a Cause: Harnessing the Power of Images
Photography isn't just an art form; it's also a powerful tool for communication, advocacy, and change. The CP+ Photography Convention recognizes this by dedicating a section to photojournalism and documentary photography.
In this section, photographers share images that shed light on social, environmental, and political issues around the world. From poignant images of climate change to hard-hitting shots of political unrest, these pictures serve as a reminder of the transformative power of photography.
For instance, a previous Convention featured a gripping photo series on the refugee crisis. The images, stark and evocative, brought the reality of the crisis into sharp focus, compelling viewers to confront the issue and engage in meaningful conversation. This emphasis on photography as a medium for change underscores the Convention's commitment to harnessing the power of images for a better world.
The Future of Photography: Exploring the Boundaries
While honoring the roots and tradition of photography, the CP+ Convention is also keenly focused on its future. There's always a section dedicated to showcasing innovative technologies and concepts that push the boundaries of what's possible in photography.
This could be anything from AI-enhanced photography, computational photography, 3D imaging, to virtual reality applications in photography. Emerging startups and tech companies often use the Convention as a launchpad for their innovative products and ideas.
For instance, a few years ago, a startup unveiled a concept for a camera that uses machine learning algorithms to automatically enhance image quality in real time. The product, initially introduced at the CP+ Convention, has since then revolutionized how photographers work in challenging lighting conditions.
By embracing such forward-looking ideas, the Convention positions itself at the forefront of photographic innovation, offering a glimpse into the future of photography.
The Convention as a Cultural Melting Pot
At the heart of the CP+ Photography Convention is a vibrant, diverse community. Photographers from different countries, cultures, and backgrounds come together to share their love for photography.
This cultural exchange enriches the Convention in numerous ways. It influences the range of topics covered in the workshops, the variety of images on display, and even the kinds of camera gear showcased. The diversity is also palpable in the informal discussions that happen in the Convention's corridors, where you might find an American wildlife photographer exchanging notes with a Japanese kimono fashion photographer.
This cultural melting pot aspect of the Convention is not just an enriching experience for attendees; it also reflects the universal appeal and power of photography. It's a reminder that while we all see the world through different lenses (both literally and metaphorically), photography is a language we all speak and understand.
The Enduring Impact of the CP+ Photography Convention
The true magic of the CP+ Photography Convention is not just about what happens during the event itself; it's also about the impact it has long after the last shutter has clicked. The lessons learned, the connections made, the inspiration gathered – these all extend beyond the Convention's walls.
Attendees leave the Convention with not just memory cards full of images, but also minds full of new ideas, hearts full of inspiration, and bags full of the latest gear. They take these back to their home countries, cities, and communities, where the ripple effect continues. A technique learned at a Convention workshop might influence a photographer's next project. An innovative product unveiled at the Convention might redefine how a photography business operates.
In this way, the CP+ Photography Convention continually shapes and influences the global photography landscape. It's a testament to the Convention's significance and the reason why it remains a highlight on every photographer's calendar.
---
So there you have it, a comprehensive exploration of the CP+ Photography Convention. Whether you're a professional photographer, a hobbyist, a photography enthusiast, or someone intrigued by the world of photography, this Convention offers something for everyone. It's a celebration of the art and science of photography, a tribute to the past, a reflection of the present, and a glimpse into the future. It's an event that truly puts the spotlight on the fascinating world of photography.
We welcome any suggestions or questions. You can email us or contact us using the contact page.
You can also connect with us on the following social networks:
Facebook
Twitter
LinkedIn
Instagram