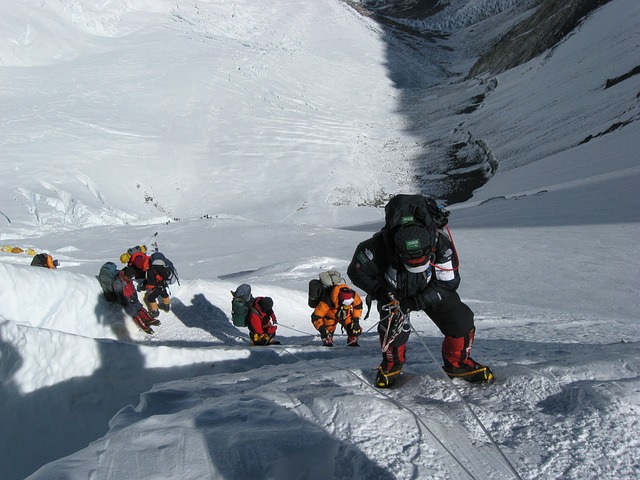 As a passionate adventurer, I've always been fascinated by the mighty Everest and its magnetic pull for mountain climbers across the globe. A visit to this towering peak is a test of physical endurance and mental fortitude, a quest that redefines your boundaries and leaves you with unforgettable memories. Today, I'm thrilled to share with you 10 mountain climbing Everest events that have redefined fitness at high altitudes and why they should be on your bucket list.
If you're an outdoor enthusiast, you're probably already aware of the electrifying appeal of the Himalayas. The rugged terrain, unpredictable weather, and breathtaking panoramas make every step you take a thrilling experience. But did you know that Everest is not just a mountaineer's dream? It's a fitness enthusiast's paradise. With the advent of various mountain climbing events, it has become a hotspot for those seeking high-altitude adventures that challenge their physical limits.
Everest Marathon: The Highest Race on Earth
With an elevation of 5364 meters above sea level, the Everest Marathon holds the world record for the highest marathon. This event kicks off at Everest Base Camp and ends in Namche Bazaar, requiring participants to run 42.195 kilometers through the harsh Himalayan landscape. The unforgiving trail not only tests a runner's endurance but also their adaptability to high altitude conditions.
The Everest Marathon was first held in 1987 and has grown in popularity ever since. In 2022, for instance, the event saw the participation of over 200 runners from more than 20 different countries. With numbers increasing each year, it's a testament to the growing global interest in high-altitude fitness activities.
Training for this marathon demands not only physical readiness but also acclimatization to the thin air and lower oxygen levels. For many, the preparation phase, often spanning months, is an adventure in itself. Moreover, being part of this event offers a chance to experience the local Sherpa culture and its unparalleled resilience, adding a unique cultural dimension to your fitness adventure.
Sagarmatha National Park Trek: Nature Meets Fitness
Sagarmatha National Park, home to Everest, offers a plethora of trekking routes suitable for different fitness levels. Among them, the Three Passes Trek is a favorite among fitness enthusiasts. The trek encompasses Renjo La (5360m), Cho La (5420m), and Kongma La (5535m), the three high passes of the Everest region.
The Three Passes Trek offers an unforgettable journey across breathtaking landscapes, remote valleys, and serene monasteries. It's not just a trek; it's a comprehensive fitness expedition that tests your endurance, cardiovascular fitness, and mental strength. It requires trekkers to navigate rugged terrain, endure harsh weather conditions, and cope with high altitude conditions.
As per the Nepal Tourism Board, the number of visitors undertaking this trek has been steadily increasing over the years. In 2022, the trek saw an estimated 5000 trekkers, up 15% from the previous year. This trend reflects the growing popularity of high-altitude fitness endeavors and the charm of Everest's natural beauty.
Khumbu Icefall Climbing: The Ultimate Fitness Challenge
If you're looking for a true test of your fitness and courage, look no further than Khumbu Icefall climbing. The Khumbu Icefall, located at the head of the Khumbu Glacier, is one of the most dangerous stages of the South Col route to Everest's summit.
Climbing the Khumbu Icefall involves navigating a maze of ice seracs and crevasses, often shifting and cracking due to temperature changes. This unpredictable terrain requires not only physical strength and endurance but also agility, balance, and quick decision-making skills.
In recent years, several climbing schools have started offering training programs for icefall climbing, attracting adventurers worldwide. For instance, in 2022, the Himalayan Mountaineering Institute reported a 20% increase in enrollments for its icefall climbing course compared to the previous year.
While Khumbu Icefall climbing comes with risks, it also offers rewards beyond compare – the satisfaction of overcoming your physical limits, the thrill of navigating the "moving mountain," and the breathtaking view of the ice sculptures illuminated by the golden rays of sunrise.
Everest Base Camp Yoga Retreat: Achieving Zen at 17,598 feet
Imagine performing the 'Tree Pose' amidst the tranquil panorama of the Himalayas, or finding your zen as you meditate to the natural symphony of the rustling wind and distant avalanches. Such is the unique charm of an Everest Base Camp Yoga Retreat. A perfect blend of adventure and relaxation, these retreats offer a holistic approach to high-altitude fitness.
Designed for yoga enthusiasts and adventurers alike, the retreats incorporate yoga, meditation, trekking, and exploration. They are not just about physical fitness; they focus on mental well-being, stress relief, and achieving a mind-body-soul balance at an altitude that commands respect from even the most seasoned climbers.
These retreats usually span 14-16 days, starting with acclimatization in Kathmandu, followed by a thrilling flight to Lukla, and a slow-paced trek to Everest Base Camp. Throughout the journey, participants engage in daily yoga and meditation sessions, guided by experienced yoga instructors who are well-versed in high-altitude conditions.
Yoga retreats in the Everest region have grown increasingly popular. As per the Everest Yoga Retreat Center, the number of participants increased by nearly 25% in 2022 compared to the previous year. Such retreats offer a unique way to experience Everest, stretching both your body and horizons in the heart of the Himalayas.
Solu-Khumbu Rock Climbing Festival: Scaling New Heights
Rock climbing is fast gaining momentum in the Everest region, and the Solu-Khumbu Rock Climbing Festival stands as a testament to this growing trend. This annual event held in November attracts climbers from around the globe who dare to test their mettle against the rugged cliffs of the Everest region.
The festival isn't merely about competitive climbing; it aims to promote rock climbing as a sustainable adventure sport and raise awareness about the conservation of the Himalayan ecology. Additionally, it's a fantastic opportunity for beginners and amateur climbers to learn from the experienced and interact with a community of climbers.
In 2022, the festival saw over 300 participants, with the event receiving coverage from international adventure sports channels, amplifying its global reach. Participating in this festival is not only about testing your climbing skills and strength; it's also about becoming part of a larger community committed to adventure and environmental conservation.
Sherpa Challenge: Embrace the Sherpa Way of Life
To truly experience Everest, one must embrace the Sherpa way of life. Known for their exceptional mountaineering skills and resilience, the Sherpa community is the backbone of any Everest expedition. The Sherpa Challenge, a unique mountain climbing Everest event, offers you the chance to experience their traditions and lifestyle.
Held annually, the Sherpa Challenge is a two-week event that includes trekking, climbing training, and immersion in Sherpa culture. Participants learn to climb using traditional Sherpa techniques, acclimatize to high altitudes, and understand the unique Himalayan ecosystem.
Moreover, they spend time in Sherpa households, learning about their customs, food, and folklore. It's a physical and cultural adventure that offers insights into how the Sherpa community thrives in one of the world's harshest environments.
The Sherpa Challenge saw a 30% increase in participation in 2022, attracting adventurers eager to experience the authentic Sherpa lifestyle. The event is not just about mountain climbing; it's about understanding and respecting the guardians of Everest.
Everest Sky Race: The Ultimate Skyrunning Experience
Skyrunning takes running to new heights, literally. And there's no better place for this than the Everest region, where the earth meets the sky. The Everest Sky Race, a part of the International Skyrunning Federation's Skyrunner World Series, is a high-altitude ultramarathon that tests your running prowess against the harsh terrain and thin air of the Himalayas.
Covering a distance of approximately 200 kilometers with a cumulative ascent of 11,000 meters, this race is not for the faint-hearted. It's an intense test of endurance, resilience, and mental fortitude, pushing participants to their absolute limits.
Over the past few years, the Everest Sky Race has grown in popularity among the global sky-running community. In 2022, the race attracted over 150 participants from 15 countries, marking a 20% increase from the previous year. This race is a must-try for any fitness enthusiast seeking the ultimate high-altitude challenge and an unforgettable Everest experience.
Gokyo Lakes Swimming Championship: A Dive Into the High-Altitude Chill
While Everest is renowned for its climbing and trekking adventures, it offers something unique for water sports enthusiasts too – The Gokyo Lakes Swimming Championship. This annual event held at Gokyo Lake, the world's highest freshwater lake system, adds a chilling twist to high-altitude fitness.
Swimming at an altitude of 4,700 meters in near-freezing temperatures is a true test of endurance and resilience. Participants need to battle not just the cold, but also the altitude, making it an extreme sport unlike any other.
Introduced in 2021, the Gokyo Lakes Swimming Championship has garnered interest globally. In its second year, the event saw a participation increase of 40%, attracting swimmers and adventurers keen to take on this unique challenge. It's the perfect event for those seeking a different kind of adventure in the Everest region, one that will push their physical boundaries and leave them with an exhilarating story to tell.
Khumbu Climbing Center Courses: Sharpen Your Climbing Skills
Mountaineering is an essential part of the Everest experience. And if you're looking to hone your skills, the Khumbu Climbing Center offers an excellent platform. Founded in 2003, the center provides training courses that equip climbers with essential skills for high-altitude climbing, such as rope fixing, ice climbing, and crevasse rescue.
The center offers a two-week course each year, attracting a mix of beginners, amateur climbers, and professionals looking to upskill. In 2022, the center saw a 30% increase in course enrollments, indicating a growing interest in professional climbing training.
These courses offer more than just climbing techniques. They provide valuable insights into safety protocols, high-altitude physiology, and mountain ecology. Learning at the Khumbu Climbing Center is a comprehensive experience that strengthens your climbing abilities and deepens your understanding of the Everest environment.
High-Altitude Cycling Races: Pedal Power on the Roof of the World
If you think mountain biking is thrilling, wait until you try it at 5,000 meters above sea level! High-altitude cycling races in the Everest region offer an adrenaline-filled adventure that combines physical endurance, mental tenacity, and unparalleled scenic beauty.
Cycling through rugged terrain, unpredictable weather, and breathtaking landscapes makes for an unforgettable experience. Such races demand not only physical strength and stamina but also balance, agility, and technical biking skills.
Over the past few years, high-altitude cycling races have witnessed a surge in participation. In 2022, one such race attracted over 100 cyclists from various countries, marking a 25% increase from the previous year. These races offer a unique way to explore Everest and challenge your fitness level, making them a must-try for every cycling enthusiast.
In conclusion, Everest offers a plethora of mountain climbing events that redefine high-altitude fitness. Each event presents a unique challenge, pushing you to your physical limits and rewarding you with unforgettable experiences and stunning vistas. So, whether you're a runner, climber, swimmer, yogi, or cyclist, Everest has something for you. Gear up for the adventure of a lifetime and challenge yourself with these incredible high-altitude fitness events!
We welcome any suggestions or questions. You can email us or contact us using the contact page.
You can also connect with us on the following social networks:
Facebook
Twitter
LinkedIn
Instagram