Event Description
INDIAN DJ EXPO – an annual renewed platform for Music Production, Entertainment Technology and Events Production.
Organizers

210,Fabricon Industrial Estate,BM Bhargava Marg,Shastri Nagar,Santacruz(w)
diasmanuel74@gmail.com
9819411558
About Organizer
Beatroots Expo and Publications is proud to present India's first ever exposition on the DJ and his environment, Indian DJ Expo is designed and produced with the support of like-minded entrepreneurs involved in the business of entertainment, coupled with an experience that understands the philosophy for the industry and by the industry. The expo aims to cultivate itself as the Entertainment industry's best-attended, most-successful trade show which brings a strong content of high end technology and innovation offering exhibitors and there customers a privileged platform in the world of entertainment. Indian DJ Expo is determined to create a great synergy between the brand representatives end the trade/end-users the key players that mean business. The Indian DJ Expo will be held at the Pragati Maidan in New Delhi, the international destination for prestigious exhibitions, having the best facilities and a landmark known to everyone in the trade.
How to Register?
 One can register online on the website at www.indiandjexpo.in
Exhibitor Profile
The Profile of Exhibits on Display include DJ GEAR; MUSIC PRODUCTION GEAR; CLUB & TOURING SOUND; CLUB & ENTERTAINMENT LIGHTING; STAGE LIGHTING; STAGE GEAR; LED DISPLAY; VIDEO MAPPING; PA SYSTEMS;DJ CONSOLES;DJ MIXERS;TURNTABLES;MIDI CONTROLLERS;AUDIO PROCESSORS;EFFECTS & BPM COUNTERS;DJ SOFTWARE;DJ HARDWARE;STUDIO MONITORS;SPEAKERS;AMPS;PA SYSTEMS;MICROPHONES;HEADPHONES;PRO CD/MEDIA PLAYERS;LCD/LED SCREENS;LASERS;DMX CONTROLLERS;STAGE LIGHTING & PAR CANS;FOG & HAZE MACHINES;EFFECTS MACHINES;TRUSS & LIGHT STANDS;CARTRIDGES & STYLI;DJ TABLES & STANDS;CABLES & CONNECTORS;POWER DISTRIBUTION;PROJECTORS;VIDEO WALLS;PC/TABLETS AND MORE....
Visitor Profile
Dj's, artists, music producers, club owners, technicians, engineers, designers, integrators, consultants, rental companies, event management companies and end-users during the three days
Floor Plan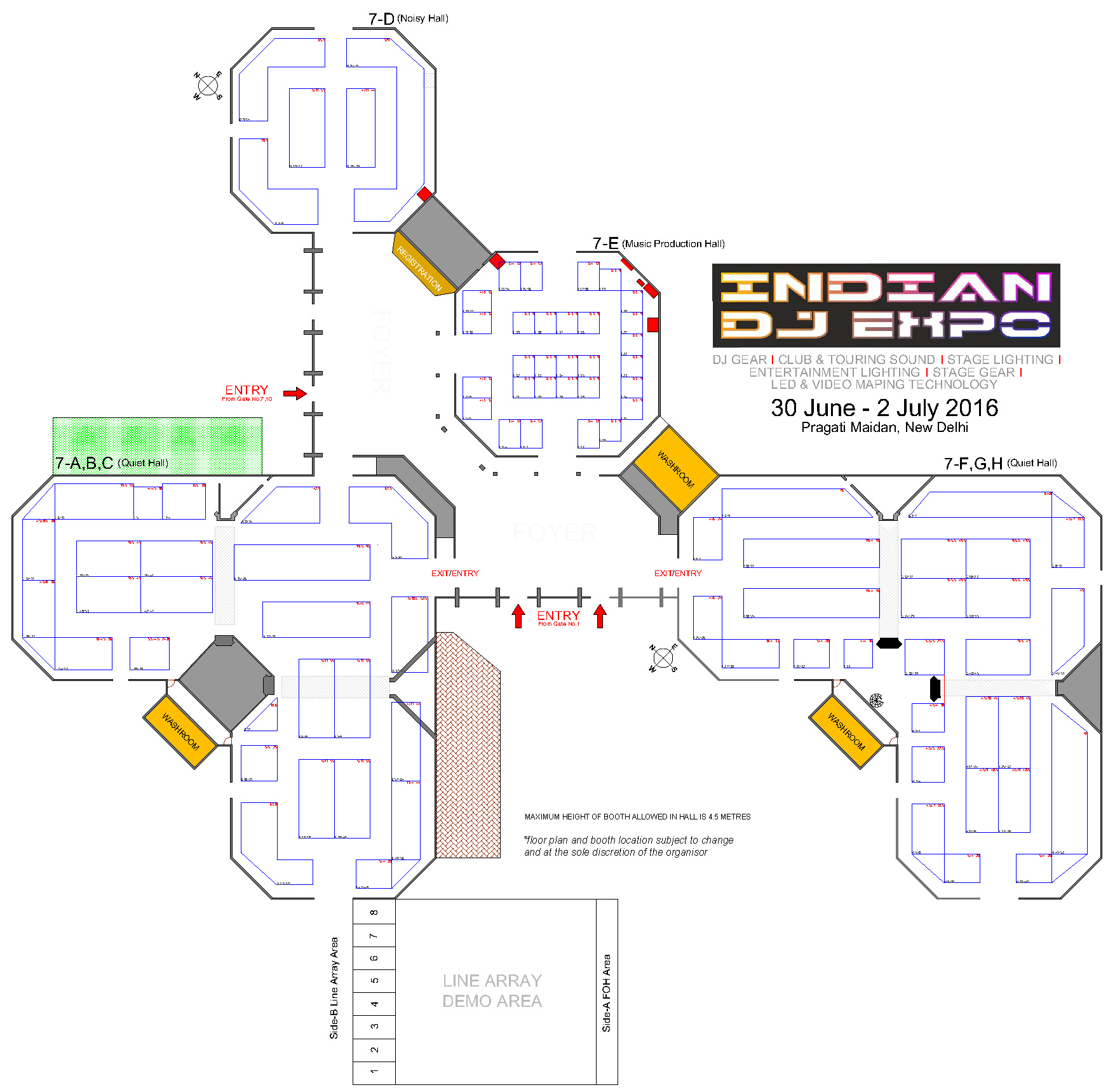 Highlights of Past Event
Visitor Footfalls have been the real reason of the show's popularity in India. In 2014 we recorded a genuine 5530 trade visitor footfall which increased by (47%) 8157 in 2015. Now in 2016 we are aiming to attract at least 12,000 visitors for which our marketing campaigns have already begun
Visited 931 times, 1 Visit today